The small beach of Playa Herradura, or horseshoe beach is a gem in the Central Pacific Coast. With green waters and calm waves surrounded by lush waves, Herrdura beach is an excellent beach to visit for the day from Jaco or as a home base. Previously a small fishing village, Herradura has turned into a top tourist destination with a fancy marina and luxurious Marriott resort.
If you plan to visit or stay at Playa Herradura, here is what you need to know about visiting.
Map
Playa Herradura map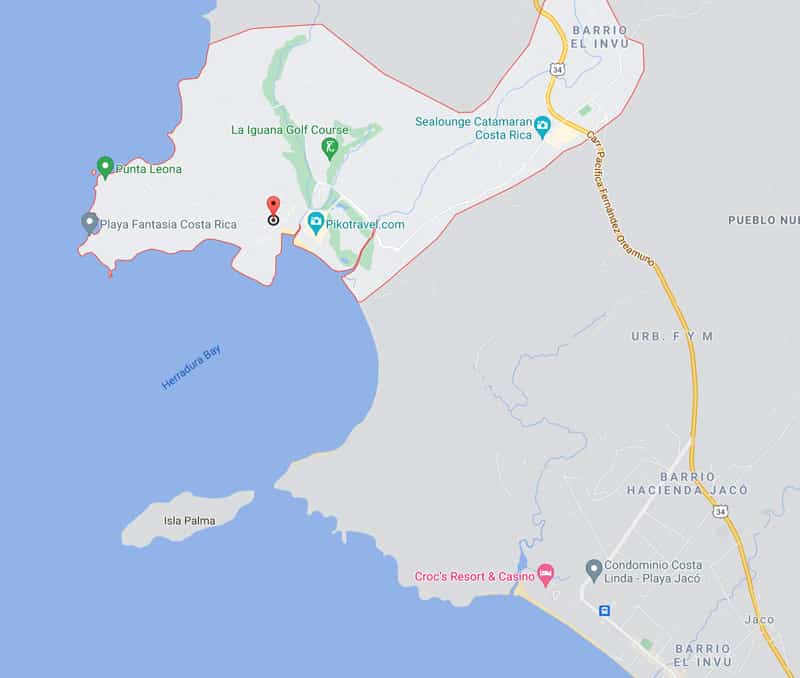 Playa Herradura is 97 kilometers (60 miles) from San Jose and 9 kilometers (5.6) north of Jaco. It is in the Central Pacific of the Puntarenas province.
How to Get There
Driving: From San Jose, Playa Herradura is about a 1.5 hour drive on the highway the whole way.
Shared shuttles: They stop at hotels in Herradura like Los Sueños and they also drop off at the Subway in Plaza Herradura. This shuttle from San Jose costs $45 per adult. Private shuttles will take you directly to where you're staying and costs around $120-145 one way.
Bus: There is no direct bus to Herradura but you can take the bus from San Jose to Jaco and it stops at Plaza Herradura along the way. Same with the bus from San Jose to Manuel Antonio/Quepos.
Parking
There is parking on the road along the beach.
4×4 required?
Nope!
Can you swim?
Yes! This beach has fairly calm waves and is perfect for swimming and SUP.
The Beach
Herrdura beach has dark sand with lots of lush forestry around, making it incredibly picturesque and a wonderful representation of Central and South Pacific beaches in Costa Rica.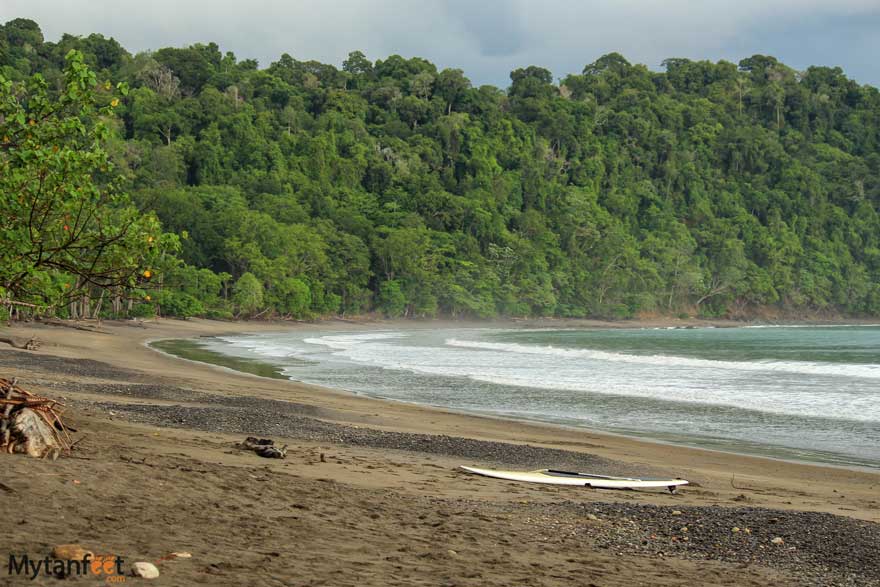 Before the marina was built, Herrdura stayed a quiet local secret beach. For the tourists who found it, it was an absolute delight to spend a day at tHerradura which was not nearly as commercial, crowded or developed as Jaco.
Nowadays, it's a busy beach and still a local favorite. Weekends get very crowded with SUP classes going on and boats going in and out of the marina. The best time to visit with less crowds is in the mornings on a weekday.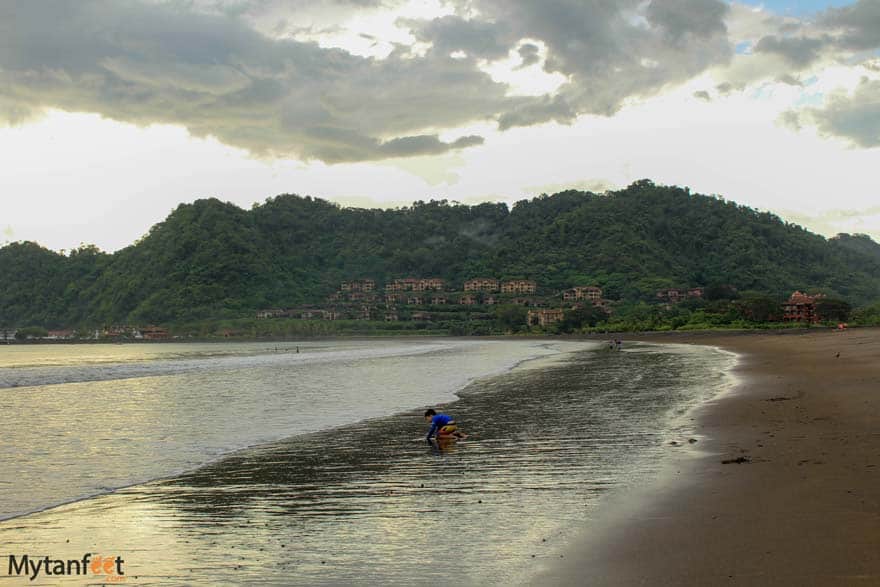 Waves are calm as it is inside a bay, making it a great beach for families. If you visit on a weekend, you'll see plenty of local families with coolers, hammocks and music, enjoying a nice day at the beach.
Things to do in Herradura
Herradura's excellent fishing conditions has turned it into a top destinations in Costa Rica for fishing. There is no doubt that Herradura is one of the best places to go fishing in Costa Rica thanks to the luxury marina built at this beach.
Sportfishing is the main activity as the marina is home to many large, fully equipped fishing boats and is the host of sport fishing competitions every year. Keen fishermen travel to Herradura specifically for their abundant marlin, tuna and mahi mahi.
Other things to do in Herradura are stand up paddle boarding, sunset sailing, kayaking, ATV and ziplining. We went stand up paddle boarding and sunset sailing in Playa Herradura which was really fun. We saw a beautiful sunset on our way back from the sailing trip. Another good beach for stand up paddle boarding is Playa Agujas, about 20 minutes north.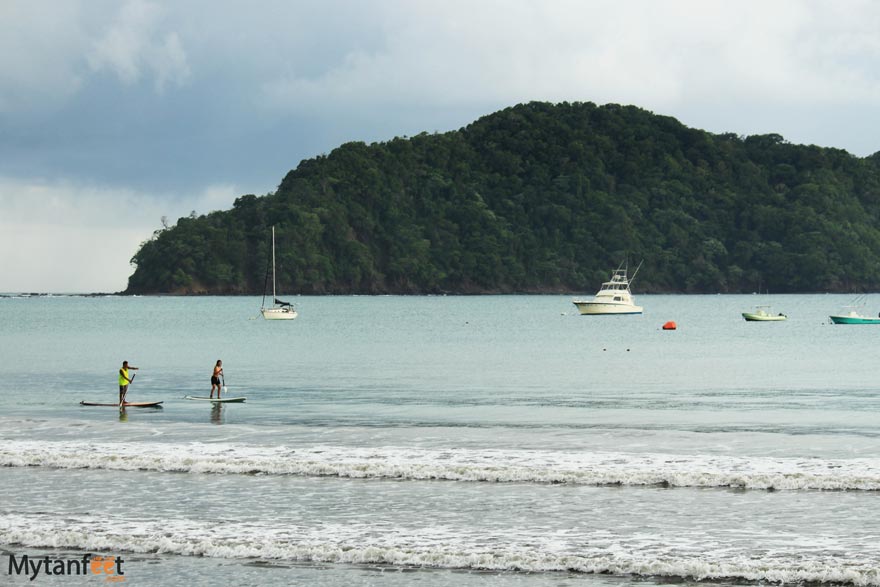 If you have a car, you can visit Jaco to go surfing, Playa Blanca (white sand beach by Punta Leona resort), Carara National Park, Bijagual waterfalls and Manuel Antonio National Park.
Playa Herradura Hotels
The Los Sueño Resort is a top resort in Costa Rica with over 1100 acres (445 hectares), their own rainforest reserve, world renowned golf course, pools and high end restaurants. They also have their own zipline and ATV tours that all visitors can enjoy!
For those who are looking for other options, Hotel Pumilio is a good option.
Read about other beaches and beach towns in Costa Rica below!
Dominical, Costa Rica: Popular small hippie and surfing beach town in the South Pacific.
Playa Hermosa: Surfing beach near Jaco
Esterillos Oeste: Small surfing beach town 30 minutes from Jaco.
Playa Bejuco: Very long dark sand beach, about 20 minutes south of Jaco.
Playa Ventanas: Small, local favorite dark sand beach with rock caves