The small beach of Playa Herradura, or horseshoe beach is a gem in the Central Pacific Coast. With green waters and calm waves surrounded by lush waves, Herrdura beach is an excellent beach to visit for the day from Jaco or as a home base. Previously a small fishing village, Herradura has turned into a top tourist destination with a fancy marina, growing shopping center and luxurious Marriott resort.
If you plan to visit or stay at Playa Herradura, here is what you need to know about visiting.
Location
Playa Herradura is 97 kilometers (60 miles) from San Jose and 9 kilometers (5.6) north of Jaco. It is in the Central Pacific of the Puntarenas province.
How to Get There
Driving: From San Jose, Playa Herradura is about a 1.5 hour drive on the highway the whole way.
Shuttles: Shared shuttles can stop at hotels in Herradura and they also drop off at the Subway in Plaza Herradura. This shuttle from San Jose costs around $59 USD per adult with shared companies like Interbus, Easy Ride, Ride CR. From San Jose International Airport, the closest international airport, a private shuttle for 1-8 people costs around $180 USD. Contact us if you'd like to book a private shuttle.
Public Bus: There is no direct bus to Herradura but you can take the bus from San Jose to Jaco and it stops at Plaza Herradura along the way. Same with the bus from San Jose to Manuel Antonio/Quepos.
Parking
There is parking on the road along the beach. This is not a secure parking lot with cameras or guards, so make sure not to leave any valuables visible and always roll up your windows and lock your doors. On weekends and holidays, parking may be extremely tight as a lot of locals like this beach and there is not a ton of parking spaces.
4×4 required?
No.
Can you swim?
Yes! This beach has fairly calm waves and is perfect for swimming and stand up paddle boarding.
The Beach
Herrdura beach has dark sand with lots of lush forestry around, making it incredibly picturesque and a wonderful representation of Central and South Pacific beaches in Costa Rica.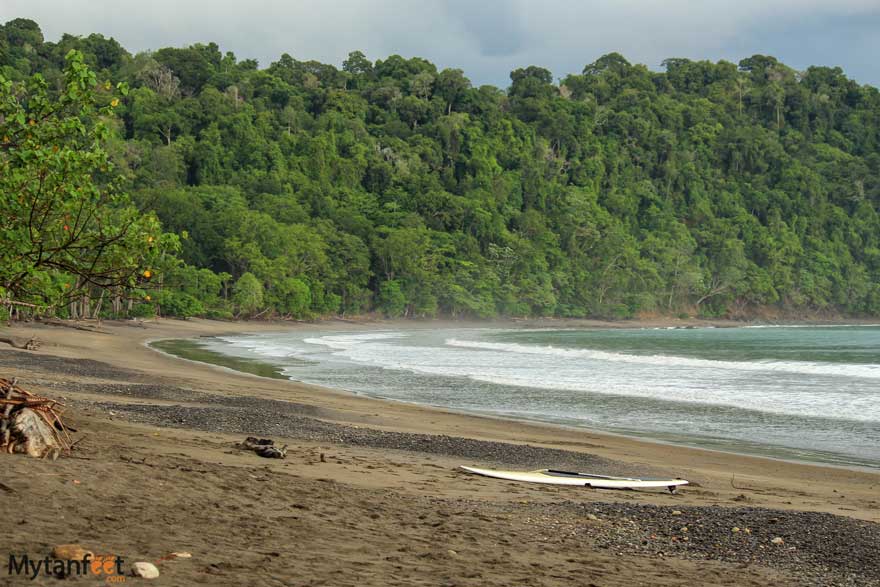 Before the marina was built, Herradura stayed a quiet local secret beach. Many city Costa Rican families would come to Playa Herradura instead of Jaco as Herradura had a healthier, more tranquil atmosphere and vibe. For the tourists who found it, it was an absolute delight to spend a day at Herradura which was not nearly as commercial, crowded or developed as Jaco.
Nowadays, it's a well known area due to the marina and the Los Suenos Resort. It is quickly growing with a large shopping center that has American fast food places and will soon have a Starbucks. Weekends get very crowded with SUP classes going on and fishing boats going in and out of the marina. T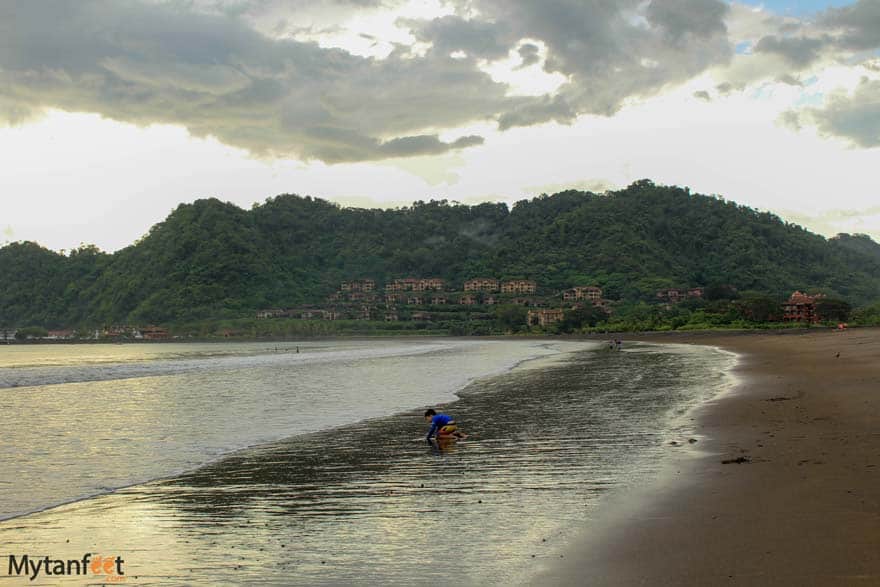 Waves are calm as it is inside a bay, making it a great beach for families to swim and boogie board together. If you visit on a weekend, you'll see plenty of local families camping or with coolers, hammocks and music, enjoying a nice day at the beach.
Things to Do in Herradura
Herradura's excellent fishing conditions has turned it into a top destinations in Costa Rica for fishing. There is no doubt that Herradura is one of the best places to go fishing in Costa Rica thanks to the luxury marina built at this beach.
Sportfishing is the main activity as the marina is home to many large, fully equipped fishing boats and is the host of sport fishing competitions every year. Keen fishermen travel to Herradura specifically for their abundant marlin, tuna and mahi mahi. Herradura attracts many bachelor parties with the groom and best friends looking for a fun day out in the water catching big game fish during the day. Then at night, they party it up in Jaco.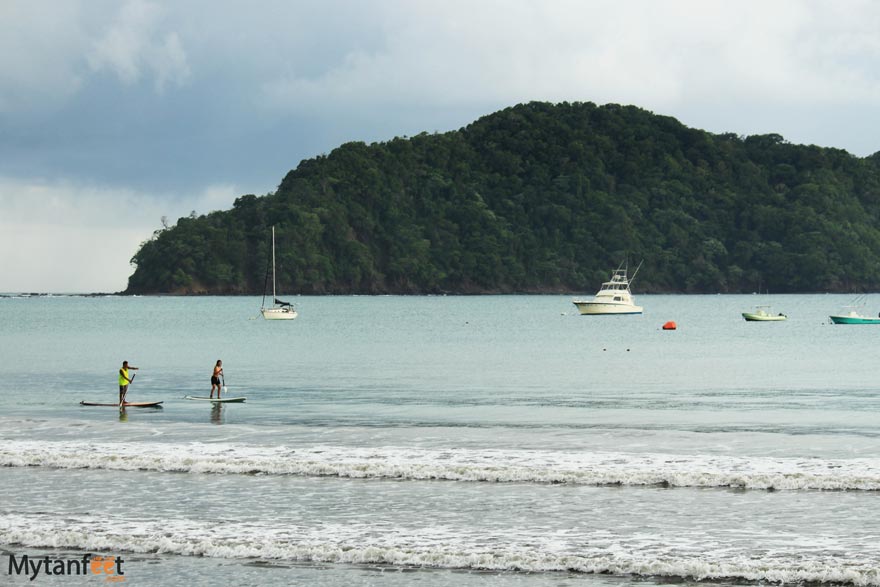 Other things to do in Herradura are stand up paddle boarding, sunset sailing, kayaking, ATV and ziplining. We went stand up paddle boarding and sunset sailing in Playa Herradura which was really fun. We saw a beautiful sunset on our way back from the sailing trip. Another good beach for stand up paddle boarding is Playa Agujas, about 20 minutes north.
Day Trips from Herradura
Nearby are some fantastic places for day trips from Herradura. You can visit Carara National Park to hike and bird watch, Manuel Antonio National Park to hike, Vista Los Suenos Adventure Park to ATV, horseback ride and canyon, Tarcoles River for a wildlife watching safari or Bijagual waterfalls for a waterfall hike. With a car, you have lots of places to visit in the Central and South Pacific.
Playa Herradura Hotels
The Los Sueño Resort Marriott is a top resort in Costa Rica with over 1100 acres (445 hectares). This huge property has their own rainforest reserve, world renowned golf course, pools and high end restaurants.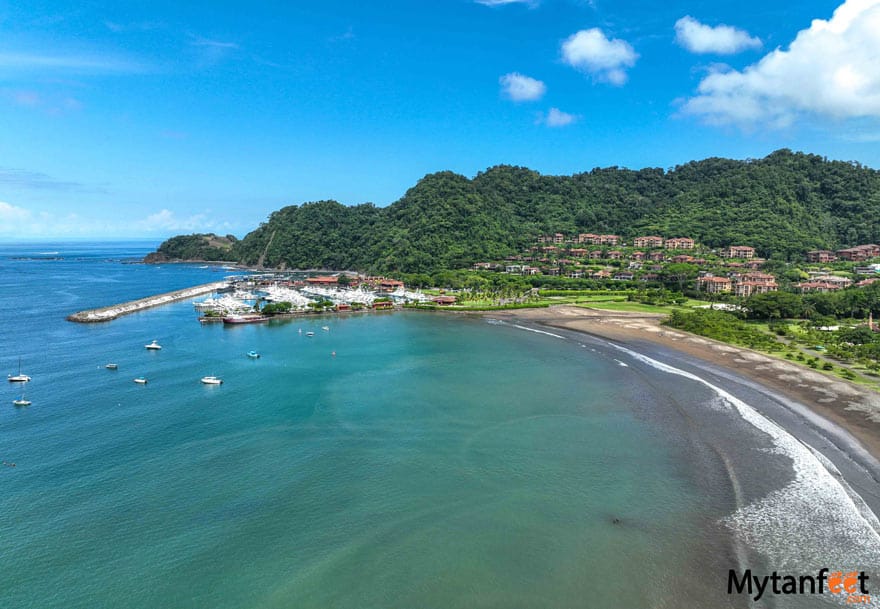 For those who are looking for other options, Hotel Pumilio is a good option.
Read about other beaches and beach towns in Costa Rica below!
Dominical, Costa Rica: Popular small hippie and surfing beach town in the South Pacific.
Playa Hermosa: Surfing beach near Jaco
Esterillos Oeste: Small surfing beach town 30 minutes from Jaco.
Playa Bejuco: Very long dark sand beach, about 20 minutes south of Jaco.
Playa Ventanas: Small, local favorite dark sand beach with rock caves
Costa Rica Vacation Checklist