If you've researched living or moving to Costa Rica, one of the reasons for your move is probably the cost of living in Costa Rica.
As Costa Rica is a top retiree destination for Europeans, Canada and USA, many retirees move here because of the cost of living in Costa Rica. It's a lot cheaper and they can make their social security check stretch far longer.
For digital nomads, they want to enjoy the great weather, beaches and fun outdoor adventures Costa Rica offers while they are able to work online.
In case you're thinking about moving to Costa Rica whether temporarily or permanently, you can get an idea of how much living in Costa Rica will cost you.
What is the Cost of Living in Costa Rica?
Below is our personal cost of living in Costa Rica from when we used to live in Playas del Coco, back in 2014. Although our situation has changed and we don't live there anymore, this will give you a good idea of how much it will cost to live in Costa Rica.
*At this time, we were two adults working work from home full time. No kids, no pets.*
All prices are in USD.
Cost of Living in Costa Rica: Rent
Monthly rent: $400 without utilities
We lived in Las Palmas, a popular neighborhood in Playas del Coco. Our condo was a loft, with one bedroom and one full bathroom. Our loft was quite small, about 400 square feet or 37 sq meters.
Rent was $400 USD a month without any utilities. No security, laundry, water, electricity, Internet or cable.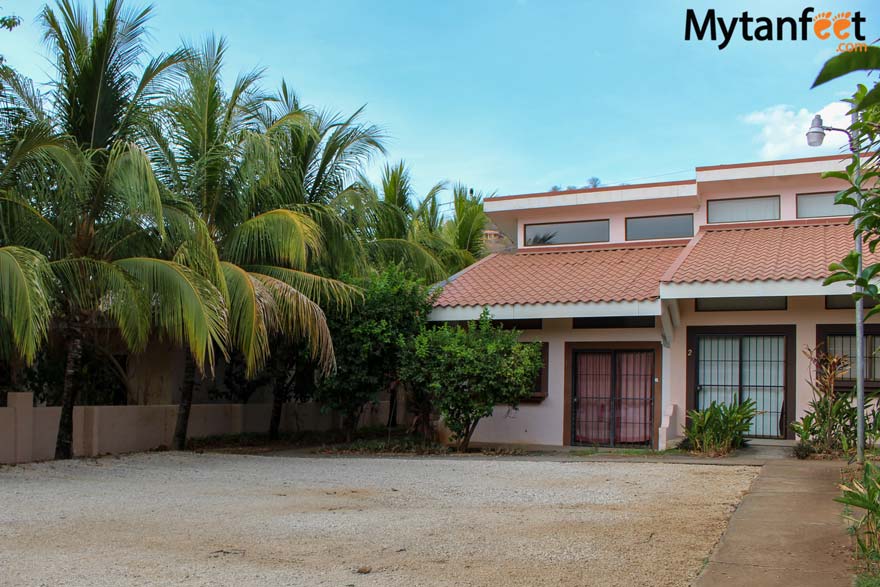 However, unlike other complexes in Las Palmas, ours didn't have a pool, laundry or rancho. Most condo complexes in Las Palmas have all those things so we were able to negotiate a bit of a cheaper price back then.
Our place was not really furnished either so we bought nearly everything: bed, washing machine, couch, coffee table, tv set, dining table, chairs, curtains, etc.
Cost of living in Costa Rica for rent varies as it depends on what kind of place you want to live in. You can find very "Tico" style (like local style homes) for cheaper prices like $300-800 USD a month. Those are usually in local neighborhoods/towns and have minimal furnishings.
On the other hand, you can find luxury homes and condos for $1000 USD and up.
Location is important too
It also depends on location. Want to be in walking distance to the beach or right in downtown? It'll be more expensive. Renting in Tamarindo, Jaco or in the nice neighborhoods of San Jose? Plan to pay a LOT more than if you were to stay in a local town like Atenas or San Ramon. Touristic coastal towns and the nice city neighborhoods are always more expensive.
*When we lived in Jaco for 6 months in 2015, we lived in Costa Linda Condominios and paid $750 USD a month for 2 bedrooms, 2 full bathrooms with security, parking, laundry, Internet, cable and pool. This was a very nice condo in a tower with an elevator. When we lived in Villarreal in 2016, the small town outside Tamarindo, our rent was $375 for a 1 bedroom, 1 full bathroom, non furnished place, no utilities. We always paid 6 months in advance. This was not the nicest apartment. It was very old and needed a A LOT of maintenance.*
Electricity: ~$80
We mainly used one air conditioning unit at night and a bit during the day. Electricity isn't that cheap in Costa Rica unfortunately. For a 400 square foot place (37 sq meters), it definitely cost more than I expected to run the AC at night in just the bedroom and a couple hours in the living room.
I know some people who left their two or three ACs on all day and night and their bill came out to be four hundred dollars a month. Depending on what your standard of living is and your tolerance to heat, your electricity bill can get much higher than $70 a month.
Water: ~$10
Internet and Phone~$80
Our Internet provider was Tigo and we have 5 mb speed. We do not have cable. If we wanted cable, it would have been $80 with the same speed of Internet as a package.
*Now we have fiber optic with Kolbi and it costs around $80 a month.
Yeison had a contract with ICE for around $25 a month for his iPhone and I have a prepaid SIM card that I normally spend about $10 a month with calls, text and data.
*Now I have a Costa Rican phone number with a paid contract, our bill is around $78 USD for both phone lines with Kolbi.
Groceries: $400
Groceries takes up a big chunk of our monthly budget. We usually did one big shopping trip every week or so. For each big shopping trip we spent approximately $150.
There are many things more expensive in Costa Rica and food is one of them in Playas del Coco, particularly meat. Depending on how big your family is or what you buy, your expenses can skyrocket past $400 a month easily.
We used to shop a lot at Super Luperon and Auto Mercado in Playas del Coco but now in 2021, the Pricemart in Liberia is open so we go there for a lot of things now. If you plan to live in Costa Rica long term, we highly recommend purchasing a Pricemart membership for grocery shopping. (Pricemart is exactly like a Costco in the US and they are found in Liberia and the GAM cities such as San Jose, Alajuela and Heredia).
Gas and Car Maintenance: $150
*Yeison and I work from home so we were not driving to and from work everyday.*
Back then, we didn't go out much. We walked to the beach and would only drive if we were going outside of Playas del Coco like to other beaches or Liberia. That helped keep our gas costs down a lot. Additionally, we had a 4 door small sedan with a V4 engine so it didn't spend too much.
Something to note is that gas costs considerably more in Costa Rica than in the United States. However, diesel is readily available and cheaper than gas so in 2017, we switched our car to a diesel car. We drive a lot more now since we live about 10 kilometers from the beach so we have to drive to surf.
Cars are extremely expensive in Costa Rica so a lot of foreigners purchase used cars instead of brand new cars.
Going out: $150
Yeison and I aren't huge partiers so we never spent much money on going out. We don't smoke so no money for cigarettes or marijuana. Yeison does like to drink beer, sometimes whiskey but that's about it as I don't drink or smoke.
A lot of people, especially our age, go out on weekends or weeknights to party and drink but we have always preferred small hang outs with friends. And instead of partying, we liked to go to the beach, fish, walk, swim, have a barbecue, etc.
As for eating out, Yeison and I didn't eat out too much in Coco. We went out on the weekends sometimes and then a few times a week to maybe Subway or one of the local restaurants or bakeries. I love to cook and preferred to cook than eat out to be honest.
If you like fine dining and partying, you can end up spending a good several hundreds of dollars a month.
Misc
Yeison and I barely do any clothes shopping in Costa Rica. We usually buy clothes online and have our friends bring them from the States. Clothes is also expensive in Costa Rica so this could increase your expenses greatly if you go shopping often. Sometimes we'll get a pair of flip flops or beach clothes when there is a sale or if we really need it.
We used to go to the movies maybe once a month, since the closest theater to us was in Liberia. Playa Hermosa has a nice theater too but it's very small and usually only plays 2 movies so we only went there once.
Then we had other expenses like taxes, haircuts, gifts, travel, etc.
Our Cost of Living in Costa Rica
Back then, our cost of living in Costa Rica was pretty good, around $2000 USD a month. We lived in a nice little condo close to the beach. We lived simply but still had fun going out with friends, throwing barbecues and going to different beaches nearby.
Nowadays, our budget is quite different because we bought a property and have two dogs. So it's a bit more than before as we have more expenses.
And if you talk to other foreigners living in Costa Rica, you'll notice monthly expenses vary a lot. It honestly depends on your lifestyle. Do you want an ocean view luxury home? A big car? Do you leave your air conditioning on all day? Or just need the basics? Have kids or pets? It really depends!
When it comes down to it, it all depends on your standard of living in Costa Rica.
You don't need to be making hundreds of thousands a year to have a good life in Costa Rica. Just like any other country, there are pros and cons. And just like other countries, there are things more expensive in Costa Rica and things cheaper in Costa Rica.
What your cost of living in Costa Rica will be really depends on location and lifestyle. But we hope this post gives you at least an idea of what your budget may be if you plan to live here temporarily or permanently.
If you like this article, you might be interested in these:
Things I had to get used to living in Costa Rica