Costa Rica has 27 national parks, 58 wildlife refuges, 30 protected zones and many private reserves. Because of this, nearly 25% of the land in Costa Rica is protected. So naturally, all visitors want to include at least 1 national park in their itinerary which we always recommend since many of them have excellent hiking, view points and wildlife watching opportunities.
Below you will find our national park, reserves and wildlife refuges guides we have been to. Although we haven't been to all of them yet, it's on our list!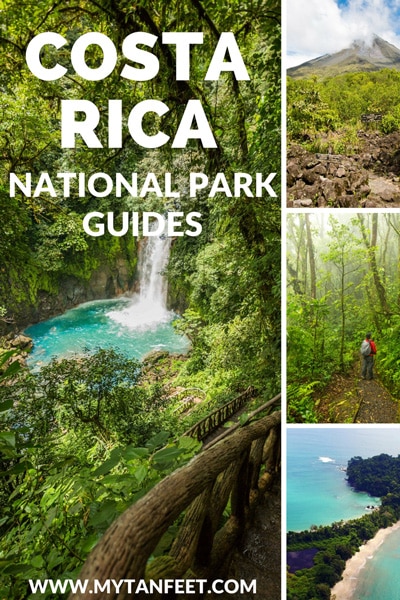 What You Will Find in These National Park Guides
Our personal experience
These articles aren't just guides, you'll read about our personal experience at each one including what we thought, when we visited and our recommendations for things to know before you go, what to wear and more. All the guides have lots of photos and some of them have a video of our day there so you can see what it's like.
Location and how to get there
All the articles include the Google Maps of the park and directions how to get there by driving and by bus (if applicable).
Entrance fees and hours
Find out when the parks are open and how much the entrance fee is for Costa Rican residents and foreigner adults and children.
What you can do in the park
Each park has their own special attraction. Find out what each one is famous for and what you can do in the park.
Hiking trails, beaches, view points, wildlife, etc.
If the national park has hiking trails, you will find maps and pictures of hiking trails. If there are beaches, you'll see photos of the beaches. And for wildlife, you will see the different animals you can see in the park.
Hotels nearby
Our recommendations for nearby hotels.
Tours to the national parks
How you can visit the national park on a tour, recommended companies and prices.
I'll be updating this post with new guides so check back often!