Did you know that Costa Rica has over 50 wildlife refuges? Add that to the list of 31 national parks, 8 biological reserves and 13 forest reserves and you can understand why Costa Rica is such a hot destination for eco-tourism and nature. Though most travelers opt for visiting the national parks, there are many lesser known reserves and refuges that offer an equally incredible experience hiking in the rain forest and observing wildlife.
One of these is La Marta Wildlife Refuge in Turrialba. This 1518 hectares of protected land is the first private wildlife refuge in Costa Rica with 60% primary forest and 40% secondary forest and forms part of the UNESCO World Heritage Site, La Amistad International Park (in Costa Rica and Panama). Visitors can hike the many trails in the wildlife refuge, camp and take a guided tour to experience the rich nature of La Marta.
If you are visiting Turrialba and looking for a nature hike without many visitors, head to La Marta Wildlife Refuge. Here is all you need to know about visiting.
La Marta Wildlife Refuge
Location
La Marta Wildlife Refuge is located in the Pejibaye district of Cartago. You can find it on Waze. Roads are not paved when you enter Pejibaye but 4×4 is not necessary.
There is a bus from Cartago to the wildlife refuge. Here is the schedule.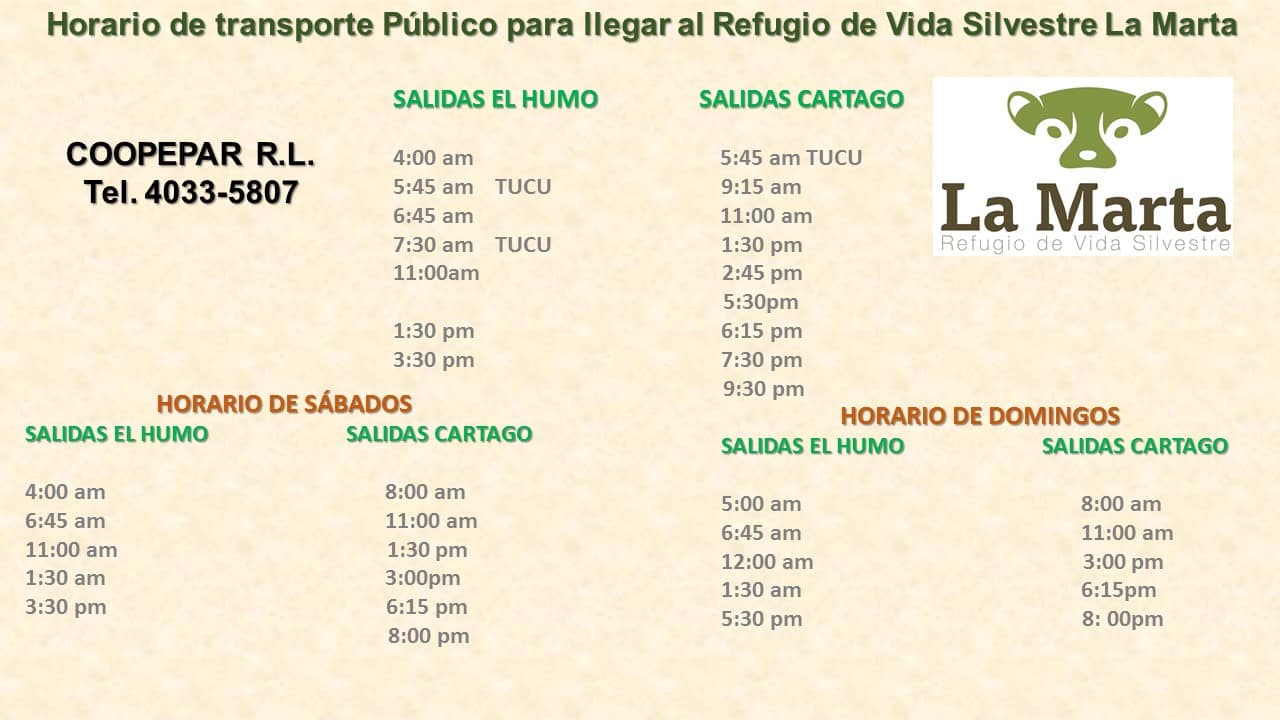 Entrance Fee and Hours
La Marta Wildlife Refuge is open every day from 7 AM to 5 PM. It is $10 for foreigners.
A Little History
Inside La Marta Wildlife Refuge are remains of an old gold mine and rail system used by donkeys to move gold. Eventually, miners decided to focus on conservation instead of gold and now students and researchers use La Marta to study ecology and the natural habitats.
The Trails
There are many trails in the refuge ranging from easy to moderate. Since the refuge is in between two rivers, there are trails that go along a river, one that leads to a look out spot and one to the ancient gold mine ruins.
Here is a map of the trails. We didn't get a map when we entered the refuge so I highly recommend taking a picture on your phone and using this post as a reference as the signage in the refuge is okay. We noticed that some signs had trails that weren't on the map and it got a little confusing.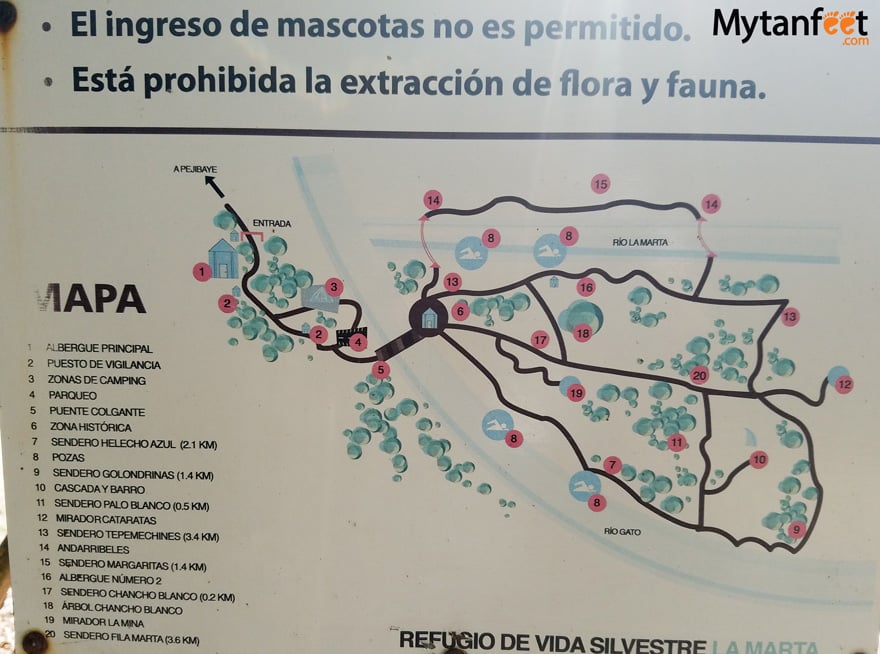 We decided to go on the Historical trail, follow the river and head up to the Mirador and back. It took us total about 2.5 hours and the trails were relatively easy. It does get a little step when you go up the Mirador so take your time going up and down. You can do a big loop.
The trails are fairly well maintained and laid out, there are signs every few hundred meters or so with information about the various flora and fauna in the wildlife refuge.
During the entire time we were there, there was only one other couple in the refuge, a Tico couple. As we were leaving, we saw a German family come in and that was it! And we visited on a Sunday morning, normally a day where any attraction would be packed with foreigners and locals. But since La Marta Wildlife Refuge is a bit under the radar, it's not super busy or crowded which is incredibly nice.
Here are some photos of the hike. There is a hanging bridge at the beginning which leads you to the old gold mines. Then you can take either trail (Sendero Aventura, not on map) or Sendero Historical to go along the river. We walked around 6 kilometers total.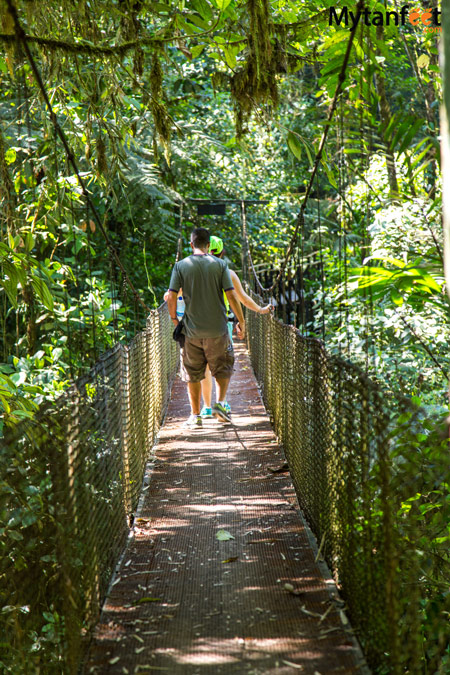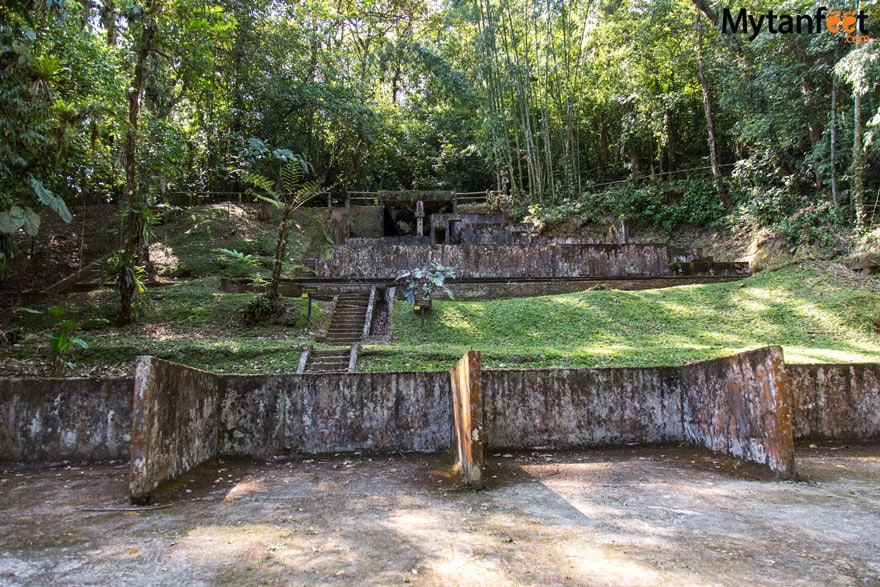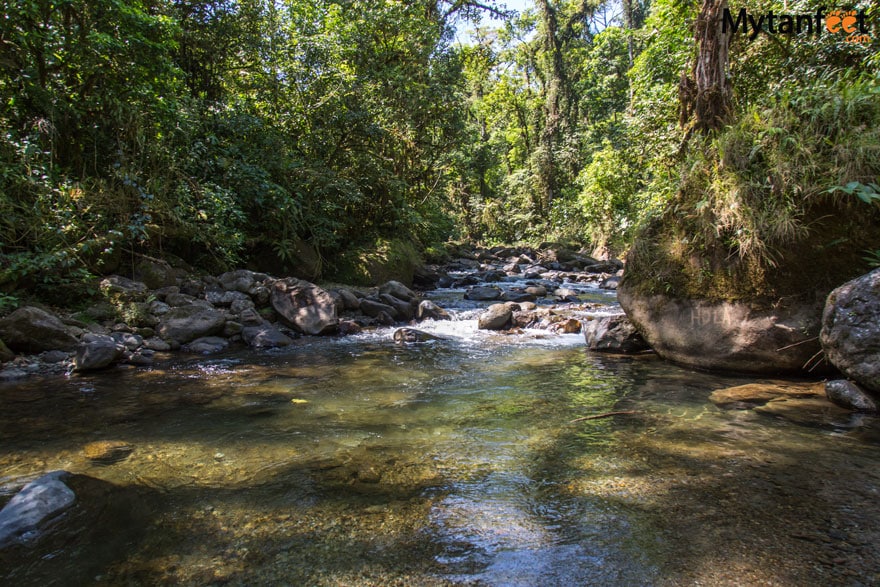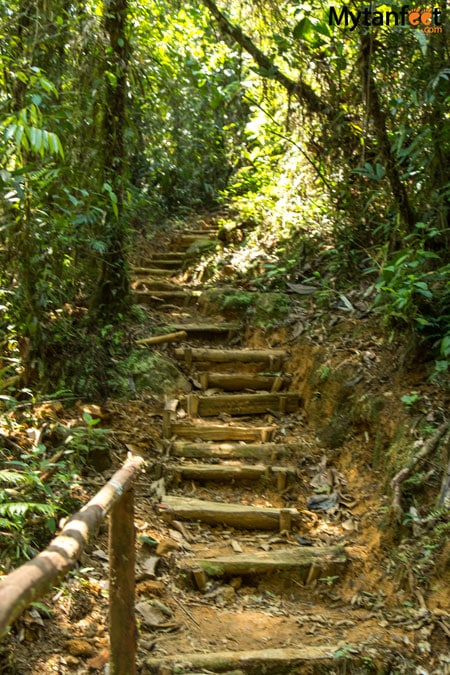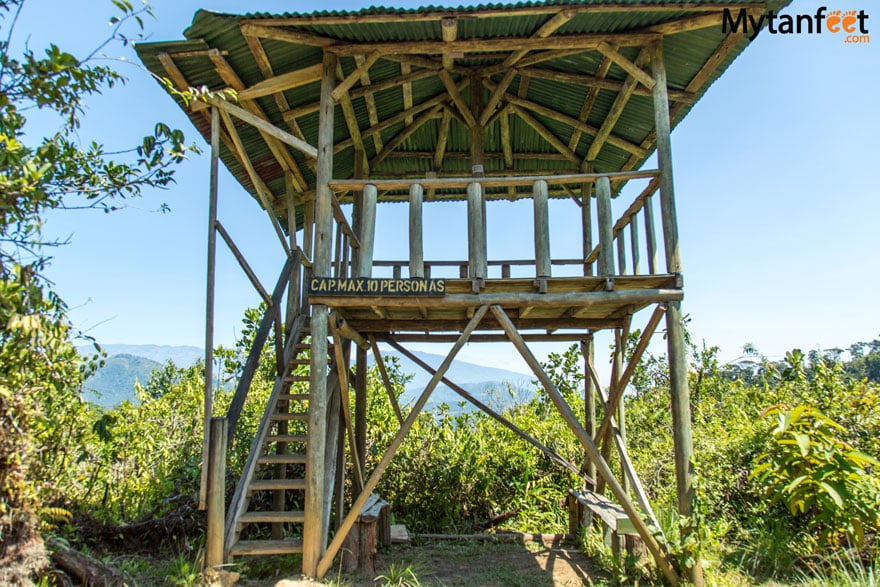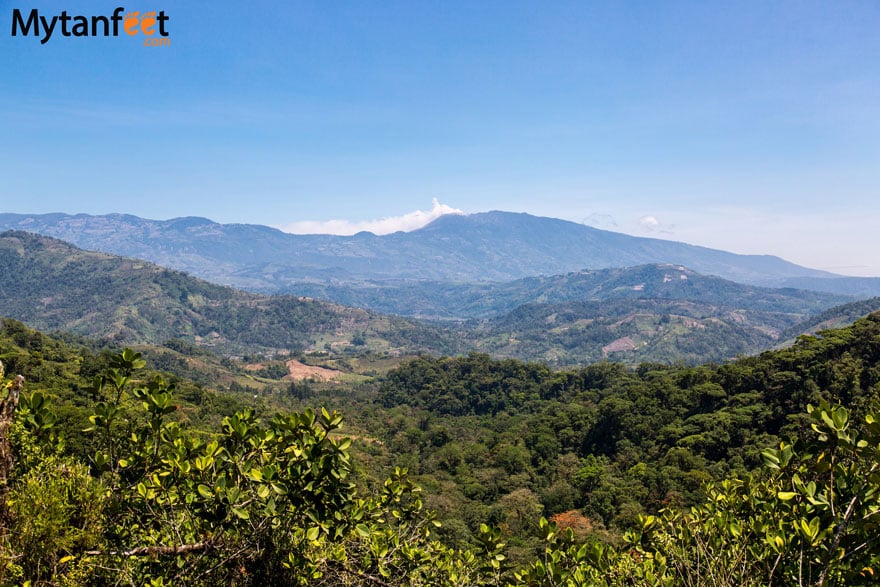 The gazebo is around 700-1200 meters above sea level and it was amazing to have this little spot all to ourselves for awhile. Excellent reward for the hike!
Though we heard tons of birds and know that it is possible to see a variety of wildlife in the refuge, we didn't see any except for some very big bugs, spiders and some birds. Wildlife that live in the refuge k are sloths, kinkajous, anteaters, tapirs, ocelots and even jaguars.
Tips for Visiting and Things to Know About La Marta Wildlife Refuge
I highly recommend a guide. We were a bit lost since the maps and trails weren't the most accurate, there weren't any explanation on the signs for the old ruins so we didn't know what they were until we asked the rangers and we got a little lost. If you go with a guide, they'll be able to share a lot more information about the area, it's importance, the flora and fauna and you won't get lost!
You don't need to be in tip top shape to walk the trails, it does get a bit steep with lots of steps up to the mirador and back down but it is nothing too difficult.
If you visiting on your own, you need to pre-pay the entrance fee no later than 3 days before your arrival, you can't just show up (we saw a car turn around and leave since they hadn't made a reservation). You can find on the La Marta Wildlife Refuge website how to pay your reservation. If you go with a guide, the tour company will take care of the entrance fee.
We visited in March, the peak dry season month so we didn't run into any rain and the trails were nice and dry. You can wear hiking sandals perfectly fine and even tennis shoes. But if you're visiting in rainy season, bring a rain jacket and wear a good pair of hiking shoes, it can get muddy. Check our rainy season packing list for more tips.
They have rain boots for rent for $1.
Bring lots of mosquito repellent. This area has a ton of bugs because of the rivers and dense canopy cover.
There are also camping areas. It is $13 for foreigners for camping, 2,000 colones for nationals. There is a nice area with picnic tables and bathrooms.
La Marta Wildlife Refuge is an excellent place for a day in nature, hiking and experiencing the rain forest and rivers of Costa Rica. It's not super crowded and not super well known so it's perfect for those who enjoy the off the beaten path destinations.
Read about other things to do in Turrialba here!
Or read about other wildlife refuges in Costa Rica.