Many visitors are astounded when they come to Costa Rica and find out just how much more expensive it is than the rest of Central America. As someone who grew up in the States, I'm thinking "What? How is Costa Rica that expensive?!"
Our town, Playas del Coco is probably one of the top 3 most expensive places to live in Costa Rica. When I first moved here, I didn't know that it was THAT much of a tourist destination and was slightly surprised. But it's more to the price tag than the tourism industry. The government plays a huge role in determining prices of items here.
When you compare the cost of food, groceries, electronics, cars, etc. to the average monthly salary of a Costa Rican, it doesn't make much sense. The average Costa Rican makes around $600 – $800 a month and the average high salary is around $4000 to $5000 a month. Granted in most other non-touristic areas, food and groceries are not as expensive as Coco.
I found out the reason is because of all the taxes and fees it takes to get that item inside Costa Rica. Then business owners have to mark up the items to compensate for the fees and to make a profit.
So here's a list of some things I've noticed are noticeably pricier than in the US. Good thing I brought my Wii down!
6 Things More Expensive in Costa Rica
Sunglasses and Clothing
Yeison bought a pair of Oakley Hijinx last year on Amazon for $100 since he needed a good quality pair to protect his eyes, especially since we live at the beach now. We first looked around in Coco at several stores for sunglasses such as Arenas and Optica-Vision but after looking, we knew we could get them cheaper online.
The exact same pair of glasses were being sold at a surf/skate shop for 140,000 colones which is $280! That is over twice as much as Amazon. So instead we ordered them online, sent them to my parent's house and had them bring it down for us when they came to visit the following month.
If you go to a clothing store, you'll notice that prices are a bit different than what you might see in the US. Yeison and I rarely buy clothes in Costa Rica, we usually online shop so whoever is visiting us from the States brings it down for us. Clothes are more expensive and not just like a few dollars more, but up to almost twice as much sometimes, especially the American and international brands.
Electronics
When I moved down here last August, Yeison asked me to bring a new laptop for him as his old one had seen the last of its days. Luckily I had a Best Buy gift card and he was just looking for something simple, not too fancy. I bought as HP Pavilion g4 laptop for $380 after my $40 gift card and it has been working great.
For fun, we checked out what the price would be if he bought the same laptop down here. It took us awhile to find it but we found it with a total price tag of 350,00 colones ($700). Ouch.
It's a well known fact that electronics are quite expensive down here from cameras to laptops, even Macbooks are more expensive! (And Apple is already very $$$).
One of the reasons why we were so bummed when our Canon Powershot SX 50 HS died was because we bought it in Panama and were left with little options. We definitely didn't want to pay $600, how much it cost here. Thankfully, one of our friend's boyfriend brought it down for us from the States.
Gas
The price of gas has become a big issue in the US, especially since it has increased quite a bit in the last decade. I still remember how outraged people were when it climbed above $1 back in 2003. The average highest and lowest cost of gas in the States is $3.87 in Hawaii and $2.88 in Oklahoma according to Gasbuddy.com
Gas in Costa Rica is about 650 colones per liter. So 3.78 liters to a gallon equals 2457 colones which is a grand total of $4.91 per gallon. Gas prices here have been continuously increasing the past couple years. Additionally, the price of gas doesn't change by province so everywhere in the country is around 650 colones per liter.
Now you see why Ticos like having small cars or diesel engines? Diesel is actually cheaper than regular gas here!
Video Games
Yeison has a PlayStation 3 and I have a Nintendo Wii. When I was still living in the States, I'd bring games down for Yeison and I made sure to get all the games I wanted for my Wii before I moved.
A few months ago, we went to a video game store in Liberia to see if we could trade in some old games. Yeison ended trading a handful of younger good games for just one, Far Cry 3.
This game is already one year old which in technology world is old since they've already announced the release date for Far Cry 4. If he didn't trade, this game would have cost him $60 as a used game. 3 times as much as it's sold on Amazon right now (new).
Cars
Buying a car is a pain here is not the most fun thing to do especially if you are not a Costa Rican. Importing your car is a hassle and buying one, used or new comes with a lot of work.
The majority of Ticos and expats buy used cars because the price tag on new ones are a little through the roof due to all the taxes and fees.
Take this Toyota Landcruiser for example.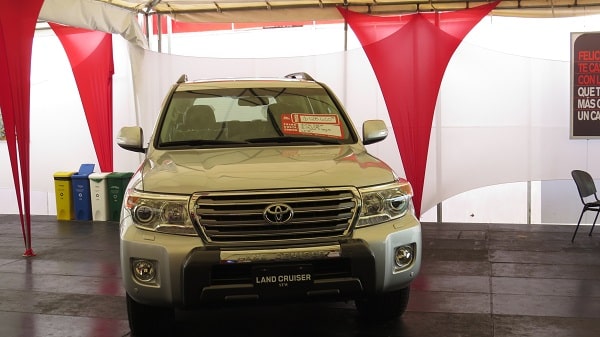 The starting price for the basic model is around $78,000 in the United States. Take a close look at the price tag in the picture and the starting price is $128,000!
Sunscreen and mosquito repellent
Unfortunately, as necessary as those items are they are not as cheap as we hope them to be. Luckily, they aren't outrageously more expensive but even $5 more adds up when you have to buy them fairly often.
A bottle of Hawaiian Tropic SPF 50 is around 8,109 (~$16) colones at the little store by our place where online it is $8. Some other brands and lower SPF count is cheaper, around 5000 colones.
You can read a list of the different sunscreens you can find in Costa Rica and the ones we recommend. But as always, we recommend buying it well, not in Costa Rica because of the price.
As for mosquito repellent, a bottle of Off! Family care Smooth and Dry costs around 4000 colones ($8) which you can find for …$1.40 on Amazon. Granted, shipping is $4 but you can find this at your local Walgreens for $4.99 To see which mosquito repellents you should bring, check out our post about the best repellents we tested ourselves.
So there you have it, a few items that are more expensive in Costa Rica than the States. This list is just to give you an idea of what the cost of living here is like and help you figure out what to pack.
Of course there are things that are cheaper such as tropical fruits, rice, beans, eating at a restaurant, beer, coffee, some home items and more (see what else is cheaper in Costa Rica). It makes sense, depending on if you import the product or produce it here yourself.
If you're thinking about moving to Costa Rica, these are a few things to think about bringing down. You can't do anything about the gas or the cars but it is possible for electronics or clothing.
Prices also vary depending on where you are in the country. All these prices are pertaining to Playas del Coco/Guanacaste region and could be cheaper in San Jose or other places.
If you're curious to see what our monthly budget is like, we have a cost breakdown of how we live in Costa Rica for $1500 a month.
This post has affiliate links.