Sarapiqui is a great stop for nature loving travelers who would like to visit a less touristic rainforest area in Costa Rica. Most travelers stay for only a night or two rather than making it their homebase so if you have a couple days to explore this large canton in Heredia, here are our recommendations for things to do in Sarapiqui.
White Water Rafting
For those looking to fit in some adventure, go white water rafting down the Sarapiqui river! The most popular tour is the Class 2 and 3 rapids but for experienced rafters, Class 3 and 4 are also available.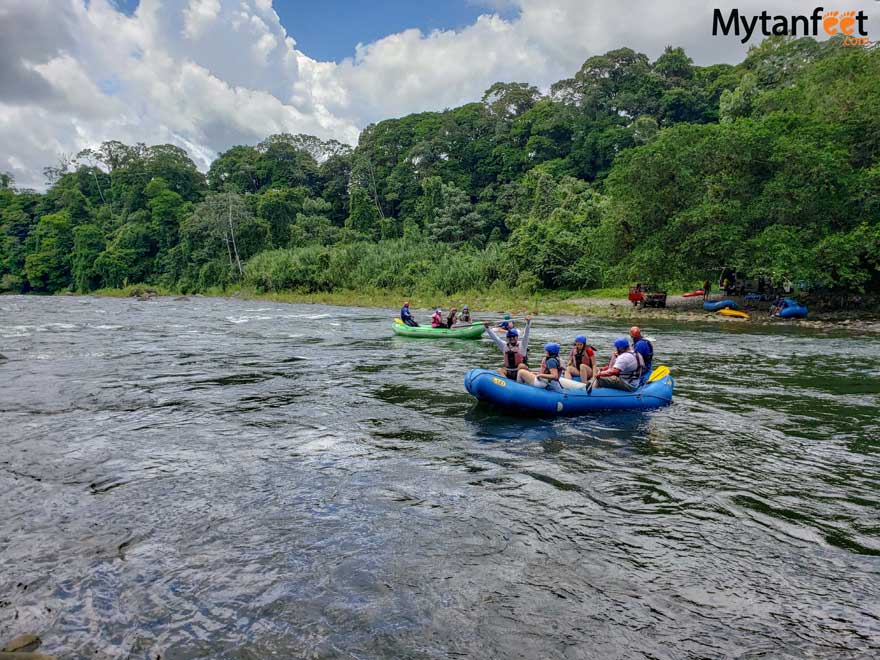 You'll paddle down the pristine river, battling exciting rapids with your guide and fellow adventurers. Keep your eyes open as you may see river birds or toucans flying about! During a calm section of the river, you can jump in to cool off for a little bit. Definitely a must do in Sarapiqui!
This is a half day rafting tour so you can go for a hike in the morning and raft in the afternoon or combine it with another adventure.
Chocolate Tour
For a fun and tasty mix of culture and food, book a chocolate tour to learn about cacao production in Sarapiqui. We did a tour with Costa Rica Best Chocolate who purchases cacao from the small local farmers, makes their own artisanal chocolate and sells it to tourists.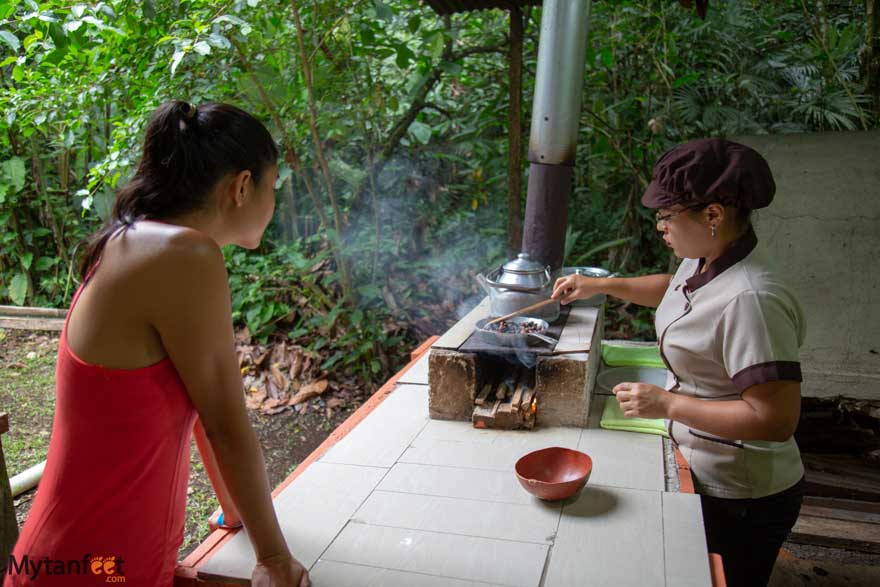 It was a lot of fun learning about the effect of climate change on cacao and the importance of cacao in indigenous cultures in Costa Rica. We also sampled a lot of delicious chocolate!
Tirimbina also has an excellent chocolate tour.
Horseback Riding
We did a horseback riding tour with Hacienda Poza Azul which took us through lush fields around their property. We stopped at Sarapiqui river to cool off a bit before heading back.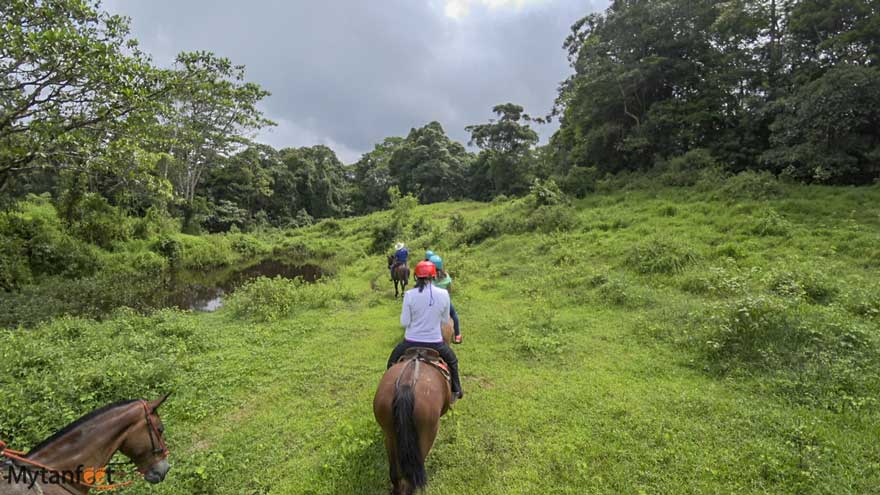 Our guide was really funny and let us gallop and trot a bit through the fields. We were also accompanied by a small dog who went with us the entire way! So cute.
Poza Azul Waterfall
Getting to the Catarata Poza Azul waterfall is an adventure on its own. Located on private property, you'll need to make sure you know a bit of Spanish, carry some colones and be prepared to walk through ungroomed trails. But the reward at the end is pretty worth it I'd say, as you reach this small waterfall in the rainforest.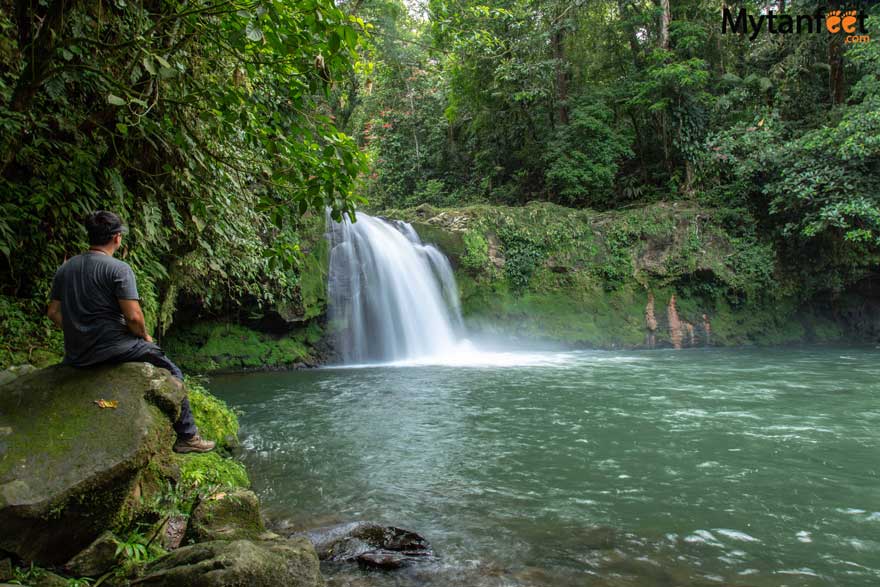 The waterfall itself is small but the pool is the highlight. It's deep enough to take a swim and cool off in the very humid jungle!
Selva Verde Guided Walk
You can't visit Sarapiqui without doing a guided nature walk and Selva Verde Lodge is one of the best places in Costa Rica for it. This lodge has their own private rainforest reserve of 500 acres and is only accessible with a guide.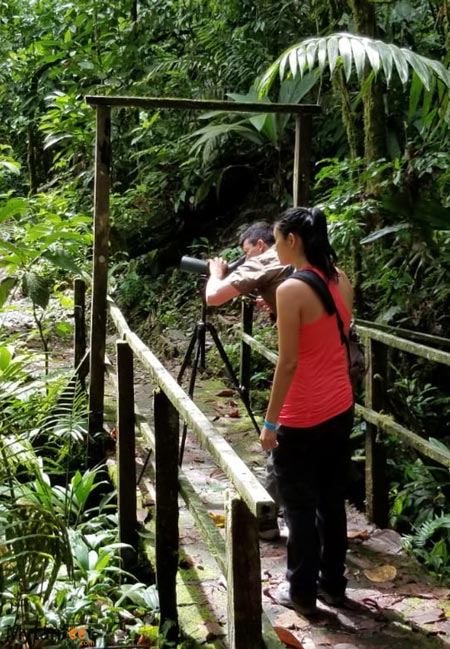 We did their guided walk and were the only ones there which was awesome. Our guide, Ronald was excellent and pointed out wildlife we've never seen before and we have done many guided walks in Costa Rica!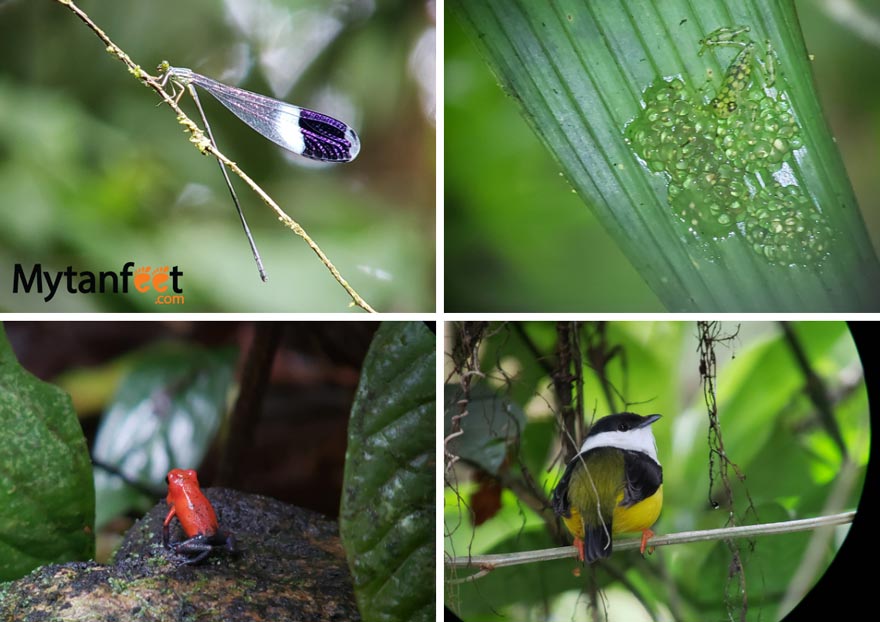 Their guided walk is $25 per adult, $12.50 per child from 6-11 and is definitely worth it.
Cooking Class
Many hotels offer their own cooking classes as Sarapiqui has a strong farming background. They produce many vegetables and fruits in Costa Rica and several hotels have their own organic garden and farm.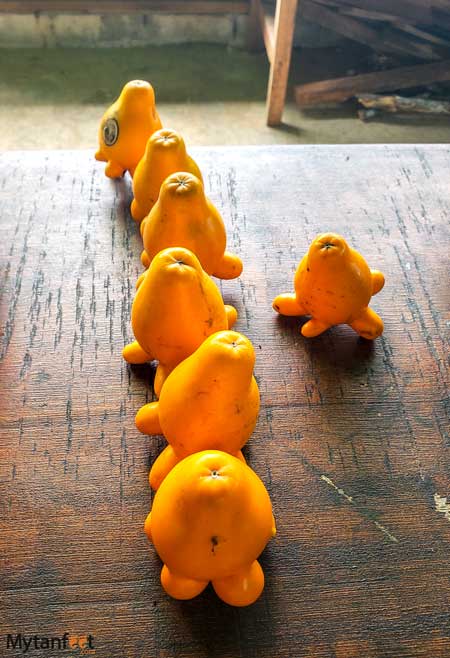 Take a cooking class to learn more about their farm to table philosophy, different tropical fruits and cook up your own lunch!
Birdwatching
Sarapiqui encompasses a part of Braulio Carillo National Park and Barra del Colorado Wildlife Refuge, two very biodiverse areas. Additionally, there are several small private reserves making it an excellent place to birdwatch in Costa Rica.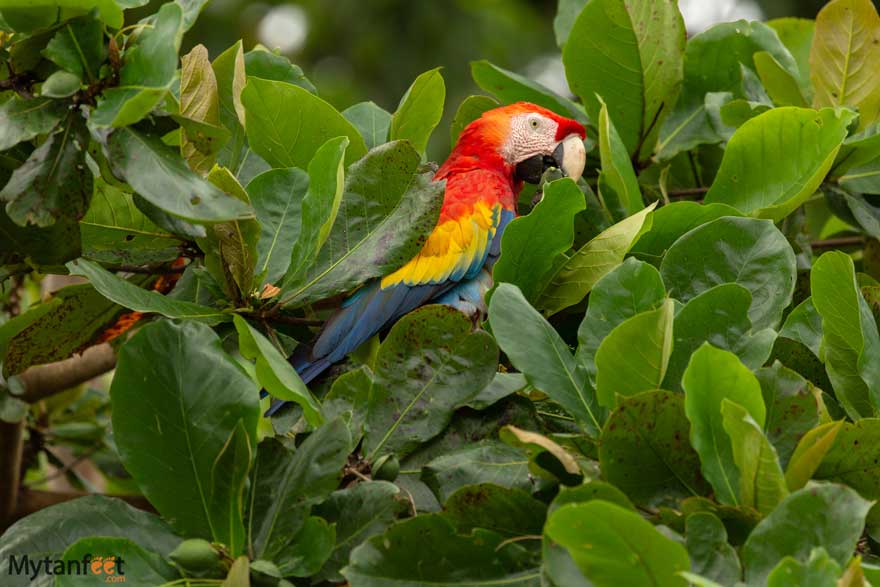 You can see birds like toucans, parrots, hawks and macaws in this region, which is always exciting for birders. The Sarapiqui locals began planting almond trees many years ago in hopes of restoring the Scarlet Macaw population and now you can see pairs of Scarlet and Great Green Macaws flying about.
Organic Pineapple Tour
Costa Rica is the biggest exporter of pineapples in the world and Sarapiqui produces an enormous quantity of those pineapples. Sadly, pineapple is incredibly destructive to the environment but there is one company, Organic Paradise who practices organic pineapple farming.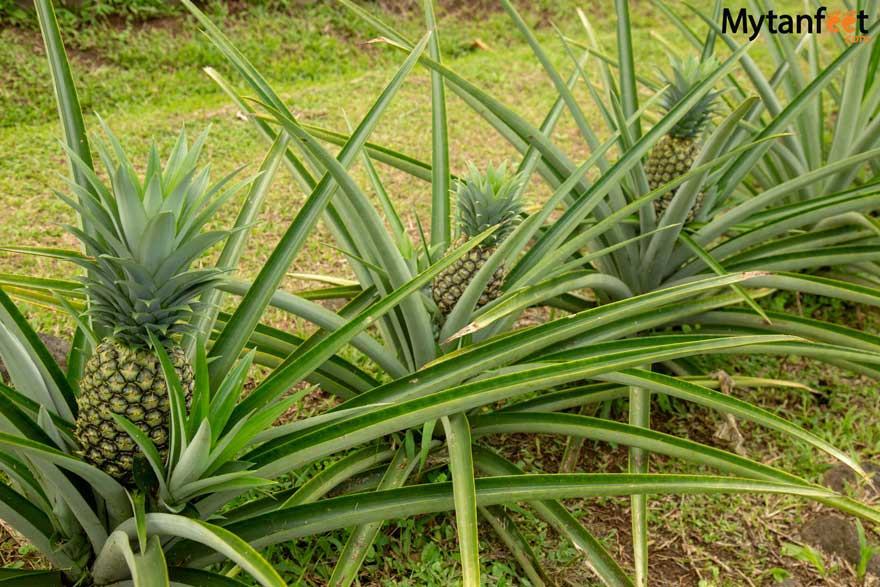 Tourists can book a tour to learn more about why pineapple is such a harmful fruit, how Organic Paradise farms organically, why we as consumers should choose organic pineapples and how to choose a ripe pineapple. Ride out into the fields, watch the experts hack the pineapples with machetes and experience the Costa Rican pineapple farm up close. It's fun, informative, education, and did I mention yummy as you get to sample pineapple cake, empanadas, smoothies and more delicious treats.
If you only have time to do one or two activities in Sarapiqui, this has to be one of them.
Ant Tour
For something a bit different, learn about leafcutter ants in Costa Rica! Take an ant tour with a local who has several large ant colonies. You get to see the hardest workers in the rainforest up close and you may even get to see the queen ant!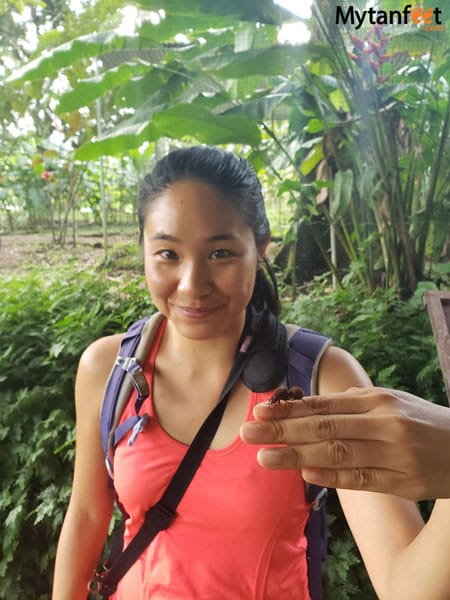 The ant farm located at Aguas Bravas operation center and he only speaks Spanish. If you don't speak Spanish, you can contact Aguas Bravas to see if they can help set up a translator. If you go rafting with Aguas Bravas, you can see the ant farm since you'll go to their operation center.
Night Walk
For those who want a deeper rainforest experience, take a night walk in Sarapiqui. Selva Verde offers night walks in their private reserve starting at 7 PM. Grab a flashlight and follow the footsteps of your trusty guide to venture into the forest when the sun goes down.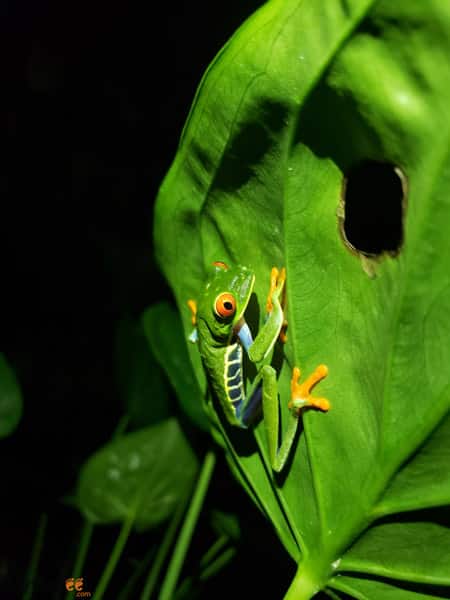 On a night walk, you have a great chance to see frogs, snakes, insects, nocturnal mammals like bats and kinkajous! It costs $23 per adult and $11.50 per child 6-11 years old.
Our personal recommendations
For one or two full days in Sarapiqui, our most recommended activities are the rafting, guided walk (morning or night), birdwatching and the pineapple tour. But as you can see, you have several options to do a variety of cultural, food, adventure and nature.
Many lodges offer on-site activities which makes it easy. Hacienda Poza Azul offers rafting, ziplining, safari float, canyoning, horseback riding, cooking classes and a tractor tour. Selva Verde offers birdwatching, night walks, guided nature walks and latin dance class. Tirimbina Rainforest Lodge offers night walks, nature walks, chocolate tour and birdwatching.
Read about other things to do in Costa Rica below!
Fun things to do in Guanacaste
13 things to do in Puerto Viejo