The quiet, laid back town of Potrero offers tourists an excellent home base in Guanacaste. It's close to some of the most beautiful beaches in Costa Rica, it has a welcoming local atmosphere and it is not as busy or crowded as nearby Flamingo or Brasilito.
If you plan to stay in Potrero and are looking for a reasonably priced beach front resort in Potrero, Hotel Bahia del Sol is an excellent option with a lush garden, spacious rooms and local vibe. Check our review out to learn more.
Map
Hotel Bahia del Sol is 42 kilometers (26 miles) and about 1 hour drive from Liberia International Airport.
Our Room

We stayed two nights at Hotel Bahia del Sol in a suite which was more like a small apartment. The suite had a spacious living room, dining area, furnished kitchen, full bathroom and master bedroom.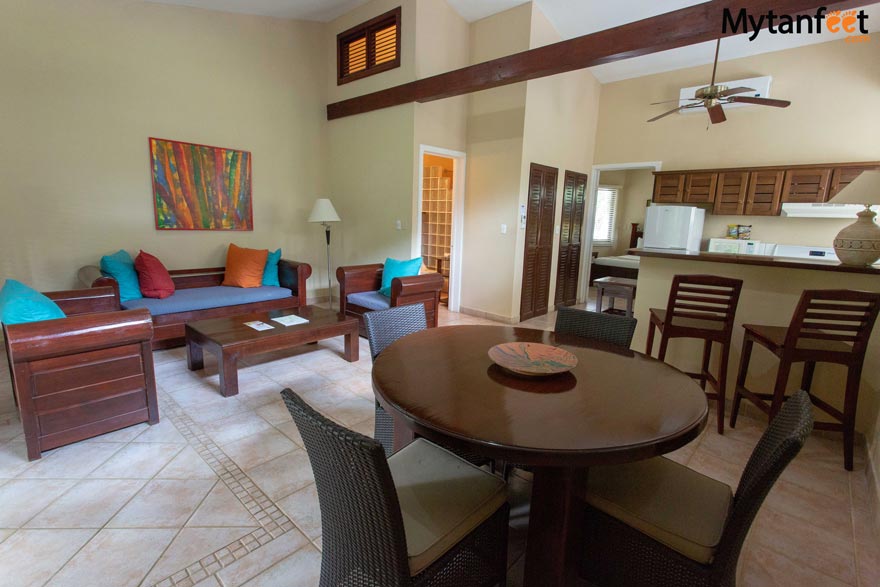 This suite allows up to 3 guests and the bathroom is not ensuite.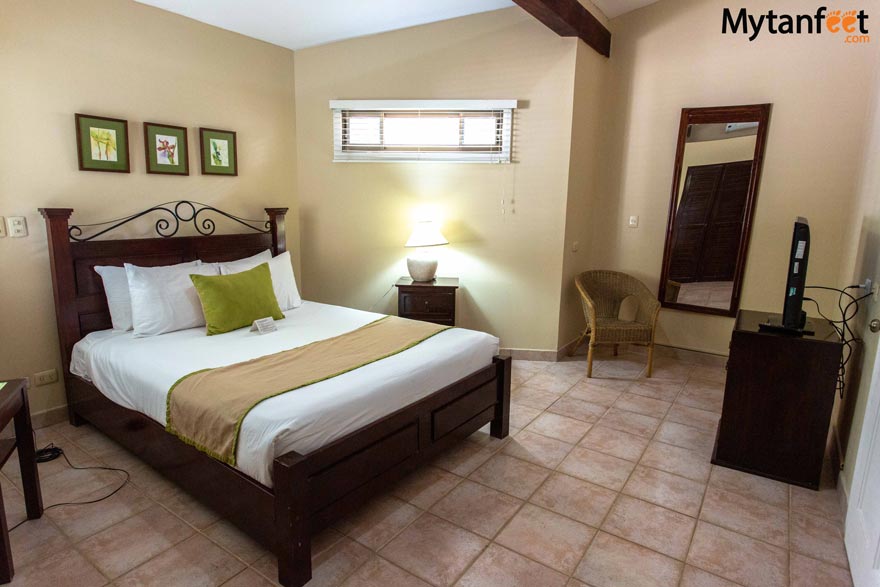 Our kitchen was fully furnished with utensils, toaster, coffee pot, plates and bowls, refrigerator and microwave. Outside, there was a sitting area with a small coffee table and lounge chair.
Thoughts on the Room
When it came to the room, it was very spacious and comfortable. The living room and master bedroom both had air conditioning which was nice.
Although the suite was very big, there were a couple things about it. The lightning is not the best so it's a bit dark in the living room and bedroom at night and the decoration felt a tad empty. I feel like if they put some more tropical decor, it would really brighten the place up and give it a much more homier feel.
Additionally, our room was the closest one to the parking lot so we could hear everyone talking, driving and going in and out of the lobby so it wasn't the quietest room on the property. Everyone walks past this particular room too since it is the first one. If you happen to get that room, I recommend asking them to give you a room in the back or upstairs.
Hotel Bahia del Sol also has deluxe superior rooms, family suites with two bedrooms, deluxe rooms with a hot tub and standard rooms.
The Property
Bahia del Sol has an incredibly lush garden right in the middle of their property and it is beautiful. The rooms are built on the perimeter of the garden so you walk through it every morning to get to breakfast and the beach. They put a hammock area right in the middle which was very nice, so you can be feel like you're relaxing in the jungle.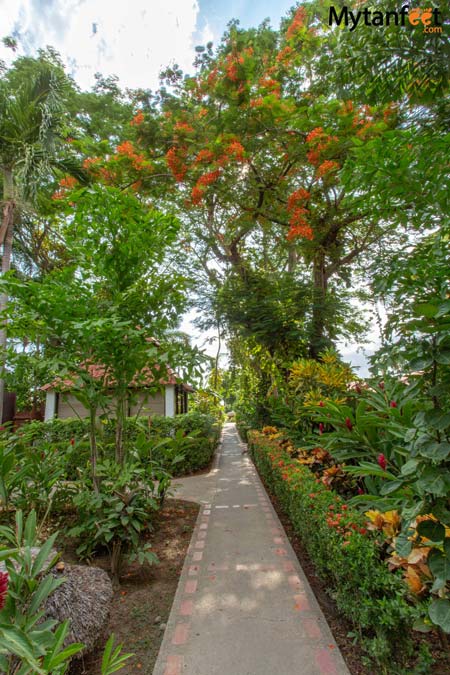 They also have a small spa, a pool, restaurant and lounge area. The restaurant and lounge area is right next to the beach so we watched a couple of lovely sunsets as we had dinner.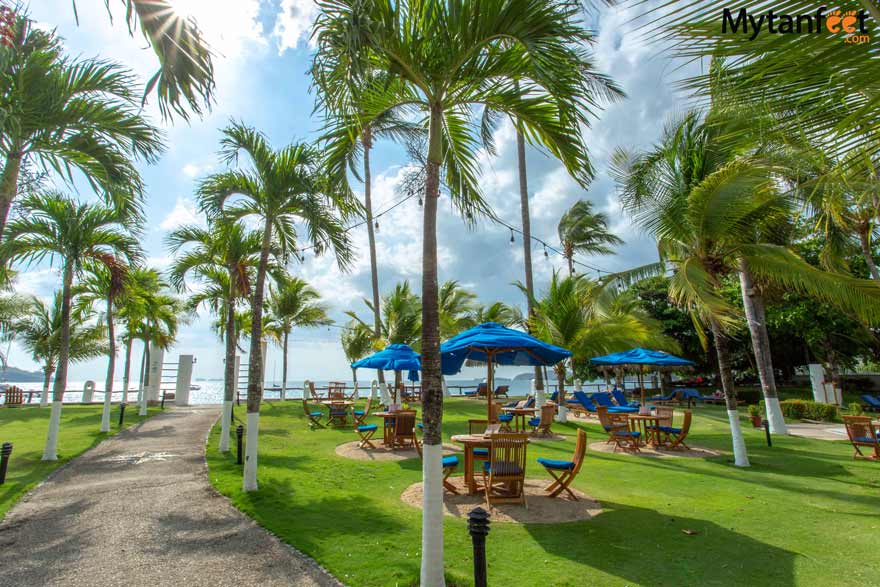 Restaurant
We ate at their restaurant two times for lunch and dinner. We enjoyed some yummy seafood and steak for dinner. I liked that they had an indoor and outdoor dining areas as the indoor section had a more intimate feel.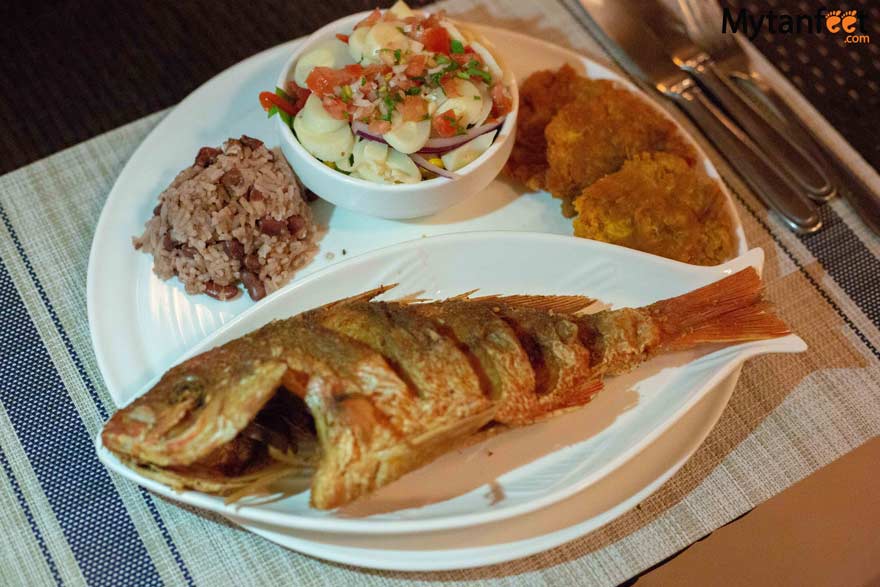 Although most hotel breakfasts in Costa Rica are buffet style, their a la carte breakfast had plenty of choices.
Thoughts
All in all, we had a nice relaxing time at Bahia del Sol. I walked on Potrero beach which is a lovely, not crowded beach and we enjoyed the hammocks in the garden. Many of the other guests lounged on the chairs, read a book by the pool and just relaxed. It's definitely a nice hotel in the area for families and couples and they even put on weddings on their property.
Something I really liked about Bahia del Sol was that it wasn't your typical beach front resort. It's very mellow, laid back and chill, no loud reggaeton music playing or tvs blasting everywhere. All the guests were there to simply relax and enjoy the beach.
The staff were very friendly and were quick to help, especially when I found an iguana friend in our living room!
Hotel Bahia del Sol is also in an excellent location, being right next to Costa Rica Sailing Center and in walking distances to other restaurants. You can easily visit many other beaches from Potrero like Conchal and do many day trips to Rincon de la Vieja National Park, Tamarindo, Ostional, Gulf of Papagayo, Rio Celeste, Diamante Eco Adventure Park and Llanos de Cortes waterfall.
Some things you can easily do from Potrero is a sunset sailing tour with Panache Sailing, Costa Rica Sailing Center or Lazy Lizard, a snorkeling tour from Flamingo or ATV or horseback riding in Brasilito. Plenty of options to add a day or two of adventure to your vacation!
Prices and Booking
For a mellow beach front resort, prices are very reasonable. In high season, it is $185 for a standard queen and $265 for the suite we were in. You can check their website for prices and bookings.
Our stay was sponsored by Hotel Bahia del Sol. All thoughts and opinions are our own.