If you've visited Costa Rica before, you most definitely have eaten gallo pinto, the traditional breakfast of the country. If you want to bring some pura vida to your kitchen, here is our Costa Rican gallo pinto recipe (given to us by Yeison's brother). All the ingredients are easy to find: rice, beans, onion, cilantro and green pepper.
Having a Costa Rican husband means I needed to learn how to make gallo pinto so I made sure to ask Yeison's family for an easy but delicious recipe so I can make this dish for him.
You can also learn how to make this dish on a Costa Rica cooking class (morning). There are Amazon affiliate links in this post.
Costa Rican Gallo Pinto Recipe
Ingredients
The most important ingredient is Salsa Lizano which you can purchase on Amazon if your store doesn't sell any. It's the key ingredient to making Costa Rican gallo pinto so I don't recommend substituting it with other sauces.
You will need long grain rice and cooked beans, sticky rice like Asian rice doesn't work as well, long loose grain is better. I always make beans myself in a slow cooker and here is my Costa Rican slow cook black bean recipe. I love making my own beans but you can use canned beans as well if you're short on time.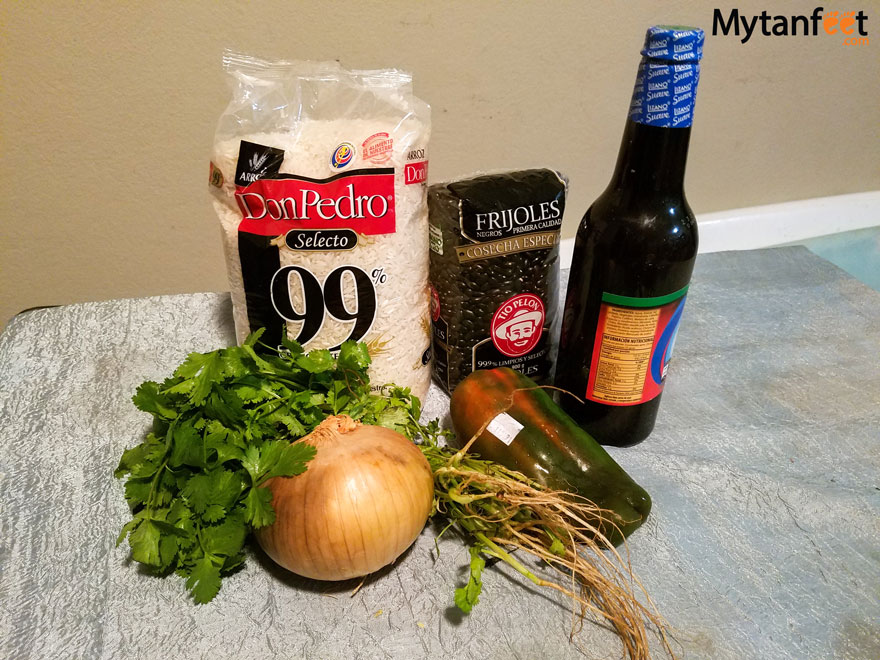 This makes 4 good sized servings.
4 cups of cooked long grain rice
2 cups of cooked black beans with half a cup of broth
3 garlic cloves, minced
1/2 cup of chopped white onion
1 chopped chile dulce (sweet pepper)
3 chopped cilantro stems
1/2 cup of Salsa Lizano
1 tsp butter or oil
Chicken consomme cube – optional. Most Costa Ricans use this as seasoning in their gallo pinto but I don't like it. This is personal preference of course so you can use it if you want.
Instructions
Fry the garlic on high for about 2 minutes in a large frying pan. I recommend using a deep frying pan (you can also use a pot if you don't have one). I use my wok at home since I don't have a deep pan.
Lower the heat and add butter or oil, pepper, cilantro and onion. Saute for a couple minutes.
Add beans with the broth and Salsa Lizano. You can add more or less Salsa Lizano depending on how you like it.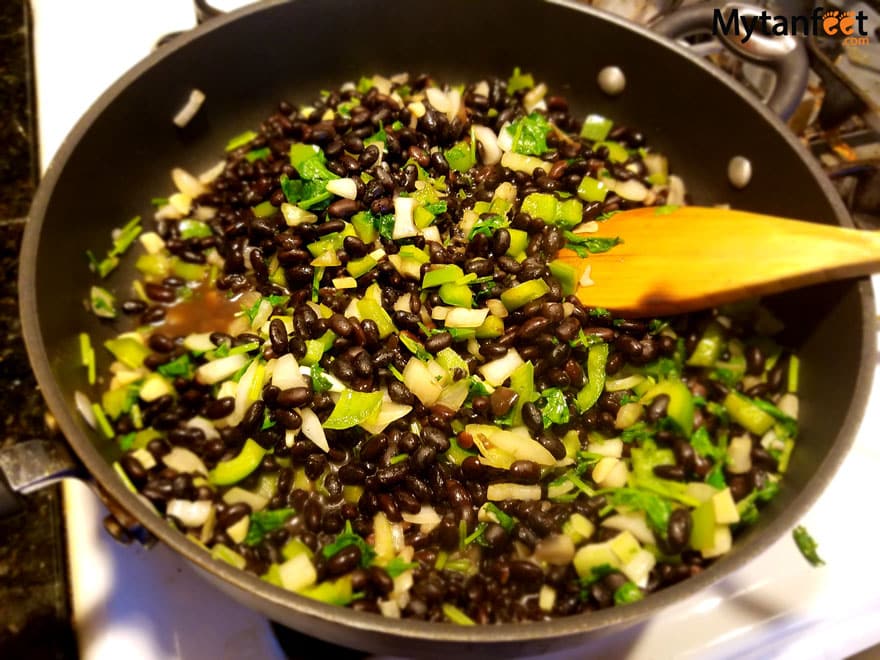 Bring to a boil for about 1 minute.
Lower heat, add rice.
Simmer for about 20 minutes, mixing occasionally until all the excess liquid is absorbed.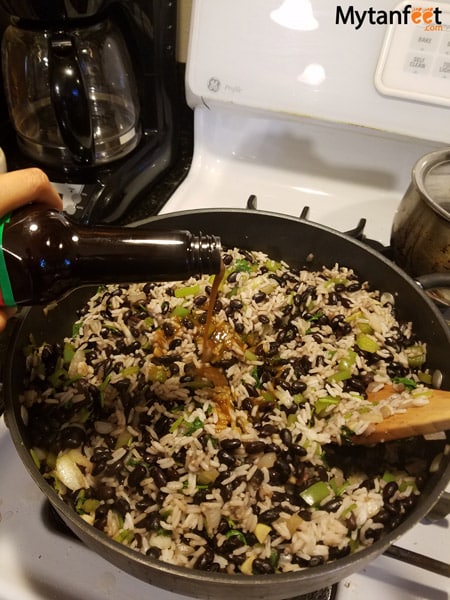 Stir in fresh cilantro and serve!
Gallo pinto is eaten at breakfast with eggs, toast/tortilla, plantains and cheese. But you can pair it with anything you like. And don't forget to have it with a cup of delicious Costa Rican coffee!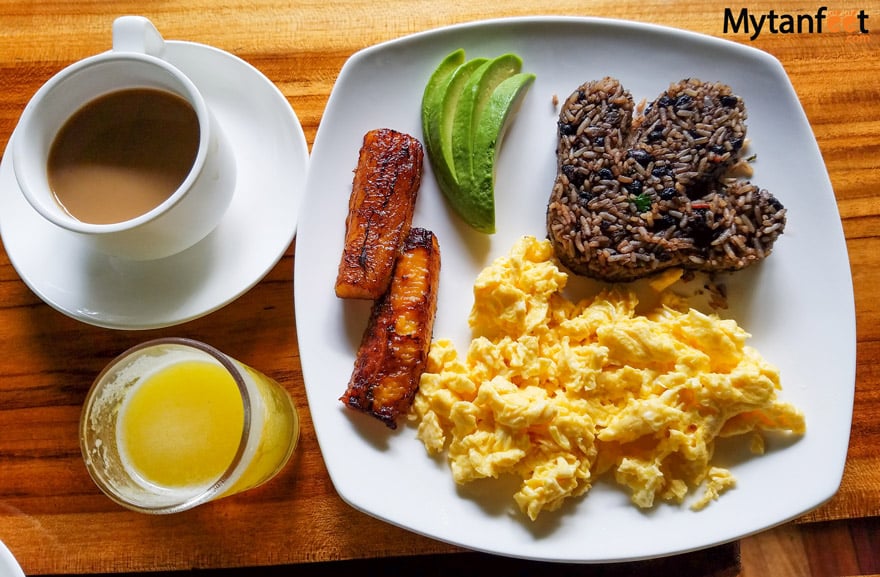 You will notice that some places don't have a lot of vegetables in their pinto and some places do. This is all personal preference, most restaurants sell pinto with just a hint of vegetables but we love a lot of veggies in ours. But to make it gallo pinto, you will need to use all three: onion, chile dulce and cilantro.
Gallo pinto is a great vegan/vegetarian dish so don't worry about what to eat in Costa Rica if you're vegan (read more about eating veg in Costa Rica). There are a lot of options and you can have gallo pinto with avocado or plantains or all on its own. Yum!
Check out our other Costa Rican recipes here!
There are Amazon affiliate links in this post.