If you plan on bringing your dog to Costa Rica from the US or moving to Costa Rica with pets, here is how we did it. We flew our dog from Costa Rica to the US and vice versa back in 2018.
If you have any questions about bringing your pet to Costa Rica/US, please consult your veternarian and check requirements of each country. This is just a blog post about how we did it, we cannot give official recommendations. Also please note this was back in 2018 and things have changed, particularly with airlines contact your airline and veterinarian for up to date, official information.
Introducing Patacon, Our Rescue Dog
First, here's a little information about the dog we brought. This is Patacon, a street dog we rescued in the Tamarindo area. We always spend around 6-8 weeks in the US and we didn't want to leave him in doggy day care so he went with us!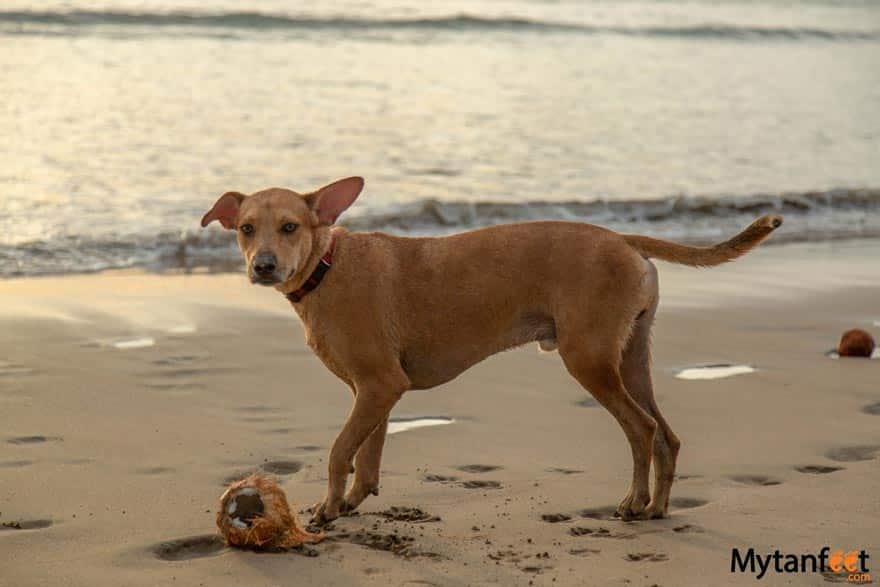 Patacon is a mixed breed, neutered male weighing 51 pounds (23 kilos). Because he is a medium sized dog, he has to go in cargo. He can't go in the cabin.
Bringing Dog to Costa Rica from USA Step 1: Vet Appointment
If you're moving to Costa Rica with pets, here is how to bring your dog from the US.
The first step into bringing your dog to Costa Rica from the US is a vet check if your dog hasn't already been checked or if he looks sick. If your dog already has all its vaccinations and is healthy, then your appointment will be to fill out the Costa Rican health certificate. If your dog is sick or has an infectious disease, he will not be able to travel.
So when you make your appointment with your vet, let them know they are traveling to Costa Rica. Your vet should have the health certificate printed (kinda like a Costa Rica pet passport or Costa Rica pet import permit) and ready to fill out during your appointment but ask them in case you need to bring it.
You need to do this appointment within 2 weeks of your departure date.
Veterinary Certificate for Costa Rica
These are the requirements your vet needs to fill out for the Costa Rican health certificate:
Rabies vaccination
Distemper, parvovirus, hepatitis and leptospirosis vaccination
Internal and External parasite treatment within 15 days
Since we did all the vaccinations in Costa Rica, I brought all his records and papers from our vet down there. The US vet filled in the information needed since they have to find the brand name of the vaccinations, lot number, active ingredients and manufacturer. Our US vet gave him Frontline and Interceptor since they have to witness the treatment.
The vet will fill out the entire form in blue ink and sign and date on the last page. Make sure you know the address you are going to in Costa Rica and the airports you are flying in and out of. This is Patacon's first page: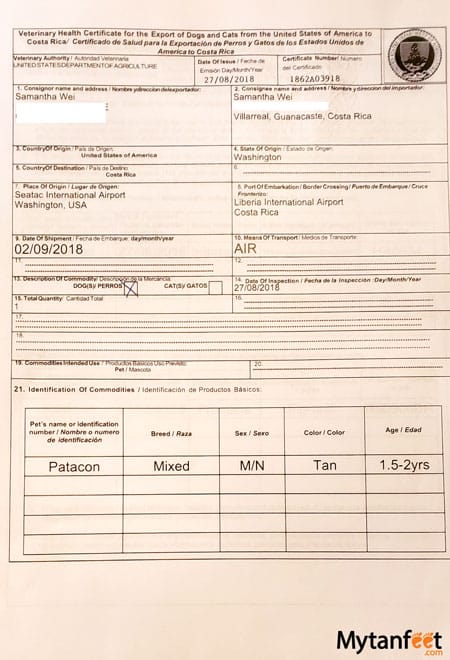 Another thing our veterinarian stressed to us is that since Costa Rica is a country where rabies is present, a rabies vaccination is required. Dogs must be at least 3 months old for the rabies vaccination so the youngest puppy that can enter the US is 4 months old. For dogs that have never been vaccinated, they must be at least 30 days before arrival. Dogs that are renewing their vaccination do not need to wait the 30 days, they can be imported immediately after their renewal booster vaccination.
Dogs also do not need to be microchipped to enter Costa Rica.
USDA Accredited Veterinarians
Once this health certificate is filled out and signed by the vet, then you have to make an appointment with an USDA veterinarian to get it endorsed and signed by them. Costa Rica requires an international health certificate signed by a veterinarian and then endorsed by APHIS (animal and plant health inspection service). See if your normal vet is USDA accredited. If they are, then you don't need additional endorsement but if they aren't, then you will.
I recommend making an appointment at least 4-8 weeks before as they fill up quickly. You can check the USDA website to find accredited veterinarians in your area. I live in Washington state and appointments were full two weeks out so I went to a regular and vet and then sent the papers in to get endoresed via mail.
Endorsement by USDA Vet Requirements Via Mail
If appointments are full, the USDA endorses 95% of the health certificates via mail.
You must send the following:
Proof of examination within 2 weeks of departure date. An invoice, receipt or chart notes work.
The Costa Rica international health certificate completed and signed by the vet filled out in blue ink.
Rabies vaccination certificate proof.
Distemper, hepatitus, parvovirus and leptospirosis vaccination.
If you have a cat, it needs to be vaccinated against feline viral rhinotracheitis, calicivirus, panleukopenia and feline leukemia.
Pet has to been treated within 15 days prior to departure date with Internal and External Parasite.
Endorsement fee of $38 payment. You can fill out a credit card form to pay for the fee.
I called the USDA office in Washington state and they sent me an email with the endorsement list requirements and credit card form. You must find your state APHIS office and get the requirements from them.
I sent my documents via UPS with one day delivery (I needed it asap). They took 48 hours to send the papers back to me signed and completed by the USDA veterinarian complete with a certificate number, date of issue and veterinary authority.
Checking on Your Endorsement Status
I did run into one little mishap with our endorsement. My vet forgot to fill out my home address so the USDA office called them and then they called me to go to their office to get the missing information. If this happens to you, make sure your vet uploads the form via PDF/email instead of faxing. My vet faxed it and when I called the USDA to confirm he sent in the missing information, they didn't have it because they didn't check their faxes!
If I hadn't called the USDA to check, it would have just sat in the fax and I probably wouldn't have gotten it back in time since they didn't call back my vet office to confirm.
Step 2: Kennel Requirements
Kennels are checked by the TSA and your dog can be denied boarding if the kennel doesn't fit the requirements. Patacon went in the cargo so he had to go in a kennel.
You can check the airline you are flying for the specific requirements. We flew with Alaska Airlines (I'll talk about our experience in a second) which you can check kennel requirements here.
Step 3: At the Airport
You have the kennel and health certificate ready so all that's left to do is the actual traveling part! At Sea-Tac airport, we checked in at the "Special assistance" area of Alaska Airlines.
The airline agent asked for Patacon's health certificate and I had to fill out a short form (Patacon's age, type of dog, color). She then weighed his kennel (dog and kennel can't weigh more than 150 lbs), checked me in and gave us our clearance to fly. Then we had to wait for TSA to check the kennel and take Patacon.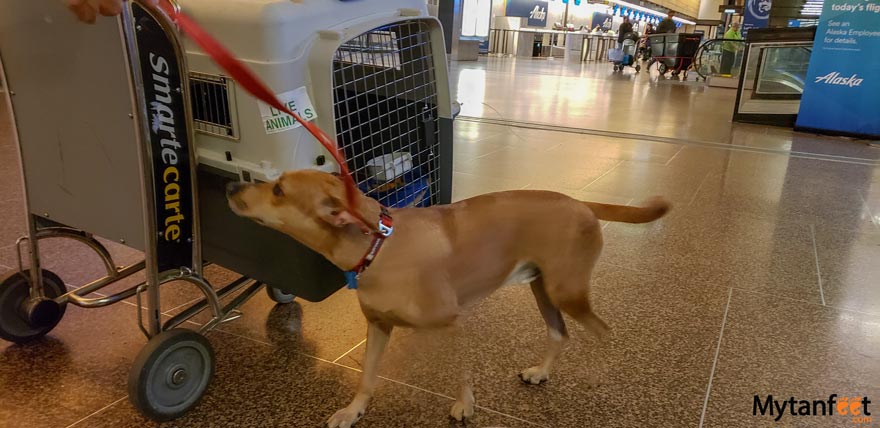 My flight was at 5 AM but TSA didn't open until 4 AM. We waited at the special assistance area (make sure to check in with the agent to get in line). When the TSA agent came, he checked Patacon's kennel, wiped it down and placed it on the cart. We put Patacon's bed and blanket in there along with some dog treats and his food/water bowl.
After the agent gave the OK, we put Patacon in the kennel and that was it! They took care of the rest to board and load him into the plane. We did put some zip ties on the door for extra security.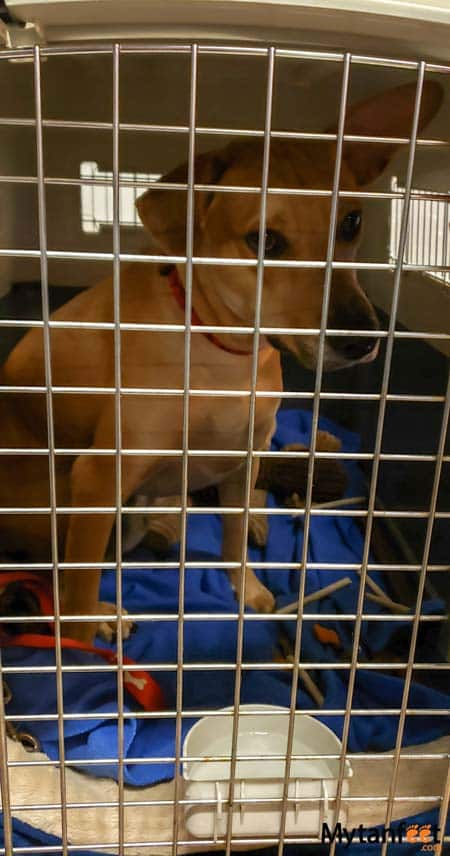 It was a little nerve wracking but we had a great experience with Alaska.
Arriving in Costa Rica
When you land, you will go through immigration first yourself. Your dog will meet you at baggage claim and then you must find the SENASA customs official to clear your dog. He will ask for your dog's papers (make sure to have a copy) and if it's all clear, he'll stamp it and hand it back to you.
Then you will go through customs and at that time, you can take your dog out of the kennel if you like. Since I didn't have scissors to cut the zip ties and my hands were full with 3 pieces of luggage, I wheeled him through customs and took him out of the kennel outside the airport.
Cost of Bringing Dog to Costa Rica from USA
For my US vet, they charged $80 for the health certificate, $21.29 for the Frontline and $8.80 for Interceptor. The USDA endorsement cost $38.
With Alaska Airlines, they chargef $100 per dog.
Bringing Dog from Costa Rica to USA Step 1: Vet Check
Similarly to US, you need to first do a vet check to make sure your dog is in good health and not carrying any infectious diseases. Since we rescued Patacon in Costa Rica, our Costa Rican vet had all his initial records and was familiar with his history. She already had all his vaccinations so we made an appointment to fill out the paperwork.
The form is an exportation certificate and we needed to give her our departure date and airport.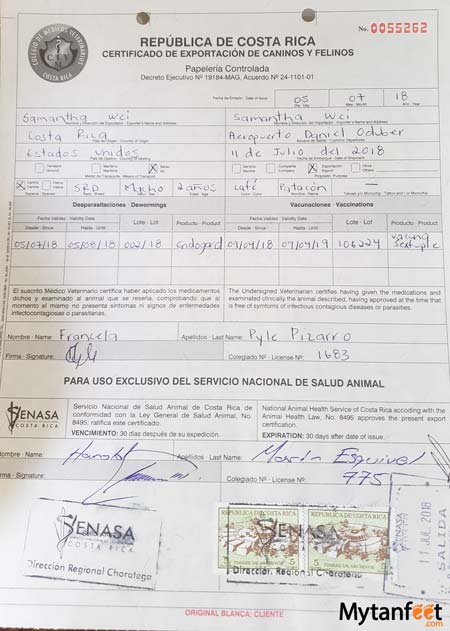 Requirements
Patacon had to have been dewormed and vaccinated against rabies, distemper, hepatitus, parvovirus and leptospirosis. The vet signed and dated that Patacon was healthy, had his vaccinations and was free of infectious diseases and parasites.
SENASA Endorsement
Next, the certificate had to be signed and endorsed by SENASA, the National Animal Health Service of Costa Rica. Most veterinarians in Costa Rica will send in the papers for you so we didn't need to do anything more after the appointment. We waited until she called us saying Patacon got the stamp, picked up the papers and that was it.
If your Costa Rican veterinarian doesn't do the authorization, you will need to go to the Ministry directly to get it done yourself. You need to bring a fiscal and archivo stamp which you can buy at most bookstores.
The Costa Rica pet export certificate takes 1-2 days for authorization and needs to be done within 30 days before your departure date to the US. Additionally, this certificate is valid for only 21 days (used to be 30).
Step 2: At the Airport
When we checked in, the SENASA agent came to the counter to check Patacon's papers and make sure everything was good. We also brought all the invoices and other records just in case and we knew we needed them to bring Patacon back.
After we got the go ahead, we loaded Patacon into the kennel and they put him on the baggage carousel.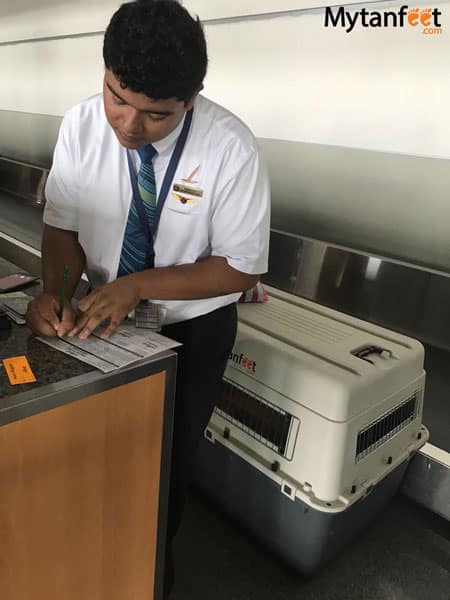 Kennel
For his kennel, we tied some food, the wheels, water and his leash to the top. You can't put the wheels on but I saw some people putting them on when they picked up the dog to make it easier to carry. I just paid for the carts to wheel him out of the airport in Sea-Tac when we arrived.
Step 3: Arriving in the US
Similar process to bringing a dog to Costa Rica from the US. You will go through immigration yourself first and then pick up your dog at baggage claim. You then need to take him through customs where you'll present the health certificate and import permit. Once he's clear, you can go through customs and exit the airport.
If you have a connecting flight, then you'll have to put him back in the kennel and depending on how long your layover is, the flight agents will take him out to pee in the pet areas.
Because they zip-tie the front door, I recommend asking the person picking you up to have a pair of scissors to cut it open. I asked the baggage claim agent who lent me his.
Cost of Bringing Dog to USA from Costa Rica
The SENASA stamp and endorsement cost 7,703 colones (about $13 USD). Our veterinarian charged us 120,000 colones for everything (around $206 USD) which includes the SENASA stamp. The Alaska Airline dog ticket was $100.
Airline We Flew With: Alaska Airlines
I had read many good reviews about flying with pets on Alaska Airlines. A few of my friends also recommended them. Now, Alaska Airlines is the only one flying pets in cargo to Costa Rica to Liberia International Airport (LIR).
For us, we had an excellent experience with Alaska. When purchasing my ticket, I called first to check whether pets were allowed on the itinerary I wanted as they don't allow pets on some planes. For example, some Airbuses aren't temperature controlled. Alaska only allows pets in cargo on planes that are temperature controlled.
After I purchased my ticket, I called Alaska to add Patacon to my reservation. Do this asap after you purchase your ticket as they only have spaces for 4 dogs in cargo. I paid the $100 at the counter during check in.
Alaska also gives you a little note when you board the plane to let you know your pet has also boarded safely. This gave me an incredible peace of mind. I was a nervous wreck during our first flight but when they handed me the note, I felt much better.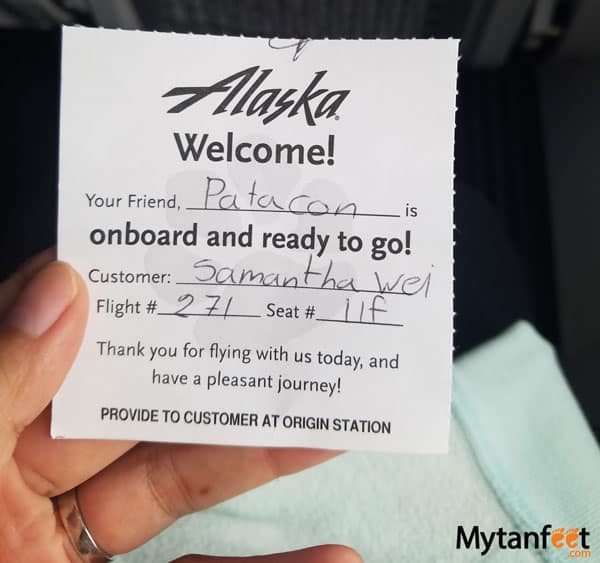 Alaska is very clear on their requirements for flying pets to and from Costa Rica which you can find on their site. Overall, we had a great experience and will always fly with them with Patacon!
I hope this guide helps you to bring your dog to Costa Rica from the USA and vice versa. Even though it was a long flight, Patacon was completely fine and I felt good about the whole experience.