Are you planning a trip to Costa Rica to catch waves and meet other surf lovers? If so, you've most likely heard of these two beaches in Costa Rica: Jaco and Tamarindo, as they are two of the biggest surfing beach towns in the country.
If you're trying to decide which one to visit, then you'll definitely want to read this article. We previously wrote about the differences between Tamarindo and Coco, so this post will be about differences between Tamarindo and Jaco.
Tamarindo and Jaco are two touristic beach towns so they are ideal for those who want to ride out some waves, be close to the international airport and have a fun nightlife. So if you want to visit a more laid back surfing town, then places like Santa Teresa, Nosara, Matapalo in the Osa Peninsula and Dominical are better for you but for those deciding between Tamarindo and Jaco, read on!
Differences Between Tamarindo and Jaco
First, we have beach guides to both Tamarindo and Jaco for you to get a general idea of what they're like. This post will go more into detail comparing the two beaches.
Location
Tamarindo is in the Guanacaste province, the North Pacific of Costa Rica. Jaco is in Puntarenas, the Central Pacific.
Tamarindo is 1 hour from Liberia International Airport and a 4 hour drive from SJO Airport. Jaco is 1.5 hours from San Jose International Airport. Tamarindo and Jaco are a 4 hour drive apart.
What the beaches look like
Tamarindo
Playa Tamarindo beach is a long beach, stretching over 1 mile with tan sand, perfect for walking on the beach. The beach actually connects to the Tamarindo estuary, Playa Langosta and Playa Grande, which all together makes up the Marino Las Baulas National Park.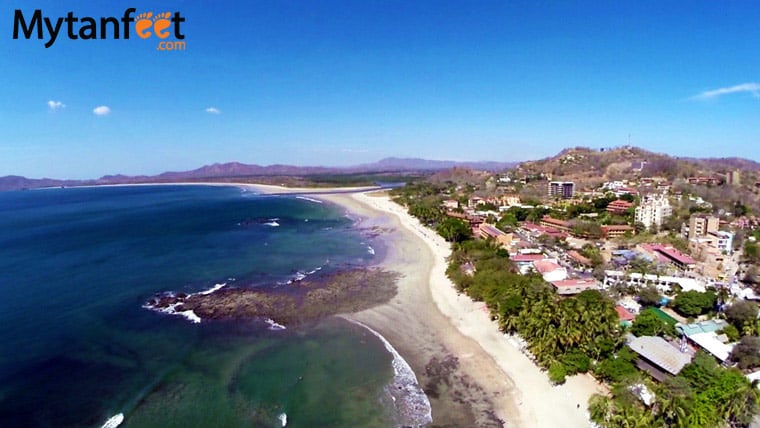 There are a handful of beach front restaurants and bars and during high tide, the water comes quite high. There isn't a ton of shade at this beach, so many people rent an umbrella and chairs or bask in the sun.
Tamarindo is famous for their sunsets, since you can get a clear view of the sun going down on the beach. It is quite spectacular!
You can swim at Tamarindo beach but do be careful as there are a lot of surfers. Try to find a spot where there aren't many surfers or lessons going on. During low tide, Tamarindo beach is excellent for sunbathing and walking and is nice for little kids.
Jaco
Jaco beach is slightly longer than Tamarindo with dark sand and water. It also has some rocky parts so it's not as nice as Tamarindo for walking.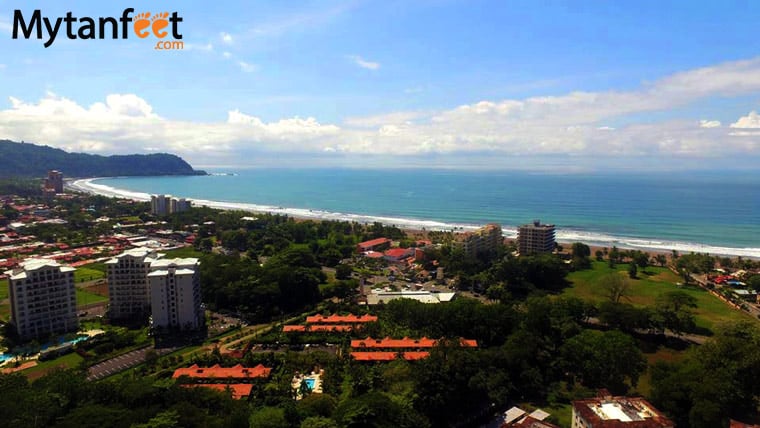 Jaco has characteristics of the Central and South Pacific beaches, with dark brown sand and dark blue waters. Sunsets are nice at Jaco as well.
Population and types of people
Tamarindo
When it comes to tourists, Tamarindo is the most developed and touristic beach town in the Guanacaste province. It's not impossible to find a nice spot on the beach, but it is definitely crowded especially during the holidays. If you come during the Christmas or Easter holidays, it is packed with international and local tourists.
The type of people who visit Tamarindo are largely young backpackers in their 20's and 30's, many who are there to surf and backpack. There is a fairly good hostel/backpacker atmosphere in Tamarindo with several dance clubs, sports bars and bars. However, you will also see many families as parents like Tamarindo because of the conveniences and fun activities for little ones.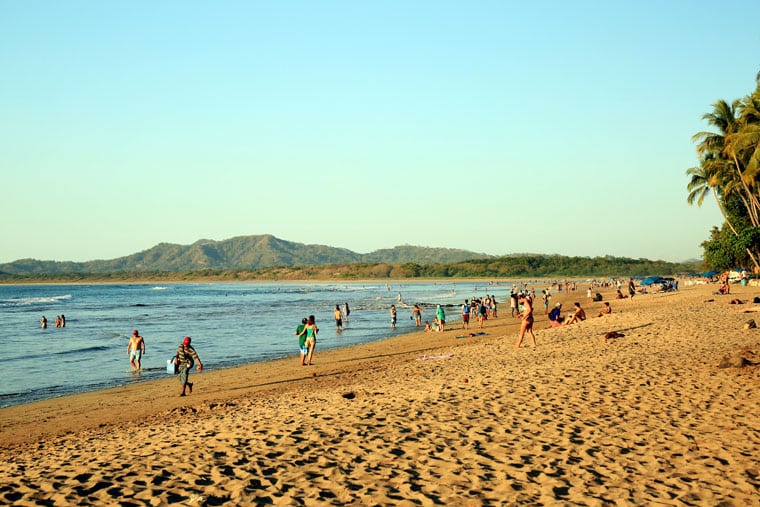 You may have heard that some people call Tamarindo "Tama-gringo" due to the large amount of Americans and Canadians and it is very accurate. There is a large expat community in Tamarindo that consists of mostly young adults, young families, digital nomads, backpackers and surfers. However, not all of them are from the United States. There is a noticeable amount of South Americans, particularly Argentinians and Europeans.
Jaco
The type of tourists who visit Jaco are also young surfers but Jaco draws another type of crowd due to its infamous reputation for drugs and prostitutes. It is common to see wild bachelor parties going on or groups of older gentlemen at the bars for a guy's getaway. Jaco attracts mostly the younger crowds who are looking to have a good time.
Jaco has done a good job cleaning up the town the past few years however so the environment is more family friendly. Many city Costa Ricans from San Jose like to visit Jaco for the weekend or holidays because it's only 1.5 hours from the capital city. Although many of them go to Jaco to party, many families visit as well.
You can experience a nice mix of locals and foreigners in Jaco for this reason.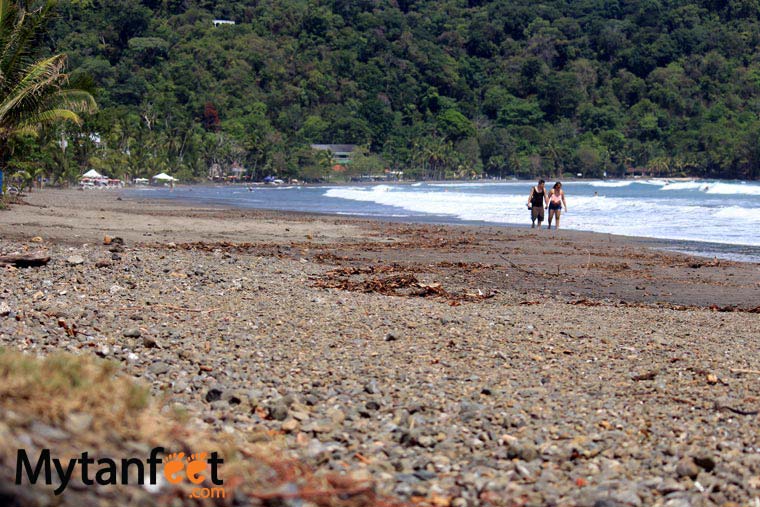 There isn't a large expat community in Jaco as there is in Guanacaste. Many foreigners are American and Canadian transients or digital nomads.
Both beach towns have a party atmosphere but Jaco definitely has a bigger party atmosphere. Tamarindo is more family friendly than Jaco and Jaco has more locals.
Town
Tamarindo
The town is fairly developed with large hotels, condo towers and many buildings. Tamarindo itself is small though, with narrow streets and only the main road paved. The back of Tamarindo has unpaved roads and there are many condo complexes and luxury homes in the back roads. To be honest, the infrastructure and layout of this town is not very well thought out as many condos, hotels and apartments are crammed in the back of town on a bad road. Parking is tight and can be a hassle during the busy season.
When it comes to amenities, Tamarindo has everything: banks, ATMs, pharmacies, restaurants, bars, supermarkets, convenience stores, liquor stores, clubs, surf shops, hostels and luxury hotels. As for food, Tamarindo has an excellent variety of food from Argentinian grill, Italian and sushi. However, eating out is quite expensive since Tamarindo has mostly foreign tourists.
Jaco
Jaco town is big, much bigger than Tamarindo. There is a very nice paved main road that runs parallel to the entire length of the beach, so to walk from one end of town to the other would take around 25 minutes. This main road even has parking lines and meters which is very rare in beach towns in Costa Rica. All roads through Jaco are paved.
When it comes to development, Jaco is the most developed beach town in all of Costa Rica. Being so close to San Jose, it is a city beach. You'll find high rise luxury condos, luxury hotels, hostels, banks, pharmacies, surf shops, bars, dance clubs, restaurants and even a strip club (the one in Tamarindo is outside of town).
For food, Jaco has some of the best restaurants in Costa Rica with reasonable prices due to high competition and more Costa Rican visitors. You can find local restaurants with $6 lunches, bakeries, sandwich shops, steak houses, Italian, sushi and more. You can read about our favorite restaurants in Jaco here (that's just how good the food is in Jaco).
We have videos of us driving through both Tamarindo and Jaco so you can see what both towns look like.
Surfing
Tamarindo
Tamarindo is excellent for beginner surfers due to the long breaks and constant waves. You'll see classes going on almost all day, but surfing is much better 2 hours before high tide. Since it's a fairly long beach, there are spots suitable for all levels: beginner, intermediate and pro. Tamarindo Beach Break is the most popular but you will see locals surfing Pico, the estuary and all the way down by the Capitan Suizo hotel.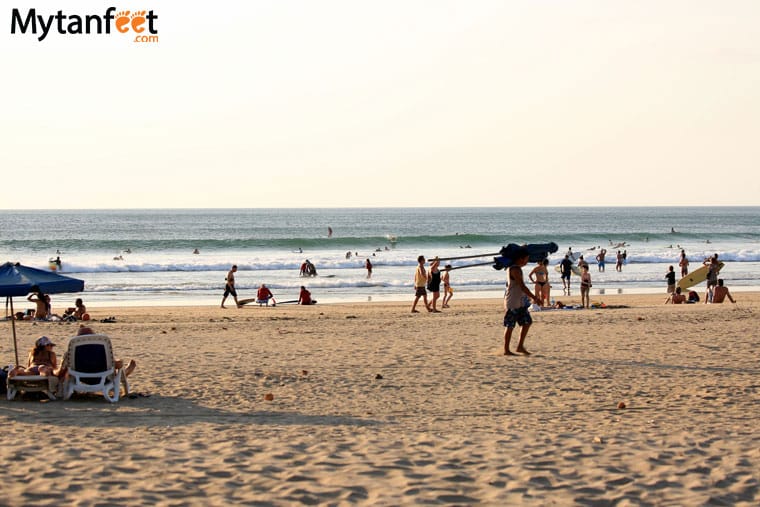 You will find surf shops everywhere in Tamarindo. As the Beach Break is the best spot for beginners, it can get very crowded during high season.
Jaco
Waves in Jaco are consistent all year long and are suitable for all levels. Since this beach is also very long, there are spots for beginners, intermediates and pros and are much more spread out than Tamarindo. Jaco's breaks are shorter but strong.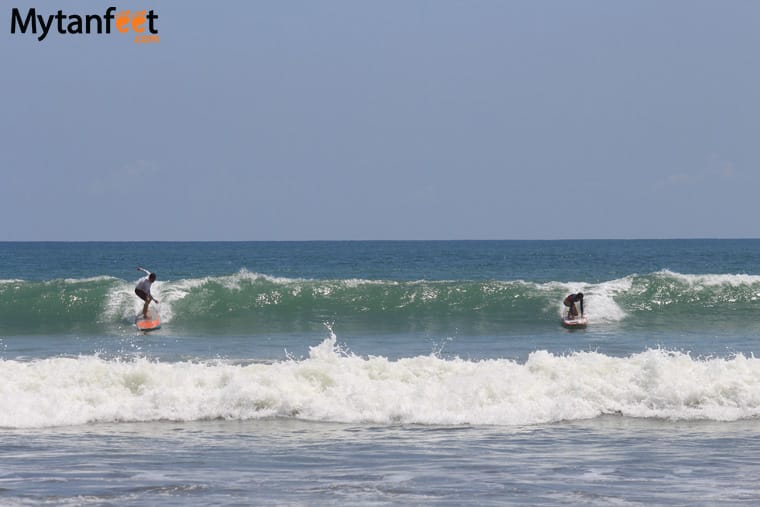 Due to the consistent waves, you will see lessons going on all day, from sunrise to sunset.
For beginner surfers, both beaches are superb spots and there are many surf schools and surf camps.
A few extra notes
Weather
The climate in Jaco and Tamarindo is drastically different. Jaco, being in the Central Pacific is much more humid and not quite as hot. It generally stays around mid 80s F (29 C) in dry season. Jaco does tend to rain quite a bit during rainy season (May – November). Tamarindo, being in the North Pacific is much drier. It stays in the mid 90s F (35 C) during dry season with much less humidity.
Both beach towns follow the normal rainy-dry season months but Tamarindo is hotter and drier. During the dry season (December – April), the surrounding mountains of Tamarindo are yellow and dry. Jaco stays green and lush all year long.
Wildlife
Although there isn't much wildlife right on the beach, Jaco has much more wildlife than Tamarindo. Since it's more humid and close to both wet and dry tropical forest, the abundance of wildlife is much more. On Jaco beach, you can see Scarlet Macaws flying around and hear toucans in the hills.
Tamarindo doesn't have toucans or macaws but it has a lot of howler monkeys, small parrots and other small birds. In general, the wildlife in the North Pacific is not as great as the Central and South Pacific.
Prices
Prices are fairly similar in Jaco and Tamarindo but Tamarindo is more expensive. Jaco has more competition being so close to San Jose whereas Tamarindo caters more towards international tourists.
Accessibility
Both towns are easy to get to from their respective airports. Jaco is 1.5 hours away from San Jose International AIrport by driving on a nice highway. Tamarindo is about 1 hour as well from Liberia International Airport on a nice road.
As for other methods, Tamarindo has a local airport, Jaco doesn't. However, Jaco has many buses that come from San Jose and Tamarindo doesn't have as many buses going from Liberia International Airport – most people have to book a shuttle.
Family Friendly
Due to Jaco's popularity among bachelor parties and the such, Tamarindo is much more family friendly. Although Tamarindo has its fair share of parties, beach and pub crawls and the like, it does have a more family friendly atmosphere with a mini golf course and open air food courts. There are more families that live in Tamarindo proper than Jaco, particularly in the expat community there.
Activities
Jaco beach itself caters mostly to surfing and stand up paddle surfing. It's not a fishing town, so you have to go off shore fishing from Playa Herradura and you can't snorkel so the main thing to do in Jaco is surf and you must go a bit far out of town for other activities. In Tamarindo, there are tons of different things to do. You can go sailing on a catamaran, off shore fishing and snorkeling by boarding a boat right from the beach.
For more information on beaches in Guanacaste, check out these posts.