Pochote is often passed over by tourists who favor its neighbor to the north but it's actually perfect for anyone looking for a mellow authentic Costa Rican beach. Since Tambor has grown to become a resort destination with the all-inclusve Barcelo Tambor resort and Los Delfines Golf Club, it can get rowdy. So if you're looking for a quiet beach in the area, head to Playa Pochote, a lovely dark sand beach with Scarlet Macaws.
Location
Playa Pochote, Costa Rica map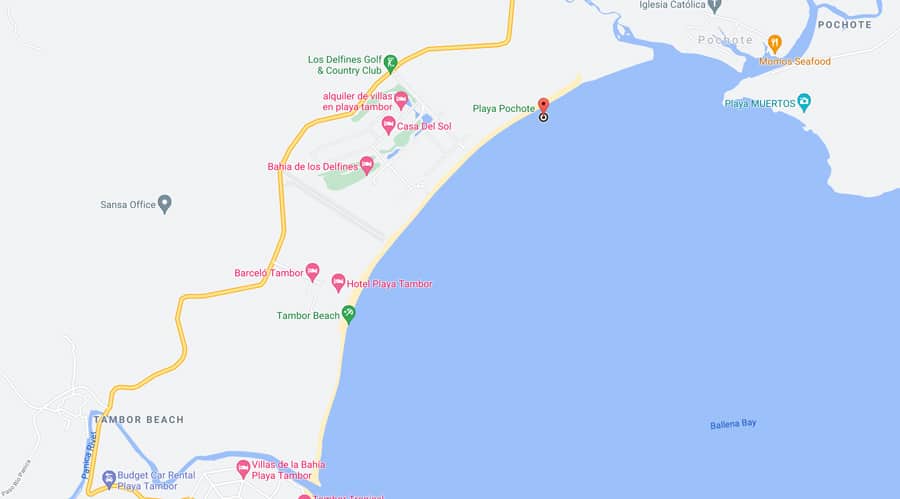 Playa Pochote is in the Nicoya Peninsula, 20 kilometers (12 miles) from Paquera and the ferry dock.
How to get to Playa Pochote, Costa Rica
From the Puntarenas Paquera ferry dock, head south around the Nicoya Peninsula on the main road. You will see lots of signs for Tambor, the Barcelo and local airport. Just drive south about 15 kilometers (9 miles) and you will see an entrance to Pochote before the Tambor entrance marked with international flags.
You can also fly into Tambor airport.
4×4 required?
Not necessarily. This beach is right off the main road and you don't need a high car to get there.
Parking
There is parking all along the beach once you turn off the road. You'll see a large campground at one end but you can park anywhere under the trees.
The beach and town

Playa Pochote is a dark gray sand beach, backed by a large mangrove in the Bahia Ballena. Flanking the northern end of the beach is the Rio Pochote where the small town resides. Pochote, blessed with rich waters and pristine rivers is a small fishing village.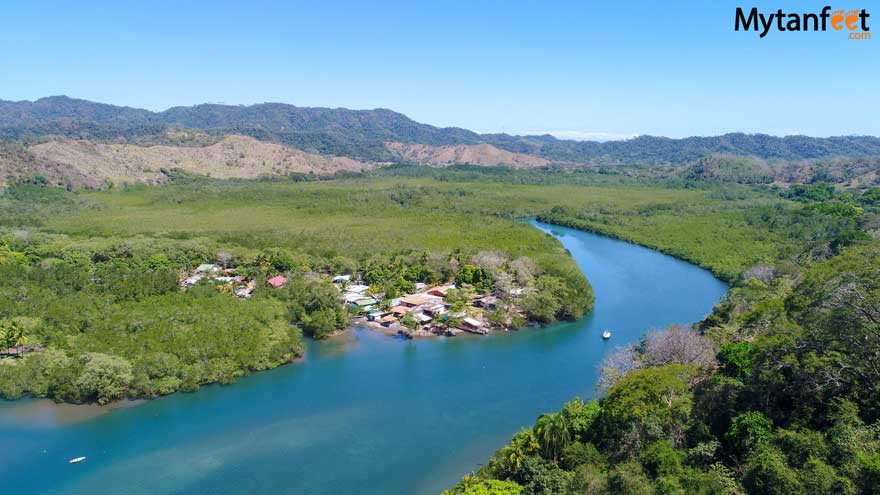 The two beaches, Pochote and Tambor are separated by the Rio Panica. Because the resort is on Playa Tambor, the more south you go on the beach, the more people you will see. Stay on the northern end of Pochote and all you'll see are a few locals fishing and enjoying the beach.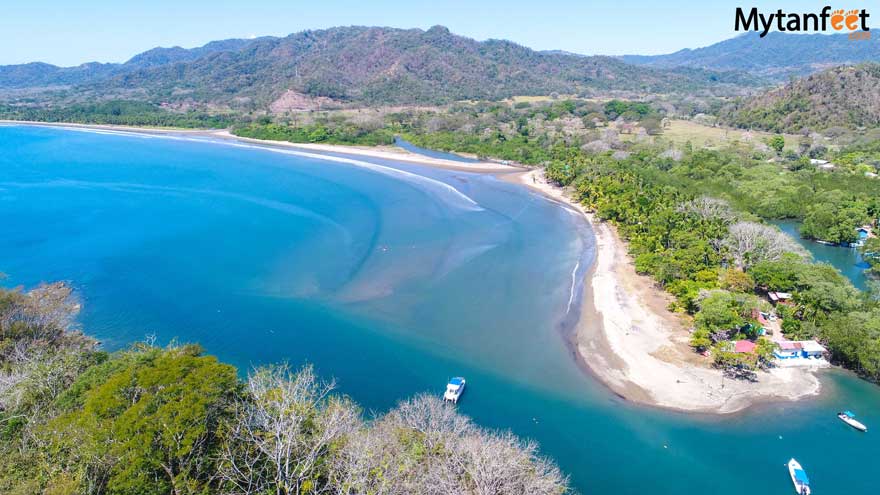 There isn't really much on Playa Pochote except for the town and campground run by locals.
Swimmable?
Yes, waves are not very big at this beach so you can swim and bathe.
Campground
Pochote is actually a popular beach with city Costa Ricans who aren't into the all-inclusive atmosphere because of its very nice campground.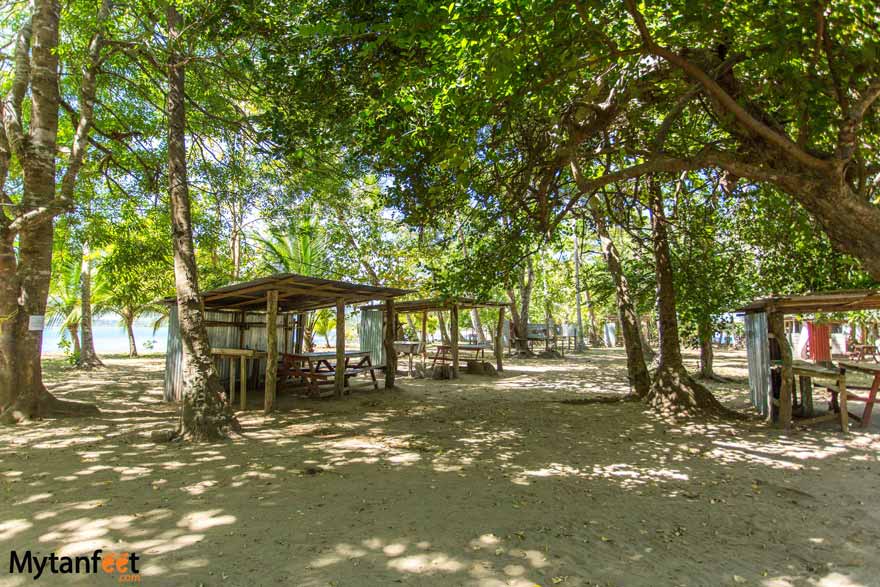 They have picnic tables and sitting areas under the palm trees and the beach is nice and flat, making it very suitable for camping. They are wide designated spaces for cars as well. The price is around 5,000 colones per person and it has bathrooms, showers, drinkable water and electricity.
It can get busy during the holidays like New Years and Holy Week since all the city Costa Ricans have vacation and they like to camp at Pochote.
What makes this beach even more special is that it is home to a few Scarlet Macaws. This is one of the very few places outside of the Osa Peninsula and Central Pacific where you can see these beautiful birds. They're slowly starting to come back in Pochote.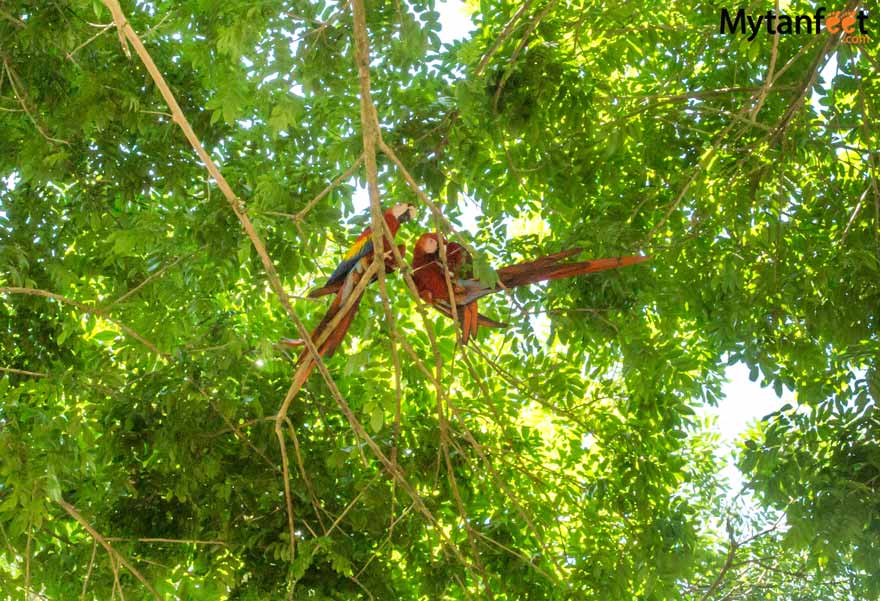 What to do
Pochote is a great place for a day trip but if you're camping, there are also a lot of fun things to do in the area. You can of course relax at the beach but you can also go scuba diving, horseback riding and golfing. One of the best things to do in Tambor and Pochote is kayak in the mangroves. You can see lots of wildlife and get beautiful views.
You can stop by Pochote on your way from Paquera to Montezuma or Santa Teresa or spend a night camping. Either way, it's a great beach to visit in the Nicoya Peninsula.
Read about other beaches in Costa Rica below!
Playa Coyote: Dark sand beach in south Guanacaste, remote and very small community
Barrigona: White sand beach near Samara
Playa Cuevas: Small white sand beach with good snorkeling in Mal Pais
Cocolito Beach: Beautiful white sand beach in Tambor with a waterfall
Playa Negra: Small town with a long surfing beach in Guanacaste