Are you planning on visiting Guanacaste but can't decide which beach to go to? Well if you're deciding between Playas del Coco and Playa Tamarindo (and can only choose one) then this article is perfect for you. We're going to talk about the differences, similarities and the pro and cons of each one.
Tamarindo and Coco are probably two very popular beach towns in the Guanacaste province of Costa Rica. People from all over the world come to visit these two beaches and enjoy the pura vida beach life since both of these beaches offer plenty of opportunity to do just that.
You can read up about Playas del Coco and Tamarindo in our beach guides to help plan your visit. As for us, we lived in Playas del Coco for a little over 3 years and still have family and friends there so we visit often. We have now lived in the Tamarindo area for 4 years and are settled here. So just in case you're thinking about relocating or escaping winters up north, you can read our thoughts about living in both places.
Map
Here's a quick map of Tamarindo and Coco so you can see where they are in the country and in relation to Liberia International Airport. The drive between Playas del Coco and Tamarindo is approximately 1 hour and 10 minutes.

The Towns
Tamarindo
Tamarindo is one of the more developed coastal towns in Costa Rica with lots of restaurants, hotels and businesses. It's not a big town and it didn't have the best city planning as it has narrow roads and is a bit disorganized. Many condo and apartment complexes are kind of just stuffed together in the back of town. Not all roads are paved in town but there are sidewalks on the main road.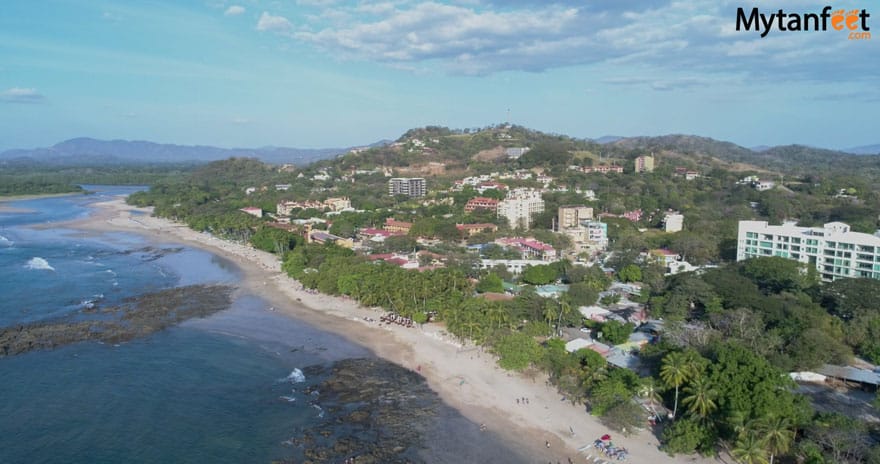 There are more big hotels and condo towers in Tamarindo than Coco as well. From Tamarindo, you can go to Langosta beach.
We made a video of us driving around Tamarindo so you can see what the town is like.
Playas del Coco
Playas del Coco, being a fishing village, is a very different town. It's smaller but a bit more organized when it comes to city planning. There is one main road going through center which leads from the entrance of Coco to the public beach and park. Coco also has a nice park, skate park, basketball court and short board walk along the main part of the beach. There are a lot of neighborhoods like Las Palmas and Pacifico right in Coco that are nicely designed and organized. From the main intersection in town, you can go to Ocotal beach.
Nearly all roads are paved in Coco and it's easy to walk through town.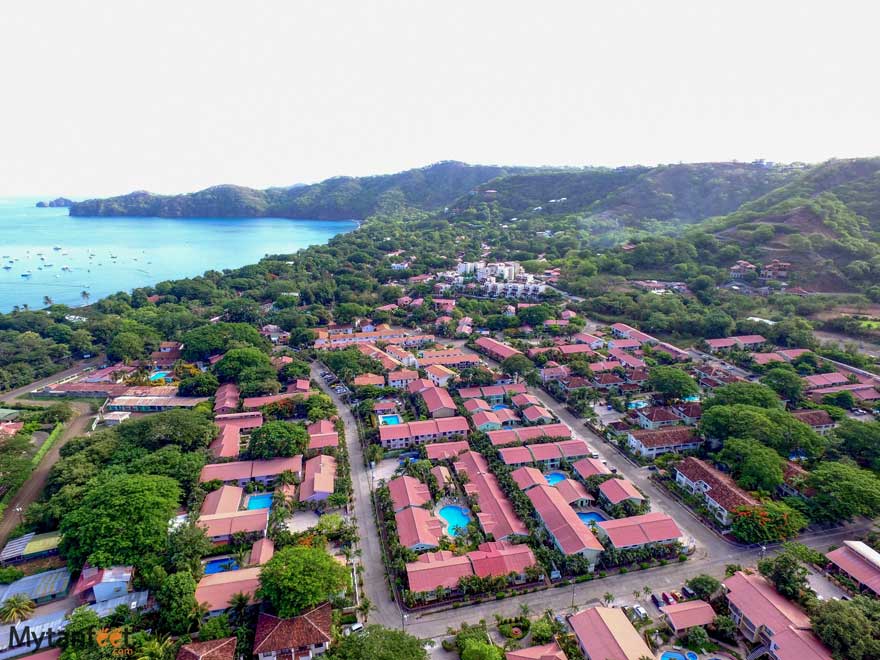 Here is a video we made of us driving through Playas del Coco.
What the beaches look like
Both beach towns sit inside a bay. Neither beach has public bathrooms or washrooms but Coco beach does have a few freshwater showers whereas Tamarindo doesn't.
Tamarindo
Tamarindo beach is a surfing beach through and through. This is why Tamarindo became so popular and is more developed than Coco. There are waves everyday for beginners and intermediates so it's the best beach in the area for first timers, lessons, surf camps and retreats. Even though it's a surfing beach, you can still swim in the waves close to shore. Just be careful if you swim though because there will be a lot of beginner surfers!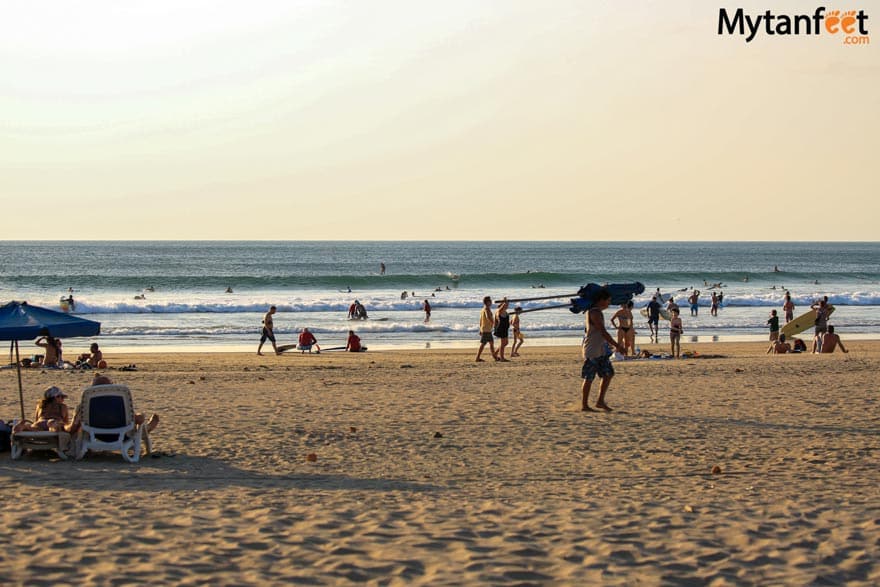 The beach is beautiful with soft tan sand and clear blue waters. High and low tide is considerably different at Tamarindo beach and it's great for walks, yoga, riding bikes, volleyball, sunbathing, reading a book and lounging. Tamarindo has stunning sunsets as the you get a full view of the sun going down over the horizon with no obstructions. It is not suitable to snorkel at this beach because of the waves.
The beach connects to the Playa Grande estuary inside Las Baulas National Park.
Playas del Coco
As Coco is a fishing village, the beach is not the prettiest. It has dark sand and dark, not that clear waters. The sand is more compact but is perfect for walking, sunbathing and lounging. Waves are fairly gentle, ideal for swimming and younger kids. Snorkeling at this beach is not suitable.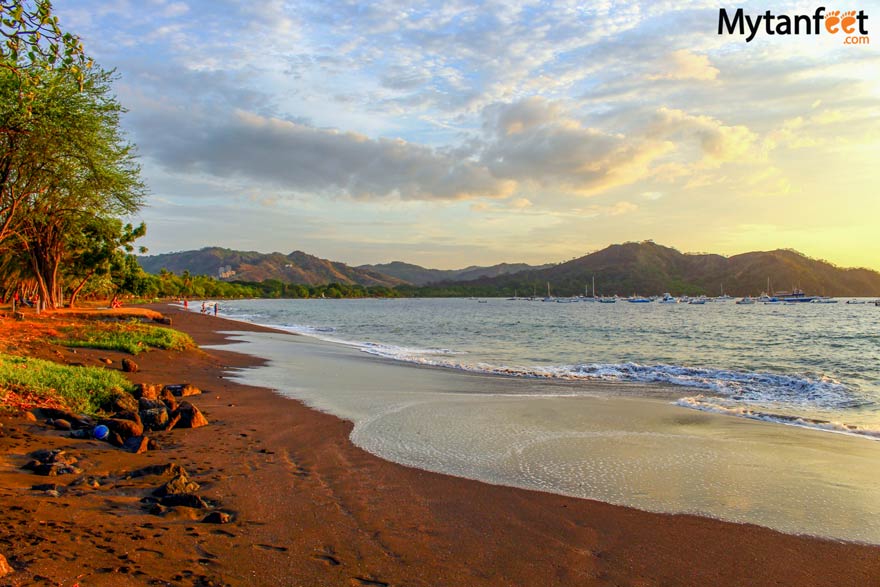 Weather
Both places have great weather with nearly year round sunny weather and high temperatures. There isn't too much different in terms of weather except Playas del Coco tends to be a bit drier than Tamarindo. Average temperatures throughout the year is 90 F (32 C) with March and April as the hottest months. Rainiest month tends to be October and it can rain just a tiny bit more in Tamarindo than Coco.
Sun rises at 6 AM and sets at 6 PM all year round in Costa Rica.
Demographic, Living, Population
In both towns you will find a good amount of foreigners that decided to move to Costa Rica or spend their winters here. We would say that the biggest difference between the types of people in both towns when it comes to foreigners is the age.
Tamarindo
In Tamarindo, it's common to see people in their 20's and 30's who are traveling during their gap year, who are surf lovers, solo travelers, digital nomads and entrepreneurs from all nationalities. Because of this, Tamarindo has a large mix of people from all over the world. There are also many young families who want their kids to learn to surf or go to the international schools in the area.
Playas del Coco
However, in Playas del Coco it's almost the opposite. The majority of the foreign population are retired USA/Canadians with some Italians, Britains and other Europeans. There are some young families and young adults but it's not nearly as much as Tamarindo. Samantha and I always joke about this because you can clearly notice the difference when you are driving around. We always call it the "time machine" because you see the same groups of people walking on the streets but in Coco it's like the same group + 50 years.
We're not saying it's a bad thing, this is just how it is. Many retired Canadians and Americans love Coco and when we were living in Las Palmas, every condo complex was full of the snowbirds or retirees. Coco is a smaller, more laid back town and Tamarindo is more lively thanks to surfing.
So just keep this in mind because if you're not quite at that stage of life and are looking to connect with more young families or adults. In this case, it's better to go to Tamarindo. But if you're looking for people who are in the retired stage of their life and for something quiet, Coco is the better place of the two. We decided to live in the Tamarindo area specifically for this reason. Oh and for surfing. For us, Coco was a little bit boring and we love to surf so having a lot of surfing beaches nearby meant the Tamarindo area was the best choice for us.
You will also find a lot of people from Nicaragua in both places because the border is only a couple hours away.
Locals
You will find more Costa Ricans from San Jose in Tamarindo than Coco because of the surf and lively younger nightlife. But these locals don't live in Tamarindo proper because Tamarindo is super crazy expensive since all the foreigners who moved there/bought land drove up prices of rent and it caters more towards foreigners. So locals live outside Tamarindo in small towns and communities like Huacas, Matapalo, Brasilito, Santa Rosa, Potrero, 27 de Abril and Villarreal.
In Coco it is very different. You will find lots of locals living in Playas del Coco proper, particularly in the Canales neighborhood. They live right in town as rent is still reasonable and affordable but you will find some that live outside Coco in Communidad, Sardinal or Nacascolo.
Crowds
Tamarindo is a much busier town and beach than Coco. During high season (December – April), the beach is packed and waves are crowded. Coco is similar but it still has less people than Tamarindo so even though it is busy in high season, it's not nearly as crazy as Tamarindo.
The exception is during Christmas, New Years and Easter. This is because city Costa Ricans love Coco and Tamarindo and both towns get packed with local and foreign tourists. Tamarindo does appeal more to the younger Costa Ricans looking for a party though. Coco attracts more families, seniors and those looking for a quiet vacation.
Activities
Both places are excellent for using as a home base in Guanacaste. They are not far from the Liberia International Airport and many natural attractions and national parks.
Tamarindo
Tamarindo is one of the most popular surfing beaches in Costa Rica and a major reason why tourists choose to visit Tamarindo. You can also take a boat ride through the estuary, go shopping, dance the night away at the bars, play mini golf, go fishing, scuba diving or go on a sunset catamaran ride.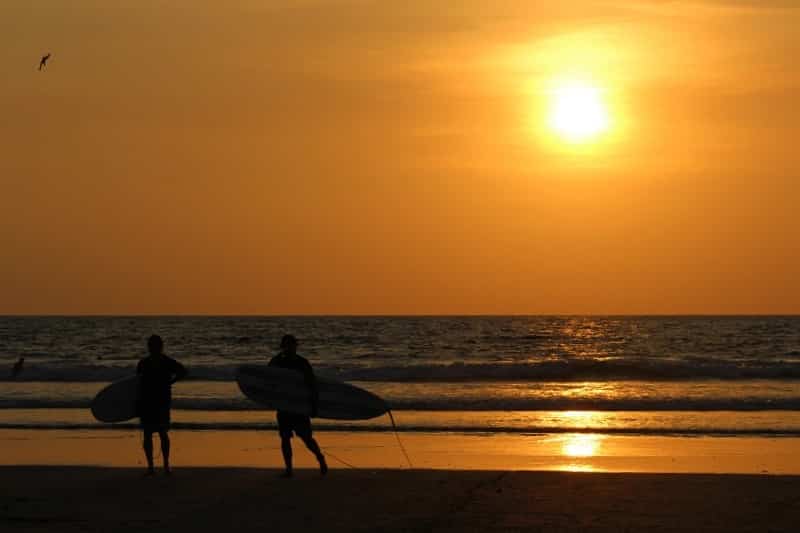 You can check more things to do in Tamarindo here.
Playas del Coco
On the other hand Playas del Coco does not offer surfing but you can find very nice hidden beaches around which is what we love about Coco. For ocean activities, Coco is excellent. You can go scuba diving at amazing dive spots, snorkeling at beautiful white sand beaches, see humpback whales, dolphins and turtles and do some really great fishing.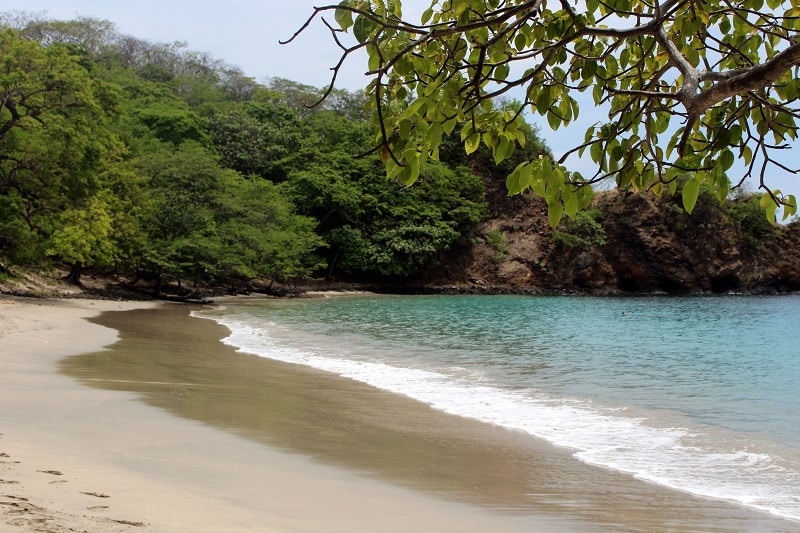 You can read more about day trips and things to do in Playas del Coco here.
Transportation
If you are flying to Liberia International Airport, a private shuttle will charge you around $50-55 USD (max 4 passengers) to take you to Playas del Coco and around $80 USD to Tamarindo.
You don't necessarily need to rent a car if you are using these places as a home base. You can book tours with transportation. However, if you want to explore the areas, you will need to rent a car because the public transportation in Guanacaste is not very good. Renting a car will be cheaper than hiring private shuttles and drivers to take you around and wait for you too. It's just better to have a car for the most freedom and flexibility.
Conclusion
I personally love both towns and I recommend you to visit both if you have the time, just keep in mind that Tamarindo is more of a surfing town so you'll find more options but it will be more crowded. If you're looking for something quieter, then Playas del Coco is the one to go to.
These are just two of the many beaches and towns you can find in the north pacific part of Costa Rica and I hope this article clears up some questions you may have and gives you a better idea of what both beaches are like. I'm sure that whichever one you visit you'll have a great time!
Want to read about other beach towns in Costa Rica? Here you go!
Trying to decide between Tamarindo and Jaco? Here's our "Differences between Jaco & Tamarindo" guide!