When it comes to seeing wildlife in Costa Rica, a night walk is a must since many creatures of the rainforest are nocturnal or diurnal. When the sun goes down, the jungle buzzes to life. Spiders, frogs and snakes wake up and crawl out of their holes, hungry and ready to hunt. Jungle cats climb down from their hiding spot, their eyes and ears on edge listening for any sign of prey.
There are a few places in Costa Rica where you can go on a night tour such as Monteverde and Manuel Antonio but since those are touristic areas, you might see just as many humans as you do animals. You have the opportunity to see a lot but to get an authentic night jungle experience, you must go to areas such as Osa Peninsula or the Caribbean mountains. Or more rural areas like Bijagua de Upala.
We went on the Tapir Valley night walk near Bijagua and it was one of the most exciting night walks we have ever done in Costa Rica.
Tapir Valley Night Walk
Tapir Valley is a huge property near Tenorio Volcano National Park that is owned by a local named Donald. He and his wife Pip run a small B&B, Casitas Tenorio in Bijagua and as a side project, Donald created Tapir Valley so that guests can experience the primary and secondary rainforests of the area.
Since the forests near Tenorio Volcano are largely untouched, you can find all sorts of wildlife in the area. As you can probably guess, Tapir Valley was named for one particular animal that lives on their property: the endangered Baird's tapir.
Off to Find Tapirs!
We did this night walk in April 2016 during our first visit to Bijagua and Casitas Tenorio. Donald and his friend Henry had been working hard to clear paths and create trails in Tapir Valley to get it ready to receive guests and they asked if we wanted to experience the tour. Of course we said yes!
I had done a couple night walks before and they were all pretty informal. I didn't need to wear special clothes or shoes but for this night walk, Yeison and I both had to wear boots, long pants and long sleeves. I also brought my light rain jacket in case it rained and Donald even offered Yeison a machete! This is because Tapir Valley is just so… jungley, that we needed to be protected head to toe.
Donald said they saw a mom and baby tapir that morning so hopefully we would see them on our night walk. Tapirs are diurnal or nocturnal mammals so they are most active at sunrise and sunset and night. They tend to use the same paths and are very shy creatures. They were hunted in Costa Rica for many years but now that hunting has become illegal, they've become less shy.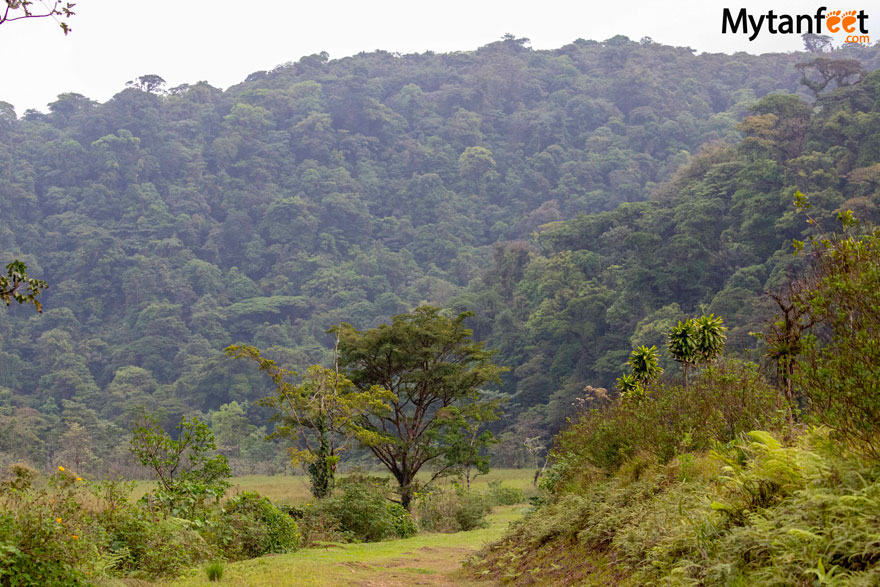 After we situated ourselves and got our gear ready, I realized exactly why we needed to be covered head to toe. They did an excellent job with the trails, clearing just the minimum amount for people to walk comfortably on and the rest was completely untouched.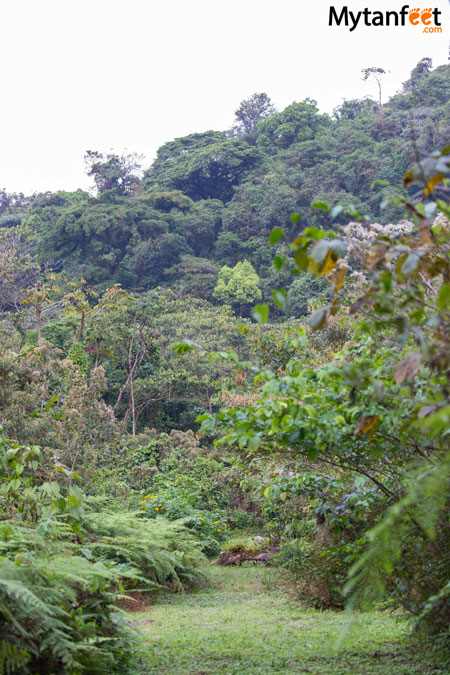 We headed off into the jungle with Donald leading the way. As the skies began to darken, they pointed out a cute blue headed hummingbird and an agouti peeking around the corner at us. They showed us a little bird sleeping in his nest in a tree.
After about 30 more minutes of walking around, we saw some toads, frogs, a huge spider and lizards. Nothing super new to us but always cool to see.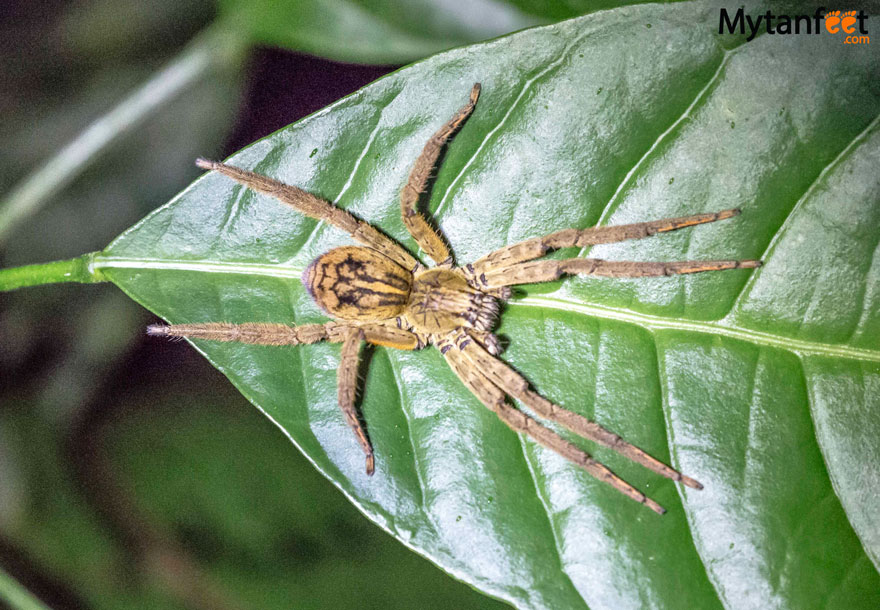 We passed by a river when the sun began to go down and suddenly heard a large sound off to our right. It sounded like lots of branches and leaves falling and Henry nudged me. Danta he whispered. My excitement skyrocketed and I could hardly contain myself. Sigame Henry breathed as he pulled my hand towards the sound.
We crept slowly along the river bank, pausing every minute or so to see if we could hear anything else but it was as if someone switched off the sound, it went very quiet and very dark in Tapir Valley. The only music now was from the crickets and frogs. The sun was gone, the moon and stars twinkled brightly in the sky. I could barely see my hand in front of my face!
I had no idea where we were going but Donald and Henry trucked on ahead as they had memorized every turn and corner in what felt like a giant jungle labyrinth. Yeison and I knew we were in for an experience of a lifetime so we followed them earnestly, trusting them to lead the way.
After another 45 minutes or so of walking around and seeing only a Common pauraque (nightjar bird that roosts in leaf litter on the ground), Henry and Donald decided we should start heading back towards the car. We didn't hear the tapir again so it must have wandered deeper into the forest. Slightly disappointed, we started heading back the way we came. I kept my eyes and ears open, keeping my fingers crossed that we'd run into the tapir on the way, though I knew deep down it was just wishful thinking.
But all of a sudden, I heard a sound unlike the sound I heard earlier. It sounded like a growl and it seemed to come from above us to the left. It started off softly and then grew louder. Henry! I grabbed his arm. Que fue? Yeison questioned frantically. Donald? I looked around at the both of them, who stopped abruptly in their tracks. They both looked at each other and turned off their flashlights. Apaga su luce Donald whispered.
I held my breath in as Donald and Henry waited for what felt like the longest 30 seconds of my life and then they started peering around. And then we heard another sound, one of leaves crackling. They both began walking hastily again towards the car. Vamos Henry ordered. And vamos we did!
Yeison and I followed our trusty guides closely, my mind racing as to what just happened. It happened so fast, it almost felt like a blur. The sound, the leaves, the growl. I had a feeling I knew what it was but I didn't dare say it out loud. I sped ahead on the heels of Donald and Henry, making sure I didn't look behind me in case it was following us. After about 5 minutes, Donald and Henry turned their flashlight on and turned to us. Puma Donald declared softly.
Holy crap a puma? I thought to myself. It really was what I thought it was then. The puma was probably doing exactly what we were doing – looking for the tapirs! Maybe it's for the best that we give the whole seeing a tapir a rest for tonight and not get in the way of the puma!
Casi llegamos al carro Henry pointed out. Oh thank goodness, we were almost at the car! Even though I really wished we had seen a tapir, I was happy not be the puma's dinner.
And then all of a sudden, we heard another sound. This time, it sounded like heavy footsteps in the grass and I could tell it was something good because Henry and Donald both turned toward the sound, almost running towards it. Danta! Donald pointed out towards the darkness. But in the darkness, I saw two small glowing eyes, looking right at us.
Donald pointed his flashlight towards the eyes and lo and behold, a large tapir was standing right in front of us. If I wasn't paying attention, I would have walked right into it, it was right in the middle of our path! How they could tell it was a tapir and not a puma was beyond me!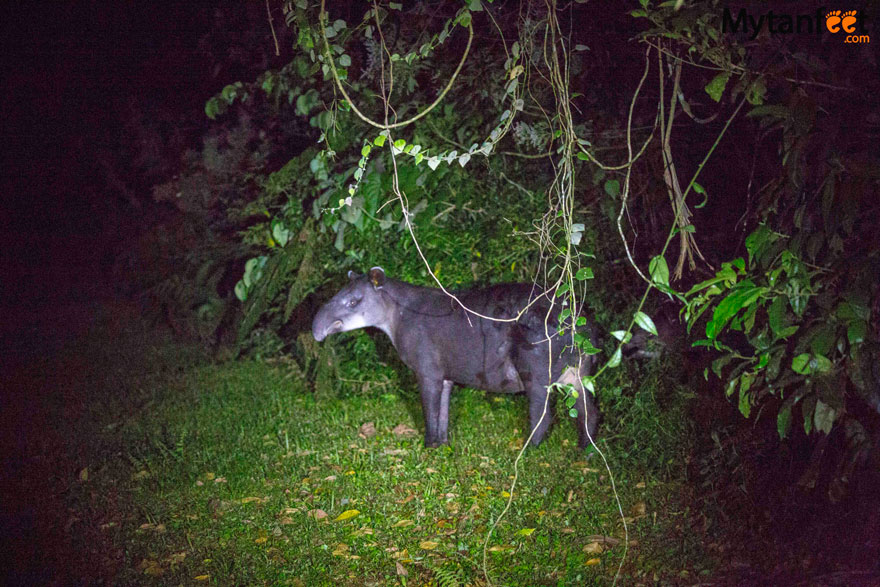 The tapir looked at us for a few seconds and then wandered off slowly. As it walked off, something else appeared behind the tree, a baby tapir!
We didn't see just one tapir, we saw the mom and baby. Mom didn't seem that shy but baby was super shy, hiding behind mom as we stared at them in disbelief. All my fear from the puma melted away as I looked into the eyes of this beautiful animal and her baby. I got my camera ready and we quietly followed them a few yards before they noticed us.
Baby ran off to the side and Mom looked at us wearily. I felt like she was deciding whether we were dangerous or not and after another 10 seconds or so of us staying frozen to our spots, she turned around and started walking away. We gave her a few seconds head start before we followed again very quietly, this time staying further behind. She suddenly stopped in her tracks and looked at us as if to say, You're following me again?
And then all of a sudden Baby came traipsing through and walked right up next to Mom, pausing for about 30 seconds, allowing Yeison to get the shot, they seemed to know exactly what we wanted. They posed, Mom waved her head a little bit and then they wandered off slowly into the dark.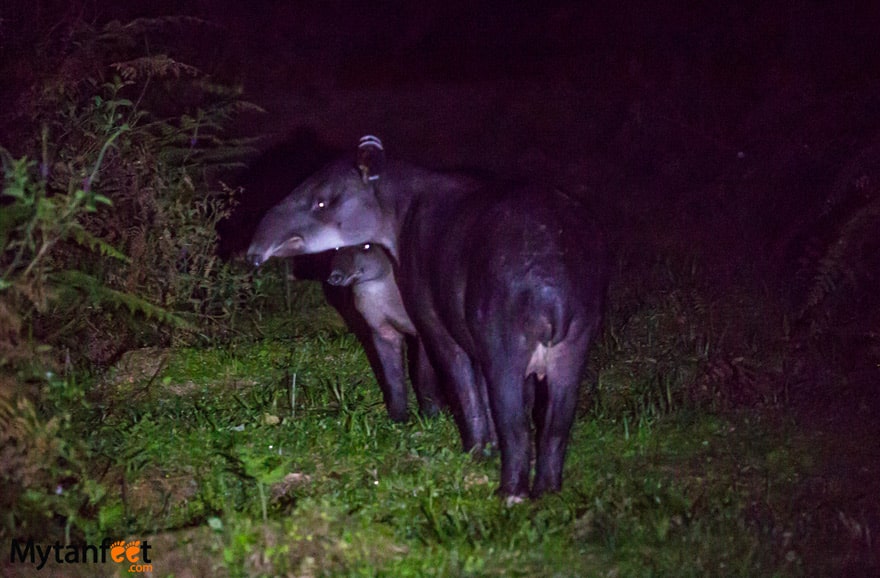 This was hands down, the most exciting night walk we've ever done. Although it got off to a little slow start, it ended with a bang. From being growled at by a puma to seeing a mom and baby tapir up close, this was an experience I would never forget.
Yeison and I rave about that night even until this day, nearly 2 years later. I still can't get over the wave of emotions I went through that night from being totally frightened and almost peeing my pants to feeling incredibly grateful and elated.
You can see exactly what our tour was like in the video below of the Tapir Valley night walk. (Skip to 4:53 for the night walk).
So if you're staying in Bijagua for a couple of days, I highly recommend the Tapir Valley night walk. Although it's not always a guarantee to see tapirs, you have a very high chance compared to other night walks. In Tapir Valley, you can experience a Costa Rica like you never imagined. In Tapir Valley, you never know what you'll run into!
If you're in Bijagua, then you'll want to read our Rio Celeste guide to seeing the sky blue river and our driving video so you know how to get there!
Check out our 14 day itinerary that goes to Tamarindo, Bijagua, Monteverde and Rincon de la Vieja to see how you can experience Bijagua.