I have to be 100% honest. When we first moved to Playa Jaco, I wasn't super psyched about it. I was comfortable in our little fishing village of Playas del Coco. However, after 2.5 years in Coco, we were ready to move on and due to some new work opportunities, Jaco was our next destination.
Much of my hesitation was due to the not so nice whispers about the popular surfing beach: it's a huge party town, drugs everywhere, prostitutes, you get the idea. However, we visited Jaco many times before in the past and we loved it. Living in Jaco couldn't be as bad as people said right?
If you want to know what it's really like to live in Jaco, I'll answer all the questions people have asked me plus our own thoughts. And this is coming from someone who is not a partier or a surfer.
What it's like to live in Jaco
Just to give a bit more background, we lived a little bit outside of downtown Jaco (5 minutes walking to the northern entrance of the beach, 10 minutes to downtown) in a condo complex. We were in Jaco for a little over 6 months.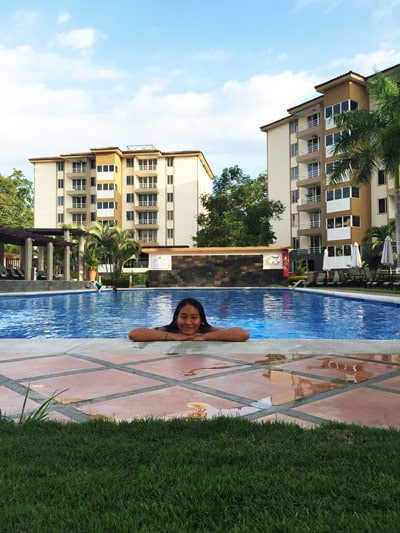 Are there really that many prostitutes?
Yes and no. It depends on where you go in Jaco. Yeison and I liked to play a game of guess the number of prostitutes that night (6 was the most) but usually you can't even tell or see them. It's more common during the weekend to see them on the street corners, but other than that they weren't as widespread as people made it out to be.
They tend to congregate in certain places such as the Beatle Bar (the first bar known for openly accepting prostitutes) and Hotel Cocal. One thing I noticed is that they don't engage or solicit people. They stand there, minding their own business.
So if you're worried about prostitutes, don't be. You don't see them all the time and Jaco is definitely not the only place in Costa Rica they're there. We used to see many prostitutes in Playas del Coco and Playa Tamarindo.
Interesting fact: did you know it's legal to be a prostitute but not a pimp in Costa Rica?

Oh and yes, there is a gentlemen's club in the middle of town.
Isn't the crime in Jaco really bad?
Like everywhere in Costa Rica and the world, crime is there. It used to be very bad in Jaco about 10 years ago when the real sh*t was going down such as drug wars and gang fights. Jaco has cleaned up a lot since then, re-building the town back to a family friendly environment for locals and foreigners.
Police officers had a strong presence in town. Though they aren't known to be the most… active, they were there doing their job.
You will notice that the security is tighter in Jaco. All of the condo towers have gates and a security guard station like the one we used to live in. Each building was locked with a number key code only the renters and owners know. They register all the guests and security calls you personally to verify every single visitor you have. Guests can only park in certain areas. They definitely took precautions.
Doesn't Jaco have a bad drug problem?
Yes there are drugs in Jaco and no, they aren't hard to obtain. However, Costa Rica is known for that pura vida, do whatever you want mindset, so a lot of people let loose and seek out drugs in beach towns. Our friends have been offered drugs in Tamarindo and we knew where to get them in Coco. It's not a secret that drugs aren't hard to get in Costa Rica.
We've never been offered drugs in Jaco but they were there. I have seen on the news a couple drug related incidents in Jaco and that is the reason why it used to be pretty bad 10 years ago. How to avoid it? Simple. Don't get caught up in that crowd.
Does Jaco have a "local" vibe due to so many tourists?
Absolutely! Though a very different type of local vibe. Since Jaco is only a little over an hour from San Jose, majority of the tourists that come on the weekends and holidays are local tourists. Yeison's family liked to visit Jaco for this very reason.
Not to mention that Ticos from all over the country come to that beach to surf.
So when people say Jaco isn't local, it's actually not true. You see Ticos everywhere and we've met locals who were born and raised in Jaco but it certainly does have a different type of local vibe.
Is there anything to do in Jaco besides surf?
Yes! Actually one of the reasons why we really like Jaco is that there is so much to do. Right outside town there are a ton of hills leading into the jungle with excellent hiking and mountain biking trails. There are a lot of hidden waterfalls to explore as well.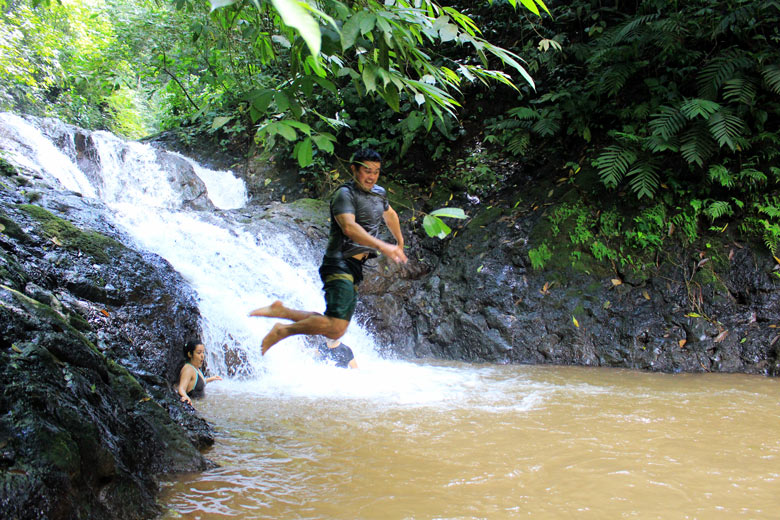 It's close to Carara National Park, Manuel Antonio National Park, Playa Hermosa and Herradura and the bird watching in Jaco is excellent. Scarlet macaws are commonly seen in Jaco, if you go to the south end of the beach, you'll see them fly by every hour. Macaws visited our condo every day and toucans were commonly heard and seen around town as well.
In the field in front of our condo, we saw herons, egrets and hummingbirds. In the tree outside our window, I spotted woodpeckers, tanagers, orioles and flycatchers. I loved sitting on the balcony to see who visited us that day!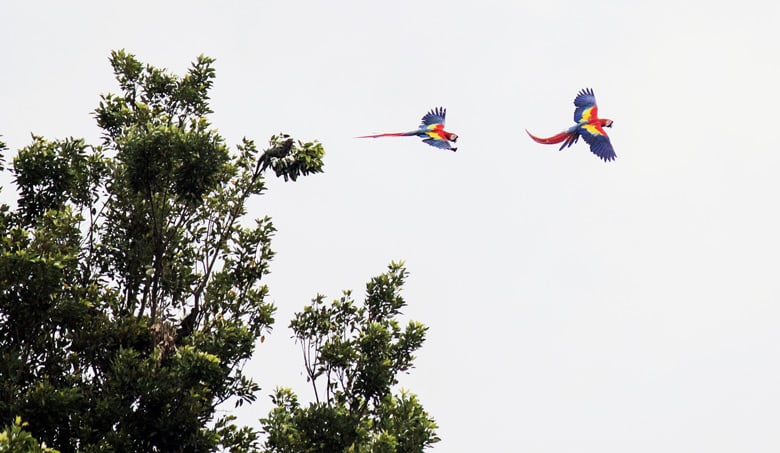 Jaco, being the developed town it is also has a movie theater, clubs, a Las Vegas style casino, and a live theater. It's impossible to be bored in Jaco honestly.
Some other thoughts
Jaco has amazing food. We all know that Costa Rica isn't exactly leading the cuisine department but in Jaco, we had some of the best food. They have a few very traditional sodas that we loved such as Rustico and Garabito.
Other favorite restaurants are Graffiti (burgers and steaks to die for), Pasta on the Road and Isaga Bar (best chiliguaro and chifrijo). Jaco really has some of the best restaurants in Costa Rica and we loved the variation.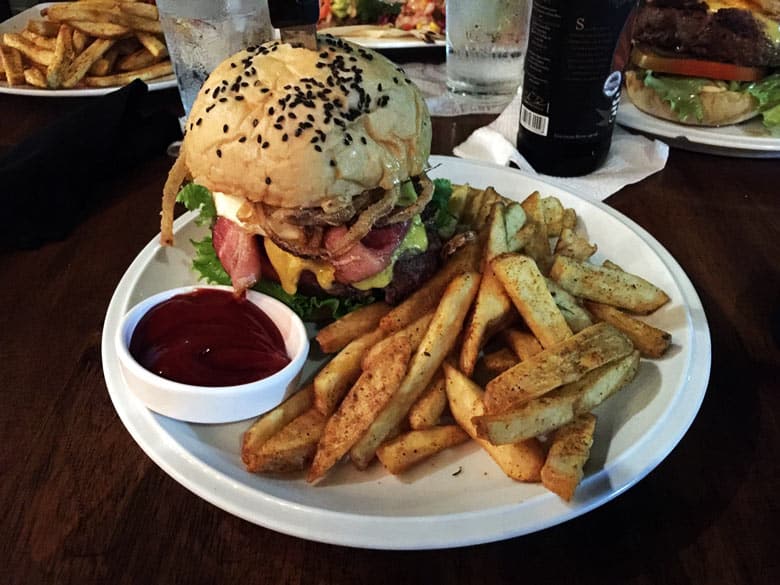 It's safe for solo travelers. I didn't mind walking to the beach by myself or to town but I made sure not to go out alone late at night. There are a lot of hostels and other travelers, so it's easy to meet people and there are always people out and about.
Jaco is in a great location. It's only a little over an hour from San Jose with a direct bus so if you need to go to the city, it's easy to get to. It's right in between the South and North Pacific so it's a wonderful gateway to enjoy the entire Pacific coast.
Jaco is very developed as a beach town. You won't find other beach towns with high rise condo towers, Las Vegas styled casinos or parking lines/meters.
Our personal thoughts about living in Jaco
What we liked:
Food and the many options
Surfing
Location
Mountains and beach
Birds
Though it is a touristic town, I noticed the expat community is different. Most of them aren't retired, there aren't a ton of families and many of them are temporary. I'd say the age range is around 20's-40's, with a good chunk of them surf bums who decided to leave it all behind to chase the surf in Jaco.
It's safe to say that I actually ended up liking living in Jaco way more than I thought I would!
What we didn't:
The trash. It was disappointing to walk to the beach to see it filled with garbage.
Because Jaco is so close to the city, the young Ticos that visit are there to party which is what I meant by a different type of local vibe. It was common to see them blasting reggaeton from their car all night long and leaving their garbage on the beach.
It got crazy crowded during holidays and long weekends, to the point where we'd be at a standstill for 20 minutes downtown. And it would take forever at the supermarkets because so many people were there.
We didn't go into downtown too often and when we did, we liked to hit up Isaga Bar with our friends. We were lucky to make some good friends, one of which who has lived there for a good number of years. He said something that I really liked in response to all of the negative thoughts about Jaco: It is what you make it to be.
Every destination has pros and cons and there will always be people who love a place and those who dislike a place. Sure, Jaco is known for the not-so-good but it's not alone in this aspect as other beach towns also share those qualities. But it all depends on how you take Jaco. You can have an amazing time surfing, exploring the hills and waterfalls, seeing macaws and watching the beautiful sunsets or you can get caught up in other types of entertainment. It is what you make it to be.
Jaco is not for everyone and living in Jaco is completely different than visiting. We enjoyed Jaco, learned a lot about it and had some great adventures. We probably won't live there again (but never say never), however we really appreciated our time there and don't regret it at all.
Read more Costa Rica expat life stories here!
Living in Costa Rica for $2000 a month