Costa Rica's history stretches back centuries. Ancient artifacts have been found throughout various places, the most notable ones being the stone spheres in the South Pacific and Osa Peninsula. But near the Caribbean side lies the most important archeological site in the country, the Guayabo Monumento Nacional.
The Guayabo National Monument is perfect for a day trip from Turrialba to learn about ancient Costa Rica history, a bit of hiking and to see wildlife.
Location of the Guayabo National Monument
The Guayabo National Monument is about a 30 minute drive from Turrialba, 17 kilometers. The road is paved for most of it and gets unpaved for a small section but you do not need a 4×4.
Guayabo National Monument History

First discovered back in 1968 by a Costa Rican archeologist, Carlos Aguilar Piedra, this 232 hectare site was declared a national monument in 1973. Yet archeologists and scientists have only been able to make speculations about the monuments as small traces of evidence and no official records were left behind.
After careful study, archeologists pinned the date back to 1000 AD when the ruins were inhabited and around 1400 when they were abandoned. Only about 10% of the entire site has been excavated, leaving many questions still unanswered, especially as to why the site was deserted.
Currently, the MINAET is in charge of the monument which is well known for being an architecture and archaeologic gem surrounded by protected tropical rain forest in Costa Rica.
Visiting the Guayabo Archaelogical Site
You can visit for a day trip to see the ruins or spend a few days camping in the campgrounds across the monument entrance. If you're visiting for a day, it is highly recommended to go with a guide who can explain more about the history and rain forest.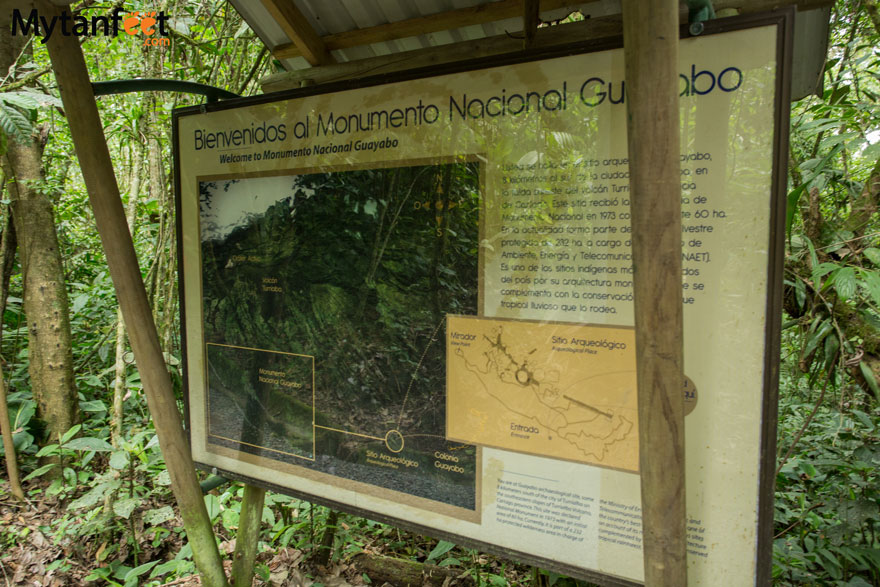 There are several trails in the monument that lead to a viewpoint and the ruins. Along the way, you can see various artifacts discovered by researchers such as the graves and stone carvings.
The trails are very well laid out and maintained and there are signs along the way to signify the artifacts. One of the trails lead to a great viewpoint of the ruins and then you go can walk down to the site to see the remains of the civilization. You can clearly see the mounds where the houses were and on a clear day, you can see Turrialba Volcano in the back.
During our visit, we saw a couple of toucans, Montezuma Oropendolas and other birds. Below are some photos of the monument and what we learned about them.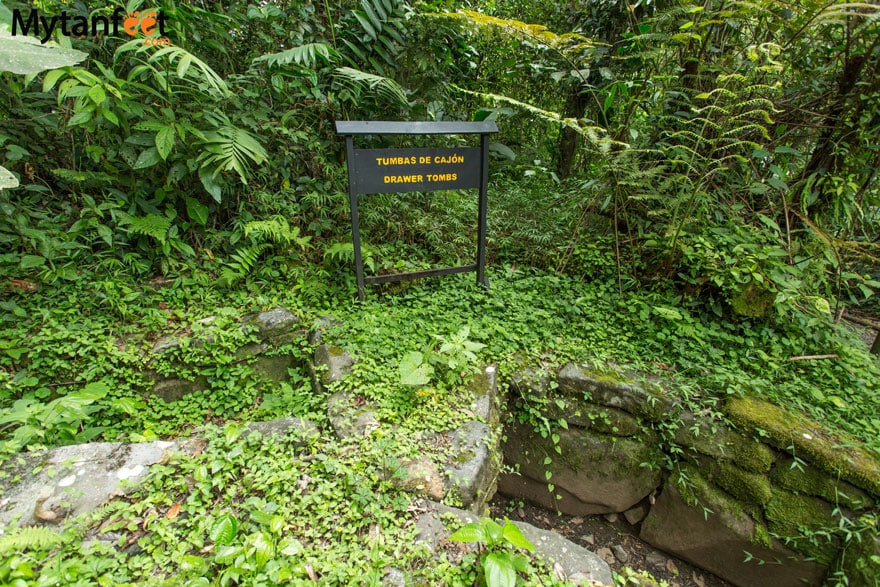 These tombs were found all throughout the site and the interesting thing about them were their size and how deep they were dug, giving them the name "drawer tombs". It is believed that the higher in rank you were, the lower your grave was in the ground to reach heaven or afterlife. The graves are also quite small so one can guess that the height of humans back then were greatly shorter.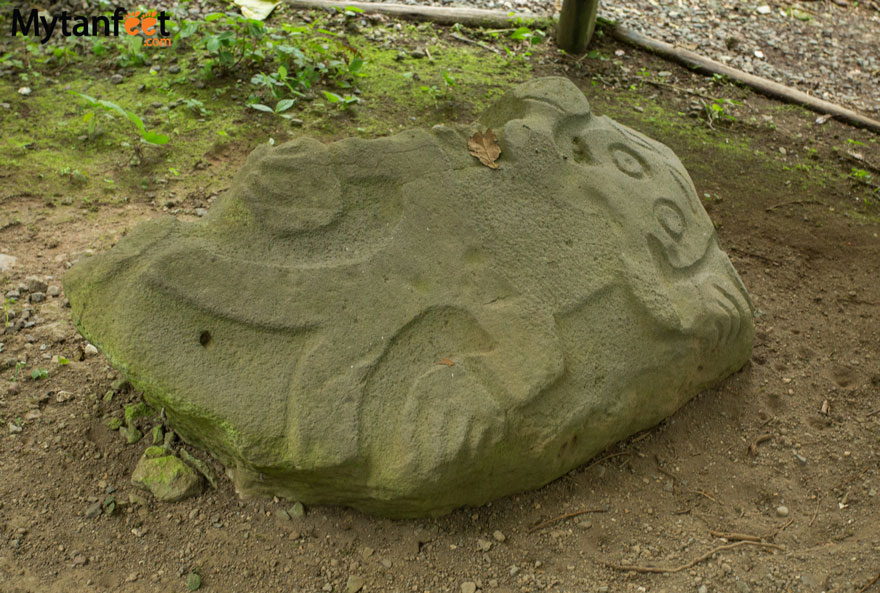 This is one of the most significant items they found in the ruins. A large rock with two carvings on it: one side with a jaguar, another with an alligator/crocodile. Nobody knows for sure what it means but they speculate that these two animals were significant to the community. However, there is one big glaring mystery. Where would they have seen a crocodile? Guayabo is within a volcanic area by Turrialba, miles away from any large river, estuary or ocean.
We could guess that the jaguar was an animal they would see frequently and respected.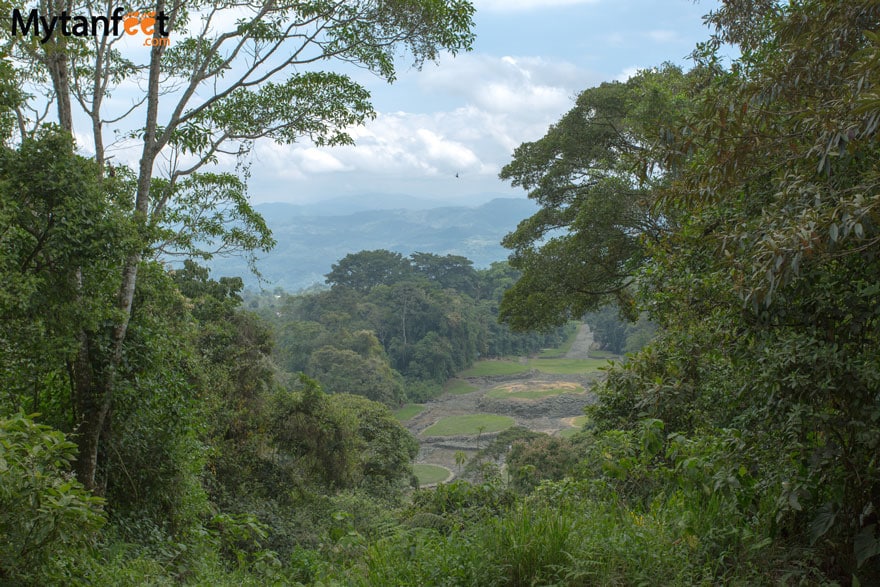 There is a really nice viewpoint at the top of a hill where you can see all of the ruins excavated in the monument. It's hard to imagine an entire community of people living, working and surviving together but they thrived for a good period of time. To this day, they have no idea why they left or where they went.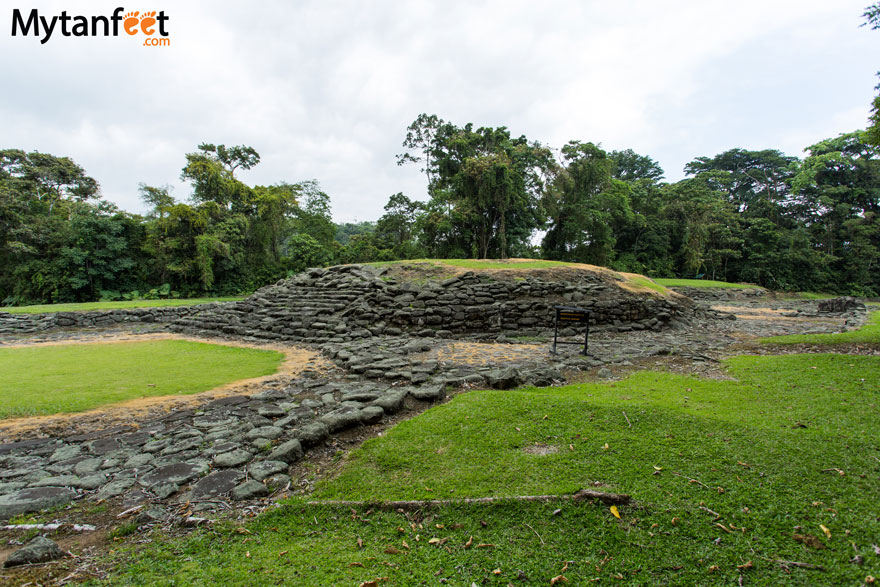 They say that the shaman or chief lived on this mound here as it is the highest, to show his power and high rank. The other mounds are considerably smaller and lower to the ground so it would make sense. They were used as a foundation for the houses.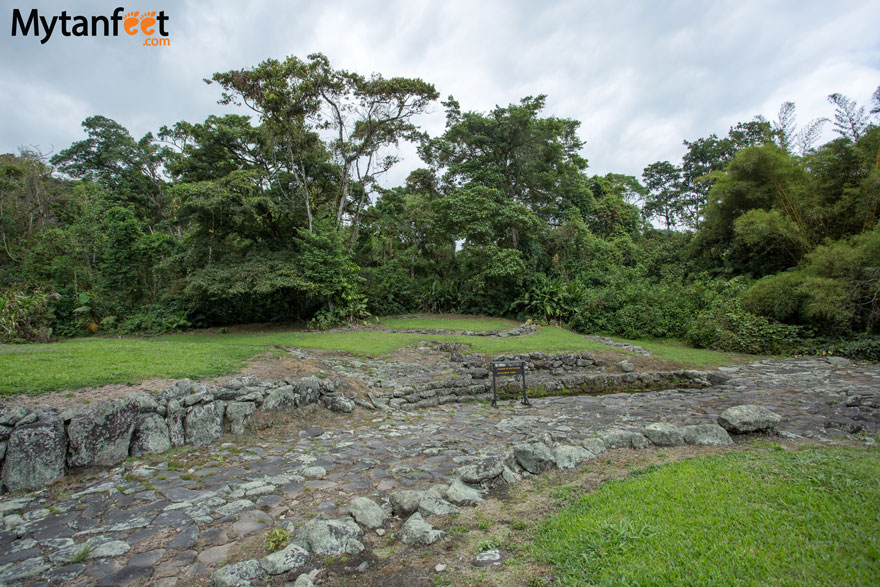 These are the aque ducts, a system they created to bring fresh water to the storage tanks. Pretty genuis!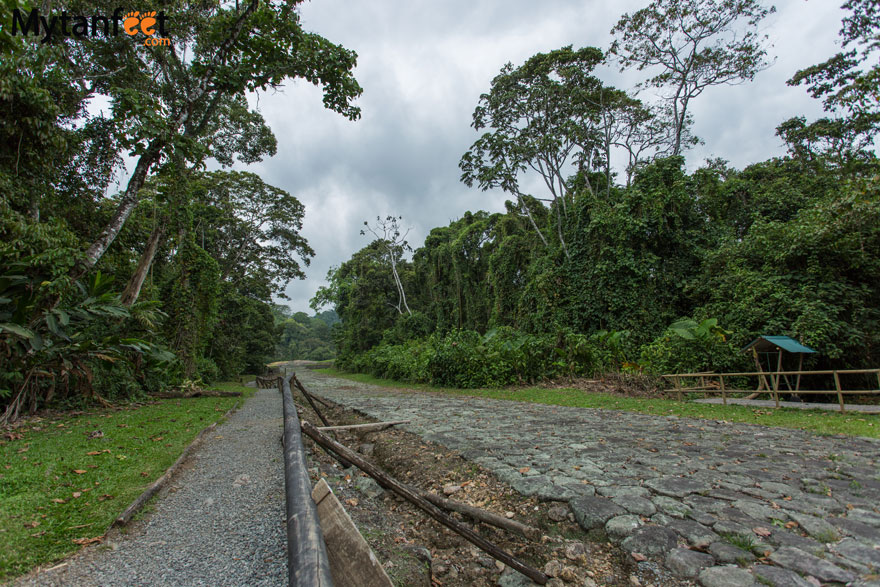 This is the pathway they made when the people would walk back to their site. Since the shaman's house was at the end and on the tallest hill, the people could see it from far away, again signifying his status and rank. All these roads were made of stone and came from different directions.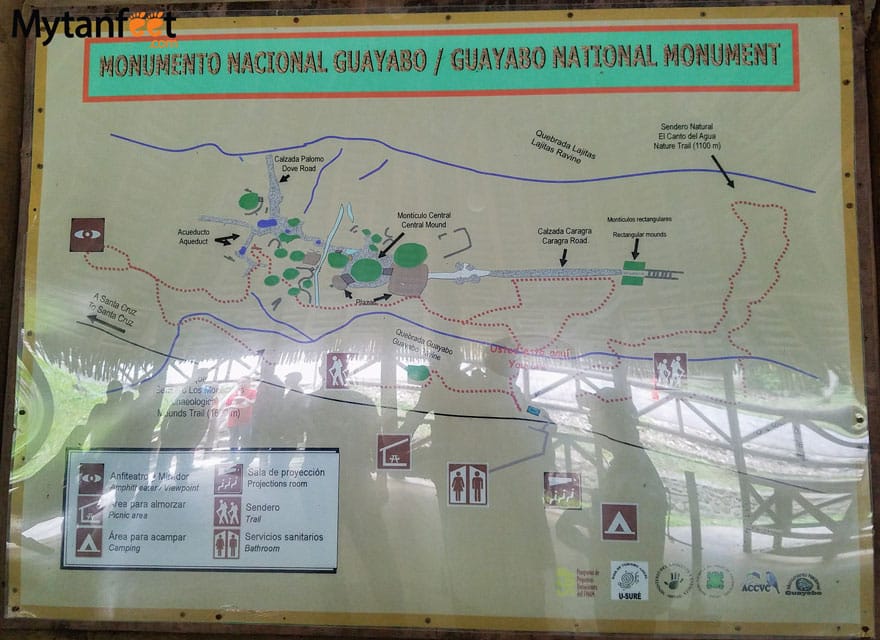 Here is a photo of the map of the trails. Excuse the reflection, I took it with my phone in a hurry so I wasn't paying attention. But you can still make out the trails and notable viewpoints.
Guayabo Entrance Fee and Hours
The Guayabo National Monument is open Monday – Sunday, 8 AM to 3:30 PM. It costs $5 for foreigners.
Tips for Visiting
I highly recommend a guide. I would have never learned all this information without one. Our guide Memo is from Turrialba and it was wonderful to hear his stories, thoughts and opinions on the monument. It was fascinating to learn about the design, technology and engineering back in the 1000's AD.
It's a fairly popular place for tourists and locals, we ran into a few school groups there so if you'd like to visit when there are less crowds, go early in the morning on a weekday. Weekends are super busy.
Bring mosquito repellent. Since it's in the dense rain forest, there are a lot of bugs.
You can do this as a half day trip from Turrialba, it doesn't take very long to walk through the monument. Give yourself around 1-2 hours.
If you need transportation and want to go with a guide, you can book it with a company like Explornatura.
For places to stay near Turrialba Volcano and Guayabo National Monument, we recommend Guayabo Lodge. It's a cute and cozy lodge close to both attractions.
Read about other things to do in Turrialba!
Turrialba Volcano National Park