When you travel in Costa Rica or any other country in the world, there will always be the possibility for you to get sick or need medical attention. I've luckily haven't had anything major (knock on wood) but you never know what will happen. It's good to read up on the medical system of the country you're going to just in case so you're not caught completely unaware when you're in need.
If you're planning a trip to Costa Rica, you'll find all the information about seeing a doctor in this article. Learn about Costa Rica's healthcare system and your options as a foreigner.
**Please click here to read the latest Costa Rica coronavirus statistics and our tips for visiting Costa Rica during the pandemic post for more information**
Let's start talking about the public health services in Costa Rica
The governmental department in charge of providing medical care is the "Caja Costarricense de Seguro Social" mostly known as CCSS. The way it works for Costa Rican citizens is very simple. If you have a job your salary will be deducted monthly in order to cover to cover your medical care and retirement fund (last time I checked it was around 9.34% for the employee and 26.33% for the employer).
We won't go into detail of how everything works but basically, if you are Canadian or from England the system is very similar. This is one of the reasons why Americans like to retire here because the health care system in Costa Rica is world class and one of the best in Latin America. For Americans, it is much cheaper to get medical care here and therefore medical tourism was born and retirees were given another reason to retire in Costa Rica.
Anyways, let's suppose that you are traveling in Costa Rica and you need to see a doctor for any reason (if you had a severe accident and your life is in risk call 911). If it isn't life threatening, your first option is the public system.
First of all, in Costa Rica we have 3 levels of infrastructure when it comes to public health buildings:
Hospitals: you can find them in most of the main cities in Costa Rica and they have a 24 hour ER, surgery rooms and pretty much all the services that most of the hospitals world wide offers.
Clinics: in these buildings you will find ER services usually from 7 am to 10 pm, lab services, ambulances, and you can find general doctors and pharmacies.
Ebais: Every community has an Ebais (they work from Monday to Friday from 7 am to 4pm). These are health centers where you will find a general doctor and a pharmacy and you can get most of all the primary attention services here.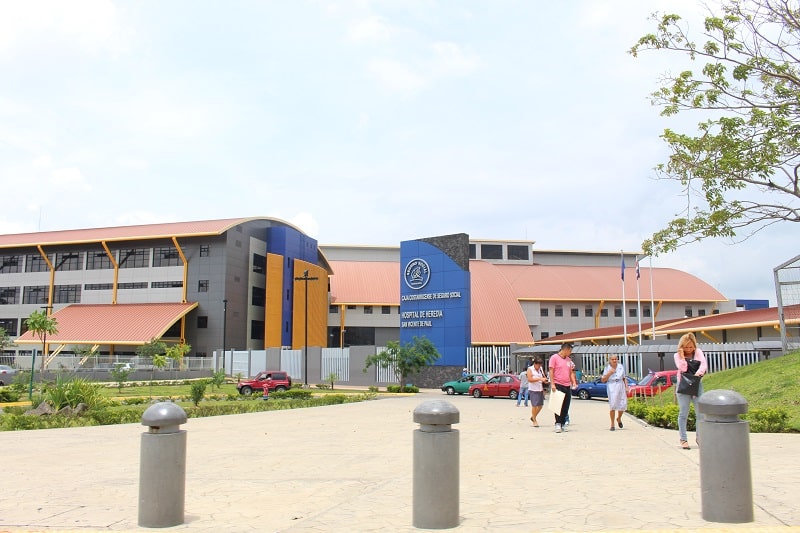 The reason why we have 3 kinds of buildings is to provide a better service for everyone. Each clinic, hospital and Ebais are equipped according to what they treat.
So it will be great to research or ask a local where the closest Ebais, clinic and hospital is from your current location so you have an idea of where to go in case you need to.
How can I get attention in a public health building in Costa Rica
Now that you know where to go, you might be asking yourself if you will get the attention even if you don't have a Costa Rican insurance card. The answer is yes. According to our law everyone who needs medical attention will receive it no matter what.
Like I said before, if you have an emergency and your life is in danger call 911, but if you don't have a life threatening problem you can perfectly go to an Ebais or a clinic. The way how it works is by appointments so make sure to go early in the morning before 7 AM to make the line and the secretary from the Ebais will tell you what time you have to show up for the doctor to see you that day or when the next available time is.
Make sure to bring your passport and they will charge you around $40 (I am not 100% sure how much it is nowadays but in 2014 it was $37) and it will include everything you need including medications. Be aware that you are in public clinic and sometimes you will have to wait for the doctor to see you.
In case the Ebais doctor thinks you need more tests or treatment they can't provide you, he/she will refer you to the closest clinic or hospital where they will have more advanced equipment.
Private hospitals and clinics in Costa Rica
If you can afford private health care or your primary insurance will cover it for you, you will find many private health services in Costa Rica. Majority of the private doctors speak English and they normally advertise it so you'll know. Hospitals like the Cima or Clínica Bíblica will have everything you need, you can even request a helicopter ambulance.
There is not much to say about private health services in Costa Rica, they work exactly the same as in the United States or Canada and you can find them in pretty much every province and near major cities. Most of the hotels have this information and even if you call 911 they will help you to contact them.
Tips for Seeing a Doctor in Costa Rica as a Foreigner
So now you know how the system works, here are some tips for seeing the doctor in Costa Rica as a foreigner.
If you are going to a public clinic, either bring a translator or ask if a staff member speaks English to help you fill out the forms and talk to the doctor
Bring your list of prescriptions if you take any medicine. If possible, try to look up the Spanish equivalent names to make it easier for the nurse/doctor
If you're going to the Ebais or clinic, make sure you arrive early. Because it is a public clinic there are usually a lot of people and lines can get quite long
You must bring your passport. Not a drivers license, passport.
If you have asthma, diabetes, high blood pressure, over 65, pregnant or any severe problem let the staff know and they will see you right away
Remember if you or someone else is in life threatening conditions, call 911
Conclusion
Most of the public health services in Costa Rica will have at least one English speaking person that will help you in case you don't know any Spanish.
Our recommendation is always to be one step ahead and get at least a basic travel insurance and make sure to know where the closest health centers are once you arrive at your destination in Costa Rica.
So we hope that all this information will only be for reference and that you won't require any medical attention while you are in here. Just be careful, use your common sense and have a great time here!
Want to know more about Costa Rica? Check out these posts!
Important facts about Costa Rica