I have worn glasses and contact lenses since I was 10 years old and it has always been my dream to get refractive laser eye surgery to correct my vision. In December 2021, that dream came true when I got laser eye surgery in Costa Rica.
In this post I'm going to talk about my experience in case you're also thinking of doing this too!
Quick Facts About My Laser Eye Surgery
Cost: $2500 USD for SMILE surgery in Costa Rica. This included the recovery kit and the post surgery check ups.
I went to Clinic 20/20 in San Jose (by La Sabana park).
80,000 CRC for first consultation
I had myopia, -4 in both eyes (nearsightedness). No other eye problems.
I am in my early 30's.
Researching Clinics – Clinica 20/20
I have several friends who did refractive eye surgery in Costa Rica already and Clinica 20/20 came highly recommended as they are the leading refractive eye surgery clinic in Costa Rica.
I was hoping to do refractive eye surgery a couple years ago but we all know what happened in 2020. At the end of 2021, I finally had some time to schedule the surgery and decided to do it as a birthday present to myself.
So when we were in San Jose and inadvertently walked by the clinic, I popped in and made an appointment. They were booked out for a whole month so I made it for end of November.
First Appointment
My first appointment was a check up to see if I was a candidate for laser eye surgery. I had to wear glasses for 3 days before the appointment.
They checked my glasses, my eyesight, my eye and cornea health and then I spoke to the doctor. He said that I was a candidate for a laser eye surgery called SMILE (Small incision lenticule extraction). It's less invasive than LASIK as it makes a tiny incision instead of an incision around the whole eye and the recovery time is faster with less side effects.
I had never heard of SMILE as I was only familiar with LASIK, but the doctor showed me a graph of how it works. Since I don't have astigmatism or any other eye issues – just myopia, I said sign me up!
The price of the first appointment was 80,000 CRC or around $126 USD which included the tests and consultation.
I then made my appointment for SMILE on December 16th. They were very full so I had to wait 3 weeks for my surgery. They told me that they will send a notice three days before to inform me when I needed to be at the clinic.
Getting Ready for SMILE
On December 14th, the clinic sent me a Whatsapp with the protocols and instructions for what to expect for the surgery and how to take care of myself. They also had an optional virtual talk with the doctor in case any patients had questions.
Day of the Surgery
My appointment was at 1 PM and I arrived at 1230 PM. I checked in and paid for the surgery which was $2500 USD flat with credit card. I went in with Yeison (everyone has to go with an companion) and they gave us a talk of what will happen in the next hour. They explained our eye kit, which contained our eye drops, a sleeping pill, gauze, sunglasses and protective eye wear and how to use each one.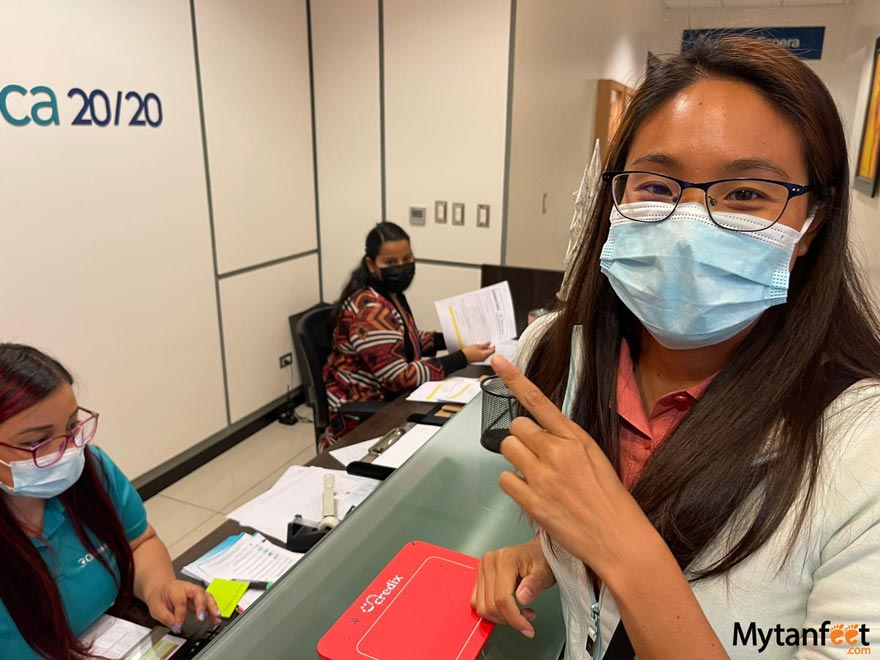 After the talk, all the patients went into the hallway to get geared up. The waiting room was literally right outside the surgery room so me and three other people sat in the comfy waiting room chairs while they called us into surgery one by one. A nurse put in a couple of numbing eye drops while we waited.
I was third in line and to be honest, I was getting a little nervous but it was more of an an anxious nervous. But it wasn't long until it was my turn since the surgery was very fast.
They were not joking when they said the SMILE procedure was quick. Each person took no more than 15 minutes! When they called my name, I headed inside the surgery room where they laid me down on a bed, put a blanket on me and put in the rest of the eye numbing drops and iodine.
SMILE
The whole thing flew by so fast. After being swiveled around to the laser machine, they put a face covering on me and some sort of contraption to hold my eye open. Then they told me to look into the bright green light of the laser machine. I stared into the green light, which then turned super bright white and then I saw the doctor hovering over me (like when you're at the dentist). He started doing his work on my eye. I could feel pressure on my eye but felt nothing. It was such an odd sensation! It felt like he was frosting my eye with a tool.
Then he said OK listo and one eye was done. They covered it up, opened up my left eye, did the laser and started the procedure again.
The whole thing went by so fast that I wasn't able to think too much about it and I didn't really have enough time to freak out. Then before I knew it, they swiveled me back around, told me I was done and the nurse helped me out of the room and into the walkway where Yeison was waiting.
After we left the clinic, we stopped by the pharmacy to pick up an analgesic and headed back to the hotel. We arrived at our hotel at around 430 PM.
After the Surgery
For the rest of the day, we just laid in bed and relaxed. Yeison watched TV and we ordered Ubereats for dinner. I could see but my vision was blurry, my eyes were teary and the light was annoying. My eyes started to burn a little bit so I took the analgesic when we arrived at the hotel room which worked wonders. After the analgesic, the pain went away.
After we ate dinner, I took the sleeping pill the clinic gave us at 7 PM. I fell asleep at 8 PM and woke up at 6 AM the next morning. The idea is to keep your eyes closed which is why they give you the sleeping aid. You also have to wear the protective eyewear so you don't unconsciously scratch you eyes while you're asleep.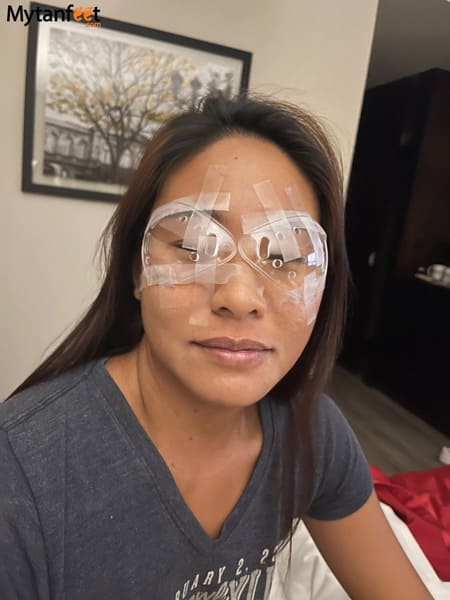 The Day After SMILE
I woke up the next morning feeling great. No pain in my eyes, no tears, no burning, nothing. And as soon as I opened them, I could see! As if I wore my contacts overnight!
The check up appointment was at 10 AM so I put on my sunglasses and headed back to the clinic. We had to wear the given sunglasses the whole time and for this check up, they checked my eyesight and my eyes. The doctor said everything was great and that my vision will get up to 100% gradually the next couple weeks. I would say that the day after, my vision was around 90%.
After the check up, Yeison and I drove back home to Tamarindo, about a 5 hour drive. I wore the sunglasses the entire time and it was perfectly fine.
One Week Check Up
For the next week, I took it very easy – no strenuous exercise. I was extremely careful to always have my sunglasses and a hat on when outside while my eyes recovered.
I had to go back to San Jose on December 23rd for my 1 week check up and they said everything looked great with normal inflammation. My next appointment would be in February and by then my eyesight should be at 100.
He told me that in a couple days, I could exercise like normal but I still had to avoid rubbing my eyes.
One Month After
It's been a little over a month since my SMILE procedure and it has been life changing! I had always dreamed of waking up and being able to see right away and it's amazing to have that become reality.
I wore the night time protective eye wear for 8 days and put in drops for 2 weeks (one antibiotic, one lubricant). I've barely had any dry eye and I have already gone back to surfing.
The first week was a bit wonky to be honest. I continued to work right after the surgery, taking breaks from the computer every 20 minutes. I felt like there were some days where one eye was better than the other but now after a month, they both feel the same and pretty much at 100.
Side Effects
Sometimes my peripheral vision is a bit off, particularly at sunset time and night. Dusk is the weirdest time of the day for my eyes as the light changes quickly from light to dark. Sometimes I need to blink a lot and my eyes will kind of, settle. I don't get dizzy or have any headaches, but sometimes the peripheral is a bit off. I have definitely run into more tables than I normally do this month.
My eyes do feel more sensitive to bright light and I find myself squinting more than normal, so I just always have my sunglasses with me even during sunset time.
There have also been times when I will inadvertently reach for my glasses or even try to take off my contacts off and I have to remind myself that I don't wear them anymore! I have definitely accidentally poked myself in the eye at least once.
My next check up is in February and so far, so good. Getting laser eye surgery in Costa Rica has been one of the best decisions I've ever made for myself! Clinica 20/20 has been nothing but excellent with very good attention and detail and I'm very happy I went with them.
Read Other Living in Costa Rica Stories Below