If you're driving around the southern part of the Nicoya Peninsula, there are a handful of pristine, non-touristy beaches you can visit along the way since this area is not very developed. Playa Coyote between Santa Teresa and Punta Islita is one of them. We visited for the first time in February 2018 and we immediately fell in love with this beautiful dark sand beach.
4×4 required?
As this area is not touristic and fairly remote, it is best to drive. It is difficult to get there via bus but there are two daily buses from San Jose at 6 AM and 3:30 PM that is 5 hours.
We highly recommend a high car for the Nicoya Peninsula. All the roads in that area are dirt unpaved paths if you're coming from Santa Teresa. We also recommend using Waze for GPS because signage is not that great in the area. Make sure you keep your eyes peeled for signs that say "Vuelta a la peninsula" and the easiest way is to drive to San Francisco de Coyote Costa Rica.
Parking
You can park at any of the entrances to the beach. If you use Waze, you can set Playa Coyote as your destination and park on the road there.
Camping
No proper camping facilities but some people wild camp. Just pick up your garbage and clean up your area before you leave.
Location and Directions
Playa Coyote is about 60 kilometers (37 miles) from Santa Teresa and takes about 2 hours to drive there. The closest airport is Liberia International Airport, 158 kilometers (98 miles) and about a 3 hour drive.
Playa Coyote, Costa Rica map
San Francisco de Coyote
San Francisco de Coyote is the small village about 5 kilometers (3.1 miles) inland from the beach. You can find local restaurants, a few cabinas and small supermarkets. It's a very nice village if you're interested in seeing more of a rural and non-touristic town.
Playa Coyote, Costa Rica Beach
The southern end of Playa Coyote is called Punta Coyote and the northern end is called Playa Coyote Costa de Oro. They are split in half by the Jabillo river and mangrove estuary so to get from one end to another by car, you will need to drive inland through the town.
We visited both sides of the beach but we loved the Costa de Oro northern end. Palm trees dotted the shores, hiding the villas and houses behind them and the dark sand seemed to go on for miles and miles. We were the only ones there, except for the crabs!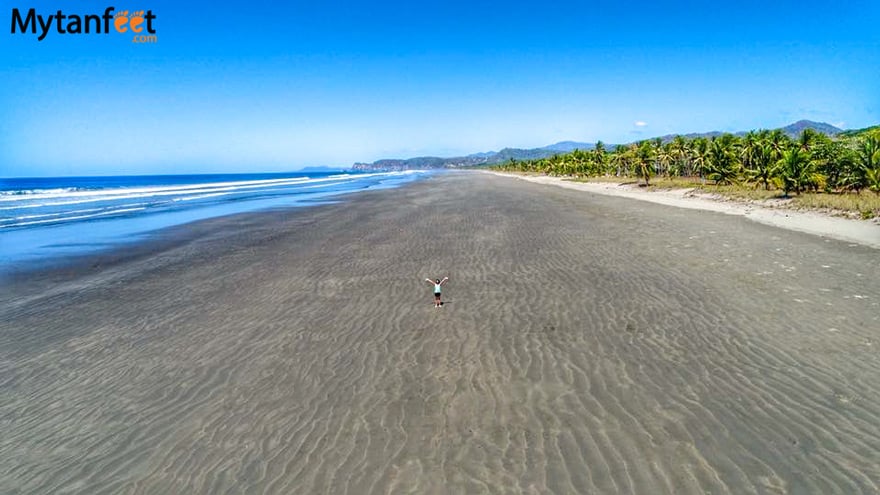 Playa Coyote is a popular beach for city Costa Ricans since not many tourists go there. Since the beach is so long, you can very well have it all to yourself. Even though you can see luxury houses here and there, they blend in so well that it's not noticeable at all.
The locals also work to keep this beach as immaculate as possible, not wanting it to become another super touristy destination.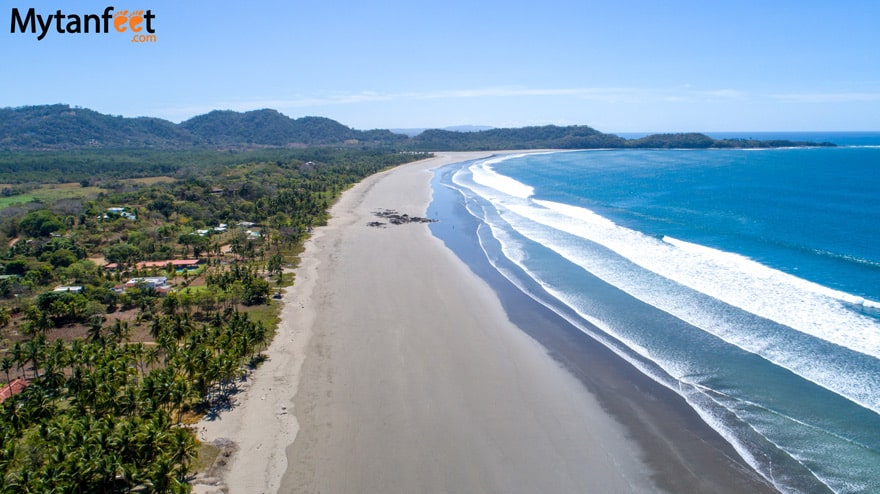 Swimmable?
The waves were fairly calm and so shallow during low tide, perfect for swimming. You can walk the entire beach and see the estuary down by the southern end which is teeming with wildlife. Many birds like herons and cranes can be spotted in the estuary as well as iguanas, lizards and crocodiles.
Down by Punta Coyote on the other side is Playa Caletas, part of the Caletas Ario Wildlife Refuge. It protects many animals including several endangered turtles species that nest at the beach. There are also camping areas at Punta Coyote.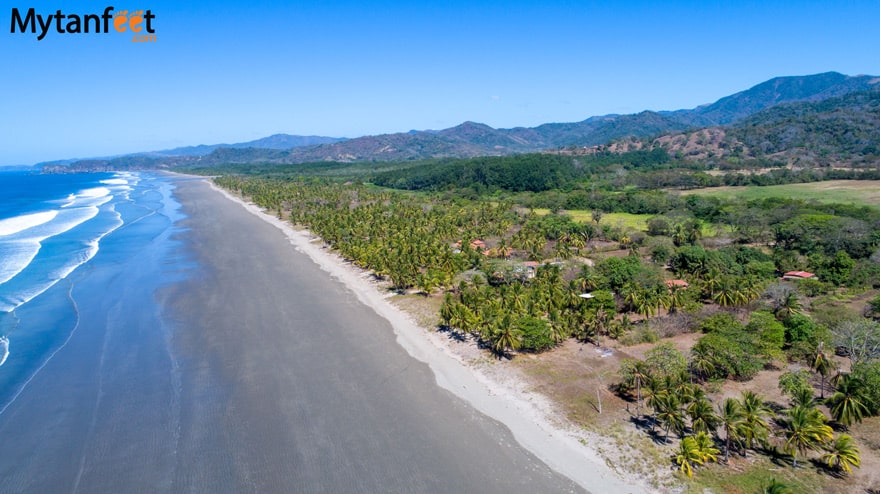 As you can see, Playa Coyote is a stunning non-touristy beach, perfect for anyone looking to getaway from the crowds and have a more tranquil and remote beach getaway.
Playa Coyote Surf
Though Coyote beach for the most part has calm waves, the surf is good down by Punta Coyote. It has good left and right breaks with strong waves when there is a swell and it's an excellent beach for surfers to catch waves without having to battle the crowds.
Playa Coyote Hotels and Restaurants
There isn't a whole lot at Coyote but that's why people love it. You can camp or stay in one of the cabinas like Cabinas LaliMar or villas in San Francisco de Coyote. There is also a boutique hotel called Casa Caletas that is the nicest and most well known. You can also find a few Airbnbs (get $40 credit here) at Playa Coyote and rent the nice houses there.
There is a yoga retreat on Costa de Oro called Zen Spirit Yoga Resort and Retreat Center.
As for restaurants, there are a few good seafood places in town. El Barco is a good one and so is Restaurante Rio's.
Read about other similar beaches in Costa Rica below!
There are affiliate links in this post.