Sarapiqui is one of the most best destinations in Costa Rica for those looking for an "off the beaten path" experience. Because it is still fairly undeveloped, there are many undiscovered natural gems. One of them is Catarata Poza Azul, a nice waterfall that is a local favorite.
If you want to visit, here's our guide to the Poza Azul waterfall.
Map
Catarata Poza Azul map

How to get there
The waterfall is in a local neighborhood a little outside of La Virgen. The easiest way is to go towards Hacienda Poza Azul in La Virgen, keep driving across the bridge, go up the hill, turn right (stay on the paved road) and then look for a fence and house that looks like this.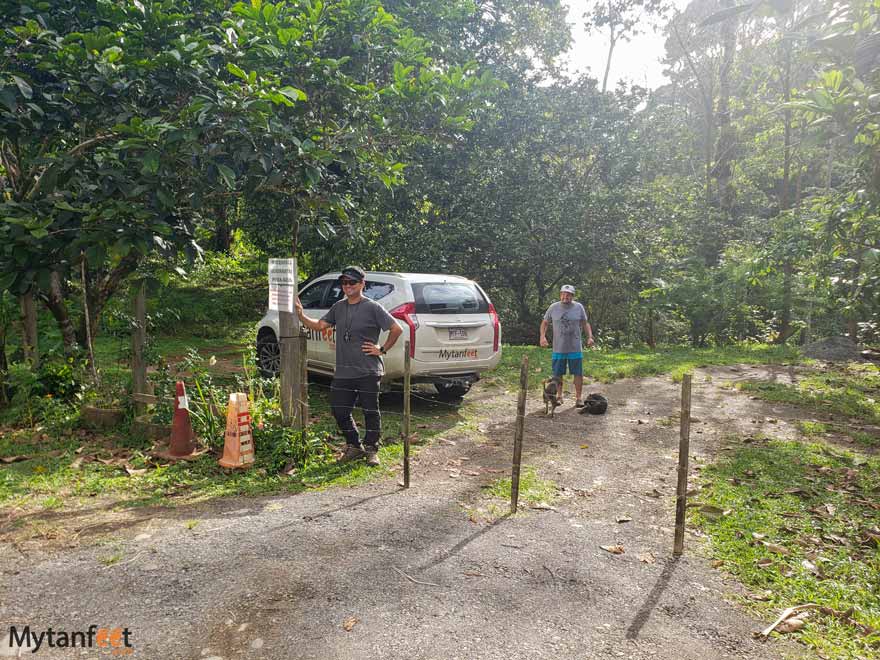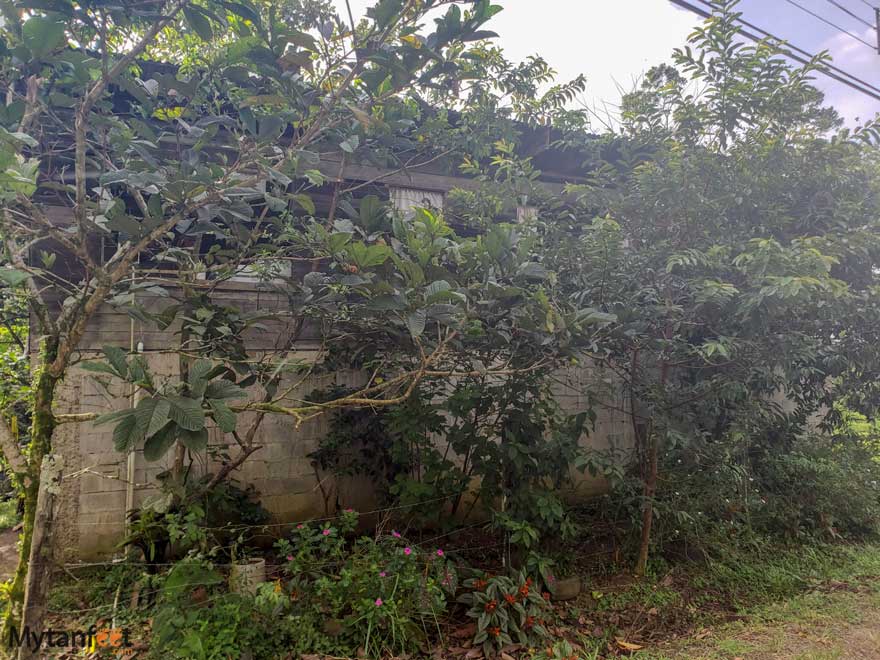 Walking
You can get to this waterfall by walking. It is the same route as driving.
4×4 required
You don't need a 4×4 or high car as the parking and main entrance is right off the paved road. The owner told us we could drive down to the waterfall parking lot but that requires a 4×4 and we don't recommend it. It's more fun to walk!
What to do when you arrive
Catarata Poza Azul is located on local's private property. He put up a fence and sign to call a phone number if nobody is there.
No one was there when we arrived so we called the number and asked him if we could enter. He said yes, we could park there and to write our names down in the book for registration.
He doesn't speak English so you will need to know some Spanish. At the very least, say "Catarata Poza Azul" and he will know exactly what you are talking about.
Parking
You can park your car at the house.
Entrance Fee
Although the fee is voluntary, it is nice to give a little something because you are entering private property and parking in his yard. We gave 2000 colones per person.
Trail difficulty
Moderate. It's not very long, about 1 kilometer or so but on a dirt, ungroomed path. When you get to the falls, there are some steep stairs you have to walk down. Be VERY careful because it's slippery! Then around the waterfall pool, you have to walk on large rocks.
From the parking lot to the waterfall is about a 20 minute walk one way.
Facilities
None.
What to wear
No flip flops or loose sandals. I wore closed toed hiking sandals and I also brought my rainjacket. I'm very glad I did because it started raining a bit on our way there. Also bring a waterproof backpack if you have cameras or electronics. These are essentials if you are visiting May – December as it is the Costa Rica rainy season for those months.
Can you swim in the pool?
Yes! The pool is very big  and the water is quite calm. Additionally, the waterfall is quite small and not very strong so you don't generally need to worry about strong currents. However, I would avoid swimming in the pool (or even visiting the waterfall) if it is raining very hard as it gets very full.
Our Experience at Catarata Poza Azul (blue pool waterfall)
We visited this waterfall in the morning during June with one of Yeison's Tico friends. We only had a day to explore Sarapiqui on our own so he recommended this waterfall as it's close to where we were staying and not a long walk.
Driving from Hacienda Poza Azul to Catarata Poza Azul was very easy and only took about 8 minutes. When we arrived at the house, like I mentioned earlier nobody was home so we called the number and went inside.
We parked our car in the yard and started heading down to the waterfall. The trail is down to the left and you can't miss it. However, make sure not to go off the path because there aren't really any signs and it's all dense forest.
As soon as we departed, one of the dogs followed us and started leading the way. It seemed like she had done this walk hundreds of times and knew she was supposed to be the guide. So adorable!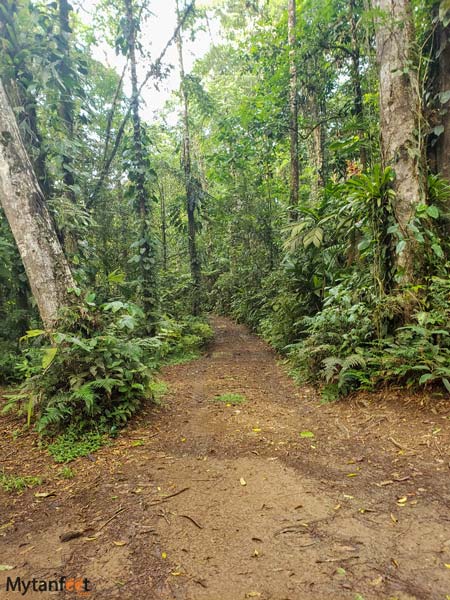 Sarapiqui is a very hot and humid place in Costa Rica so we worked up a sweat quickly even though the trail is short and not terribly difficult. I'm so glad I put on mosquito repellent because they were intense!
Soon, we arrived at a cleared area with some signs signaling we've reached the waterfall.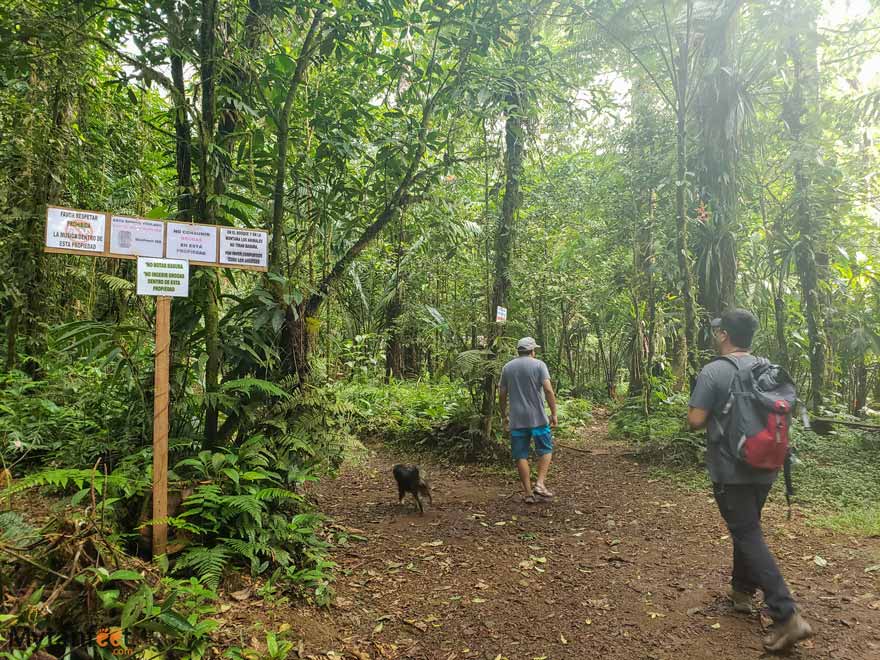 It seems like a lot of local kids like to come to this waterfall because the signs say "no drugs, no loud music, no throwing garbage" and that the area is under surveillance. However when we went, there was nobody, just us and the pup.
We first went to the top of the waterfall where we got a view of the pool from above. It's to the trail straight past the signs (where we're walking towards in the photo above).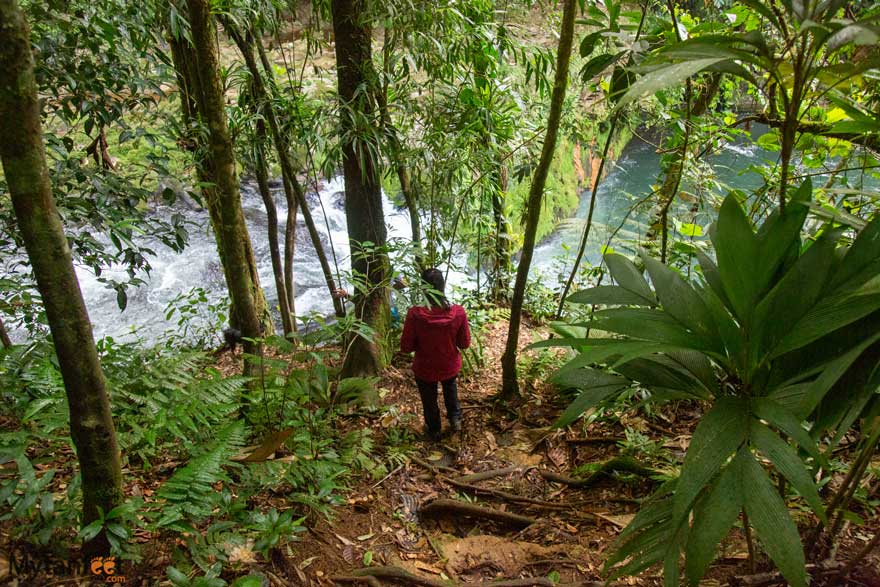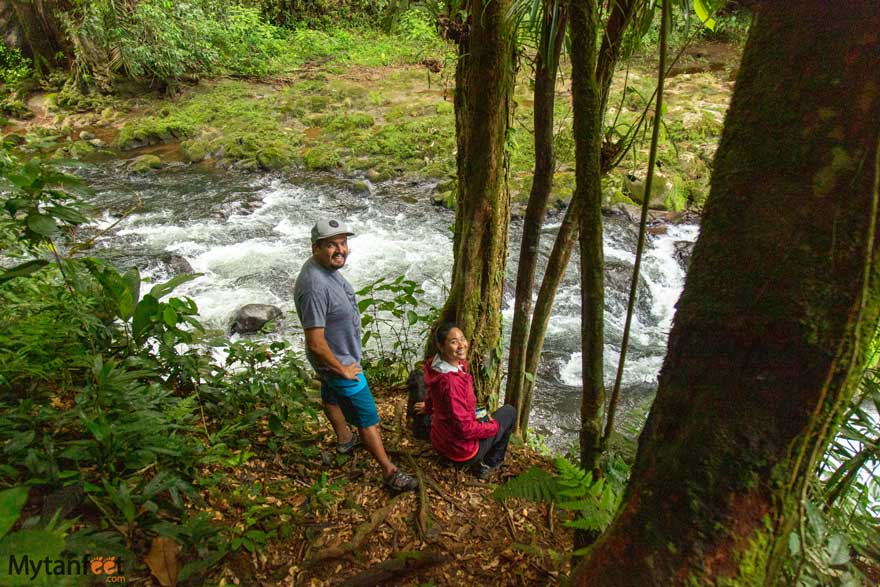 After snapping some photos, we walked down to the pool. This part had some steep stairs and this trail is to the right where the signs are.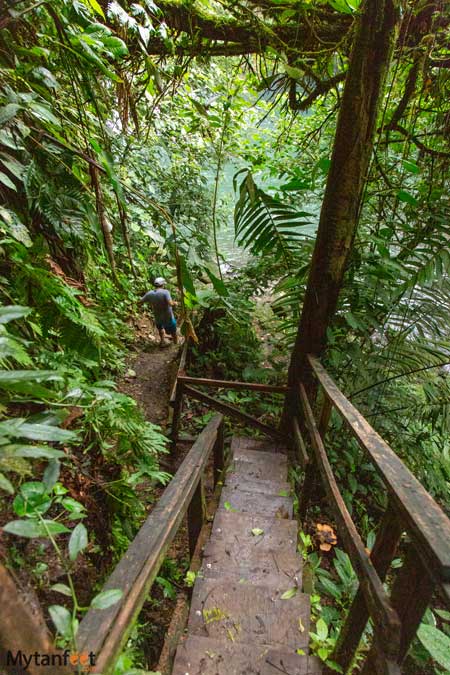 At the bottom, the waterfall and pool emerge. To be honest, I think a better name for this waterfall is Poza Verde because it was a more green color than blue. We've seen several blue waterfalls in Costa Rica and this one is not that blue (but still very nice). Maybe it's more blue in dry season because we went in rainy season and it had been raining in the morning though. Either way, it was still very pretty!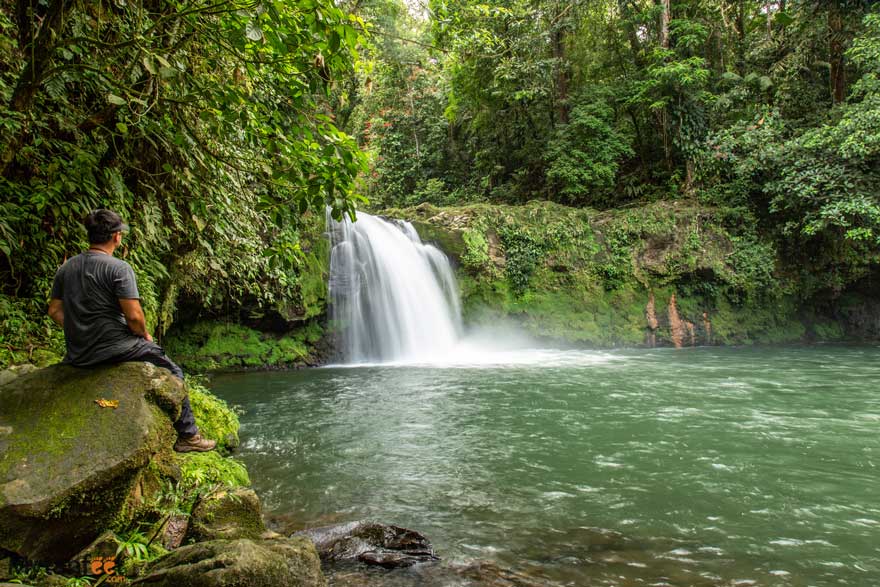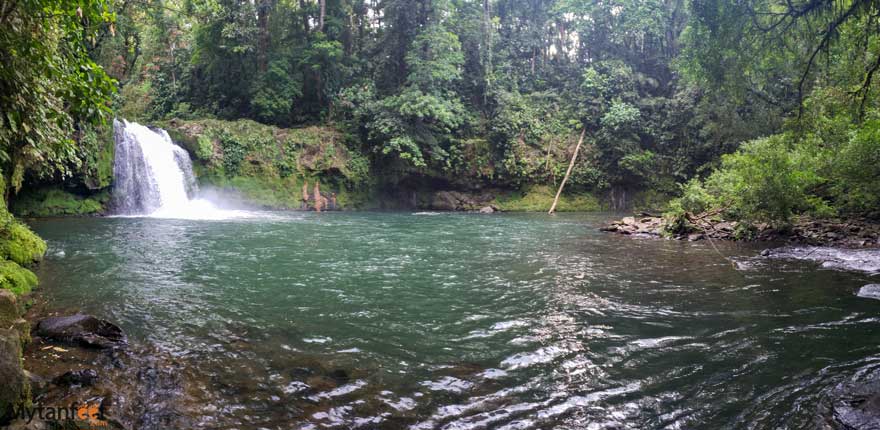 You can see that this waterfall is perfect for swimming as the pool is large. There aren't any sitting or cleared areas here so be super careful as you have to walk on rocks to get around and it's slippery.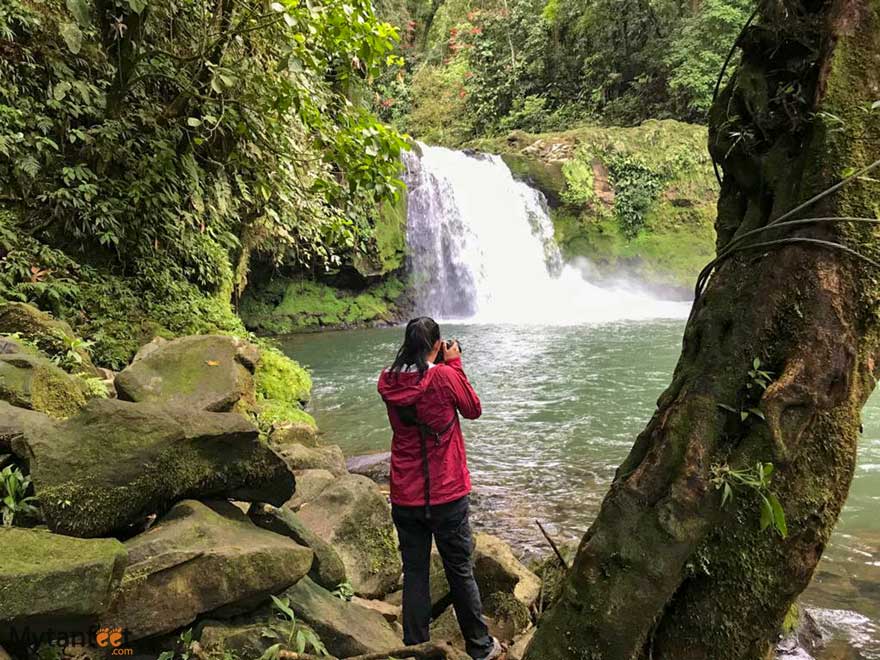 A nice way to spend the morning
We didn't stay too long at Catarata Poza Azul because unfortunately it started raining again and we wanted to leave before it started pouring. But we still enjoyed the walk, seeing the waterfall and exploring a local favorite in Sarapiqui.
If you have a day or two to explore, definitely check out this waterfall. It's cheap, not very touristy and overall a nice experience!
Read about other waterfalls below
Casacada El Pavon in Ojochal
Uvita waterfall in Uvita
Llanos de Cortes waterfall in Guanacaste