Bajos del Toro is filled with incredible waterfalls at every corner and one of them is Catarata Rio Agrio. This is the ideal waterfall hike for those who aren't keen on trekking hours through the rainforest as it's only a couple kilometers long. You can combine it with a visit to the blue pools, owned by the same family.
As Bajos del Toro is a popular hiking spot for the city Costa Ricans, it's an excellent local destination off the beaten path.
If this sounds like the right hike for you, read our guide to find out more! There are Amazon affiliate links in this post.
Location
Catarata Rio Agrio is in the town of Bajos del Toro in the Alajuela province. It is a 2 hour drive and 67 kilometers (43 miles) from San Jose. You can find it on Waze under the name "Catarata Rio Agrio."
Catarata Rio Agrio Waterfall Entrance fee
Per person, 3000 colones for the waterfall, 2000 colones for the blue pools. Pay in Costa Rican colones if you want to use cash. We were able to pay with credit card (Visa) in Costa Rican currency.
Catarata Rio Agrio Important Information
Difficulty: Moderate and short, no more than 1.5 kilometers. It's a straightforward trail, however we don't recommend it for anyone who has severe knee or ankle problems or cannot walk on uneven paths, steps, rocks, or tree roots. Not recommended for seniors with walking problems. No wheelchair friendly trail.
If you visit during peak rainy season months (August – January), the path will be muddier and more slippery so it will take you longer than it took us. Even though we visited in June which is a transition month from dry to rainy, the paths were not really muddy and was super easy to walk for us.
Kid friendly: Parents can bring their babies or toddlers in carriers. Older kids can do this trail.
Reservations: Not required
Parking fee: None
Dog friendly.
Facilities: Bathrooms, changing rooms, restaurant, parking lot at the entrance office. At the waterfall, nothing.
Best time to visit: In the morning and the summer months of January – April. You can still go in rainy season (May – November) but be prepared for rain. Bring a rainjacket, waterproof backpack and good hiking shoes. You may not see the blue pools though. They were more green for us and it started pouring so we couldn't enjoy them. Do note that it gets very busy during summer and on weekends.
How to visit: Stay a couple days in the town of Bajos del Toro or Zarcero or as stop over from San Jose – La Fortuna.
Type of car needed: Recommended to have a 4wd/4×4 for Bajos del Toro if you plan to go to different rural and similar places in the area. However, Catarata Rio Agrio waterfall parking lot is right off the main road so you can get there with a sedan.
Transportation: No public transportation, must have your own car.
Can you swim in the waterfall? No. You can dip your toes but is not recommended to swim in the waterfall. The waterfall is strong, there are rocks and the water is sour and full of minerals from a volcano.
Cell phone service: Kolbi is the only provider that works in this area. I had Movistar/Claro and had no service.
The Waterfall Hike
Beginning of the Walk
We began the Rio Agrio waterfall hike right after a hard rain, so we knew we would have a bit of time with clear skies. Bajos del Toro tends to rain quite a bit and visiting during rainy season meant we couldn't avoid the rain but we didn't mind as we started off on our journey.
After paying the entrance fee at the restaurant, we followed the clear signs to the waterfall. Thanks to the downpour that just happened, it was pretty muddy but it made it all more fun!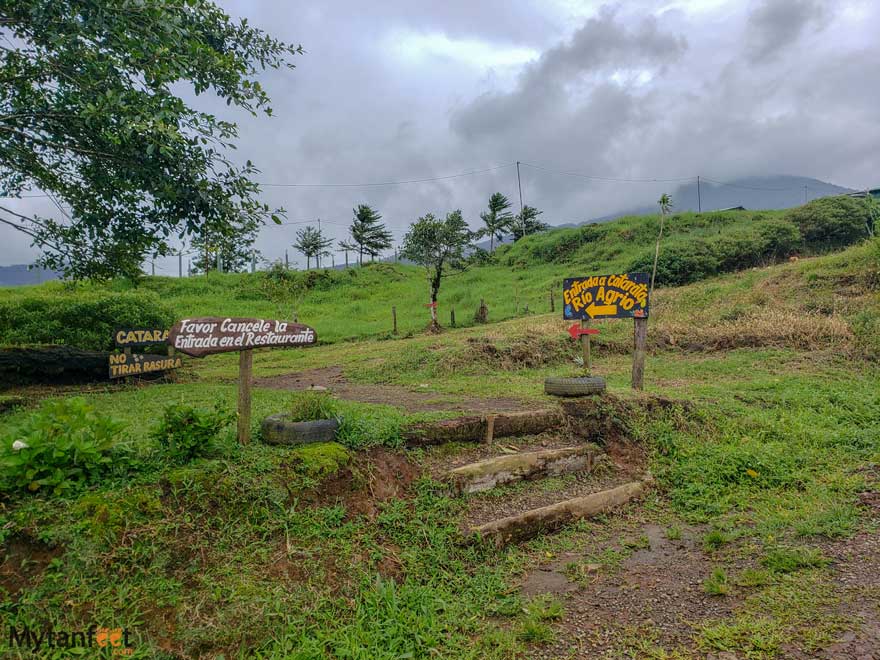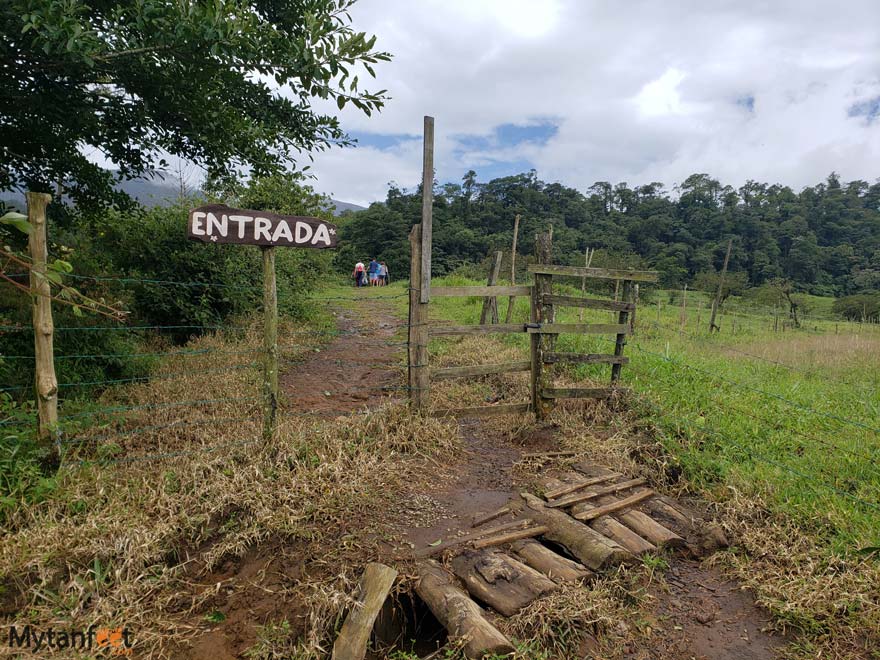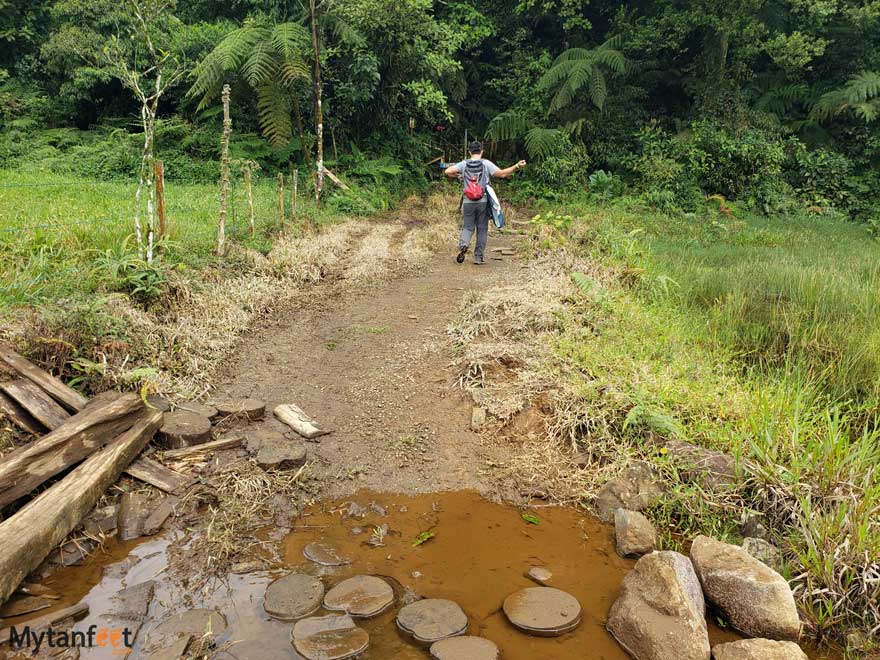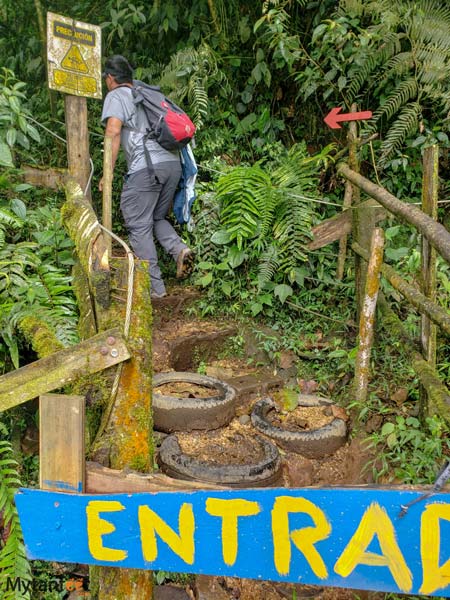 Along the way, there was a large dinosaur statue. When I saw it, I chortled and laughed out loud. There was a large dinosaur at the restaurant too. It felt so random! Why on earth did they put so many dinosaurs everywhere?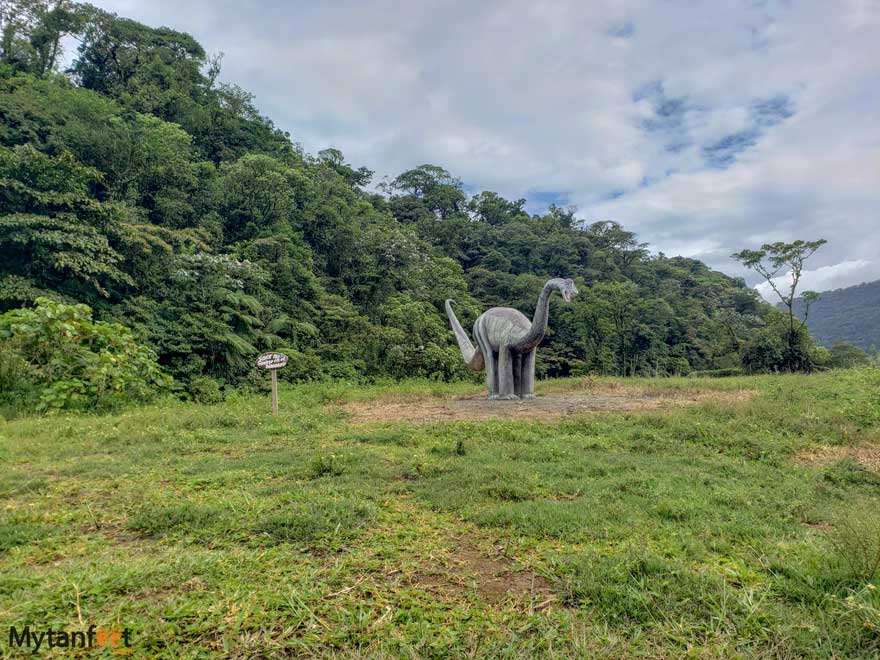 I soon found out that actually, the dinosaur fit really well with this hike and you'll see why in a second!
The Trail
The trail to the waterfall was one of the most scenic one I've seen in Costa Rica. Although it's very short, it's a nice walk to get your blood flowing. We passed by 3 bridges over fast flowing rivers through lush canyons and thick vegetation.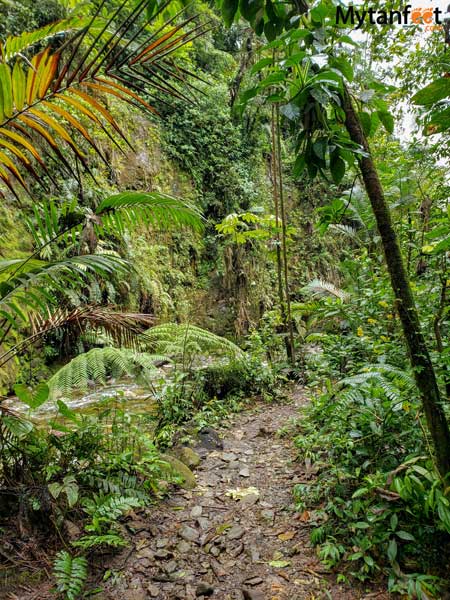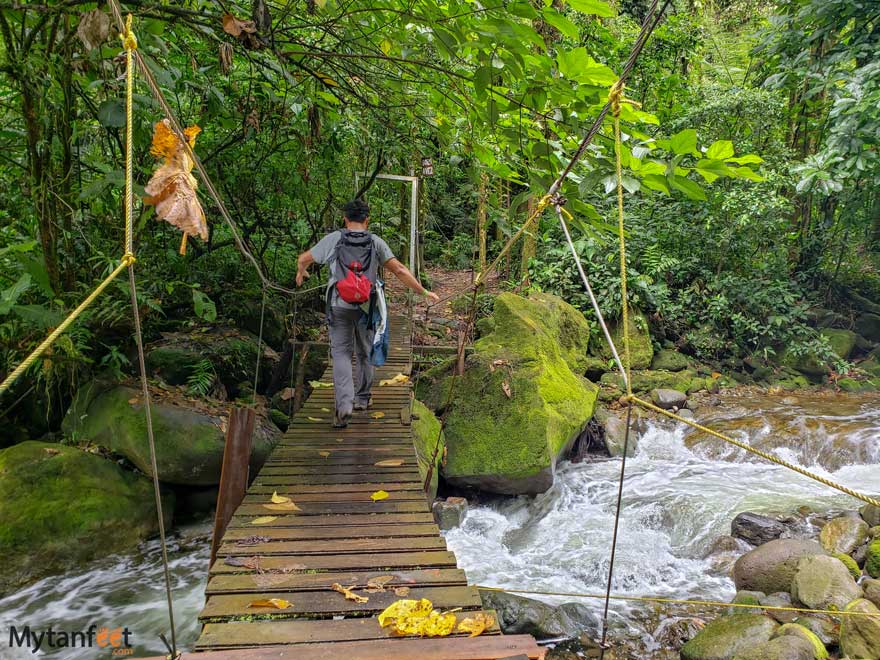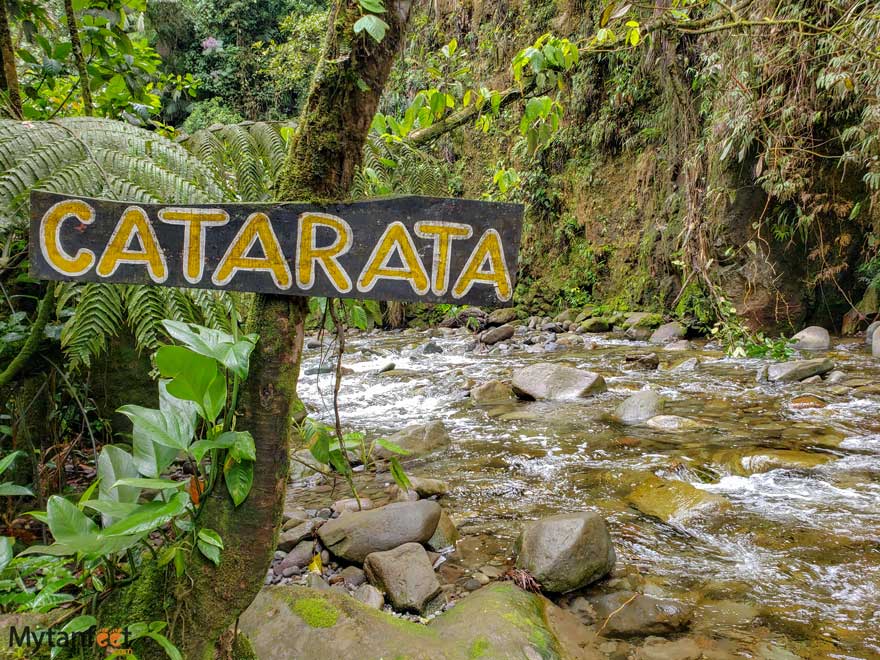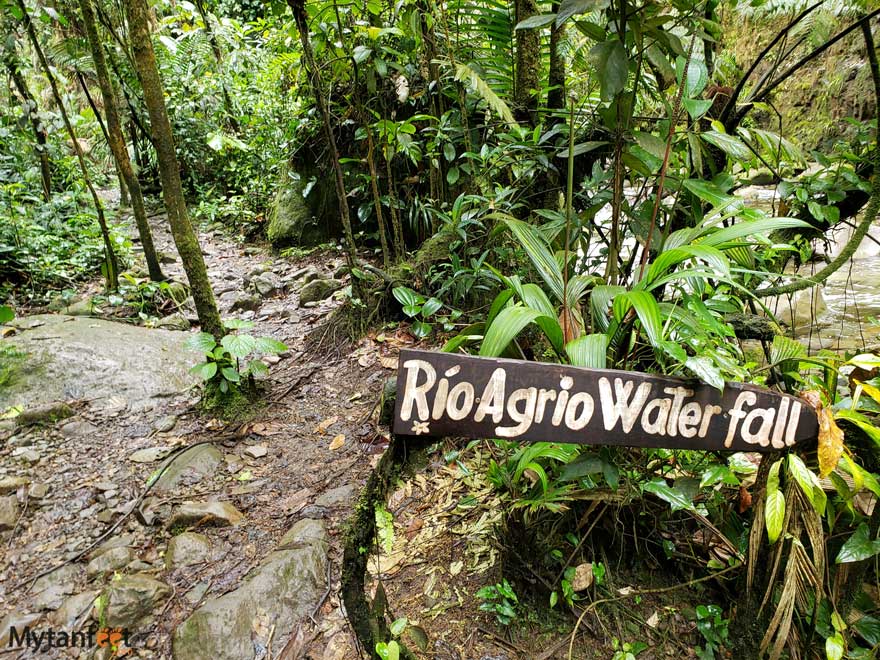 The vegetation and river made me feel like I had been transported back to the Jurassic period, especially with the rivers and canyons. I started to understand why they put dinosaurs on the trail because I really felt like a brachiosaurus could have stepped out in front of me at any moment!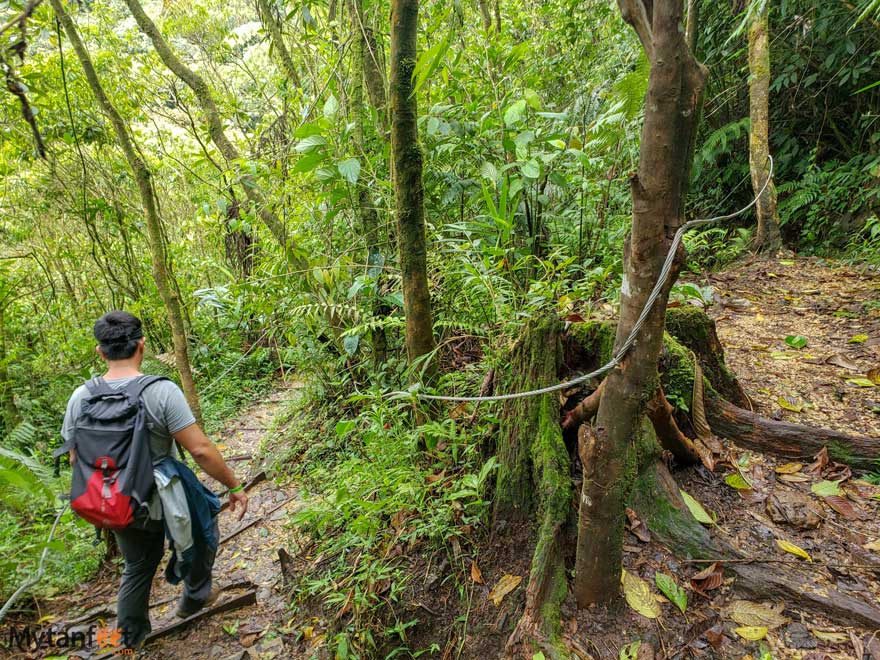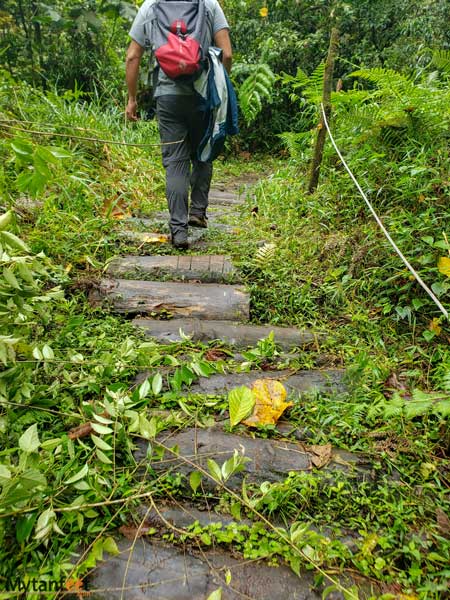 The sound of the gushing water got louder and louder as we passed by the second bridge and as the third bridge came into view, I gasped a little. Hello Jurassic Park!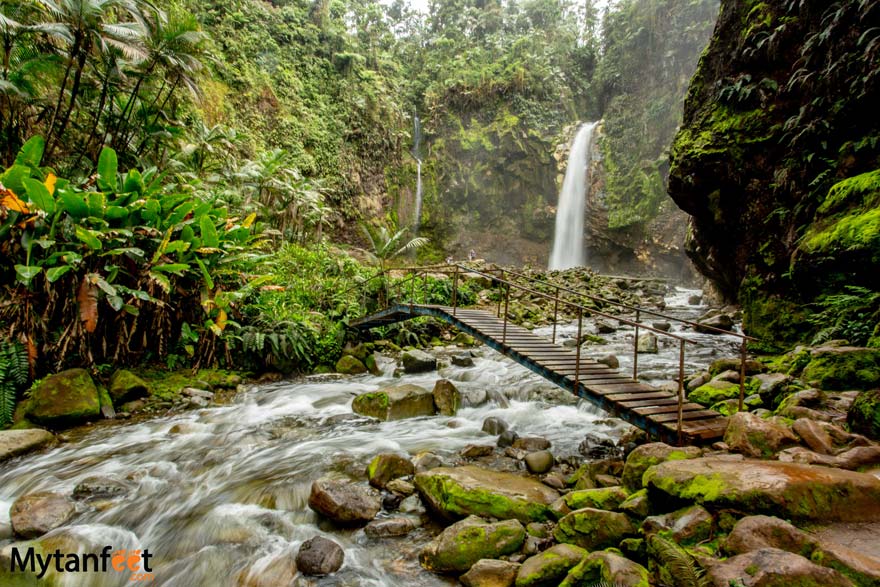 The Waterfall
As I walked across the last bridge, taking a thousand photos, I noticed that Yeison and I had the waterfall all to ourselves. As Bajos del Toro is not a touristy destination (it's more popular with Costa Ricans) and we were visiting in rainy season, we only saw one other family on the trail. It was awesome!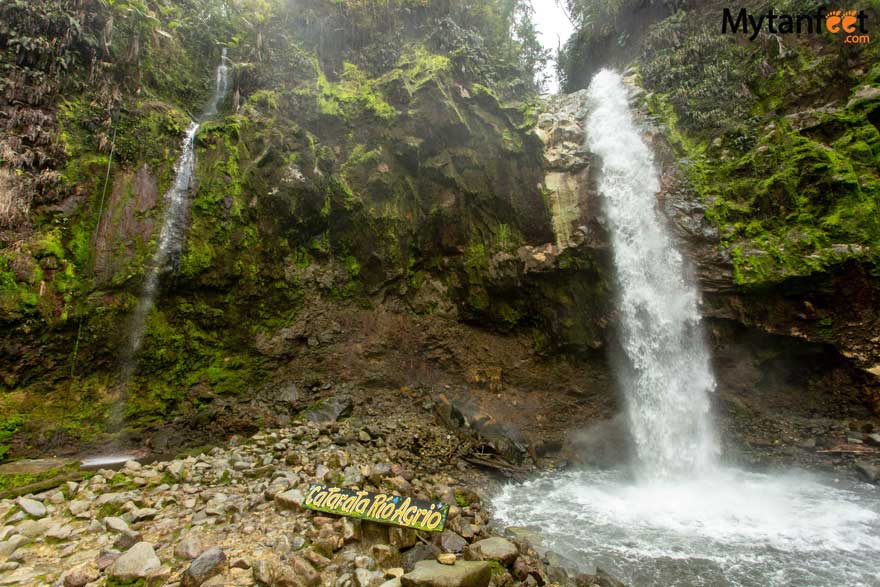 The name "Rio Agrio" means sour water, as the water originates from a volcano and according to the family, locals believe it to have healing properties. You can dip your toes if you like, but don't go close to the biggest waterfall as that one is quite strong.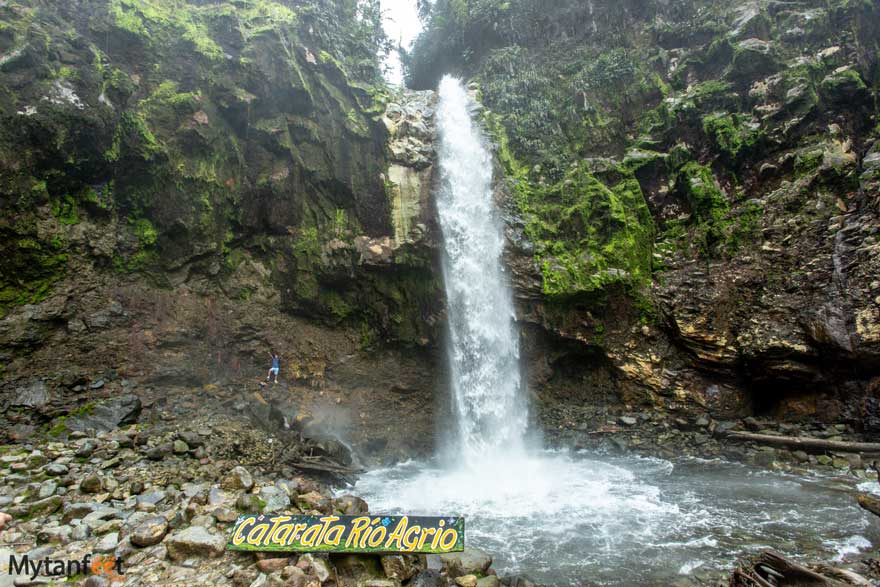 As the waterfall is not that big, we spent about 20 minutes taking photo and walking around. It was plenty of time so we started back to the entrance to have enough time to visit the blue pools.
Rio Agrio Pozas Celestes (Blue Pools)
The family who owns this property also has a property with blue pools, just a 3 minute drive away.
To get to the blue pools (pozas celestes), you have to take their own transportation since there is no parking lot and it's not open to the public. We hopped on the back of their truck and they dropped us off at the entrance.
It will be helpful to know basic Spanish because they told us to call the phone number on our bracelet to get picked back up. You could also walk on the main road, about 20 minutes to get back to the Rio Agrio parking lot if you don't have a phone.
If you don't know that much Spanish, when you call to get picked up you can just say something like "Hola, Soy X (your name) y estamos listos a las pozas." Which is pretty much like Hi, I'm (your name) and we're ready at the pools. They recommend to call them when you are starting to go back up the trail so you don't have to wait on the side of the road for them.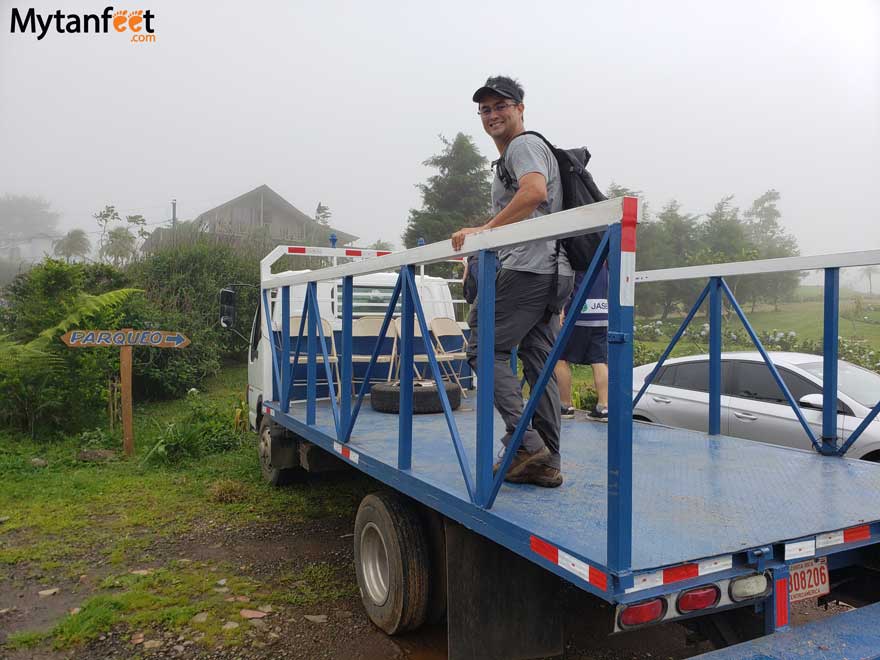 This trail, although very short, was not well groomed and was more steep than the waterfall trail. Since it started raining when we arrived, it was also a bit slippery.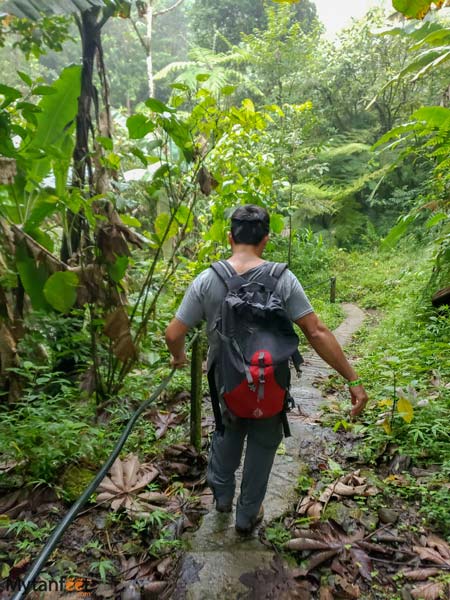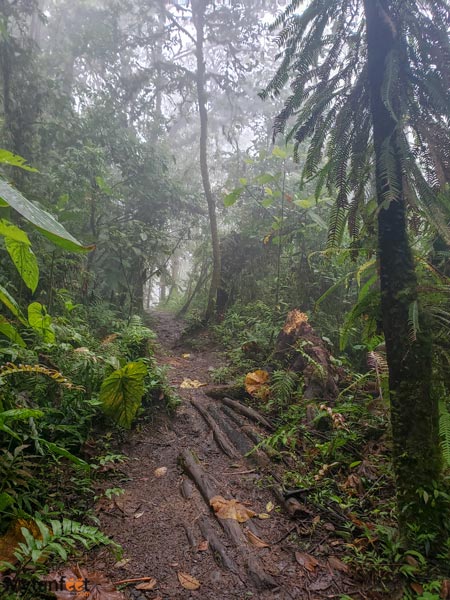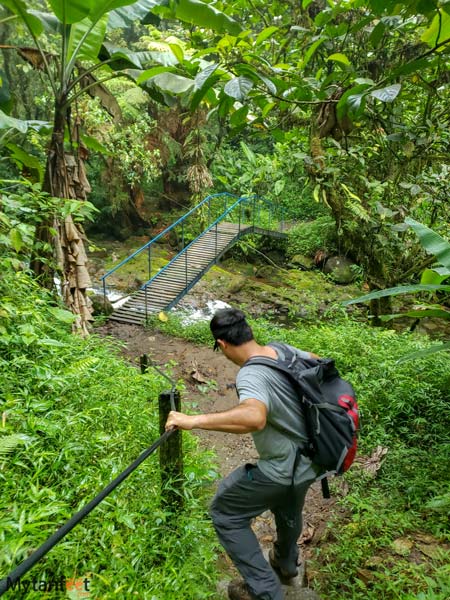 Unfortunately it started raining pretty hard when we got there so we couldn't swim and the water was more like a murky green.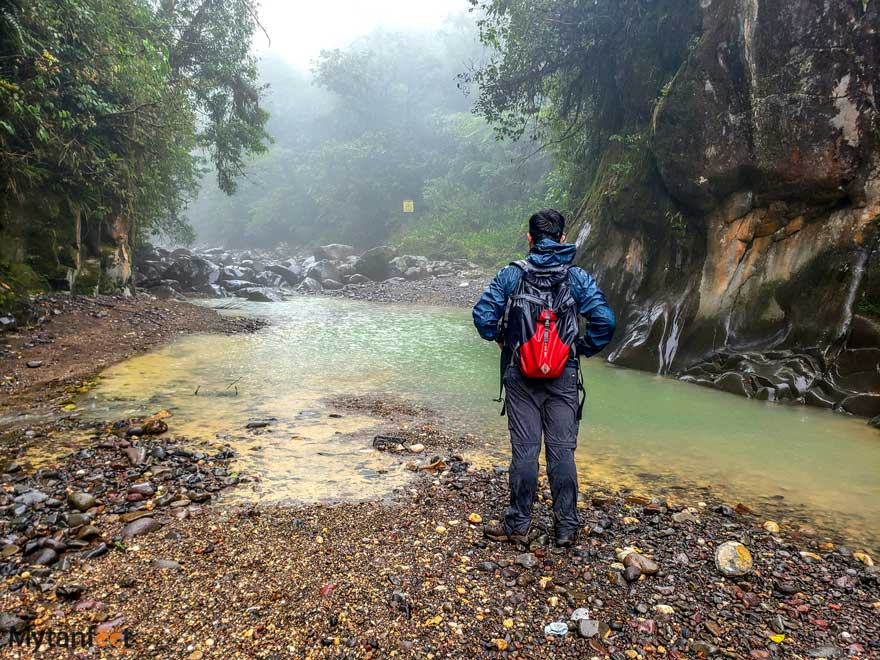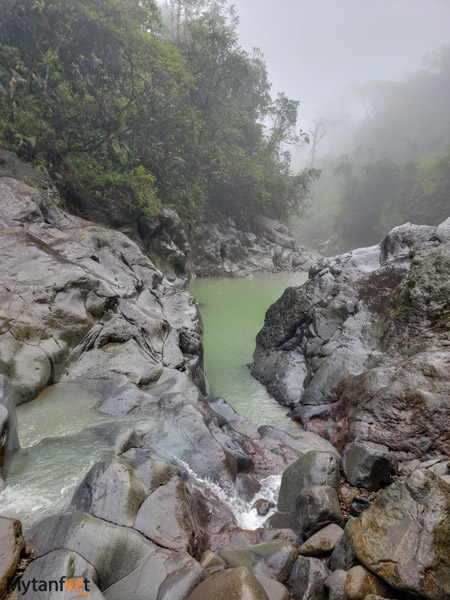 It started pouring down rain so we quickly climbed back and called the owners and got picked up. Even though we didn't really get to experience the blue pools, it was still very cool to see. Hopefully we can go back on a sunny day because it does get very blue!
Other Things to Know About Catarata Rio Agrio Waterfall and Pozas Celestes Costa Rica
It is owned by a local farming Costa Rican family so don't expect them to know very advanced English. It will be helpful to know the basic Spanish words and phrases.

Catarata is the Spanish word for waterfall so you can say to them, Catarata Rio Agrio and Pozas Celestes, for the waterfall and blue pools.

It will also help to have a local phone number to call them when you are done at the blue pools.
You should wear good shoes because it gets muddy and the rocks are slippery at the blue pools. No flip flops or loose sandals. I wore my KEEN closed toed hiking sandals, Yeison wore his KEEN hiking shoes.
This area tends to rain quite a bit so we recommend to wear hiking clothes. You can wear shorts or leggings in the dry season. We went in June which is rainy season (May – November) so we brought a waterproof backpack and rainjacket which I'm SO thankful for! Check our Costa Rica packing list for more recommendations.
In case you're interested, we used the AquaQuest Stylin Pro and North Face Venture rainjacket. 100% waterproof!
Other Waterfall Hikes
If you stay longer in Bajos del Toro, then Catarata del Toro and the Blue Falls are a must!
For those in Guanacaste, Catarata Llanos de Cortes, Rio Celeste waterfall and Cangreja waterfall are amazing.
If you're in Dominical, Uvita or Manuel Antonio, then a visit to Nauyaca Waterfalls is highly recommended.
There are Amazon affiliate links in this post.