Though Costa Rica is an excellent country for all types of tourists, it can be a bit daunting for first time travelers, especially those who are traveling outside of their country for the first time. Due to loads of misinformation online and so many incredible destinations in the country, it can be overwhelming for those trying to plan a trip where they can experience as much as possible in a given time.
To take out all the stress of trip planning for first time travelers, there are several companies who offer various tour packages and set itineraries. One of those companies is Costa Rica Monkey Tours. They pick the destinations, provide transportation and choose the activities so all you have to do is sit back, relax and enjoy.
We did the Essentials tour last year and this time, we joined the Costa Rica Monkey Tours Coast to Coast tour. This itinerary takes you to San Jose, Tortuguero, Arenal, Poas, Monteverde, Playa Samara and Manuel Antonio in 11 days.
If you are the kind of traveler who prefers to go with a tour company, wants a full time guide (read our post on why you should or shouldn't book a guided tour) and doesn't want to spend hours planning your trip, then this is the best option for your Costa Rica trip. Read on to see what this tour is like!
Costa Rica Monkey Tours: Coast to Coast Tour
Click the day to skip to it or continue reading!
Map of the destinations visited.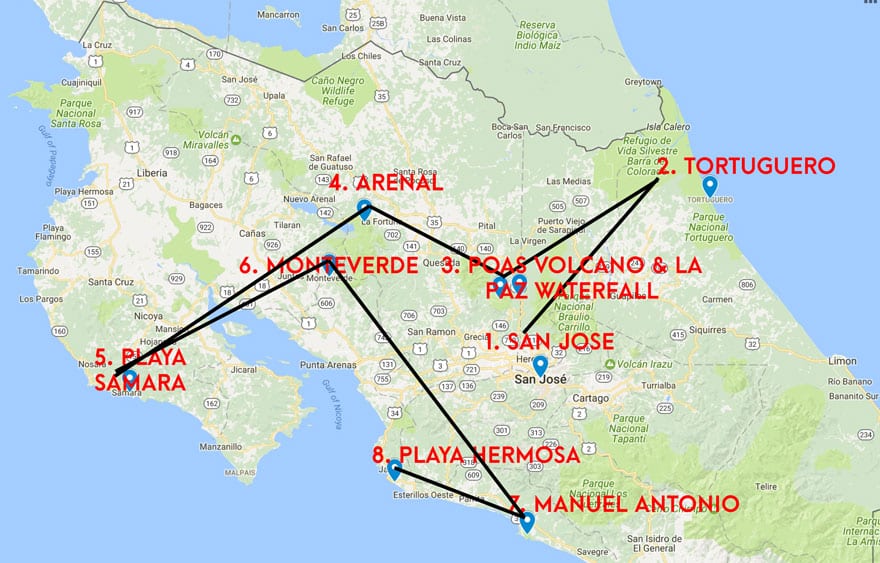 Day 1: Land in San Jose
The first day is for you to get settled and rested up from your flight. If you have time, you can take a cab to town or relax at the hotel. We stayed at the Doubletree by Hilton Cariari San Jose.

Day 2-4: Tortuguero
We got up bright and early to leave for Tortuguero. This part of the Coast to Coast tour is not operated by Costa Rica Monkey Tours, they put you with tour companies that specifically operate Tortuguero tours. We took a 5 hour bus ride to Cariari where the boat launch is and went on a 2 hour boat ride (we got stuck a few times) to our hotel, the Evergreen Lodge in Tortuguero.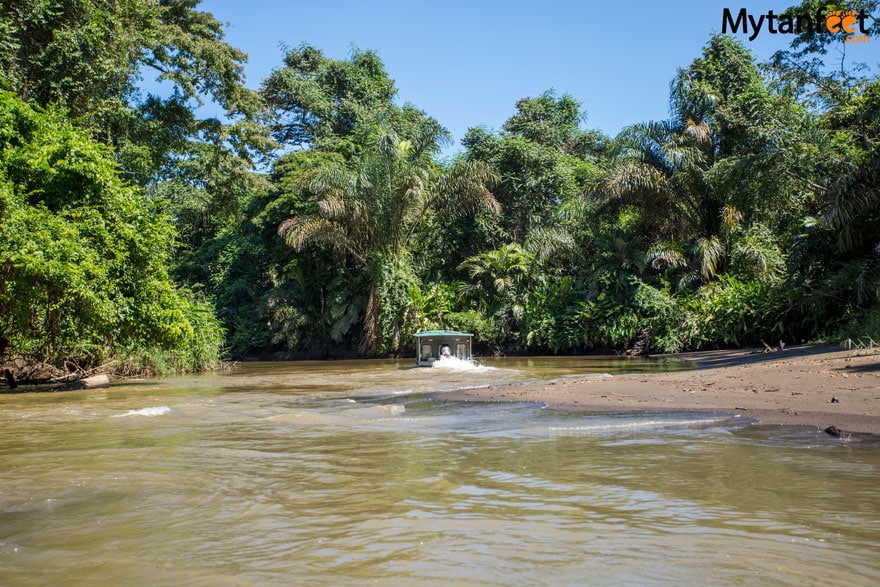 Because we got there mid-afternoon, we decided to push our Tortuguero National Park boat tour until 5 AM the next morning and go to town instead which worked out better. We got to see baby turtles at the beach in Tortuguero!
Follow us on Facebook for more photos and videos of Costa Rica!
The next day we got up early for the boat ride through the national park. Moving it actually worked out better as we got to see much more wildlife at 5 AM.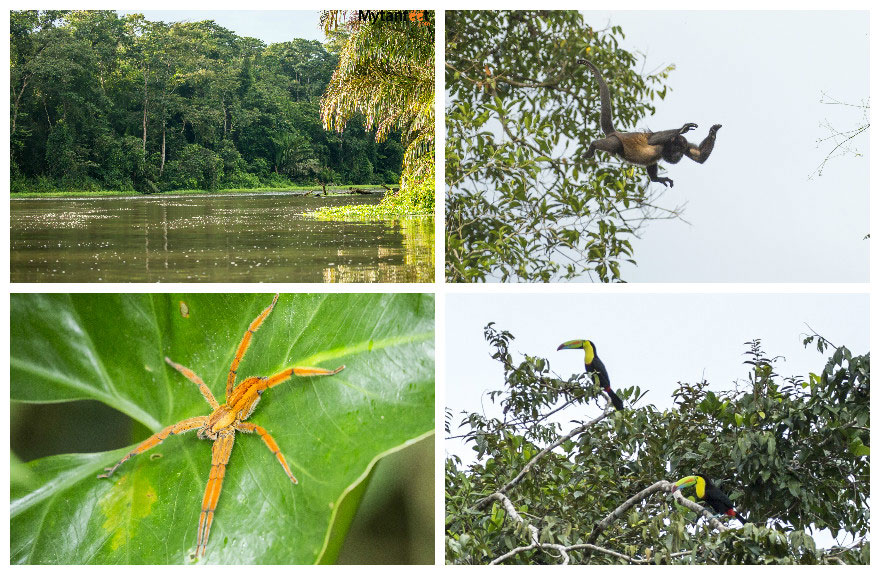 After the boat ride, we had breakfast and rested a bit until the walk. We boated to another hotel that has nice walking trails to see more wildlife.
The walk was fairly short and took no more than an hour. We got back to our lodge and had lunch, the rest of the day was ours to enjoy. Some people went ziplining but since this was my first time in Tortuguero and I wanted to explore as much as possible, we went kayaking in the national park until sunset.
There is a section of the national park where boats with motors can't go, so we kayaked our way through the canals, silently gliding over the water to get up close with the animals.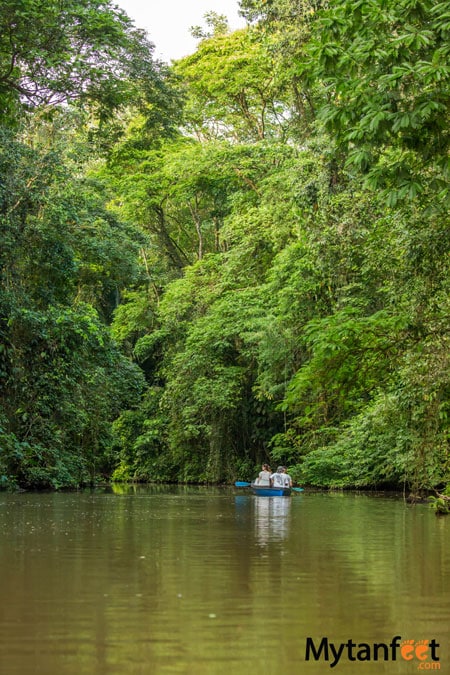 We got back to the lodge right as it was getting dark and relaxed the rest of the evening. The lodge has Wi-Fi on the property, a huge pool and a bar but since we were so tired, we relaxed and went to bed.
The next morning, we packed up and got ready for a long day back to San Jose. We stayed at the Doubletree by Hilton Cariari again and met up with the rest of the Costa Rica Monkey Tours, Jewels of Costa Rica group. The Jewels of Costa Rica is the exact same itinerary as the Coast to Coast except the Tortuguero tour.

Day 5: Poas Volcano and La Paz Waterfall Gardens
After breakfast, we left first for Poas Volcano National Park. Unfortunately, it was raining and very cloudy when we got there so we didn't see a thing except fog. On a clear day, the crater is visible but we got unlucky with the weather.
After Poas, we headed to the La Paz Waterfall Gardens, about a 30 minute drive away. The La Paz Waterfall Gardens is where you can take a picture with a toucan, see jaguars and visit 5 different waterfalls. Due to the rain, the waterfalls were incredibly murky and brown but still beautiful.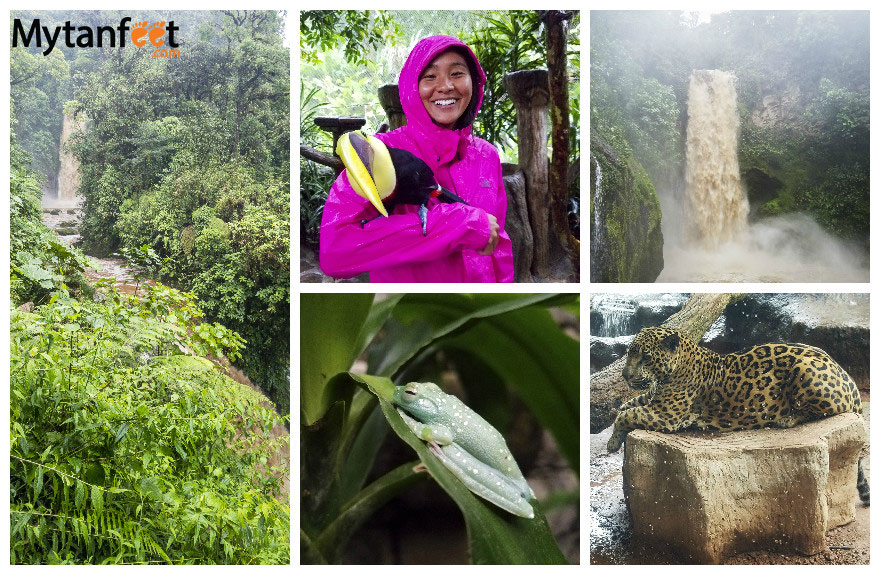 After the waterfall gardens, we headed to our next stop: Arenal. We stayed at the Hotel Mountain Paradise for 2 nights.
Day 6: Arenal
For day 6, you have two choices: hiking the national park or white water rafting. Yeison and I decided to split up so we could experience both.
The Arenal Volcano National Park hike is a better option for those who aren't keen on something super exciting. The hike through the park isn't too long and takes you up to the lava rocks with a great view of the volcano.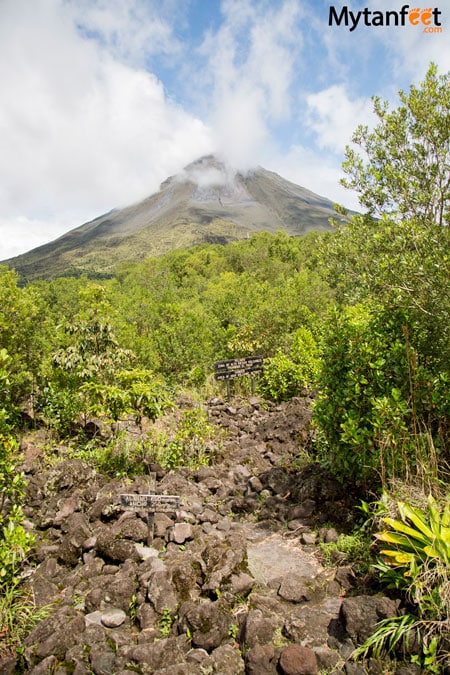 And for those who do want some adventure, go white water rafting at Rio Balsa on class 2 and 3 rapids!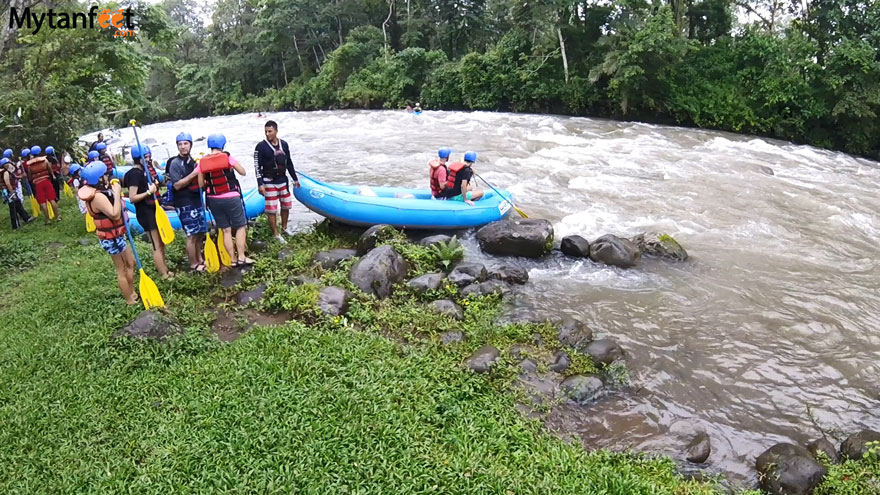 After hiking and white water rafting, we went to Paradise hot springs for a couple hours and then back to the hotel. It had rained pretty much every day of the tour so we were looking forward to the next destination, Samara!

Days 7 & 8: Samara
We stayed at Naambu Beachfront Bungalows in Playa Carrillo but normally, the tour takes you to Villas Playa Samara.
Day 8 is a free day so you can relax at the hotel, go horseback riding, fishing, take a sunset cruise, go dolphin watching, kayaking or snorkeling. There are a ton of fun tours at Samara. We spent it at the hotel but I highly recommend kayaking to Isla Chorro and snorkeling or horseback riding.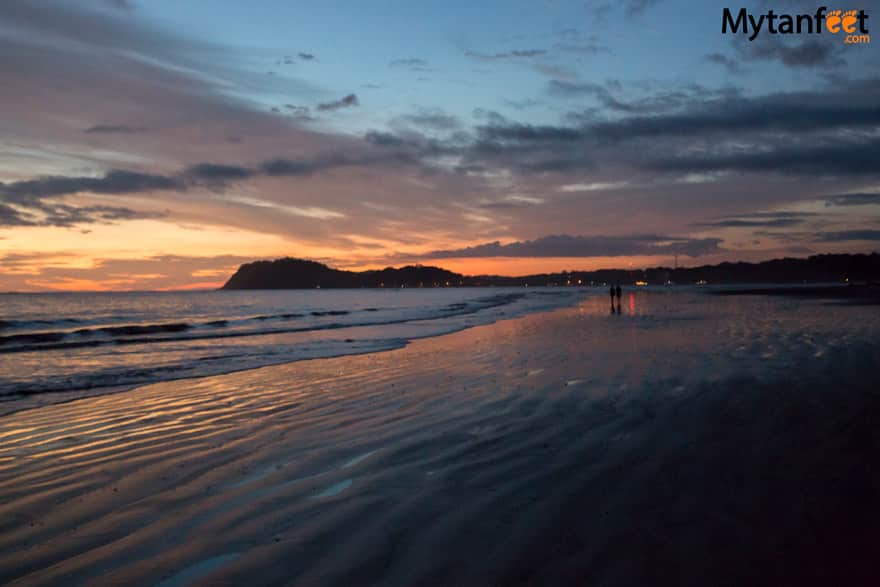 And don't miss out on the sunsets! Sunsets at Samara are incredible.
It was really nice to have a full day to relax at the beach because we were heading back into the forest for our next destination: Monteverde.
Day 9: Monteverde
Day 9 is a long day. The drive from Samara to Monteverde is around 4-5 hours so we left super early for the cloud forest. Once we got to Monteverde, we went to Sky Adventures to go on their zipline, hanging bridges and aerial tram. The weather didn't feel like clearing up for us so we zipped up our rain jackets nice and tight to explore the cloud forest in the rain.
You can read more about the Sky Adventures Monteverde park.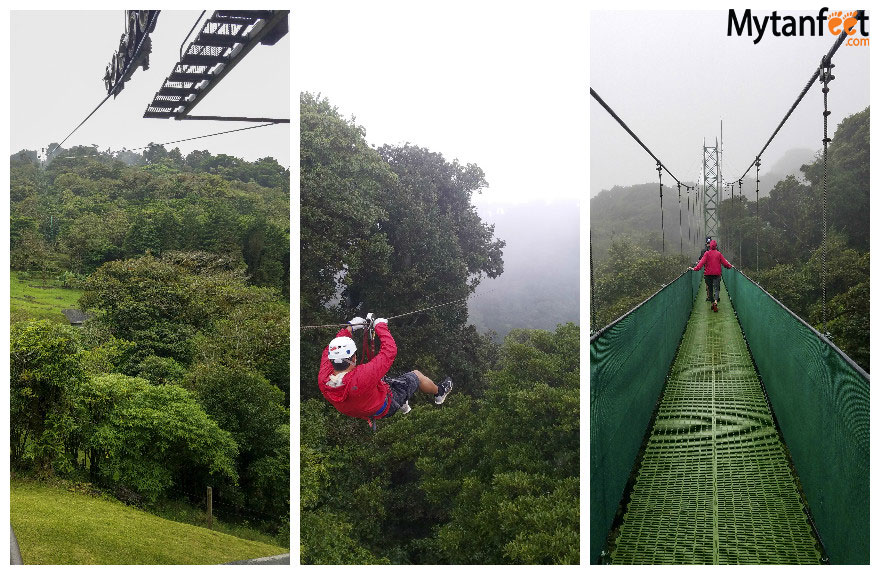 After the tour, we had lunch and went to our hotel. We stayed the night in Monteverde at the El Establo hotel, one of our favorites in Costa Rica.

Day 10: Manuel Antonio National Park
The last day of the trip is the longest. The drive from Monteverde to Manuel Antonio National Park took 6 hours and we had only 2 hours at the national park. We had just enough time to walk to the beach and see some wildlife, but nothing else which is quite a shame since the national park is gorgeous.
This is an excellent place to see wildlife, particularly sloths, hike the trails, and enjoy beautiful beaches. If you ever come back to Costa Rica, definitely visit again to spend a good 1-2 full days in the area. Here are some fun things to do in Manuel Antonio for future planning.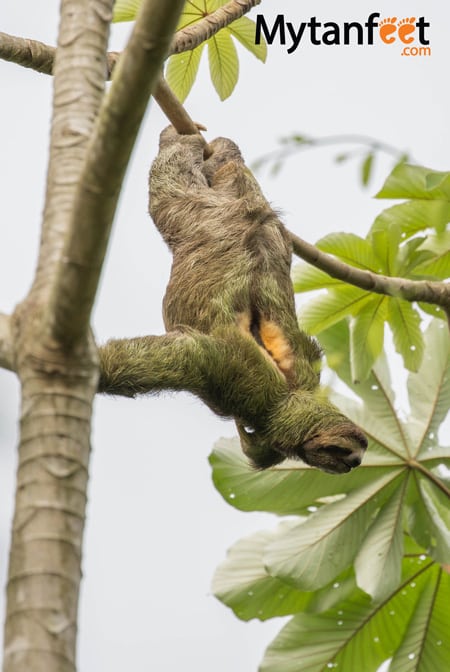 After the national park, we still had to drive one hour north to our last hotel, Hotel Tramonto in Playa Hermosa.

Day 11: Last Day
Costa Rica Monkey Tours offers one shuttle to San Jose at 7 AM and if you want to go back to San Jose at a different time, you'll have to book your own transportation.
Thoughts About This Itinerary
For first time travelers who want to see as much of the country as possible without worrying about the logistics, it's an excellent option. You get to see both Caribbean and Pacific coasts as well as the rain and cloud forests.
It is a LOT of driving the last few days, specifically Samara to Monteverde and Monteverde to Manuel Antonio. The last day to Manuel Antonio was a bit stressful because we had less than 2 hours at the park and didn't have lunch until after. Be prepared for long driving days.
You need to bring both beach wear and cold weather clothing. Poas and Monteverde get pretty cold and Samara is very hot. Check our packing list for Costa Rica here. If you're visiting during rainy season like us, you absolutely need to bring rain gear and waterproof equipment, we got soaked! Check our rainy season packing post for more information.
Bring a comfortable day backpack with everything you need for the day: change of clothes for white water rafting, camera, water bottle, snacks, extra batteries, etc. Our luggage was loaded onto the top of our van so we made sure to bring everything we needed with us.
To see all the details or to book this tour, check out the Costa Rica Monkey Tours website.
Want to visit Costa Rica on your own and not on a tour? Check out this DIY 10 day itinerary or a similar 14 day itinerary.
Our trip was hosted by Costa Rica Monkey Tours, all thoughts and opinions are our own.