If you're looking for a unique beach experience in Montezuma, then you must head to Playa Cocolito. This beach is probably the most deserted and pristine beach on the east coast of the Nicoya Peninsula with bright blue waters, white sand, coves and lots of wildlife. There is also a charming waterfall that empties into the ocean called Cocolito Falls (also known as El Chorro). Cocolito beach is inaccessible by car which makes it all more special.
In this guide, you'll read all about Cocolito beach and Cocolito Falls.
Location and Directions
Here is the Google Maps for Playa Cocolito Costa Rica and Cocolito Falls, Montezuma.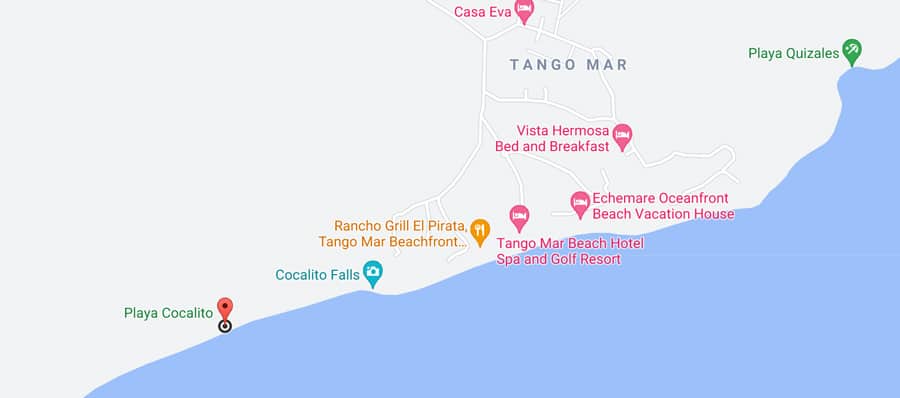 Playa Cocolito is about 7 kilometers (4.3 miles) south of Tambor and 10 kilometers (6.2 miles) north of Montezuma by car. Cocolito Falls is on the north end of the beach.
How to get to Playa Cocolito, Costa Rica from Montezuma
The most popular way to go to Cocolito from Montezuma is by taking a horseback riding tour. You'll leave from Montezuma and ride north past Playa Grande until you reach Cocolito. It's about a 1 hour horseback ride and when you reach Cocolito, you have time to swim, relax at the waterfall and enjoy the beach. El Pinto Horseback Riding Expeditions runs these tours and you can book them through Zuma Tours in Montezuma.
You can also do the same trek on foot. It's a hot, sweaty and humid 2 hour (one way) hike on the beach. We recommend leaving as early as possible in the morning because by 11 AM or so, the sun will be intense. Plus the earlier you go, the more likely you'll have the beach all to yourself!
How to get to Cocolito Falls (Montezuma)
The Cocolito Falls waterfall is on the very north end of Cocolito beach and you can walk on the beach up the rocks to see the waterfall. There is also another way to visit the waterfall via car.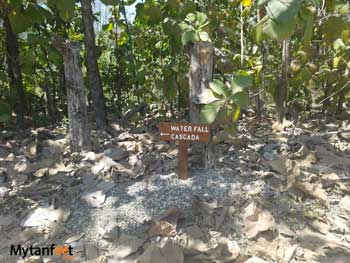 Drive to Hotel Tango Mar and go down to the road right of the hotel's gate.
Continue down this road for a little bit and you will see a tiny sign that says "Cascada Waterfall" on the right hand side.
Follow the signs until you reach a small parking lot, there should be about 4 or 5 more and a short drive from the hotel.
From the parking lot, there is a trail to the waterfall that takes about 10 minutes on a clearly marked path. Don't leave any valuables in your car, roll up your windows and lock your doors. There are no security guards or any type of security around so it'll be easy for thieves to break in if they see anything.
When we visited in February, there were a couple other cars there and we saw a few locals riding motorcycles past us.
4×4 required?
If you go via Hotel Tango Mar, a 4×4 is not required. However, if you plan to drive around the Nicoya Peninsula or explore more places, a 4wd/4×4 is highly recommended for that area.
Cocolito Falls
We visited the waterfall and beach by driving there from Tango Mar and it was a complete surprise. On our way to Montezuma from Paquera, we decided to randomly drove through Tambor and had no idea what was at the end of those little signs. We were pleasantly surprised to see the beautiful beach and waterfall, it was actually the highlight of our Nicoya Peninsula trip!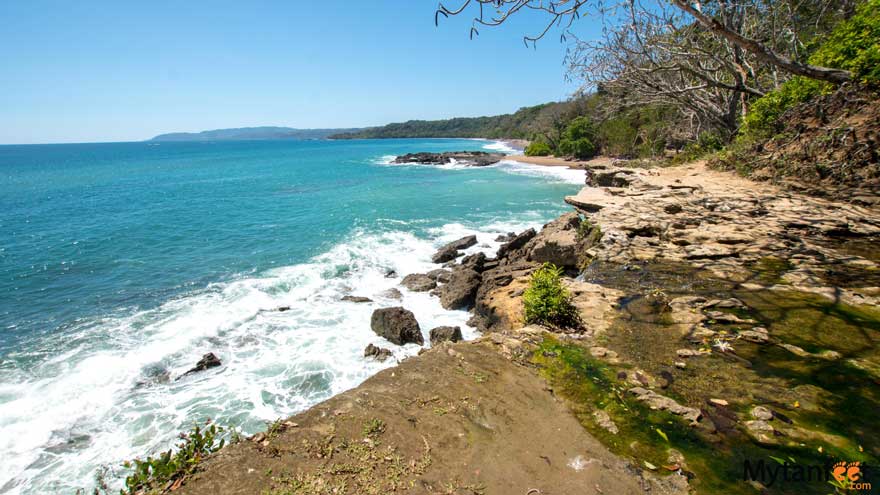 The picture above is what you'll see when you reach the river at the end of the path from Tango Mar. When I took this picture, I didn't realize there was a waterfall since it's below the cliff. I only realized it when I crossed the river and looked back!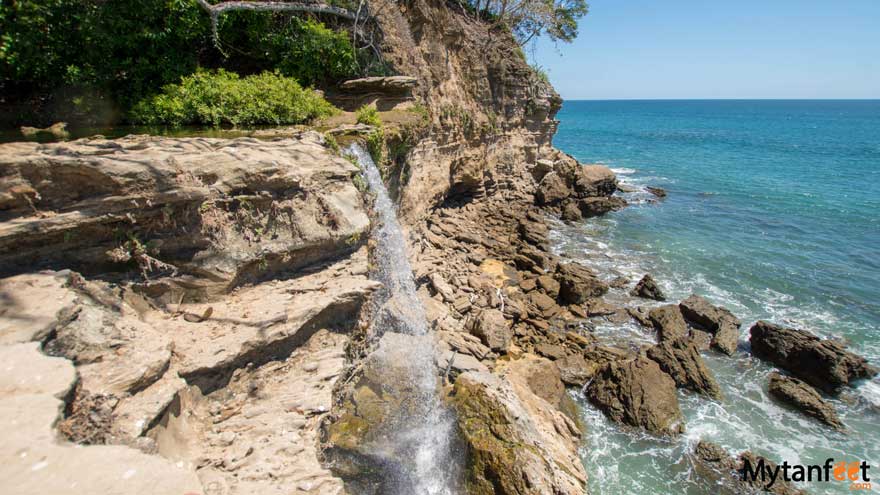 We went during dry season so the water level was low. If you go in rainy season, I don't recommend crossing the river and climbing down since it will be very slippery. You can walk all the way down to the beach from the river.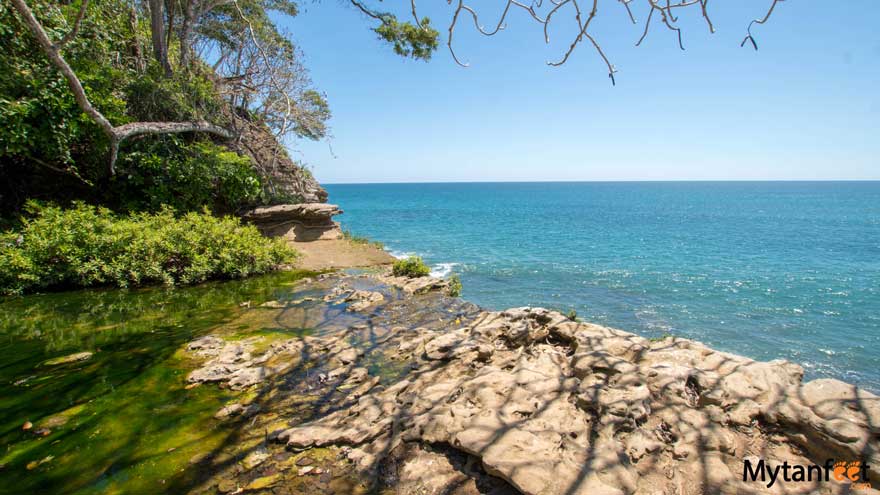 You can cross the river and get another view of the waterfall.
Playa Cocolito Montezuma
Cocolito beach is absolutely stunning and the north end where the waterfall is gorgeous. It has a white sand cove right before it and the water is sparkling blue. The waves can get a tad bit rough to swim, especially in January and February due to the winds.

It's the perfect place to chill, relax and cool off and enjoy a beautiful lesser known beach in the Nicoya Peninsula. It's usually the highlight of every traveler's trip to Montezuma!
If you're driving from the Paquera ferry to Montezuma or Santa Teresa, definitely make sure to stop by El Chorro waterfall on the way or go as a day trip from Montezuma!
You can watch a short video of the waterfall and beach below!
Read about other beautiful places in Costa Rica below!
Catarata del Toro: Spectacular 270 foot waterfall in an extinct volcano crater in Bajos del Toro
Playa Barrigona: Beautiful "hidden" white sand beach by Samara
Rio Celeste: Stunning sky blue river in the Tenorio Volcano National Park
Playa Cuevas Mal Pais: Small white sand beach with caves and snorkeling in Mal Pais
Carrillo: Nice beach by Samara
Playa Linda: Tan sand beach by Dominical with surfing waves