***This hike is currently closed as of July 2017.**
Arenal Volcano's little brother Cerro Chato, is a dormant volcano with a crater and lake on the southeast side of Arenal. This volcano has seen no activity for the past 3,500 years and first erupted in the Pleistocene period. There are two peaks, Chatito and Espina with a 500 meter wide lake, called Laguna Cerro Chato.
Although Arenal Volcano takes most of the attention in this area, Cerro Chato shouldn't be overlooked. On a beautiful day, visitors can enjoy a strenuous yet lovely hike up to the top, swim in the lake and overlook the landsacpe.
Hiking Cerro Chato
On the property of the Arenal Obesrvatory Lodge, there is a trail that goes up to Cerro Chato. We planned to do this hike on my brother's second day in Costa Rica since we heard it takes around 4-5 hours and can be a little difficult. Obviously we had to start his trip off with a bang!
It wasn't the greatest weather as we set off for our hike but we weren't scared of a little rain, all of us (except Yeison) grew up in Seattle. We geared up with our hiking boots, hiking pants, rain jackets and backpacks to get ready for a full day of hiking in the deep Costa Rican forest.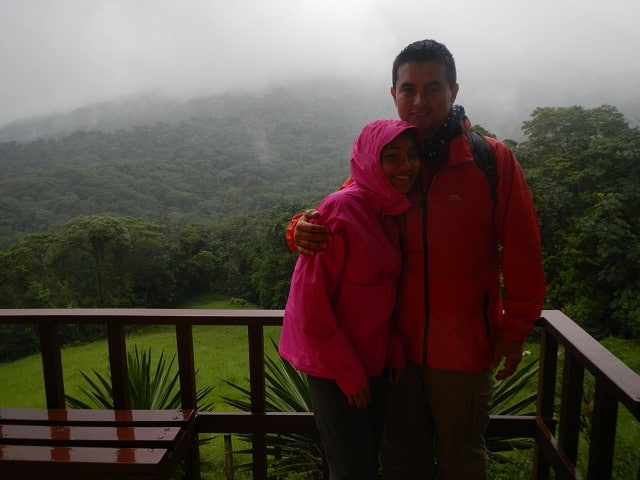 From the White Hawk Villa at the lodge, we passed by a sign for Cerro Chato, 2.1 kilometers. 2.1 kilometers is only 1.3 miles and we weren't even at the entrance yet. This should be a piece of cake right? 5 hour hike for 1.3 miles, psssh! Easy peasy.
I heard that this is a hike more suitable for those in better physical condition and this is true. When we got to the entrance, which is this little path in the woods off the main road, we were now 1,540 meters to the top. And the rain was started to come down a bit harder.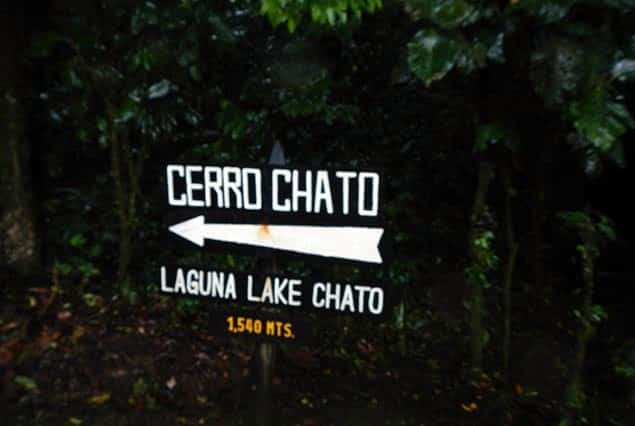 The Start of the Hike
All of us were in high spirits as we trekked off into the forest. After about twenty minutes going up a steep, uncleared and muddy path, I started understanding why it takes so long for this hike and why they advise you to go with a guide.
On the way up we talked to a few people who were already on their way down. Unfortunately, they said it was so cloudy you can't see anything and it gets way more muddy as you keep going up.
Another half an hour later and my shoes were no longer green, my visor was no longer dry and my water repellent hiking pants were no longer repelling. Talk about a dense forest! They weren't joking when they said it gets more muddy, we were stepping in deep puddles and sinking in the mud.
I kept wondering if we should even keep going, we wouldn't see anything at the top and all of us were getting incredibly dirty.
But we kept on going. I don't like being a quitter and although this was a pretty steep climb, I knew I could do it. It's hard in times like this when you are with a group of people because you don't want to push someone past their limits but you don't want to keep the rest of the group from going.
Should We Go Back?
When it comes to physical activity, some people hit their limits quicker than others. People's priorities and interests can clash, attitudes can change and tension can arise if everyone doesn't communicate how they're feeling. But all of us wanted to keep going and encouraged the ones that were a little hesitant.
Almost at the top, we could hear thunder all around us and little rivers were started to form on the hill. At this point, we were just going to the top just to get to the top, no sense in turning back now when we were so close. We were all fairly drenched and staying dry was not a priority anymore.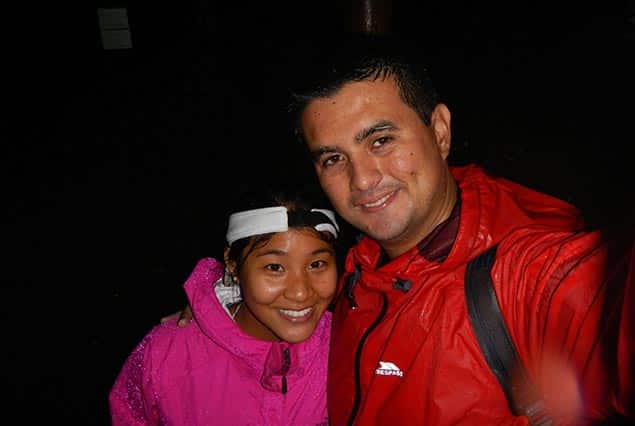 We Made it to the Top!
At the top, you come to a lookout where you are supposed to get a great view of the crater. Instead of the view of the crater, we got a view of… fog. Lots of thick fog.
The trail to the left keeps going down to the lake and then if you're feeling real adventurous, you can keep following it to the La Fortuna Waterfall. When Cerro Chato erupted, one of the lava flows from the eruption created the path to the La Fortuna waterfall. This would have been a spectacular view and made the hike most worthwhile.
However, all we got was rain, wind, and fog. For some reason, I wanted to be more adventurous and started going down the path to the lake but a quarter of the way there, we realized it would be too dangerous. We would be slipping and sliding everywhere so we turned back.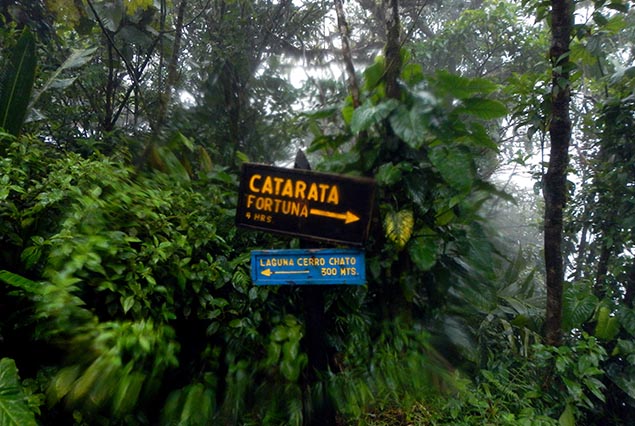 Getting Back Down Before Nightfall
The rain continued to fall harder and despite the time being only 3PM, it was getting dark. We needed to get out of the forest before the sun set or else we'd be in trouble. If you think going up a steep hill in the forest is hard, try going down it with rivers flowing and mud everywhere.
To go faster and walk down safer, all of us were sitting on our butts using our hands to hold onto trees and branches and stepping on whatever ground held firm. We were all stepping in mud that went up to our ankles but that was the least of our worries.
Halfway down, I'm praying that we make it to the bottom before darkness falls. I didn't want to lose anybody on their second day here! Maybe I should have booked a relaxing spa day for them instead…
Going down was a bit faster than going up and once we saw light at the bottom of the hill, I almost kissed the ground. We all made it out alive, no major injuries and just in time before sunset.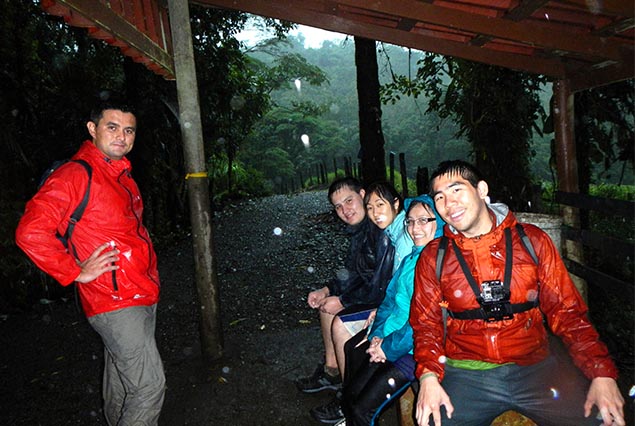 Mission Accomplished…Sort of!
I think if it wasn't raining so hard, this hike would have been a bit more enjoyable, at least at the top. I can't say that it wasn't an adventure and it was pretty exciting now that I look back on it. I've never done a hike in this extreme of conditions and I'm proud that we all made it.
So we didn't see any craters or go lake swimming but instead, we all got a pretty good story. They wanted to see Costa Rica and I gave them a rainy day in Costa Rica!
Although next time I read a hiking sign, I'm not going to take it with a grain of salt. 1.5 KM to Cerro Chato? Not a piece of cake! (I should write that on the bottom of the sign to warn future hikers).
Tips for Hiking Cerro Chato
If you go when it's raining, be fully prepared. Bring waterproof equipment as in waterproof backpacks, clothing, cameras, shoes, as much as you can. My North Face jacket kept me nice and dry. If you bring your electronics, make sure to get waterproof cases. You can read our personal favorite waterproof gear reviews.
This is not your leisurely stroll through the woods. People who are not in the best shape are advised to either go with a guide or carefully consider if they want to go or not.There is no clear path so wear good shoes. No sandals, no flip flops. Good hiking shoes or boots is a must. Yeison wore his Wolverine Pulsars and I wore my KEEN Ambler Meshes. Both excellent hiking shoes.
Bring food and water. The continuous steep climbing makes you more tired and thirsty.
You can swim in the lake so if it's a nice day, wear your bathing suit and bring a towel.
Give yourself at least 5-6 hours. Remember the sun always sets around 6 so give yourself plenty of time and go early
After this hike, we went straight to the hot springs in Arenal which was the perfect way to relax after an intense day hiking in a thunderstorm!
Want to read about other things to do in Costa Rica? Check these posts out!
Hiking Manuel Antonio National Park