If you love outdoor adventure and visiting the not so touristy places when you travel, Turrialba should be on your list of places to go in Costa Rica. It's a small city in Cartago, famous mostly for the Rawlings factory that produces all the MLB baseballs and the active Turrialba volcano. Also known for outdoor adventure but not nearly as touristic as La Fortuna, Turrialba provides a well rounded experience for those looking to enjoy local life, nature and adventure.
So if you're thinking about visiting, here are our favorite things to do in Turrialba. One of the reasons we loved this area so much is that it's still very much a local town and there is a vast range of fun activities in Turrialba from water sports to learning about ancient history.
Turrialba Volcano National Park
Turrialba Volcano has been making headlines the past year or so due to its frequent eruptions that have spewed ash all the way to San Jose, even closing down the SJO airport from time to time.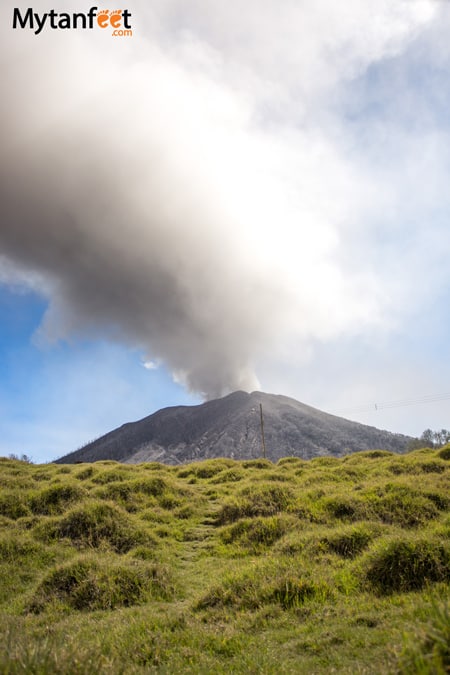 Turrialba Volcano National Park has now opened to the public again and there is a trail leading up to an observation point visitors can hike to.
Read our guide to Turrialba Volcano National Park for more tips on visiting.
Biking around the CATIE
The tour combines two things Turrialba is also well known for, the CATIE, the Tropical Agricultural Research and Higher Education Center and biking. Even if you're not a big biker, if you're interested in plants or agriculture, you'll love this tour that takes you biking through CATIE.
CATIE studies and researches everything that has to do with agriculture and sustainability. You can find all sorts of exotic fruit trees on their property, even the the Robusta coffee that is illegal in Costa Rica. While biking throughout the campus, our guide, Memo explained to us all about the different types of plants and research they do on CATIE.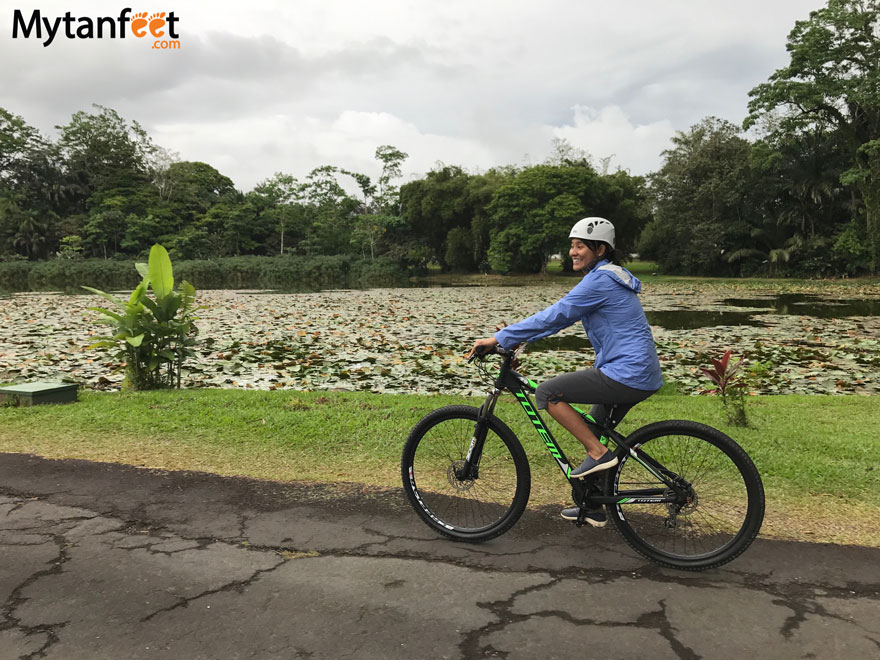 The CATIE campus is enormous. Professors and students live on campus which has its own bank, gym, research facilities and dorms. There is a large pond with the most herons and cranes I've ever seen in my life.
If you love agriculture, fruits, trees and plants, then a visit to CATIE is a must. It is really interesting to hear about the research CATIE does and since the campus is so big, exploring it by bike is the best way to go.
Canyoning and Ziplining
There aren't a ton of zipline tours in Turrialba but Explornatura has their own canyoning and canopy tour on their property. Rappel down 4 waterfalls, zipline 5 cables through the rain forest and walk across a 130 foot hanging bridge. Exciting!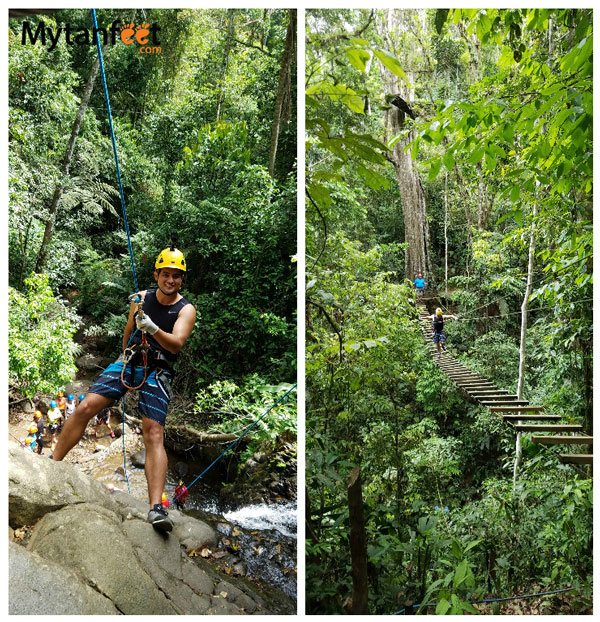 This is a great outdoor adventure for all ages as the waterfalls aren't too high and the ziplining is not too long. The scenery is what really makes activity fun, we saw toucans flying around us and there was nobody else around except our group. You do get pretty wet from the water which feels so refreshing in the hot jungle.
Explornatura operates this tour and costs $75 per person which is an awesome value as it includes transportation from Turrialba and lunch.
Coffee Tour
If you love coffee, then take a coffee tour at Golden Bean Coffee Tour. Tyrone, our guide was one of the most passionate guides we've ever had and you can just feel his love for coffee. Not only that, but the Golden Bean Coffee factory is 100% auto sustainable and eco-friendly meaning they re-use every fiber, every coffee plant, shell and more on their plantation.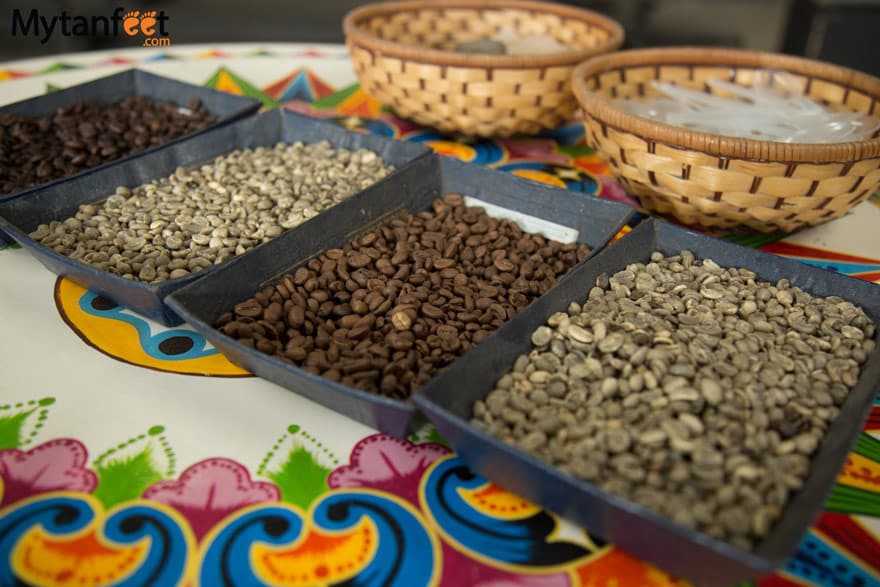 The coffee plant even has its own hydroelectric dam, so they run on 100% renewable energy and their coffee is 100% organic. We toured the plant to see the machines and how they process the coffee cherries. Unfortunately we went in the off season so we couldn't see them working but it is fascinating to see the hundreds of pounds of coffee cherries getting washed and dried.
The best part is of course, to try their coffee which is incredible. It's so smooth and silky with a pure aroma. They have a souvenir store where you can purchase their coffee and other products. We of course bought a couple of bags!
Yeison and I have done our fair share of coffee tours in Costa Rica and this was one of the best tours we've done in general.
Guayabo National Monument
The Guayabo National Monument is the most important historical site in Costa Rica, dating back to 1000 AD. Hike the trails, learn about the ancient civilization that lived there and see the ruins. It's absolutely fascinating to hear the ruins, the technology of the people back then and to see the abandoned site for yourself.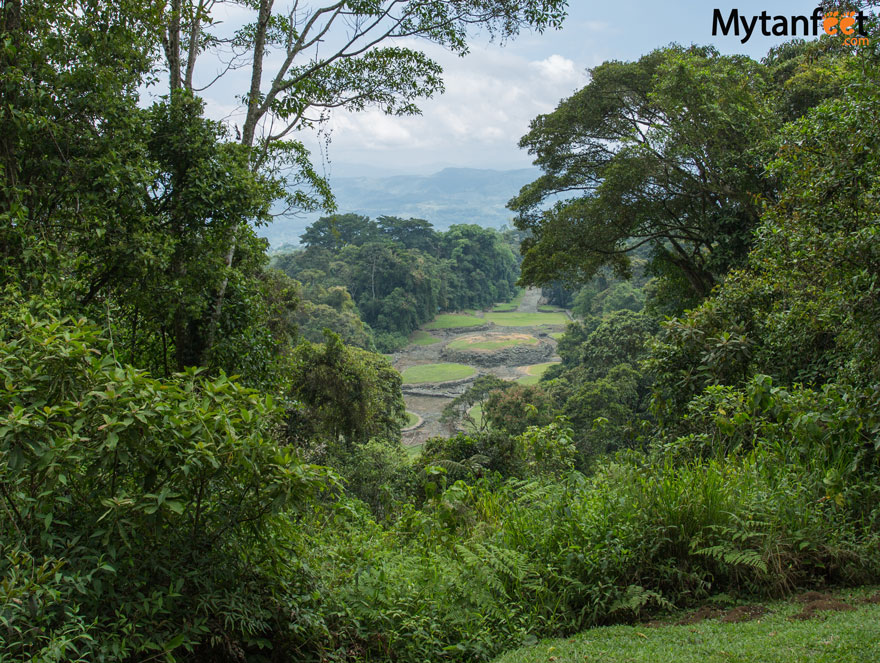 We recommend taking a tour and going with a guide so they can explain more about the monument and you can learn about why this site is so important in Costa Rica history. Without a guide, you won't learn much as there are a few signs but that's it.
It's close to Turrialba Volcano National Park so you can see the volcano in the morning and visit the national monument in the afternoon. You can read more about Guayabo National Monument in this guide.
La Marta Wildlife Refuge
La Marta Wildlife Refuge is an under the radar place in Costa Rica for hiking and nature even though it's the first private refuge in Costa Rica. There are several hiking trails, a camping area and two rivers to enjoy and the best part is that you won't run into any crowds as you need to make reservations before hand and it's not as popular as other wildlife refuges.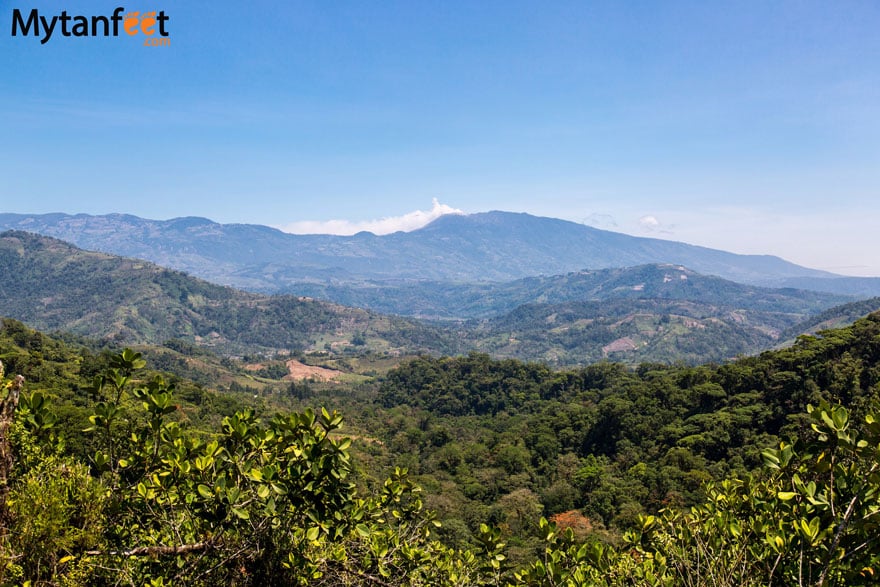 There is a wonderful observation platform in the refuge where you can see Turrialba and the valley below. There are also places along the river bank to swim and have a picnic if you're camping and you can also see ruins of an old gold mine and coffee machinery.
If you love hiking and nature, this is a must do activity in Turrialba. You can read our guide to visiting La Marta Wildlife Refuge for more information.
Learn about Turrialba Cheese
Turrialba is a farming town. Because they have a very interesting climate being near the Caribbean side in the Central Valley, you will see fields of lettuce, cilantro, sugar cane, coffee and others. But one of the most famous products from Turrialba is their cheese.
You can find this cheese in every supermarket but to get the real good fresh stuff, go up to the towns of Santa Cruz and Santa Teresita to learn how it's made. This recipe has been passed down for generations and the local Turrialbenos continue the cheese tradition by making it exactly the same way.
We visited a small local farm called Finca La Florita, run by a mother and daughter whose great-great grandfather was one of the very first to make Turrialba Cheese. They taught us how they take care of their cows, how to milk them and how to make the famous cheese.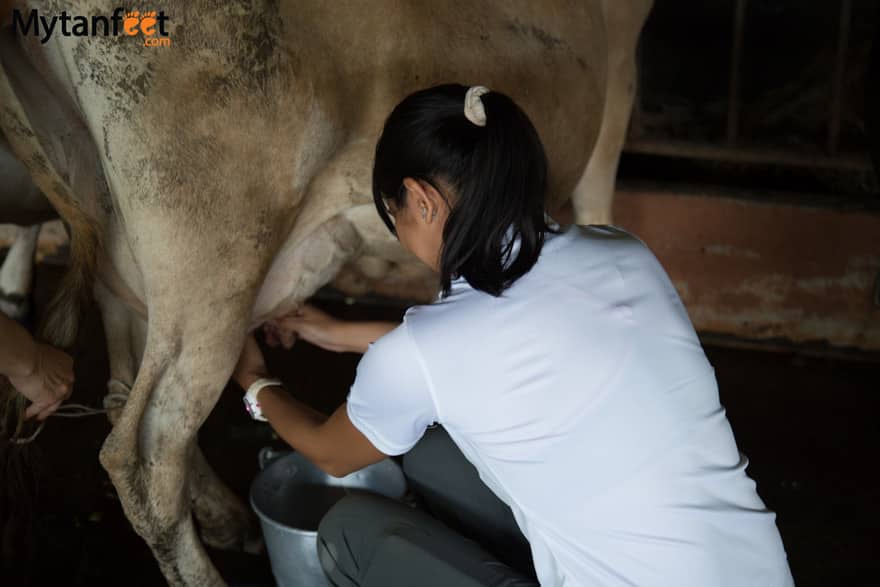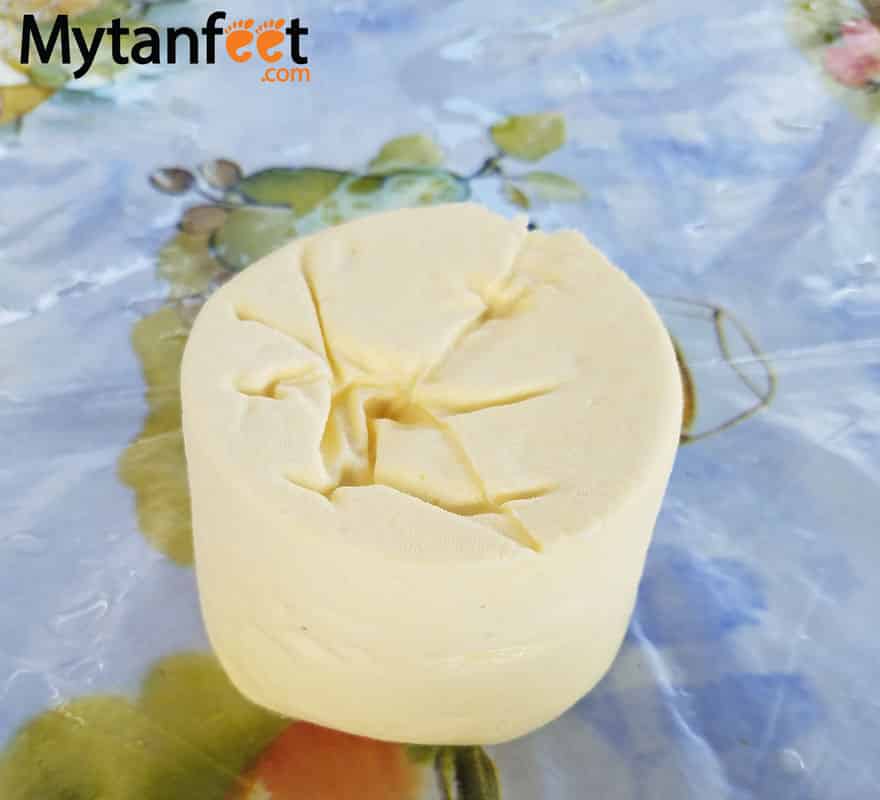 Even though I actually don't eat cheese, I enjoyed learning about the process but I especially loved experiencing the local farm life in Turrialba, even if it was just a hint. It's really made me appreciate how easy it is for us to just walk to the market to buy what we need.
Another interesting thing was that their farm runs on renewable resources. She uses the manure from the cows to create their own biodiesel which they use for cooking and she created her own organic fertilizer!
Experience Rural Tourism at Mollejones
Not far from Turrialba is a tiny town called Mollejones where visitors can experience rural farming life. They have no more than few hundreds people residents in Mollejones and they all work in agriculture for a living. We visited this small town to learn about their way of life so if you're interested in rural tourism, this is a great day trip.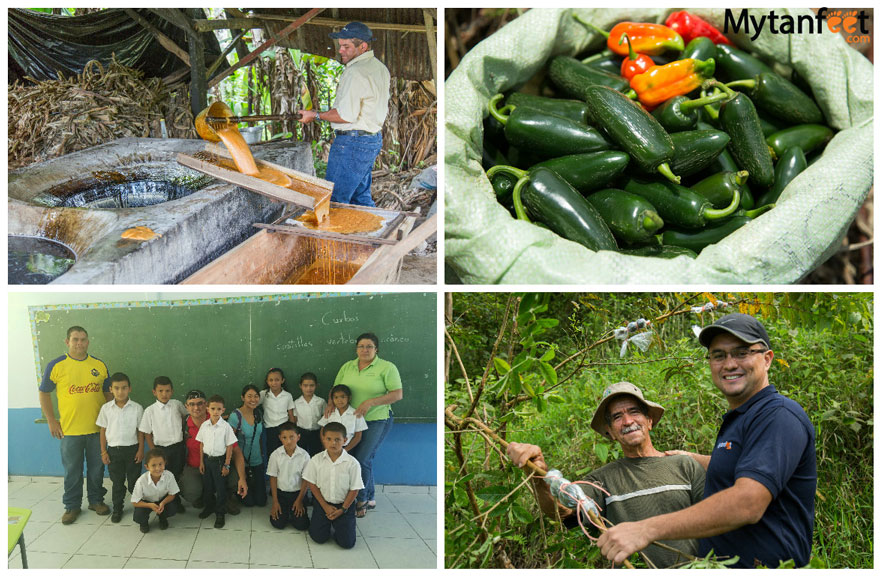 It is best to book the day tour through Explornatura who can arrange everything for you since you will to drive there on a bumpy road or get transportation. You also need to go with a bi-lingual guide if you don't speak Spanish.
Horseback Riding
Go horseback riding around the hills of Turrialba for beautiful views and fresh air. We went on a 2 hour horseback riding tour in Turrialba with Casa Turire which was very nice. We wandered past some sugar cane fields and coffee plantations and up to a beautiful lookout spot where you get a panoramic view of the lake, Turrialba volcano and the surrounding hills.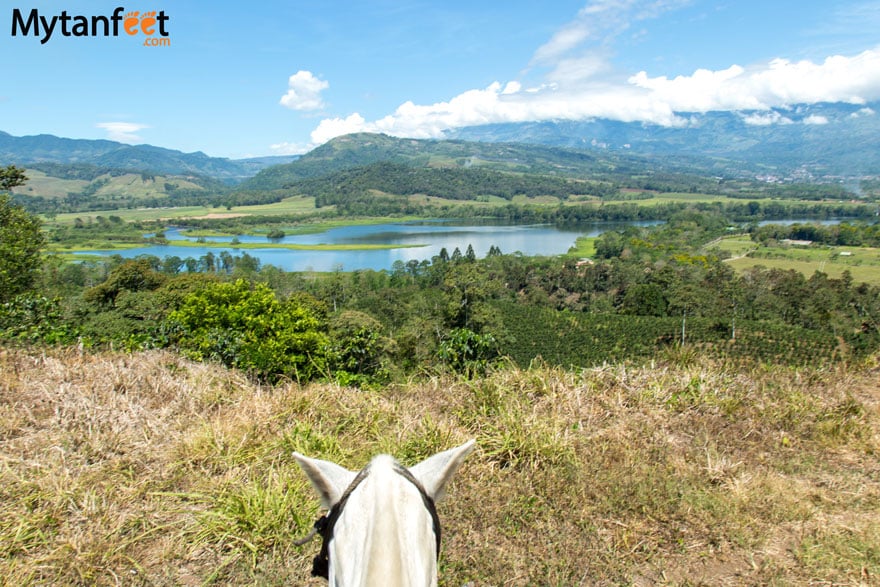 There is also another horseback riding tour up by Turrialba Volcano by Volcan Turrialba Lodge that is great as well. Whichever one you do, it makes for a wonderful morning activity.
River Kayaking
Turrialba is famous for their river kayaking, in fact it has arguably the best in Costa Rica since there is Rio Pacuare, Rio Pejibaye and other rivers. Even if you're a beginner or a pro, this is the place to go.
We've never gone river kayaking before so we took a lesson with Costa Rica Kayak School on the Rio Pejibaye and it was awesome. We geared up in full kayak uniform with a spray skirt and everything!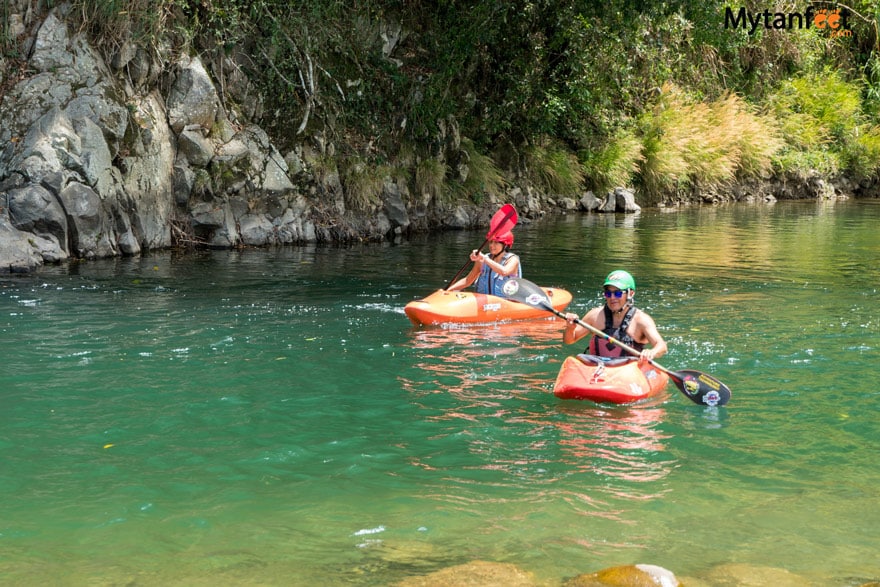 Turrialba holds river kayak competition and many of the locals participate in free style so it's insane to watch kayakers doing flips, turns and spins in the river. After one lesson, I was hooked and can't wait to do it again!
And of course I can't forget white water rafting as one of the must do things in Turrialba. Turrialba is famous for white water rafting since the Rio Pacuare runs through there and it's one of the best rivers in the world!
Where to stay in Turrialba
There aren't a ton of hotels in Turrialba but the ones that are there, are very nice. Most of boutique lodges and inns. We stayed at Guayabo Lodge and an Airbnb in the city. Guayabo Lodge has a great view of 3 volcanoes and is located up in the hills, not far from Turrialba Volcano.
Read about other things to do in Costa Rica!
10 Things to do in Uvita and Dominical