The Gulf of Papagayo is full of stunning hidden beaches and is the only place in Costa Rica that offers such spectacular beach hopping. Although the main beaches in the Gulf: Playas del Coco, Hermosa and Panama are not the most beautiful, they're all right next to some incredible beaches. And one of those is Playa Calzon de Pobre.
If the name doesn't catch your attention (it means poor man's underwear), then the beach will. If you're looking for a beautiful locals only beach in Guanacaste, Costa Rica, then you must put this one your list.
Find out how to get to this stunning little beach in our post. (Updated 2020)
Location
Playa Calzon de Pobre map
Playa Calzon de Pobre is in the Gulf of Papagayo near Playas del Coco. It is 6 kilometers (3.6 miles) and a 20 minute drive from Playas del Coco.
How to Get to Playa Calzon de Pobre
You can get to this beach by water or land. The road access is a bit difficult but it's worth the trouble to get there! The only way to get there is by driving and you can find it on Google Maps and Waze.
Driving and 4×4 Required?
A 4wd/4×4 is recommended to get to this beach, even in dry season because the last section of the route is not paved and it goes down a hill so you need a car with a good engine to get up an unpaved hill.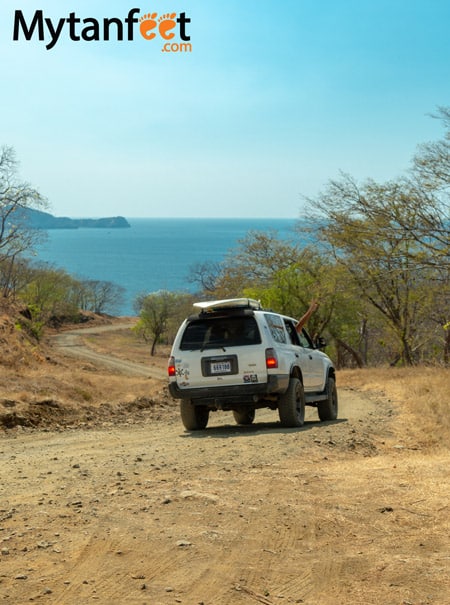 Here is what else you need to know about the access to Playa Calzon de Pobre.
When you turn left off the main road (Route 159), there is usually a guard who will stop and check you as this is private property. You can tell him you're going to Playa Calzon de Pobre and he'll take your name and license plate number.
Continue on this road and when you turn around the left curve, the last one before going down the hill, there is a beautiful view point of Playa Hermosa on the right. If you walk over to the left, you can see through the trees for a view of Playas del Coco. On Google Maps, it's called Mirador Playa Penca. There are several view points of Coco and Hermosa if you just walk around a bit.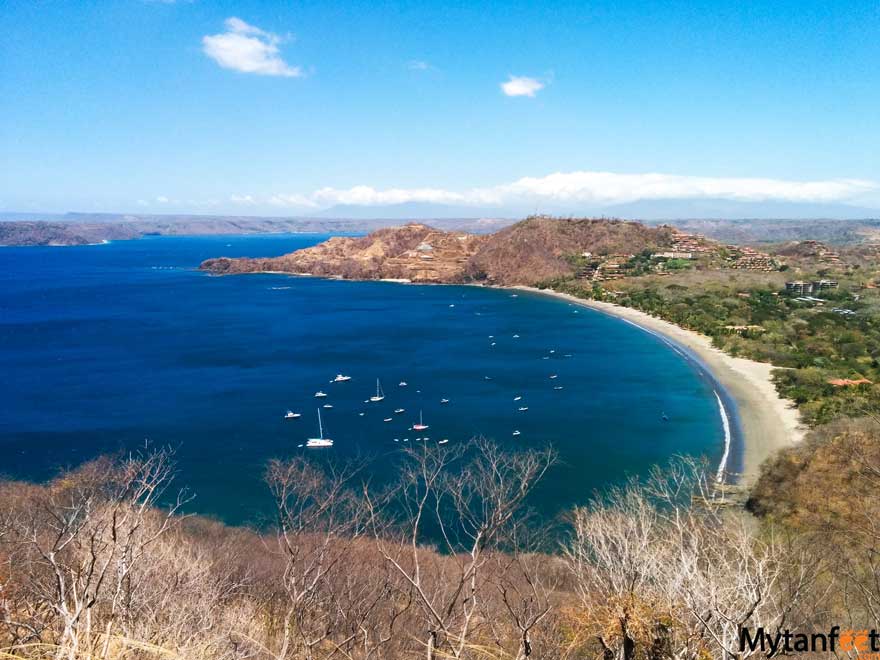 Parking
You'll know you've arrived when you see a long green tarp fenced up around the road. The parking lot is here and then you need to walk down to the beach which is down the hill. It's about 800 meters (.5 miles, 10 minute walk down to the beach. It's very very hot in this part of Costa Rica but it's doable. However, it's not a well maintained path so if anyone has ankle/knee problems, it is not recommended for them or they will need someone to help them walk down and up.
*Important* This is not a secure parking lot, there are no guards, cameras, nothing. Do not leave any valuables in your car and remember to roll up your windows and lock your doors. This beach has gotten more well known over the years and unfortunately car thefts are not a rare occurrence.
Camping
Camping is not allowed at this beach. Technically you could do it if you don't tell the guard but we do not recommend it as it's not completely safe and there are no facilities. Plus you have to carry all your stuff down to the beach so it's just not recommended to camp here.
How Busy Does This Beach Get?
Playa Calzon de Pobre is normally a very empty beach but it's popularity has grown immensely with locals. So if you go on a weekday (not holiday week), there won't be many people. If you go on a weekend and/or during the holidays, it'll be very crowded (Christmas, Sept 15 Independence Day, New Years, Easter Week and first two weeks of July).
The first time we visited this beach in 2015 was completely empty and we went in May.
Services
None.
Boating/Walking
Don't have a car? You can also go by boat on a private boating tour from Playas del Coco!
If you don't have a car and don't want to take a boat tour, you can walk from Coco/Hermosa. It's going to be quite a hike in the heat though! You can also take a taxi and have them drop you off at the gate.
The Beach
You will be surprised when you see Calzon de Pobre. First, it's beautiful with tan sand and crystal clear waters, completely different than Coco and Hermosa!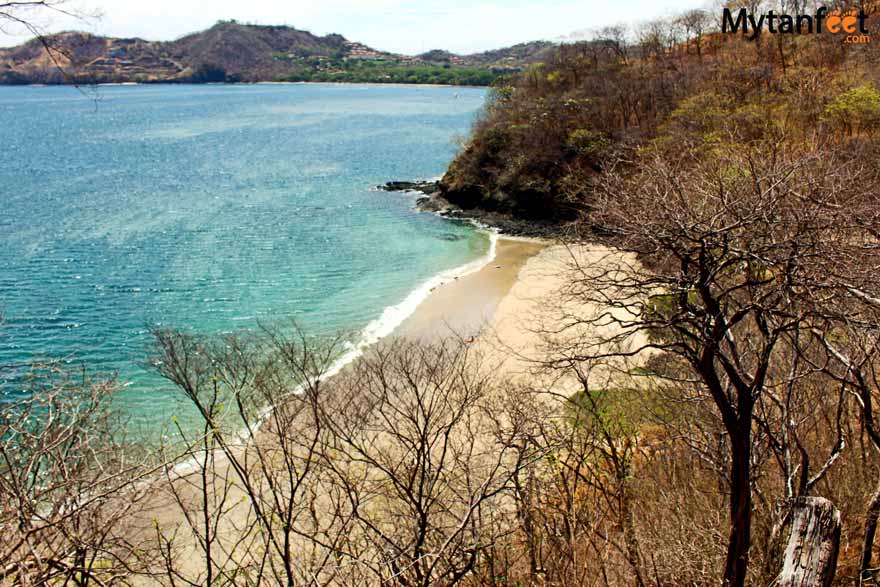 It's a fairly small beach but there's nothing on it. No hotels, no nothing. Just trees and monkeys. A pristine, virgin beach. If you go during dry season (December through April), it will be very yellow and dry. If you go in rainy season (May to November), the mountains will be green and lush.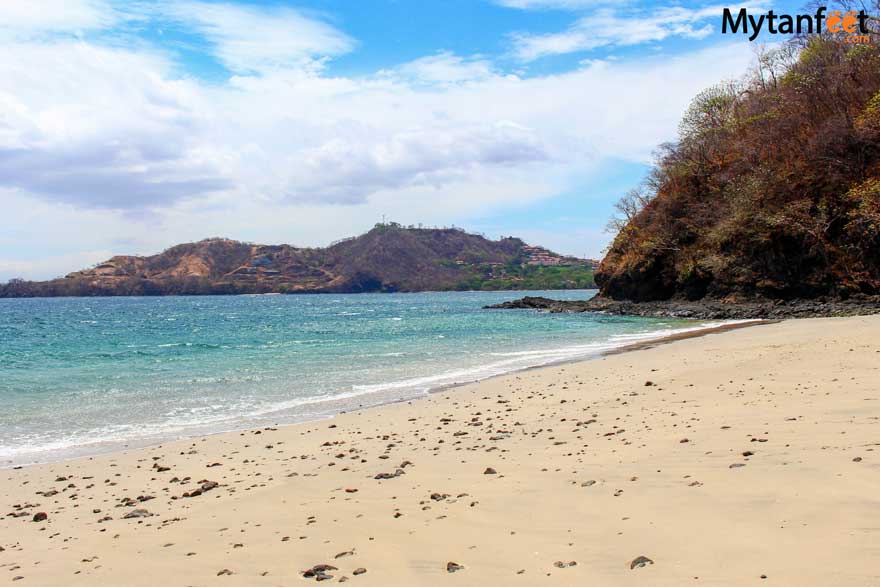 You can see Monkey Head Rock and the Four Seasons across the bay.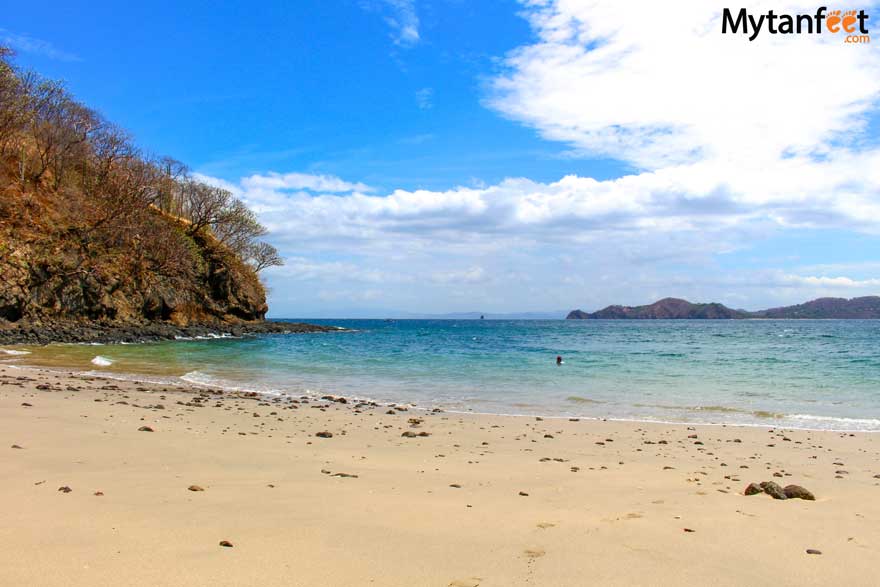 Snorkeling and Swimming
Waves are really calm and this beach is not bad for snorkeling. Both ends of the beach have an outcropping of rocks where you can snorkel and see little fish. This beach is great for swimming, it's almost like a pool!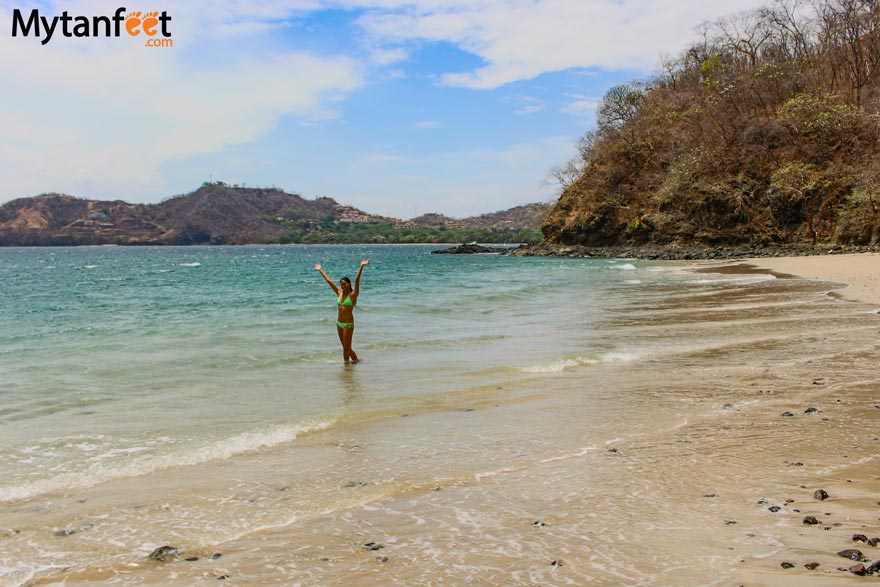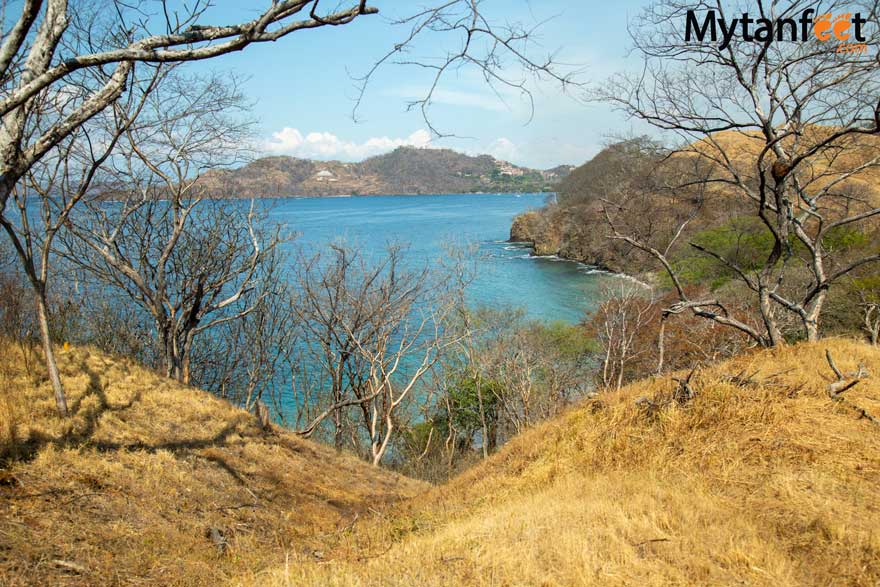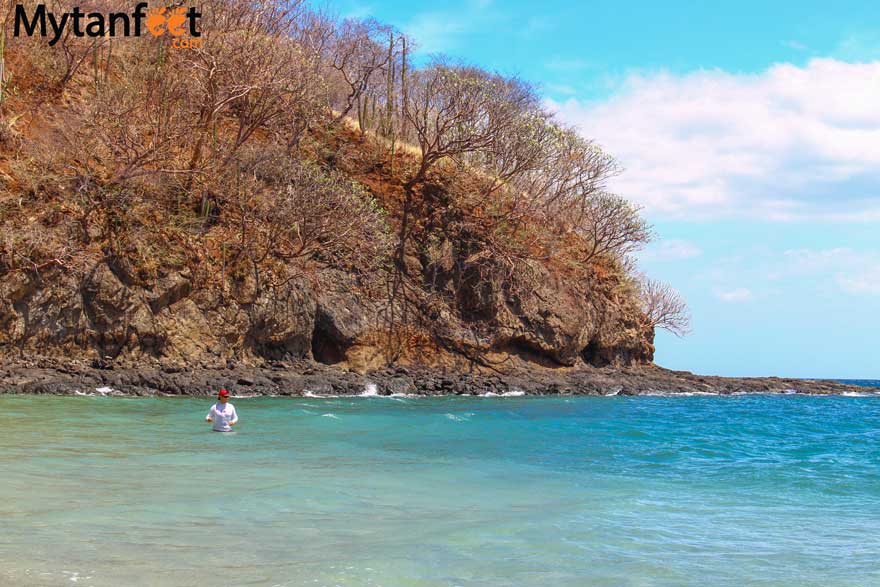 Playa Penca
We love this beach and if you want, you can go back up the hill and keep walking down to the left to visit Playa Penca, another gorgeous beach. This one is a bit bigger but has whiter sand. It's equally as beautiful. Generally, more people visit Penca than Calzon de Pobre so there's a good chance you can have this beach all to yourself! (There is also another local beach called Penca by Potrero we highly recommend to visit).
It's amazing how dark Coco beach is but right around the corner is this charming little beach with clear turquoise water. This is one of the reasons why this area is our favorite beach area in Costa Rica. The Gulf is made up of so many gorgeous white sand beaches like this one!
Read about other similar beaches below!
Playa Mina: White sand, "hidden" beach near Conchal
Playa Cabuyal: White sand beach north of Gulf of Papagayo, not very popular
Iguanita: Dark sand beach in Gulf of Papagayo, 4×4 only
Buena: Similar beach to Calzon de Pobre, in between Playa Hermosa and Panama
Playa Carrillo: Nice crescent beach near Samara
Playa Linda: Beautiful long, tan sand beach near Dominical with surfing waves