Welcome to driving around Costa Rica with Mytanfeet!
The purpose of these videos is twofold: so you can see what the beaches and the towns are like and to show you what the driving and the roads are like if you're thinking about renting a car. We love to share our adventures with others and hopefully the videos will help you decide on which part of the country you want to visit.
We have already posted a few such as Playa Jaco and Playas del Coco but we decided to make one for every place we go.
San Isidro del General
In this article, we're going to show you San Isidro del General. During our visit to Playa Dominical, Samantha and I visited San Isidro which is the first district of Pérez Zeledón to take some pictures and take a look around. It's been years since the last time I was there so I wanted to see how much this place have changed since ten years ago.
How to get to San Isidro del General
If you are visiting Manuel Antonio National park or Playa Domincal, San Isidro is relatively close so you can easily visit for a day trip or a couple of hours. It's about 1.5 hours from Quepos and around one hour or less from Playa Dominical depends on the traffic.
If you are coming from San José, the most common route is the "cerro de la muerte" road and according to Google Maps, it might take you around 2 hours but they don't take into consideration the traffic. It's common to get stuck behind a slow truck or run into construction.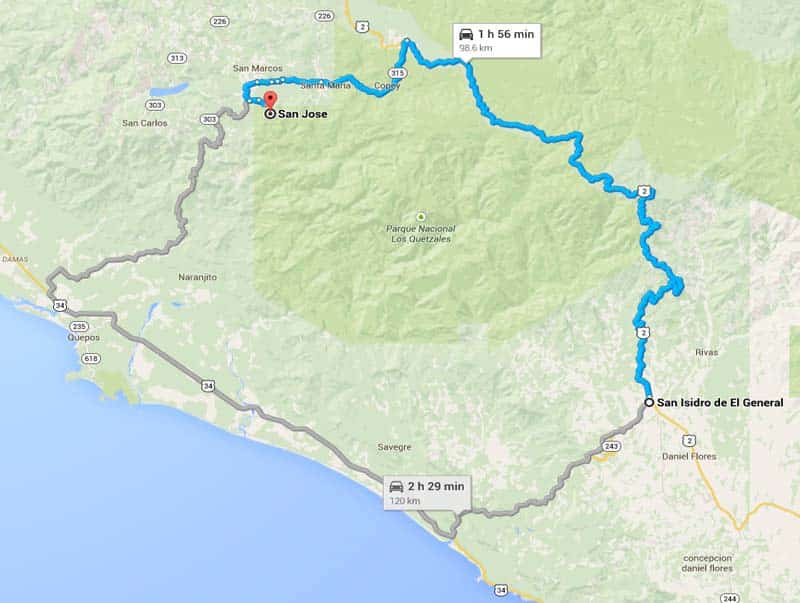 Road Conditions
The road conditions in San Isidro del General are normal like any other city. This is the biggest city in the area and you will find lots of businesses, restaurants and shops. Actually Samantha was pretty surprised at how big of a city and the amount of stores they have.
Just keep in mind how Costaricans drive and think and you will be fine. If you have a car or planning to rent a car, visiting San Isidro del General will be a great stop, you will have to chance to see nice local people from outside the main cities and touristic areas.
Also if you have any car problems, this is the right place to go. There are several garages and mechanics so you'll be able to find someone to help you.
And remember we have an exclusive special deal for all our readers if you are planning to rent a car while you are in Costa Rica.
Driving around San Isidro del General video
Here is our video about driving around San Isidro. This is a simple video with no editing since we want to show you exactly what it looks like.
Enjoy!
This video was taken in February