A year ago we decided to start monetizing our travel blog. It was something that was a bit daunting and many people thought that it will be impossible to make money by sharing with our readers our adventures and videos. But since the first day I was 100% sure that we will make it and today I would like to dedicate this article to all that people that call us crazy and at the same time invite them to join our newsletter to find out how we made money from Mytanfeet 😛
In this yearly income report I would like to share our story and all the steps we did in order order to earn more than $30,000 with just one travel blog in one year. Before we go further I would like to disclose our total earnings:
    – $19365 in cash
    – $2550 in travel gear
    – $9000 in travel activities (Tours, Hotels, Restaurants, etc)
In this report we're going to talk about all stages of our blog and how we got to where we are now. This includes:
Why we started blogging
How we set up our blog including a name, logo and layout
What kind of content we created and why
How we started monetizing our blog
How we created our funnel
*On top of everything (money, complimentary items and tours) we have had the best year of our lives, we were free to do wherever we want and the most important thing was we had a ton of fun and an AMAZING time!*
Some of the links below are affiliates links but every product or service we name is one we have used before. If you have more questions about them, you can contact us or leave a comment below
The beginning
The beginning of Mytanfeet was like any other travel blog. We wanted to share our adventures and trips with our friends and family but with the idea to develop it as we go. Samantha moved to Costa Rica in August 2012 and it was the perfect opportunity for her to share her new life with her family and friends.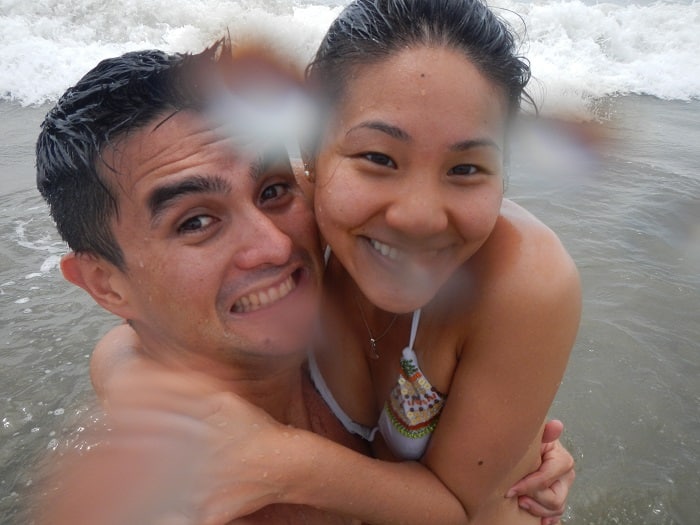 From day one, we knew that we wanted to take it beyond a personal journal. There were a few blogs that talked about Costa Rica but we wanted to create one that encompassed the foreigner and local point of view, sharing not only our adventures but giving important information at the same time.
We discovered that many people would search online for information about traveling or living in Costa Rica and wouldn't be able to find what they needed. You look up the bus schedule on the Costa Rican website and find out that it hasn't been updated in years. You try to buy a bus ticket online and the system is down. Those kinds of things are common in Costa Rica which can be frustrating if you're trying to plan your trip and figure out all the details. So for us, to become an authority blog on Costa Rica and one of the best resources on the web was our main goal.
The name
The name Mytanfeet was easy to figure out. During one of our first visits to the beaches we noticed that our feet were getting very tan and you could see all the flip flops lines very clear. We decided it would be a good name for a blog that talks about traveling around the world, tanning our feet in exotic places.
It was short but catchy, perfect for a travel blog so people could remember easily. Another thing we considered when picking the name was finding something broader. We didn't want to pick a name like "The Costa Rica blog" because then that would limit us niche-wise. Our blog would be pre-dominantly about Costa Rica but we knew were going to travel around and that meant expanding our blog beyond Costa Rica. The name Mytanfeet worked perfectly for our long term goal.
Building the blog
Once we chose the domain name, we started the building process. Our blog has been through 3 different layouts as it grew, here you can see them all.
First layout just had Samantha's Feet 🙂 (She didn't want to keep this one for very long)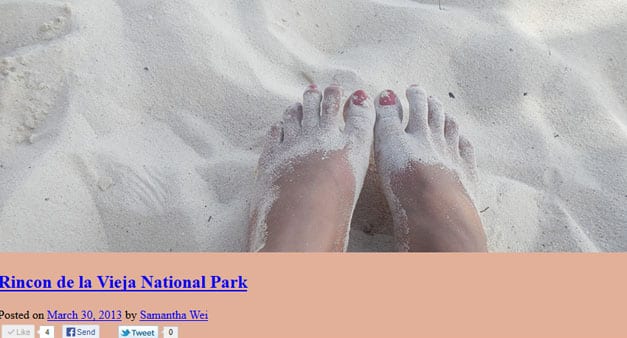 Second design
We used a free WordPress theme called Novia. We used this theme for 3 months and it was a great first step into creating a professional website.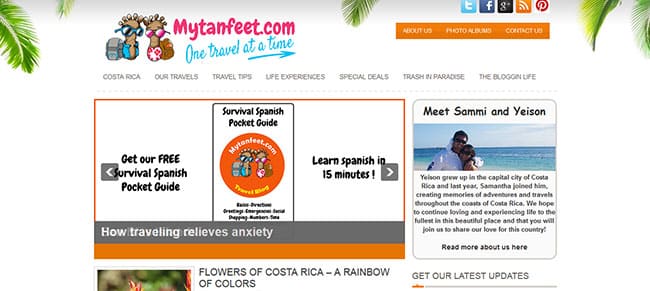 Free themes are great when you first start out but we eventually needed a more powerful one. We changed to our third layout in our 6th month of blogging and at that time, we went from posting 7 times a day to 5 times a week so we had a ton of content. It was time to find a theme that had more flexibility in displaying our articles.
Our third design is a premium one that we bought at Theme Forest. They have a great selection of themes and the difference between a free one and a Premium Paid one is huge. With our premium theme I get all the support I need from the creators and some extra special features the free theme doesn't include.
Start your own blog today with our step by step tutorial.
Designing our feet logo
The next step was to create a logo. In our case we were lucky and my brother in law made it for us, but there are a lot of sites online to find someone to make logos. If you like his work you can contact us if you're interested or you can go to sites like 48 hours logo, where you set up a design contest and pick the winner.
Samantha wanted something cutesy but it had to be travel related. After a few designs, we decided to dress our feet in traveling gear with backpacks and sunglasses and picked colors that stood out. Samantha got a cute pink foot to represent herself and I got a blue foot.
Luckily, designing our logo was not that difficult since the name already set the foundation for what it would be: feet. It was just a matter of picking the right colors and personalizing it to make our brand so it stands out and people would remember us.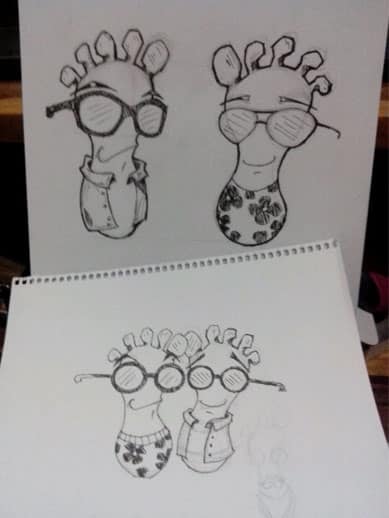 Video Channel
Once we created the logo and set up the blog, we started to build our Youtube channel since we wanted to do videos.
This helped establish our brand from the beginning and it's been a ton of fun making them. We knew doing videos would give us a bit of an edge since not all travel bloggers do them and making videos fit perfectly with our blog. People want to see what it's like to zipline upside down or what the beach town they're visiting looks like. This was another part of our content strategy.
Content creation
In regards to the content creation, I will mention just one thing. Every time we write a piece of content we try to give the best to our readers, our main priority is to provide quality articles to make them feel secure about what they read. This way they will come back to our blog.
We researched what makes great content and started following these steps. We always make sure every article addressed these factors:
Answer problems and concerns your audience has
Be unique and be different
Publish only original content
Include useful and valuable information
Add videos
With those concepts in mind, we set out to become an authority blog. Every article we published we researched the information thoroughly and is 100% original. We found out what questions people had on each topic we wanted to write about and answered them to the full extent.
While doing our research, we found that many websites that talked about Costa Rica were fairly general and didn't give specific information so that gave us a great idea of what kind of information to put in our posts. We weren't going to create tutorials since we're not exactly teaching people things but we wrote in-depth guides and lists.
It may seem like such a simple concept for writing content: find problems and answer them, but that's the rule we follow and live by when writing articles.
You can do it too! Learn how to start your own blog in less than an hour.
Finding Our voice
We decided to write with a more fun and laid back voice to our blog so we don't use complicated or super formal vocabulary which is actually perfect for me 🙂 (My English is not the best). We want our readers to get to know us through our writing so even though we put a ton of information in the article, we weave it in with our personal stories and anecdotes.
Although we both try to keep the emoticons and the !!! and the OH MY GOD to a minimum, we don't limit ourselves when it comes to writing. To be honest, it gets kind of boring when you write a lot of facts so everything we write, we write with our own flavor. Gotta keep the audience entertained right? 😉 🙂 lol hehe
Monetizing
Like everyone else, one of our first experiences with monetizing our blog was with Google Adsense. We read a lot about the position of the ads, heat maps, colors and so many things to try it out. Google Adsense works but you need lots of traffic and people clicking on the banners so we decided to keep it to a minimum, we collect a hundred dollars every 3 or 4 months. We also weren't too fond of plastering ads everywhere and wanted to keep that to a minimum.
The second method we used to monetized our blog was with the Amazon Affiliate program. I think the Amazon affiliate Program is a great "school" for new entrepreneurs that want to get involved with the affiliate marketing world. It's easy to join, simple to put links and widgets in your blog and the beauty of Amazon is that it sells pretty much anything and everything!
We started a travel gear review section where we reviewed products that we personally used for traveling in Costa Rica. This ranged from backpacks to shoes to mosquito repellent and put the Amazon affiliate links in there. There is a certain way to write a quality review however, you can't just paste a bunch of affiliate links in there so we followed the same concept as before: find our audience's problems, questions and concerns and answered them in our review.
If you're interested in writing reviews, you can read my tutorial about how to make a product review and it will give you a good guide of how to do the same.
Pitching
After doing reviews and selling Amazon products, we wanted to go further so we started pitching hotels and local businesses in Costa Rica during our third month. At the beginning we were getting several "No thank you" as an answer but we believed in our project. For every 100 emails we sent, the majority didn't respond, a small percentage said no and an even smaller percentage said yes. But that small percentage gave us more confidence and we worked really hard to write honest and useful reviews and made videos for each business we worked with.
Eventually we ended up creating our own press trips in Costa Rica and would put together one week in an area every month. This included hotels, tours and food. We made sure that with every partnership, we gave them our 100% by learning the history of the place and sitting down with the owners to learn more about them, their business and their vision.
We jumped from reviewing an 8 rooms hotel in the middle of nowhere to reviewing a hotel in Manhattan in a few months time. As for tours, we've been able to do so many fun things in Costa Rica like sailing tours, ziplining tours and got free surf lessons from a champion. We've even flown over Seattle in a seaplane!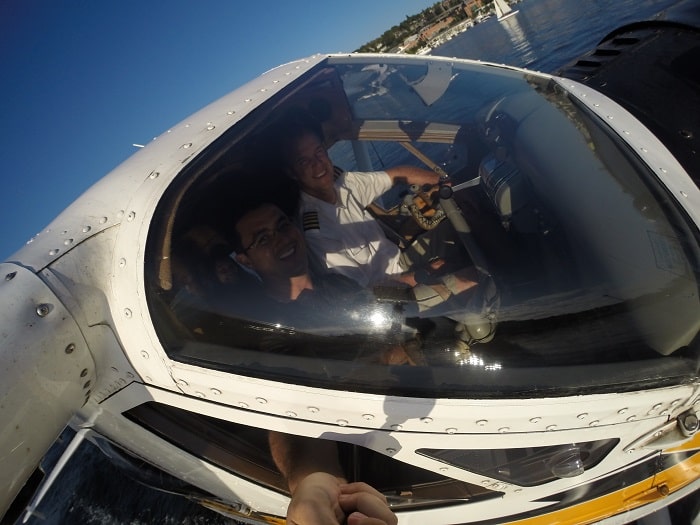 Something we learned about this part of blogging is it largely depends on the owners. Many business owners we talked to in Costa Rica had no idea what a blog was, some knew but weren't really really sure how a blog could help them and some of them were more than happy to work with us. Costa Rica is not exactly on top of the blogging world so many businesses here don't exactly understand it. This made us work extra hard to educate business owners about the benefits of working with a travel blog.
But we also learned that you didn't need to have 100,000 views a month to start pitching. We started in our third month of blogging when we were getting just a couple hundred views a day and found businesses who wanted to work with us. For our very first trip, we got 4 free nights and a tour in Arenal equaling nearly $800! So that's my encouraging thought to you – don't be afraid to try. You never know!
All our reviews are 100% our thoughts and opinions which we take very seriously. We think that that's the key of this business, especially as a blog. Never lie to your readers or sell yourself for a couple hundred dollars, it is not worth it!
Hosting
A few months later, we were getting more than 10,000 views a month and we realized that we needed to have a faster hosting. We had heard of WP Engine from a couple friends and we made the switch from our shared Bluehost account to a WPEngine account. It took our blog speed to the next level.
After using WPEngine for a while we switched to a WPX Hosting thanks to a friends that got us a great deal. I am still using my WPEngine account for a different project but I have to say that WPX is pretty amazing, the price is great but I do miss WPEngine's staging area.
With great hosting speed and constant high quality content, the next step we did was to create a funnel. This step really changed everything. This is where we passed from having a hobby travel blog to an online business.
Mytanfeet Funnel
Our main priority has been and will always be to give the best to our readers and if we can do that and make some money at the same time, it's just great.
It's not about selling stuff to your readers, it's about finding them real deals and recommending them products  they will find useful. For example we have articles that talks about SIM cards, Mosquitoes in Costa Rica and travel gear reviews so what we do is give them the best advice and show them how that product can really help them for traveling.
We were able to make some agreements with local tour companies where every Mytanfeet reader will get a real discount and when I say real I mean real, it's not one of those salesman tricks to get the client. So when the reader realizes they got a good deal they will spread the word and we will make more commissions.
Before we could do that, we had to set up the appropriate way to let people know about it. But even more importantly, how to get the correct audience in that funnel?
Email list
The first step we did was saying good bye to MailChimp. I know it's free up to 2000 readers but you are so limited when you pass the 2000 reader mark and you will end up paying more. So at the end, we closed our MailChimp account and opened an Aweber account.
With Aweber I put together a follow up email list and every new subscriber will get a predetermined number of emails. All of them contain helpful information and at the same time, we have the opportunity to make a bit of money.
This is our funnel. We get the reader to subscribe to our blog, we send them a thank you and introduction email and then they get sent a predetermined list of emails that we call our evergreen list. This list contains our best articles that they might not read otherwise since some of them are older. That way we get more page views and clicks and we're constantly engaging our readers.
So for example, an average traveler or vacationer starts looking for information about the place they will go around 2 or 3 months before. If they are going to Costa Rica and Google things like "where to stay in Playas del Coco" or "guide to crossing the border between Costa Rica and Nicaragua," they might end up on our blog, find it useful and subscribe.
Additionally, on our sidebar and the main slider on the homepage, we offer a free eBook that contains excellent information on traveling in Costa Rica. But to get this e-book, they must give us one valuable thing in exchange.
Their email.
As soon as they type their email in to get the e-book, we will engage them with all the information they will need and by the time they fly to Costa Rica, they will be familiar with the country and maybe bought one or two items we recommended and some tours too.
*We can't sell tours because we are not a travel agency but we forward the reader to a specific sales person from a fully qualified agency that knows Mytanfeet and our reader gets a special service and price*
How to get those emails?
So if you are wondering how we get subscribers, the answer is Leadpages. We have been using leadpages for the last 3 months and the results are awesome.
The reason why we chose to use Leadpages is because it truly makes a difference when people click on it. We customized and personalized our landing pages to make them engaging, appealing and attractive. The fact that we offer a free e-book worked perfectly with Leadpages and we were able to get over 500 email addresses in just one month.
By combining Aweber and LeadPages we create our funnel and automate the income. People subscribe to get great information and we make sales when they click on our affiliate links, it is as simple as it sounds.
Hard and continuous work
Monetizing a blog is not impossible but it takes consistency, discipline and the most important thing of all, passion. You should love what you blog about and find joy in it. In our case we love to travel and thanks to this blog we are going to be traveling around Asia and we didn't have to use the money from our pockets, everything is thanks to the blog.
What we did on Mytanfeet to make it the way it is today is depicted in this article. We both work hard every day but we enjoy what we do so that makes it less like work and a little more like fun.
An important thing to keep in mind when monetizing your travel blog is to branch out. With a travel blog or any blog, you have to dabble in various income streams and not rely on just one. We also do consultations and freelance work but we don't make that the main source of our income since it takes up a bunch of time and we don't want to be on the road stuck in a hotel room all day. It's better to get a little from there, a little from here and pool that together.
Affiliates are great since it's passive income and it's nice to get an email saying you made X amount of money after you've been traveling all day! There are many more affiliate programs out there besides Amazon so take the time to research each one and find one that works for you.
You can also check out all the reports here for the past year.
Putting it all together
The reason we wrote this post is to teach, share and inspire other travel bloggers or potential bloggers that it is possible to earn money online and that it is possible to travel the world and fund it with your blog. We especially want to help those who have already established their travel blog and have the traffic, but don't know how to monetize it.
Most importantly, we want to thank all our readers. Each and every one of you makes this blog what it is today and you give us the passion and motivation to keep working hard. We absolutely love knowing that one of our articles has helped you and without you, we wouldn't be where we are today. Thank you!
It's hard to believe that just a year ago, we were just starting our blog. It's been one hell of a journey but a good one so far. We had no idea that at this time in 2014 we would be all the way across the world! Let's hope that it continues this way, we're fairly spontaneous people so who knows where we'll end up!
Don't have a blog yet? You can find out here how to start your own blog today!
If you found this article helpful, you can help us by doing just one more thing. Please share this article with anyone who you think might find this interesting. The more love, the better!