When Yeison and I first started planning our Asia trip, we knew Taiwan would be the country we'd stay the longest.
Nearly three months in Taiwan was an adventure, a challenge and a great learning experience for the both of us. We were able to really soak ourselves in the culture and experience Taiwan as much as we could.
I'm only going to detail our one month travel around the island in this expense report since the rest of the time we stayed with my family and that doesn't count for this wrap up.
So let's see how much was the cost to travel in Taiwan for one month!
Cost to Travel in Taiwan for 1 Month
Taiwan is actually a fairly cheap country to travel in which you'll see in our report.
1 USD equals 31 TWD. Currencies below will be written as what we paid in.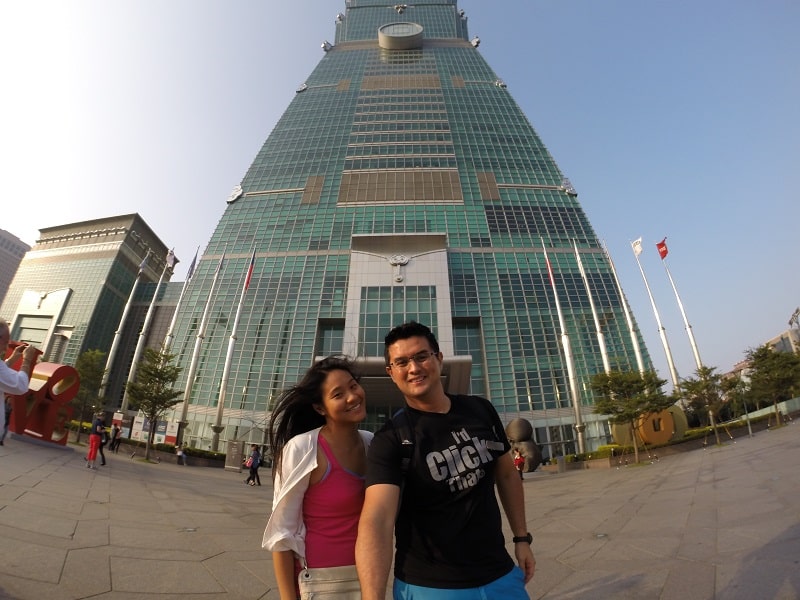 Our Itinerary
For our one month itinerary, we stayed several days at my great-aunt's house in Taoyuan and then made our way around the island clock wise by train.
Click the section to skip to it.
Airfare
We bought a multi-city ticket for Taiwan but airfare from the US to Taiwan is generally not cheap. We couldn't find anything cheaper for $1500 a person but we managed to snag a great deal on CheapOAir and flew from Costa Rica to Taiwan (with a few stops in between) for $999 each.
Hualien
Accommodation
We used Airbnb (get $20 credit here) for our time in Hualien. We got an amazing deal for our 10 day stay in Hualien but it turned out that the place was actually in Beipu, about a 20 minute bus ride from Hualien.
I highly suggest trying out Airbnb in Taiwan, it's starting to catch on and you can find some nice places to stay for a pretty affordable rate. Lodging is usually the biggest expense so if you don't want to spend a lot on hotels, try Airbnb.
For 10 nights we paid $116. Yep you read that correctly. We paid $12 a night for our room in Hualien. Small room, not the best bed but can't complain for the price, private washing machine and a view like this!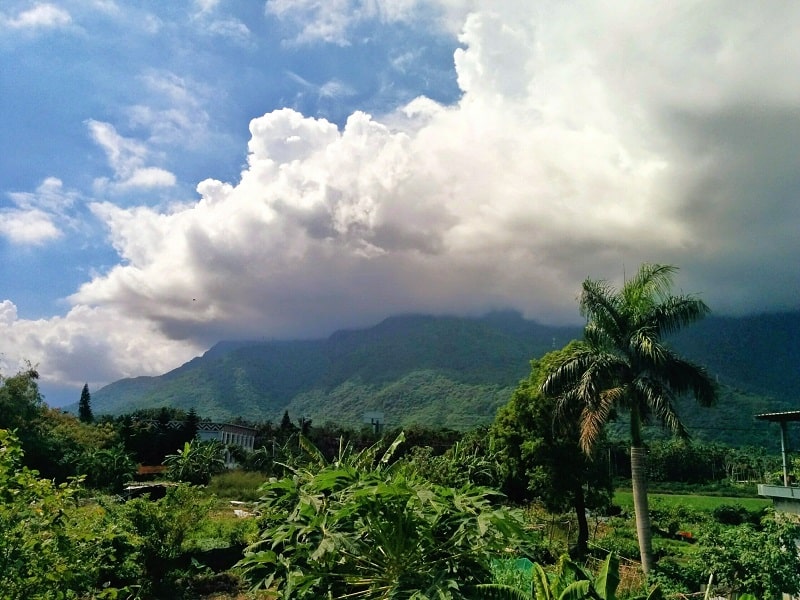 However for other Taiwan travelers, I highly recommend staying in the downtown part of any city. The transportation options are better not to mention the food options are greater. Beipu is a very small local town which actually has a lot of aboriginal culture and history but besides that, there wasn't much to eat there and we were always waiting for a bus.
It's also more difficult if you don't speak Mandarin as the locals there are less likely to speak English.
Transportation
We took the TRA from Taipei to Beipu which cost us 4 and a half hours and 674 TWD ($21) for two people. We took the public bus from Beipu to Hualien and Taroko National Park, costing us about 70 TWD ($2.20) and 180 ($5.68) TWD one way for the both of us.
Food
Food is very cheap in Taiwan… if you eat local. If you don't like Taiwanese food, be prepared to pay for it because it costs more to eat food like pizza, sandwiches or pasta. Eat local and you can spend less than 300 TWD ($9.50) a day per person for all three meals and dessert!
Eat something different and you're looking at paying at least 200 TWD ($6.50) per person per meal.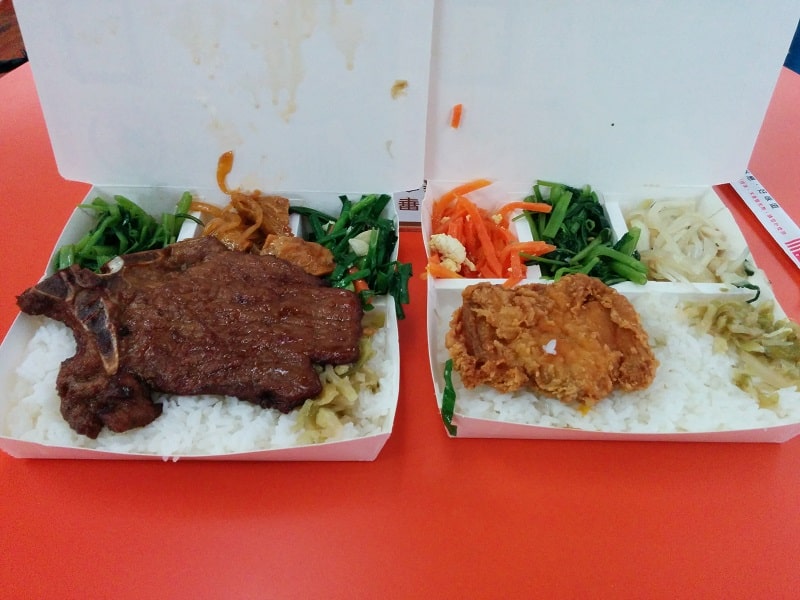 The good thing about food in Taiwan is that prices are generally all the same throughout the whole country. We ate a mix of both local and other food to satisfy our appetites.
Activities
We went to Taroko National Park twice, once to the park and another to Tianxiang. There is no entrance fee to the park so we paid for the bus and food.
We met some other travelers and hung out with them in Hualien the rest of the time. Though we wished we explored more of the area, we had a lot of fun walking around downtown, going to the night markets and getting our first taste of Taiwan on our own.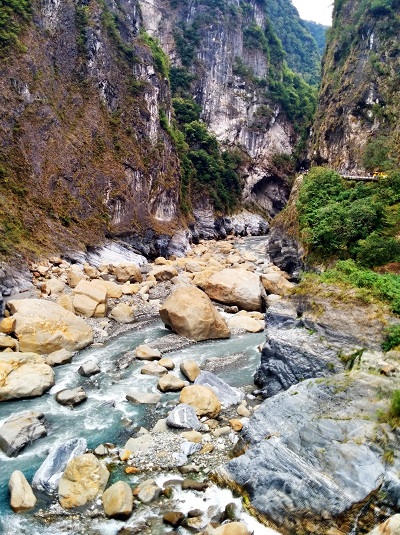 Taitung
Getting to Taitung
We took the TRA train to Taitung for 696 TWD ($22) for 2 people.

Accommodation
We stayed at a hotel called Taitung Traveler Hotel for 4 nights. This hotel was great, it was a minute walk from the bus station and right in the heart of downtown. Five minute walk to the night market, comfy rooms, tons of food options around and a pretty helpful staff.
For 4 nights, we paid $120. I used my rewards from Hotels.com and got one night for free.
Activities
We spent one day at the hot springs near Taitung, a couple days exploring the town and going to the night market. The Taitung Traveler Hotel sold hot spring tickets which you can choose from the 3 options they have. The one we went to was 150 TWD ($4.70) per ticket and the bus fare was around 160 TWD  ($5.00) for a 25 minute bus ride, two people one way.
At the hot springs we paid an extra 150 TWD for two swim caps and an egg.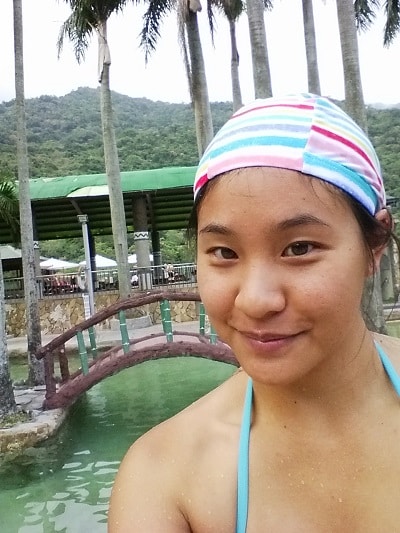 Kaohsiung
Getting to Kaohsiung
We took the TRA to Kaohsiung which cost us 730 TWD ($23).
Accommodation
We stayed a hotel called Ting B&B Hotel in Kaohsiung. This was the only hotel we stayed at that actually included breakfast which was typical Taiwanese. This hotel was great for the price but I wasn't a huge fan of the location. Though it's close to the bus and subway station, I felt sketched out by the people that came around during the night.
For 7 nights, we paid $181 at $25 a night.
Activities
During our time in Kaohsiung, we went to Kenting National Park, visited the 85 Sky Tower, went to the night market, saw the art centers around Kaohsiung and took a few days to work.
Since we stayed mostly in Kaohsiung, the only thing that cost us was going to Kenting which in total was about 2560 TWD ($80) with the bus tickets, food and scooter rental. The 85 Sky Tower tickets were 180 TWD ($5.70) per person.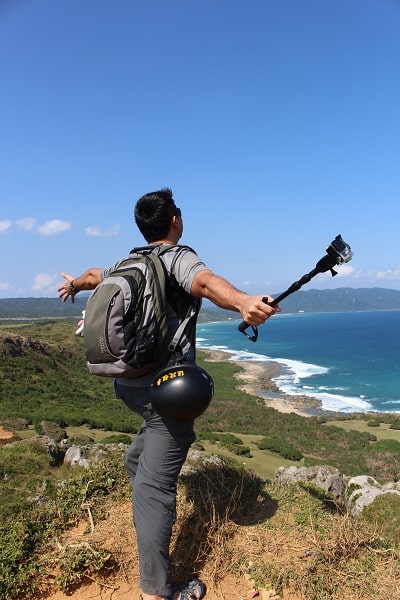 Taipei
Getting to Taipei
We took the TRA to Taipei which cost us 1747 TWD ($55.14).
Accomodation
We used Airbnb again for our week in Taipei and found a nice newly renovated townhouse in New Taipei City. Taipei is more expensive when it comes to lodging so Airbnb was a great option. We rented a private room and bathroom and hung out with some awesome Europeans that were also staying there.
For one week, we paid $196.
Activities
We went to the Maokong Gondola and Taipei Zoo, Taipei 101, Chiang Kai-Shek Memorial Hall, Jiu Fen, Beitou, Tamsui, Shilin Night Market and a few temples.
The only thing we paid for was the subway fares, Maokong Gondola fare and Taipei zoo ticket fee which was 50 TWD ($1.50) per person and 60 NTD ($1.90) per person.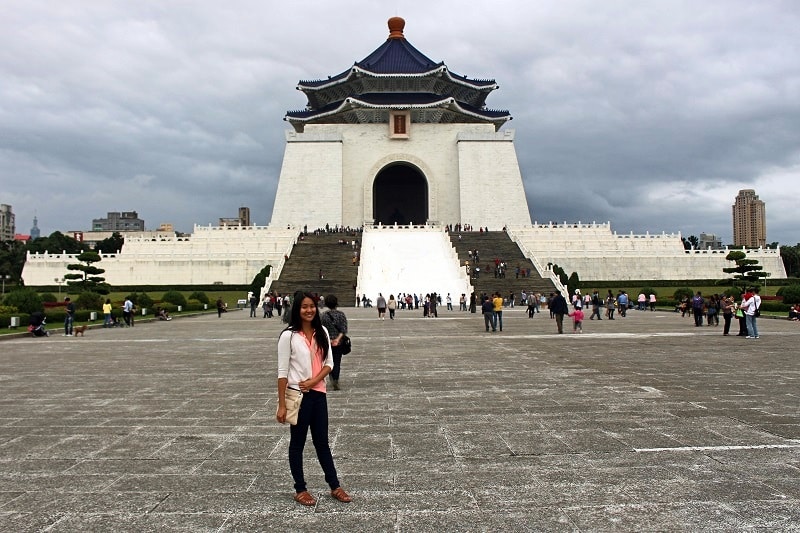 You can read about other things we did in Taipei here.
Souvenirs
Souvenirs in Taiwan are pretty cheap and super funny. They have a lot of fun knick knacks and we spent around $100 for souvenirs.
We also spent $60 on a pre-paid sim card since we spent 2 months.
Total Expenses
Our grand total for our cost to travel in Taiwan came out to be $2100 for 28 days. This is $75 a day for two people not including airfare.
What we loved about Taiwan
Transportation in the city: Taiwan has an excellent and easy to use transportation system in the city. There is the high speed rail, subway and train that can take you all over Taipei and the whole island in a short period of time.
Nature and the scenery: Many people don't realize just how green and mountainous Taiwan is since they imagine it as one big industrial island. Taiwan actually has 9 national parks, over 100 hot springs and of course, many beaches.
Taipei 101: This impressive building has plenty of things to do nearby. There's a night club, movie theater and lots of shopping and eating options. We liked to grab a coffee, hang out in the square in the evenings and listen to the live music.
Taipei: For us non city people, we loved Taipei. Taipei's night scene is super fun, I also suggest going clubbing. It's one of the best ways to meet other travelers from around the world and it's always a good time.
Tons of activities: You will never be bored in Taiwan. There is always something to do whether you want to go on an outdoor adventure, trying the local foods, going tea tasting, shopping at the old streets, exploring night markets, visiting the temples, soaking in the hot springs, or learning about the aboriginal culture. You can even try your hand at surfing, mountain climbing, hash running, fishing, bike riding, hot air ballooning, hiking, and so much more. If all else fails, just go and eat. Trust me, the food alone is a one great adventure!
We also loved how fast their Wi-Fi is, plus the fact that there are so many hot spots that it's like the whole island is one giant hot spot!
What we didn't love about Taiwan
So many people. There are about 3 million people who live in Taipei alone. For a small island, that is a buttload of people! The biggest thing about it was the sheer number of scooters. I think the ratio of scooter to person was 2:1!
The driving. We didn't drive in Taiwan but when we took cabs, I hung on for dear life. If you plan on driving in Taiwan especially in the city, be very careful!
The bubble tea. Wait what? Bubble tea is supposed to be a Taiwan specialty! But I felt like the bubble tea in Taiwan had too many pearls and it wasn't real fruit most of the time. We gave it a fair chance by trying a new flavor nearly every day but were disappointed.
Wrap Up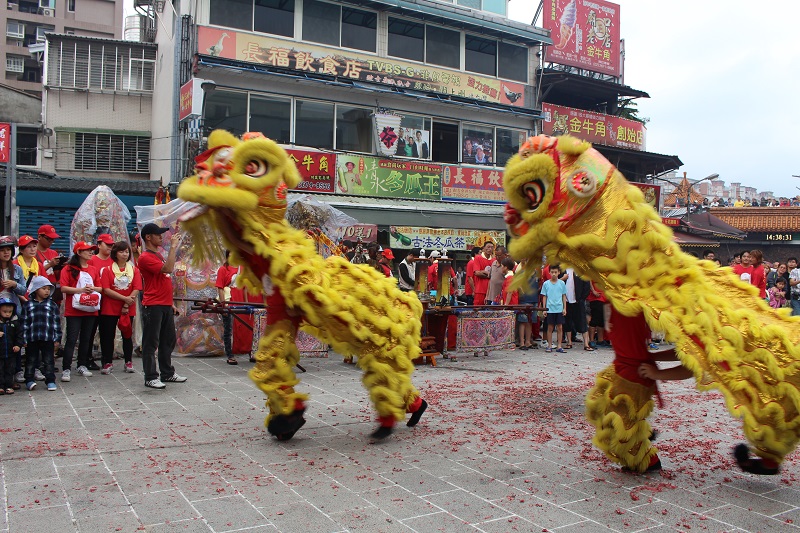 Traveling in Taiwan was a wonderful experience and incredibly fun. Even though we traveled the whole island, there were actually many places we couldn't fit it in. Taiwan has a ton of beautiful and unique places that surprisingly for an island so small, it'll take a good amount of time to explore it all.
If you ever travel to Taiwan, know this: Taiwanese people are the friendliest, kindest and most caring people in this world (and I'm not just saying that because my family's Taiwanese). They make you feel at home no matter where you're from so if you get a chance to fit Taiwan into your Asia travels, please do it. There is so much to explore, discover, enjoy and eat in the country that I'm astounded majority of people traveling in Asia skip Taiwan.
Everyone who goes to Taiwan comes back with one thought in mind: Taiwan is fun.
And as you can see, the cost to travel in Taiwan is not bad at all!
Planning on going to Taiwan? Here are our best travel tips from lodging, transportation, must do activities and must see places.
Have you ever been to Taiwan? What were your thoughts? Feel free to share in the comments below!
Read our other country expenses wrap ups
1 week Philippines expenses wrap up
1 week Malaysia expenses wrap up
17 day South Korea expenses wrap up
This post has affiliate links