Seattle is a city that will always have a dear place in our hearts. Situated between the Puget Sound and overlooking Elliot Bay, you can have bustling downtown and scenic landscape views all at once. Nicknamed the Emerald City, this evergreen tree covered city boasts a vibrant and diverse cultural scene and is home to some of the most famous companies in the world.
If you're coming to Seattle, understand first that you have a lot to choose from in terms of things to do. Need some ideas? Here are 30 things to do in Seattle. This is just a brief list of the many activities but it gives you a good feel for what gems Seattle has to offer. Whatever activities you decide on, you'll have a blast in Seattle no matter what time of year you are here!
Go up the Space Needle
As the most iconic building in Seattle, this is number one on the list. The Space Needle is an integral component of what makes Seattle, well Seattle and this funky shaped building is one not to miss.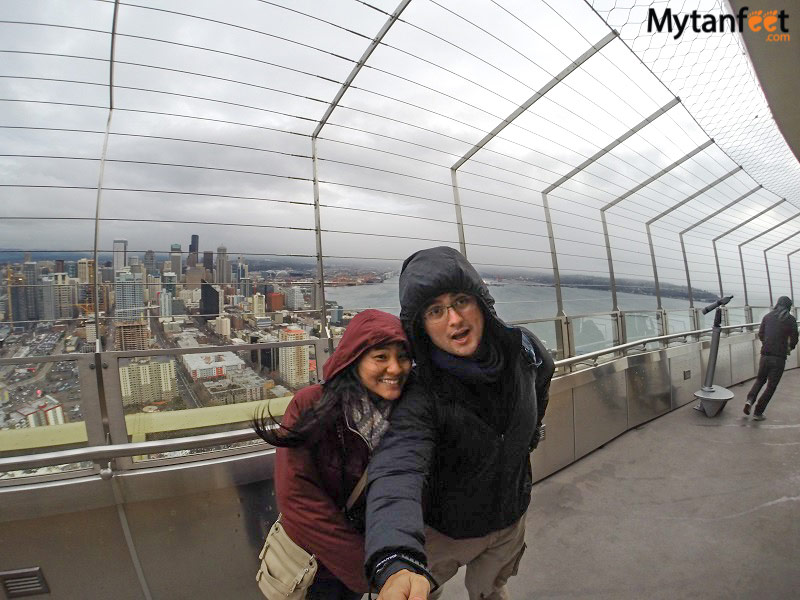 You don't have to go up to the observation deck although you do get great views of the whole downtown plus other neighborhoods. It's one of the best ways to see Seattle in all its glory.
A ticket costs $22 for an adult and $14 for youth for a one time pass. A day and night pass costs $32 for adults.
Feeling like splurging? Reserve a romantic dinner for 2 at the revolving Space Needle's Restaurant, Sky View.
Browse the markets and eat clam chowder at Pike Place Market
And eat at Prioshky Prioshky, visit the first Starbucks, find all the pig statues, gorge on the award winning clam chowder, sample the delicious food, watch the vendors throw fish, and oh so much more.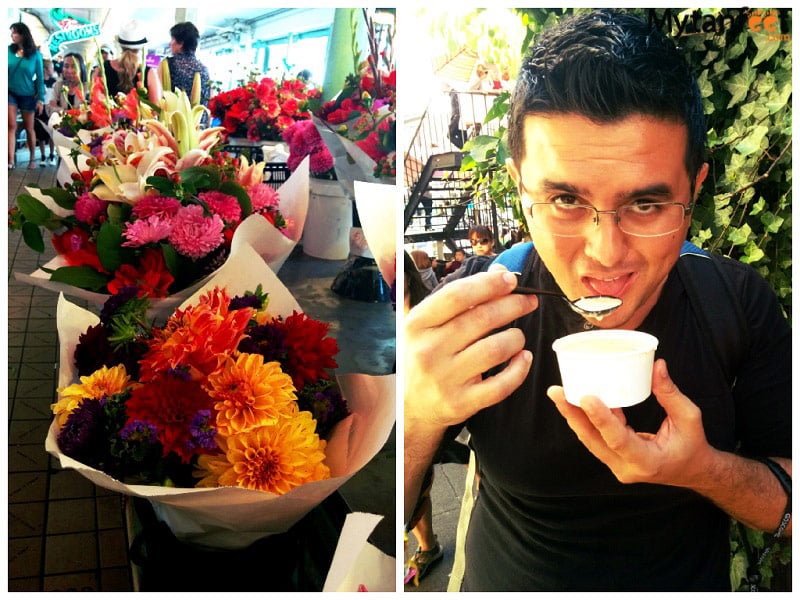 Pike Place Market is full of treasures and hidden gems and if you really want to dig deeper into the market's history and the shops, you can take a tour. Otherwise, just wander around and indulge your senses in all the sights, smells and sounds of the famous Pike Place Market.
Pet a Sea Star at Seattle Aquarium
The Seattle Aquarium is dedicated to the education and conservation of native species of the Puget Sound so visitors can learn about this unique region of the Pacific Northwest.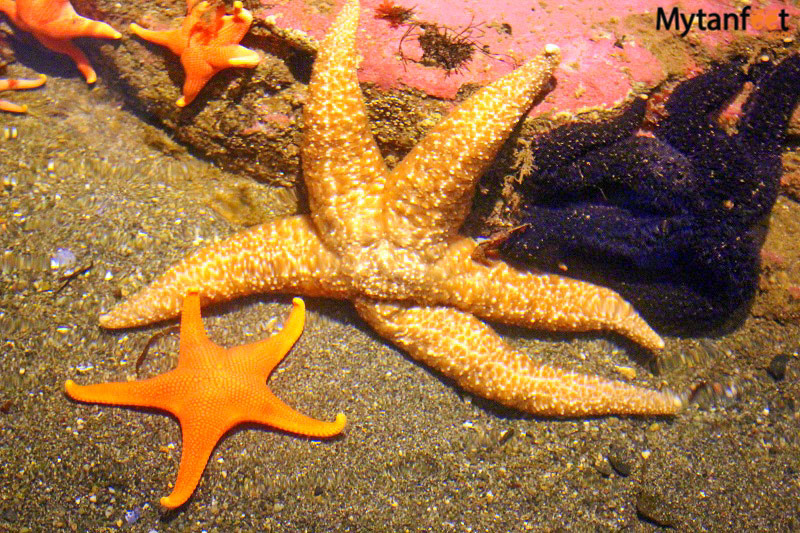 Pet a sea star, sea cucumber or sea urchin, watch the fluffy sea otters or spend time under the dome. Don't forget to take a peek at the aquarium's main attraction, the Great Pacific Octopus!
Admission is $24.95 for adults and is open 9:30 AM to 5 PM daily.
Relax at Gasworks Park
On a sunny day, Gasworks Park is just spectacular. It used to be the former Seattle Gas Light company plant and was converted into a public park. You can still see the original industrial structures which are essentially the main features of the park.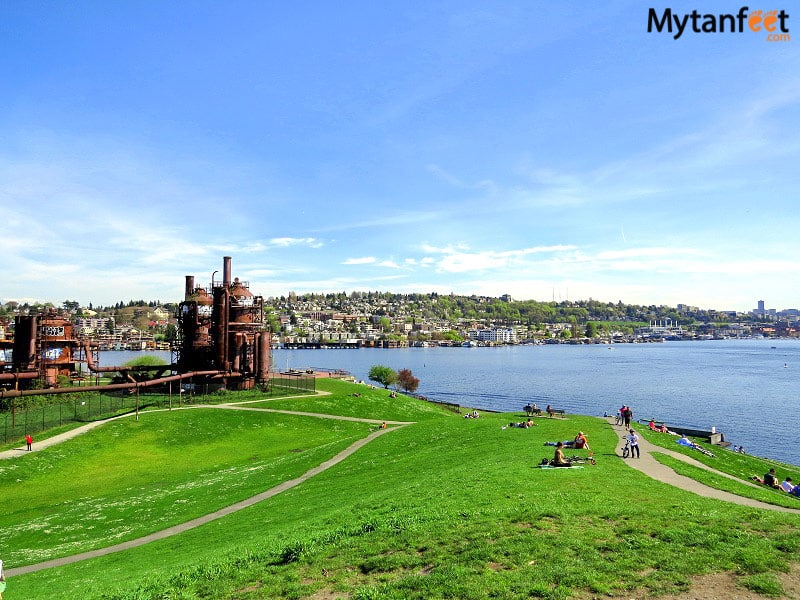 If you're here during July Fourth, the park is packed with people waiting to see the fireworks. It has a fabulous view of Lake Union and the surrounding neighborhoods!
Parking is limited so if you're visiting in the summer, go early!
See the Cherry Blossoms at UW
This only happens once a year so you need to be here during the right time. The cherry blossoms at UW are one of the most anticipated events, especially as tired-of-winter Washingtonians anxiously await the start of spring. Usually blooming at the end of March/beginning of April, the cherry blossoms lining the quad are a spectacular sight to see and so refreshing for the eyes after months of dark and gloomy winter days.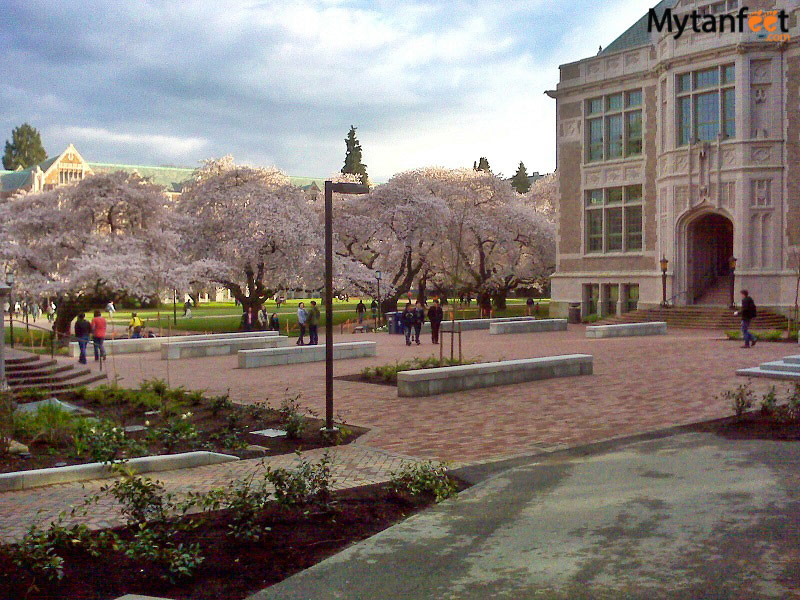 If you're not here during the right time of year, you can head to Suzallo library to see the famous Harry Potter room or check out Drumheller fountain for beautiful views.
Go Huskies! (UW grad here 😀 )
Have a Bonfire at Golden Gardens Park
Golden Gardens is technically a park in Ballard but it's still close enough to Seattle as it's one of the nearby neighborhoods. It makes for a fun day trip, enjoying the beaches or hiking trails, grilling dinner, roasting marshmallows in the fire and watching the sunset.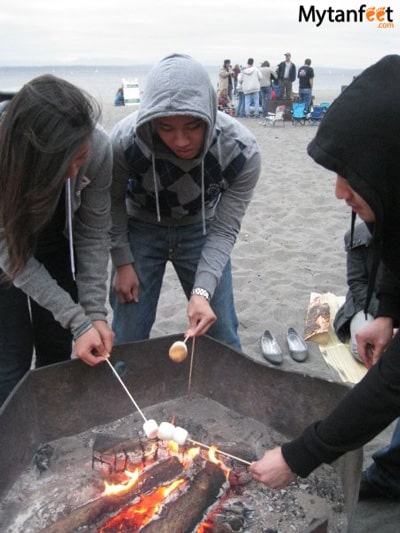 There isn't a bus that goes straight to Golden Gardens but you can easily call an Uber or Lyft if you don't have a car.
Eat International District
Seattle's ID is pretty awesome. You can find delicious Chinese, Taiwanese, Vietnamese and Japanese restaurants, cafes, and bakeries in the International District.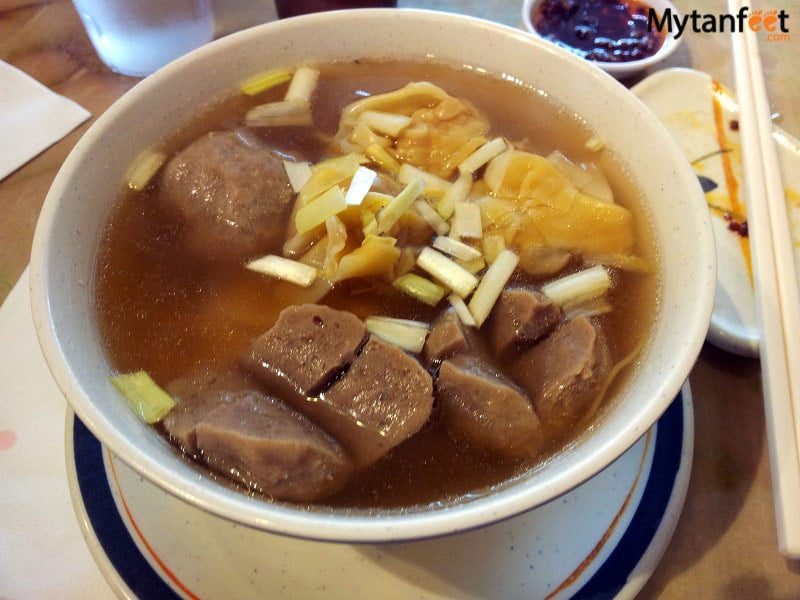 Shop at Uwajimaya to stock up on all your Asian goodies and get your fill of dim sum, ramen, dumplings, barbecue and more. We love Jade Garden, Honey Court, Henry's Taiwan Kitchen and Samurai Noodle but there are so many places to enjoy.
Walk Around Green Lake Park
A beloved park in Seattle, Green Lake is full of locals out enjoying the beautiful Pacific Northwest sunshine. The 2.8 mile path goes all the way around for people to walk, run, bike, roller blade, roller skate or walk their dog.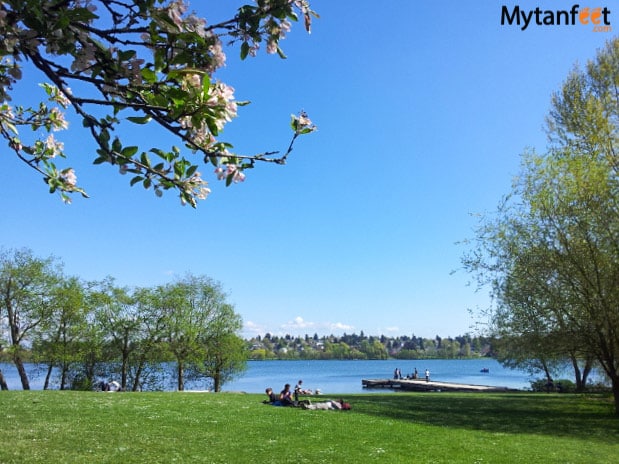 You can also go boating, swimming and fishing in the lake. If you get hungry, there are a bunch of yummy restaurants and ice cream shops around such as Ben and Jerry's, Zoeyogurt and Duke's Chowder House. If you get super hungry, walk a couple block to Beth's Cafe, famous for their 6 and 12 egg omelette!
Visit Fremont Troll
A quirky statue in Fremont, the troll under the bridge has become a popular place for Seattlelites and tourists to visit. It was created by four local artists who won the Fremont Arts Council with the goal to clean up the area under the bridge.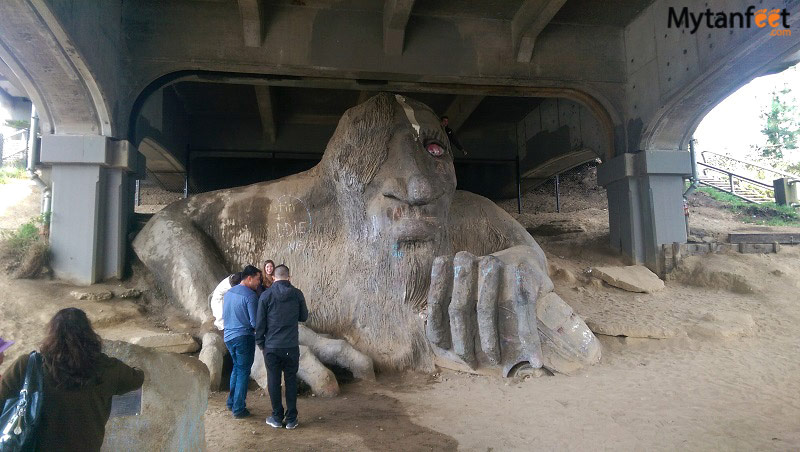 Feel free to climb on top of him or take a peek at what he has under his hand (a Volkswagen beetle).
Watch a Sunset at Alki Beach Park
It's hard to imagine that Seattle has beaches but Alki is one of the few and the best. Encompassing Elliot Bay beach in West Seattle, Alki is a popular place to walk along the beach, play volleyball, eat good seafood or hangout during the long days of summer.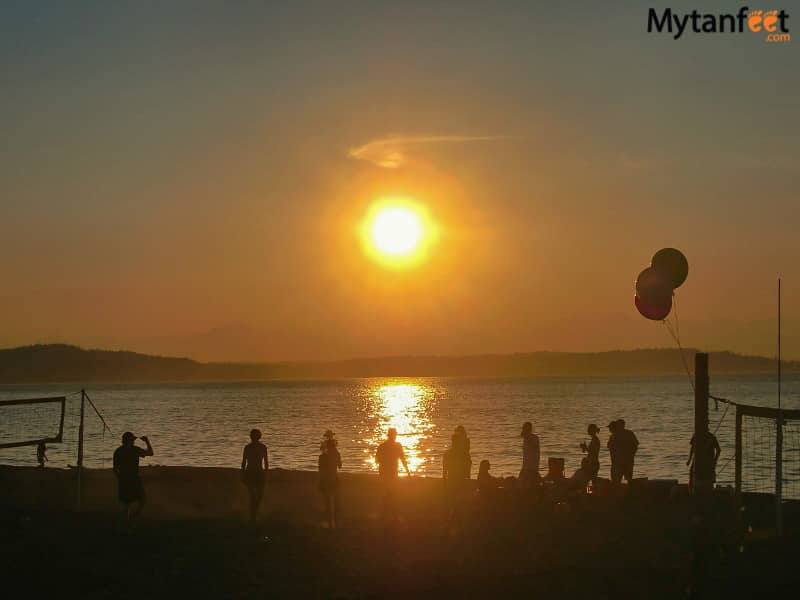 There are some excellent seafood shacks and restaurants so I highly recommend trying them if you like shrimp or fish. There isn't a ton of parking at the beach but you may be able to find a free spot by looking for street parking in the nearby neighborhood.
Learn About the History of Seattle
Seattle has a fascinating history and you can take an underground tour to learn all about it (and find out why it's underground!). It's a highly interesting and educational tour that doesn't feel like a history lesson at all.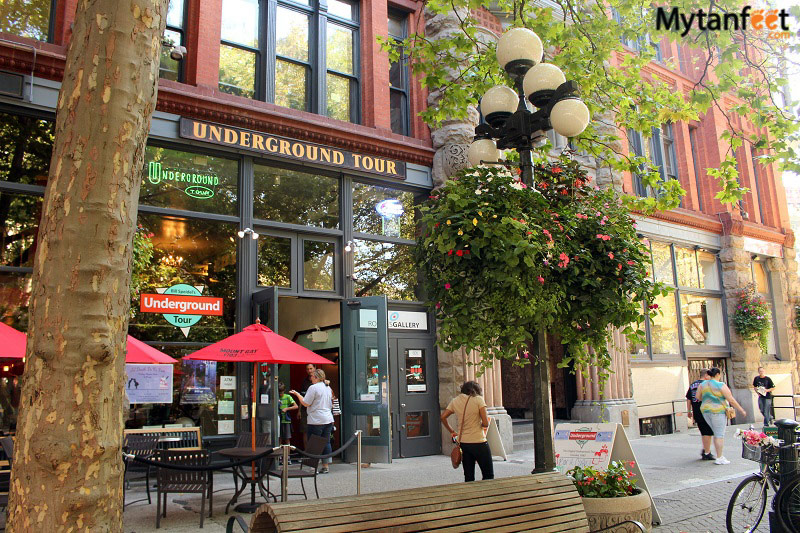 Discover the original Seattle, learn about its beginnings and how it became the beloved city it is today. Bill Speidel's Underground Tour is on 614 1st Ave in downtown and is about a 2 hour tour. They also have an adult only Underworld Tour and Paranormal tour.
See Seattle From the Air
Seattle is a beautiful city surrounded by water, mountains and a volcano not too far away. To see all of that from above is a special treat that we got to enjoy in the summer. We took a ride on a seaplane from Lake Union and got amazing views. On a beautiful sunny day, it will leave you in awe.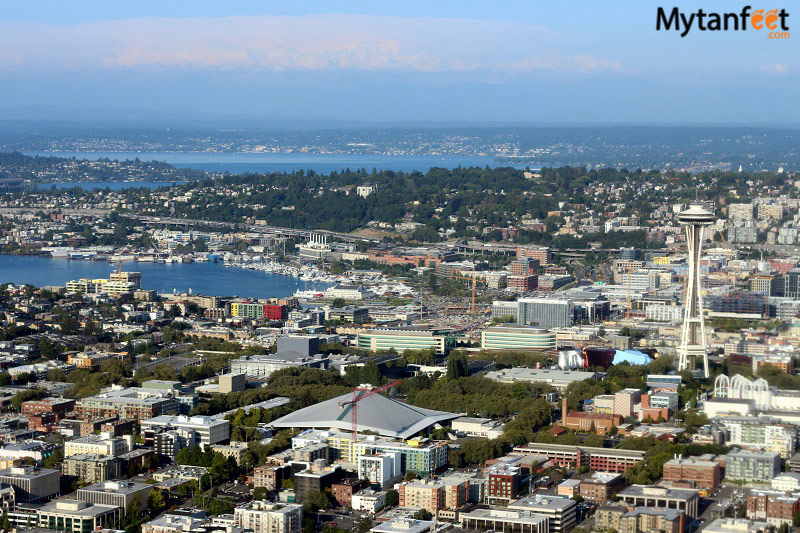 We took a 20 minute seaplane ride with Kenmore Air and it was 20 amazing minutes of experiencing Seattle from the air. They also have headphones with a recorded guide so you know what you're looking at.
Check Out Downtown Views on the Great Wheel
For more views of downtown Seattle, take a ride on the Great Wheel on the Pier. It's a fun way to see Seattle and who doesn't love ferris wheels!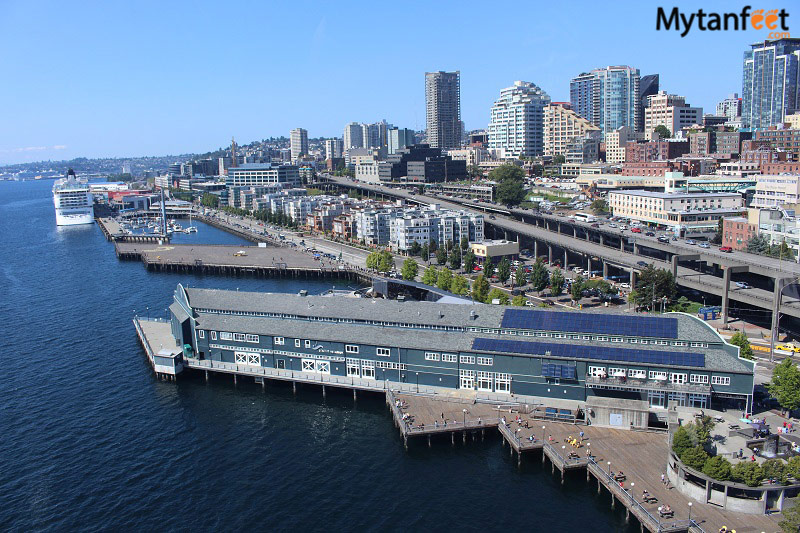 It's $13 for adults and $9 for youth so it's a great family activity!
Spend a Day with Animals at the Woodland Park Zoo
Woodland Park Zoo aims to educate the public about conservation and provide quality care to their animals. It's a great place to take kids and take a look at the various plants, insects, mammals and marine animals.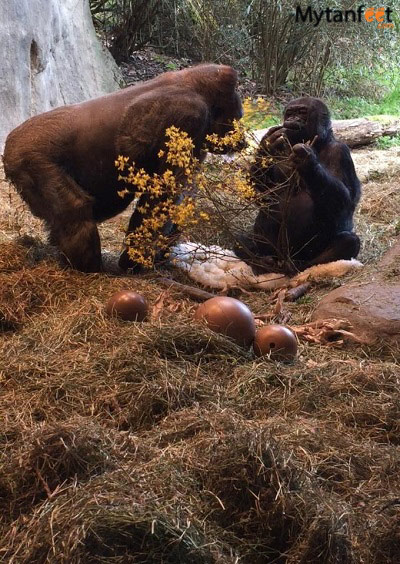 Want more wildlife adventures in Seattle? Check out these awesome nature and wildlife experiences in Seattle!
Go to a Concert at the Showbox
The Showbox has been around since 1939 and has hosted a huge number of artists that have gone on to make it big. Not only that but Seattle is the birthplace of grunge so you're sure to find some new favorites.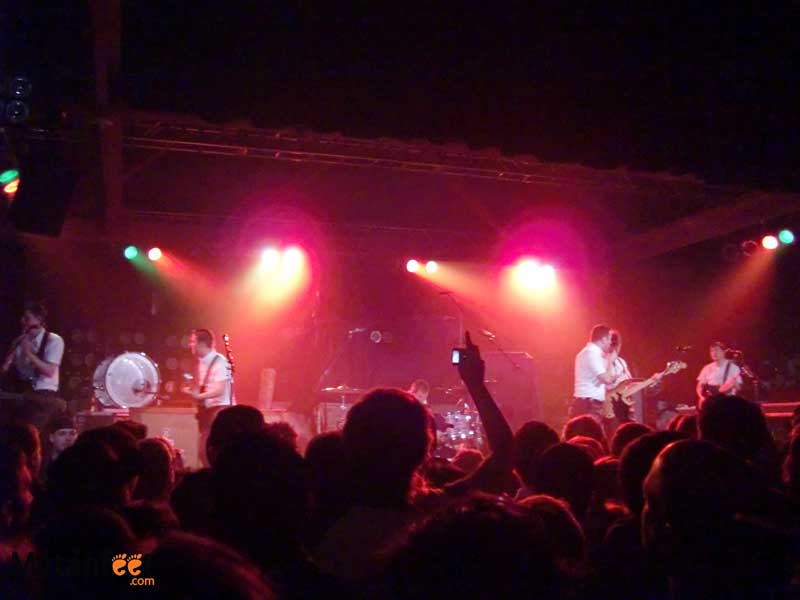 You can discover some local artists or if you're lucky, you might be around for a special surprise concert like the Foo Fighters back in November 2014!
Go to One of the Festivals/Fairs
There are a good handful of festivals, fairs and events going on Seattle all throughout the year but mostly in the summer. My favorite one is Bite of Seattle because it's centered around food which is awesome. This always happens at the end of July.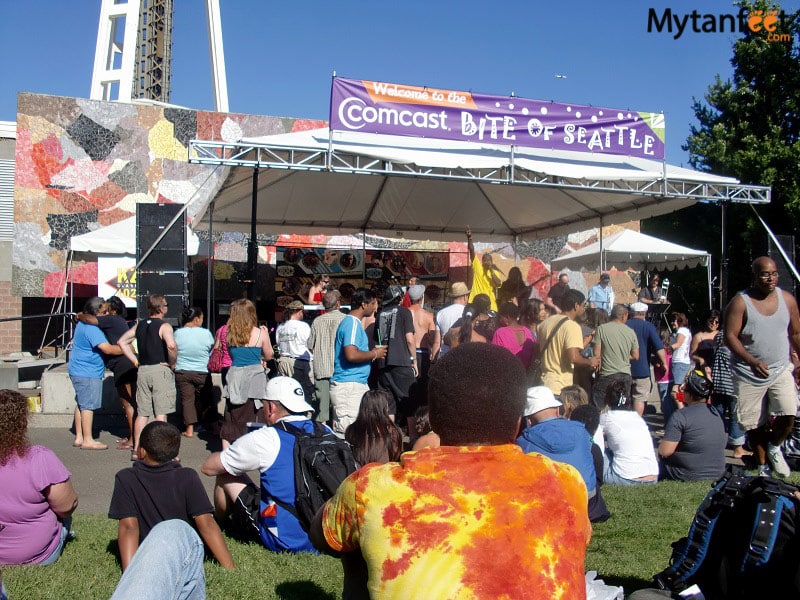 There's also Seafair, Capitol Hill Block Party, Fremont Oktoberfest and much more. Make sure to check the calendar to see what's going on when you come.
Take a Cruise Around the Harbor
There are many ways to see Seattle and going on a harbor cruise is one of them. You can see all of downtown and the port from the water on a one hour guided Seattle Harbor Tour.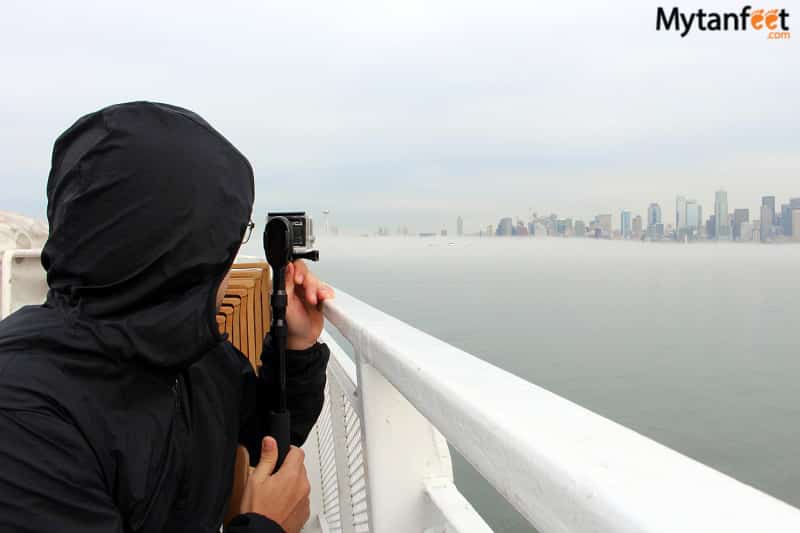 It's well worth it for the great views and fun boat ride! You may even see a harbor seal or sea lion out there.
Learn About the Evolution of Flight
When people think of airplanes, they usually think of Boeing which is in Seattle. You can visit Boeing Field or the Museum of Flight to learn more about the evolution and importance of air travel and airplanes.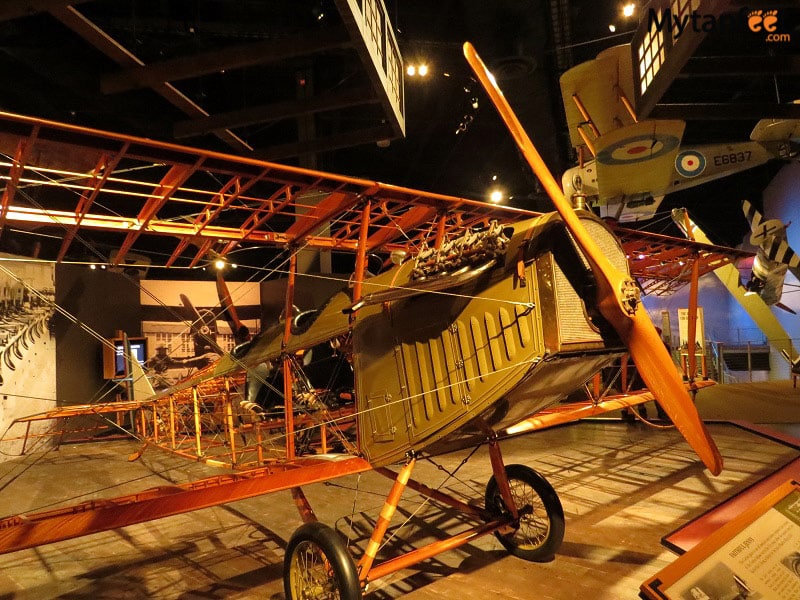 See the very first planes built, learn about the job of an air traffic controller and read about the planes used in World War I and II. It's an enlightening and educational experience.
Watch a Seahawks, Sounders, Storm or Mariners Game
Seattle hasn't always been known for having a great sports team but after winning the Superbowl in 2014, nobody can say Seattle sports sucks. Though we lost our basketball team, we still have our beloved Mariners, Sounders, Storm and our beloved Seahawks.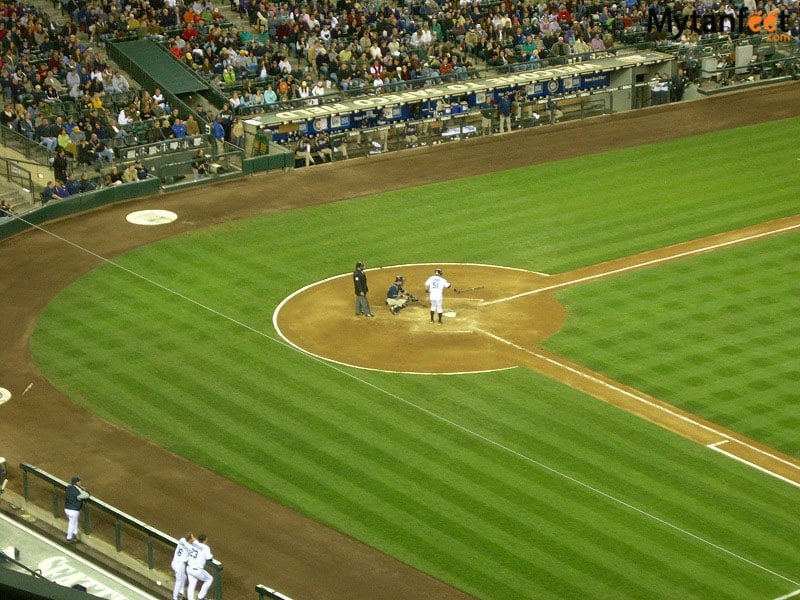 We're known for being the loudest and best fans in the country so catch a game and see for yourself just how fun and rowdy it can be!
Visit Chihualy Glass Museum
Dedicated to showcasing Tacoma local glass artist Dale Chihuly, see magnificent works of art in the garden and glass museum. It's in the Seattle Center so it can be part of your day trip to the Space Needle and surrounding attractions.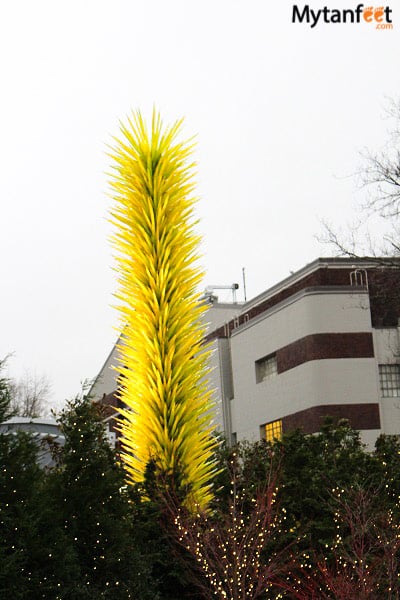 With 8 galleries and 3 drawing walls, you'll be marveling at the beautiful sculptures Chihuly turned glass into.
Stick a Piece of Gum on the Gum Wall
It looks gross because it is. It's basically a big wall of gum in Pike Place Market but for some reasons it's turned into a funny tourist attraction.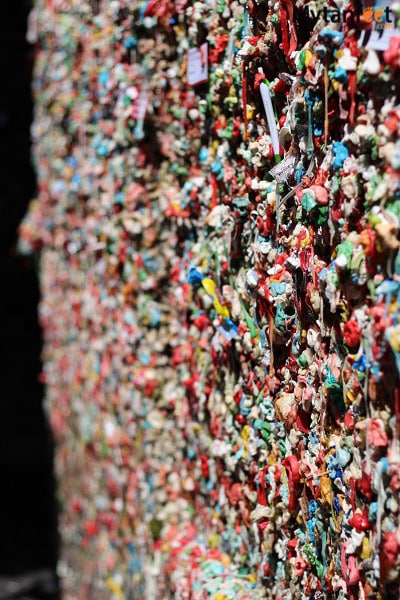 So don't forget to leave your mark and stick your own piece of gum on there! The city even tried to clean the wall but no surprise, gum appeared on the wall again in no time.
Take a Picture at Kerry Park
Kerry Park is a really small park in Queen Anne Hill with one of the best views of Seattle.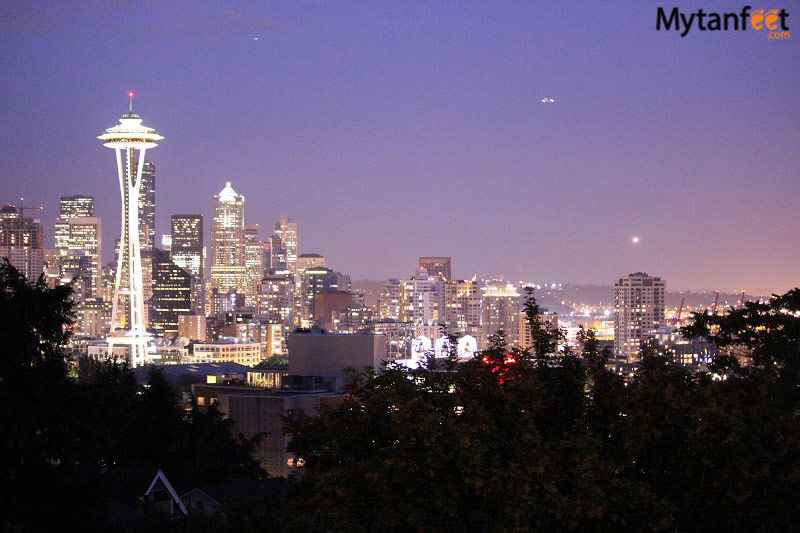 Many photographers, locals and tourists go up here to see the city since it offers one of the best lookout spots around. Capture the perfect "postcard" shot of the Emerald City here. It gets pretty crowded at sunset so go early if you want to get that photo of Seattle.
Have a Molly Moon Ice Cream or a Trophy's Cupcake
Both are local Seattle favorites and are worth the trip to try them. Molly Moon's uses local milk and cream, create their own waffle cones and come up with scrumptious flavors like lavender honey and balsamic strawberry.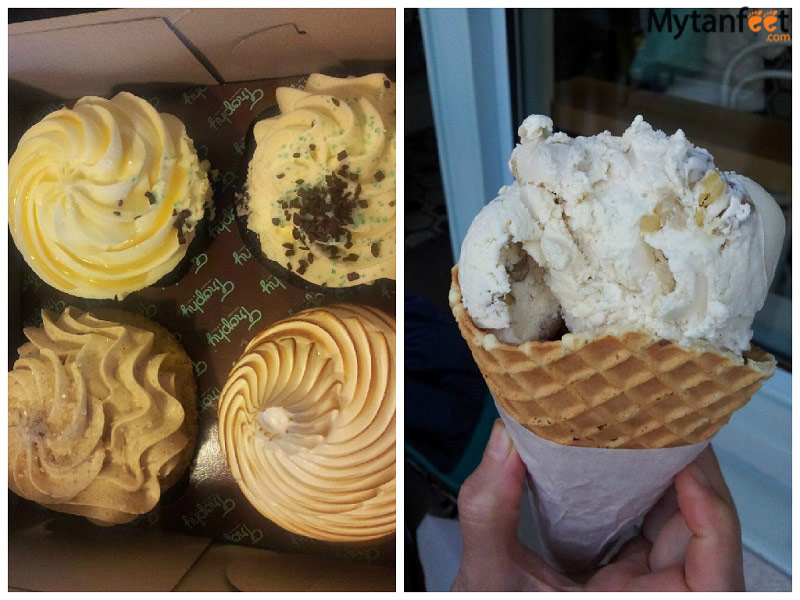 Trophy Cupcakes has a variety of delicious flavors like raspberry macaroon and triple chocolate. My favorite sweet treats when in Seattle!
Go for a Day Trip to Mount Rainier
Not exactly in Seattle but Mount Rainier is one of the most famous natural landmarks in Washington. With many trails, waterfalls and rivers to discover, Mount Rainier makes for an amazing day trip to explore the great outdoors.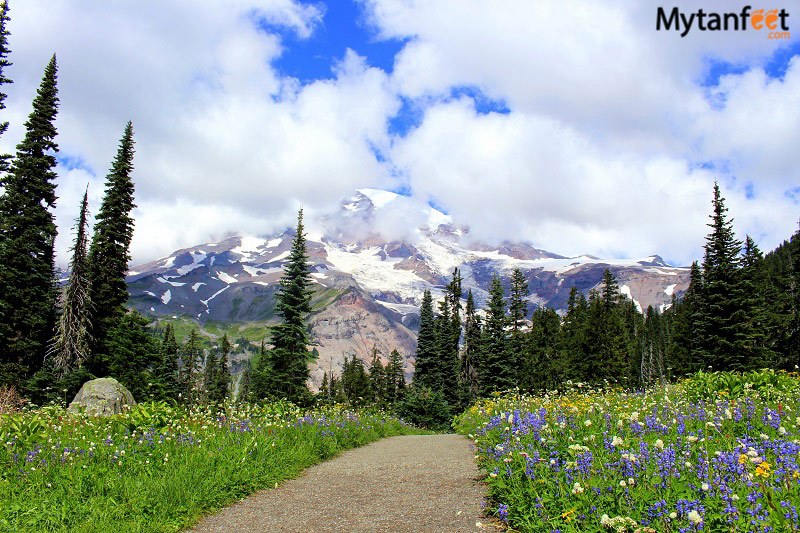 The volcano is especially stunning during spring and summer and is a splendid example of the Pacific Northwest beauty. There are companies that offer day trips or if you rent a car, you can drive down on your own and enjoy the magnificent great outdoors. It is about a 1.5 hour drive from Seattle to Mount Rainier so plan accordingly.
Be a Rockstar at the Museum of Pop Culture
The Museum of Pop Culture is dedicated to music, science fiction and arts where visitors can rock out on drums in the sound lab, make their own concert video and see the guitars of famous rock musicians.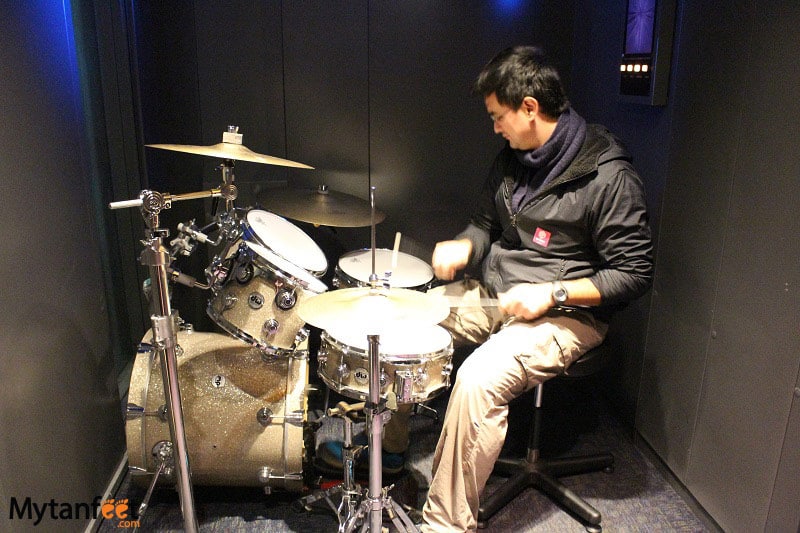 Great for kids and adults to unleash their inner rock star! They have special exhibits that rotate every few months, they even have a special Seahawks exhibit for when they won the Superbowl.
Go for a Day Hike
There are a ton of hikes around the Seattle area and you can find one driving just thirty minutes outside the city. Yup, just thirty minutes and you can see this.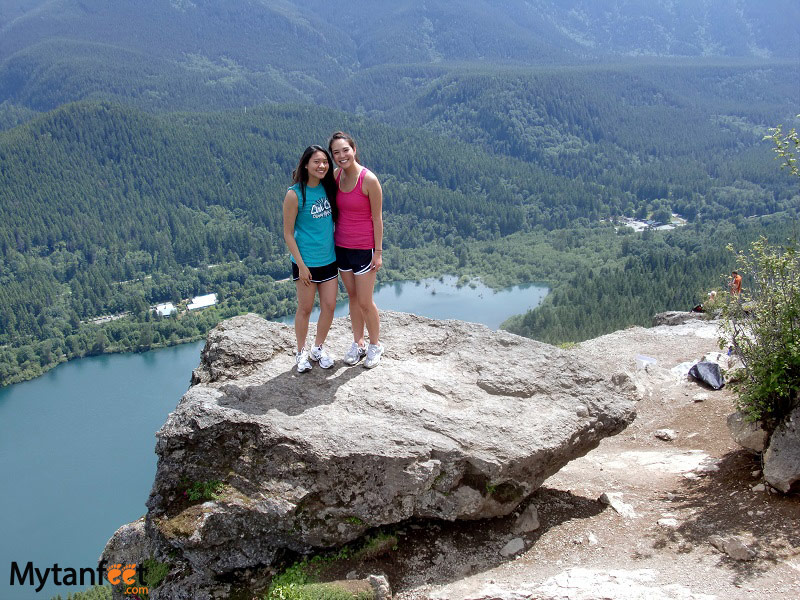 This is Rattlesnake Ledge, a leisurely hike that leads to fabulous views of the lake and surrounding forests. Another way to experience the beautiful Pacific Northwest!
Have a Picnic at Lake Union
Lake Union is best enjoyed on a hot summer day where you can go swimming, kayaking, canoeing or stand up paddling boarding. From the lake you can see I-5, Gasworks Parks and other Seattle neighborhoods.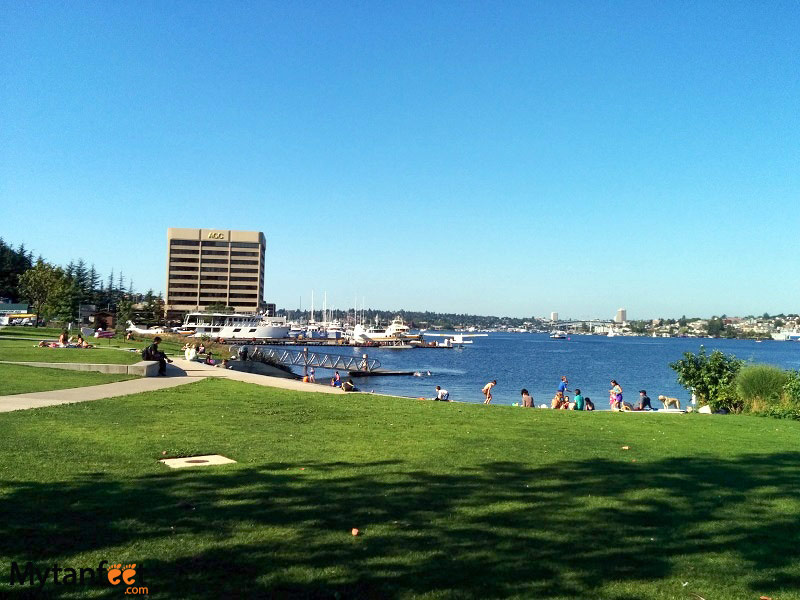 Great place to have a picnic and enjoy the weather.
Take the Ferry to Bainbridge Island
Take the Washington State Ferry across the Puget Sound to Bainbridge Island, named the second best place to live in the United States by CNN. It's a quaint seaside town with a rural essence but modern city thinking. Nature is the island's strong point as it has dense forests, parks, gardens, reserves, wildlife and hills making it a favorite for outdoor lovers.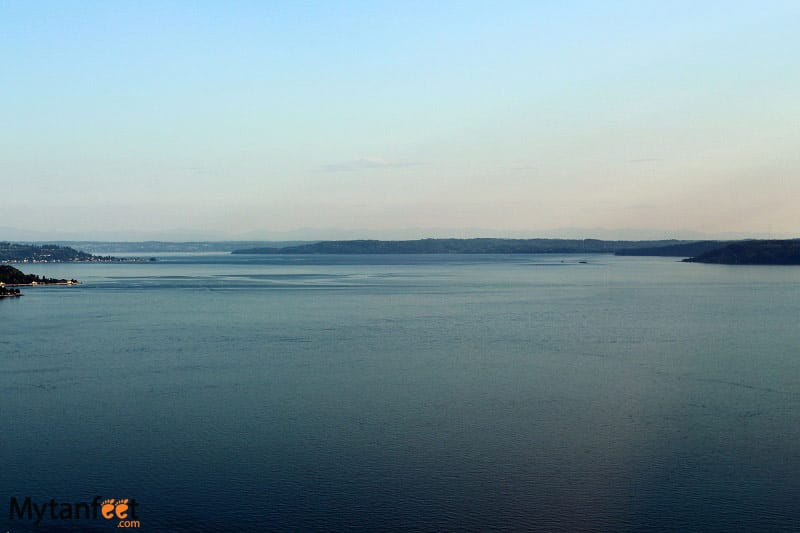 If you're feeling a bit congested with the downtown Seattle city life, head to Bainbridge for a breathe of fresh air.
Go Snowboarding/Skiing
Washington has pretty good skiing and snowboarding and there are places 45 minutes away from Seattle. Stevens Pass, Crystal Mountain and Snoqualmie are just to name a few.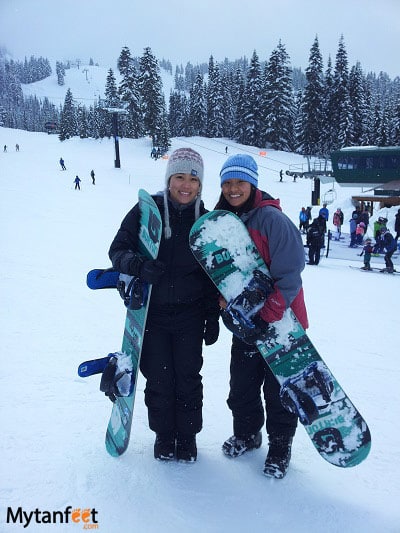 You can even drive up to Whistler Blackcomb in Vancouver B.C. (Canada) to where they held the 2010 Winter Olympics.
Sample Wine in Woodinville
Woodinville Wine country is just thirty minutes from downtown Seattle and if you love wine, you have to come here. Woodinville is home to over 100 wineries producing some of the best wine in the country using grapes grown in Eastern Washington so everything from the grapevines to the bottle is locally produced.
Some of the most popular wineries are Chateau St. Michelle, Stevens and Sparkman cellars but you can spend a whole day here visiting the various wineries in the area.
Map of Seattle Attractions
This is a small sampling of all the fun things to do in Seattle but it should give you some great ideas to jot down for your next trip. Rain or shine, there's no denying that Seattle is a fun city with plenty to see, eat, drink and do.
More things to do in Seattle
Some other things to do in Seattle are the Theo chocolate tour, the Sky View Observatory at Columbia Tower, the Ballard Locks, the Seattle Public Library and the Arboretum. You can even spend a day or two exploring the different neighborhoods like Fremont, Ballard and Capitol Hill.
If you're interested in seeing these attractions: Seattle Aquarium, Chihuly Glass Museum, Pacific Science Center, Argosy Cruises, Space Needle or Woodland Park Zoo, you should get a Seattle CityPASS which gives you entrance tickets at a discounted price.
Tips for Visiting Seattle
Most of the things to do in Seattle are downtown so you can walk everywhere (depending on where your hotel is). For the day hikes, there are some tour companies like Tours Northwest that will take you to places like Mount Rainier or Boeing.
If you're on a budget, the bus system can take you all around Seattle. From the Seatac airport, you can take the link light rail to downtown or to UW for cheap.
If you're coming in winter, do bring appropriate attire – rain jacket, boots, scarf, outdoor coat, etc. It doesn't snow very much and it doesn't get as cold as the East Coast but it does get pretty chilly and rains!
Taxis are very common so if it gets too cold or rainy to walk, grab a cab or call Lyft/Uber.
Where to Stay
The Palladian Hotel – This funky 97 room Kimpton hotel captures the hip and slightly offbeat personality of Seattle with painting of celebrities in interesting situations. For example, our room had a little pillow with George Lucas in a general's outfit. The lobby had a painting of Bill Gates as a soldier. Stuff like that. Besides those things, the hotel is very nice with a social hour offering wine and spirits. Bed is incredibly comfortable and the bathrooms have a modern design. It's on Second Avenue in Belltown so you're steps away from the restaurants and bars.
Hotel Max – It's all about the art and music scene at Hotel Max. Each floor has a unique theme and we stayed on the Sub Pop Floor with a room furnished with a record player, Nirvana/Iron & Wine/Fleet Fox records and snazzy posters. Our room had a huge desk looking out into the city. The best part about Hotel Max though? The beer hour. For one hour you can sample (and get refills) of two different types of local beer. And it's pet friendly! Located on 6th and Seward Street, so you're close to every attraction in Seattle.
Hotel Watertown – If for some reason you need/want to stay by University of Washington Seattle, the Hotel Watertown is the best option. It's just two blocks from campus and a five minute walk to the bus stop to go to downtown. Watertown is part of Pineapple Hospitality, and they do have two other hotels in downtown Seattle, The Maxwell Hotel (Queen Anne) and Hotel Five (5th Ave and a popular one among my friends).
You can read our other "Things to do" posts here!