If you're visiting Seattle and want to take a day trip to Mount Rainier National Park, this one day tour is an excellent option, especially if you don't have a car and only have 1 day to explore.
Read about our experience on the 1 day Mount Rainier tour with a company called Tours Northwest below. They pick up and drop off in downtown and it's an excellent day trip from Seattle!
Mount Rainier National Park in 1 day
Our tour started bright and early at 7 AM as we were picked up in downtown Seattle. As we drove to Mount Rainier National Park, Brian our guide supplied us with plenty of information about Seattle, Mount Rainier and the Puyallup valley.
Once we got to the national park, we stopped at a few sites that I had no idea about. The national park is huge and there's much more to it than the volcano itself!
Grove of the Patriarchs
This was our first stop and we took a short hike to see huge Douglas Fir and Western red cedars that have been there nearly a thousand years! These trees were just humungous and the surrounding Ohanapecosh River keeps them protected from any forest fires, preventing them from burning down.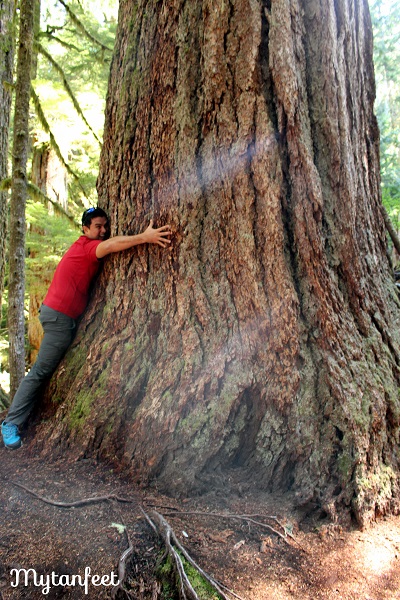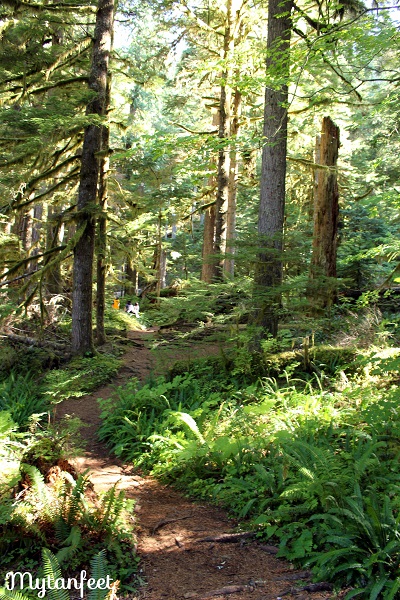 Cougar Rock
Our next stop was Cougar Rock where we got out and walked down near the Nisqually River. It was just gorgeous, we got a great view of Mount Rainier in the background and walked around the rocks and the river.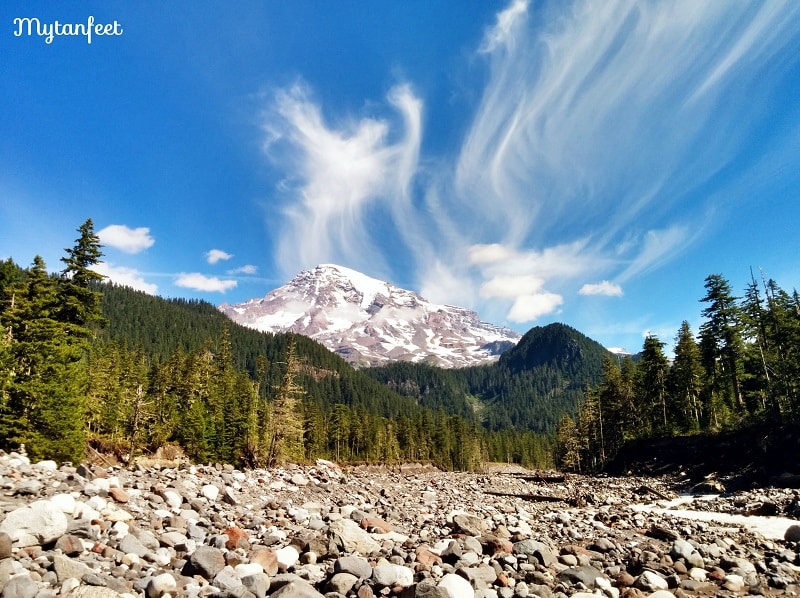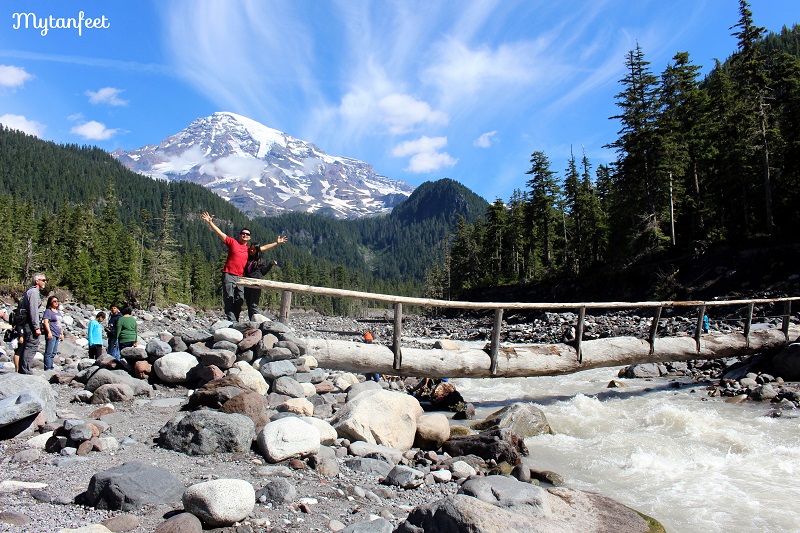 Narada Falls
Narada falls is one of the more popular waterfalls in the Mount Rainier National Park because it is easy to access, being right off the Mount Rainier Highway. This waterfall drops down in two tiers, the upper tier being 168 feet and the second 20 feet. You can see the fall from the very top and then walk down to the bottom to see the second tier, which usually has a rainbow in front of it!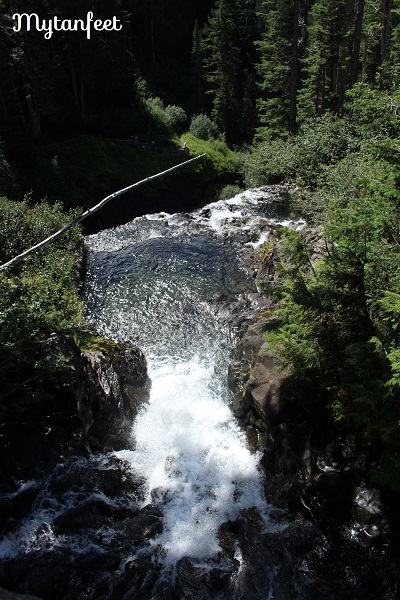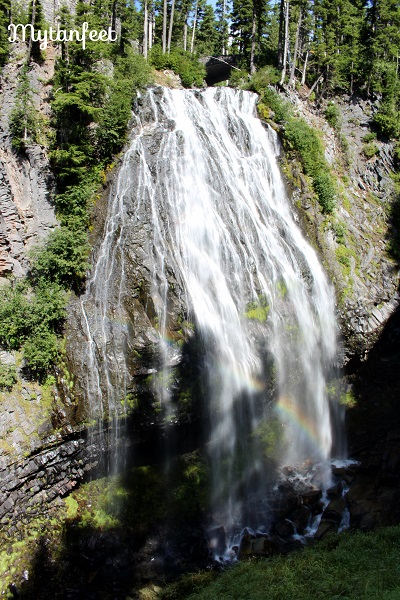 Paradise
Our next stop was Paradise, the name for an area around 5400 feet on the southern slope of Mount Rainier. This is a popular meeting point as the Paradise Inn and visitor center are here. There are several different trails in Paradise that leads to waterfalls and viewpoints around the area.
We were given an hour and 45 minutes here to eat lunch and do some hiking. Yeison and I bought our lunch earlier but there is a restaurant and a cafeteria if you didn't. We ate outside near the visitor center where we had a great view of Mount Rainier and even saw a few deer running past us!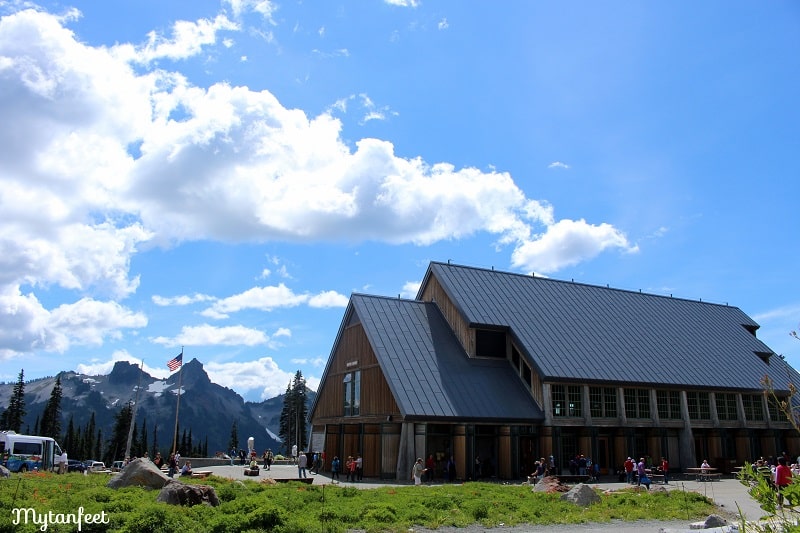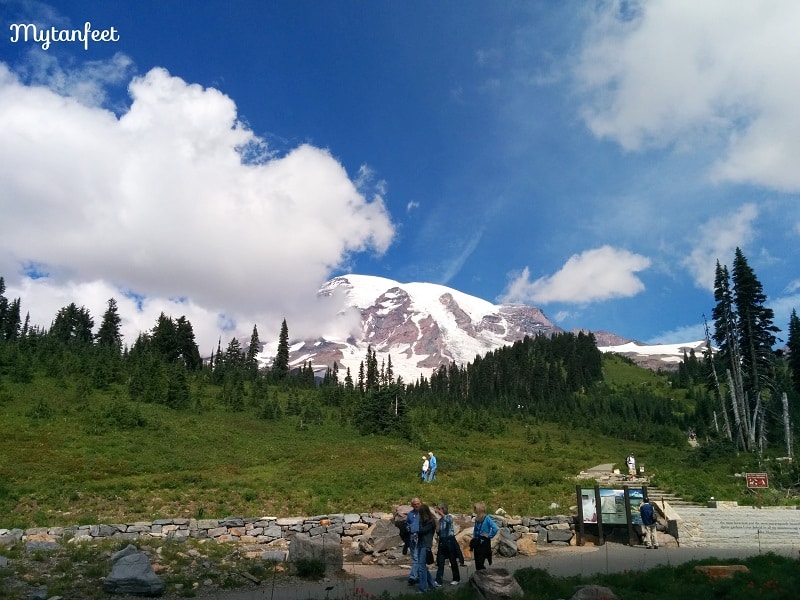 Nisqually Vista Trail
We decided to take the Nisqually Vista Trail which lead you through the meadows to several viewpoints of the Nisqually glacier on Mount Rainier. There are many trails you can take here, such as Alta Vista Trail, Bench and Snow Lake Trails and Skyline Trails.
The Nisqually Vista Trail was a leisurely walk which took us about 30 minutes. You walk through many meadows of wildflowers and the viewpoints are wonderful.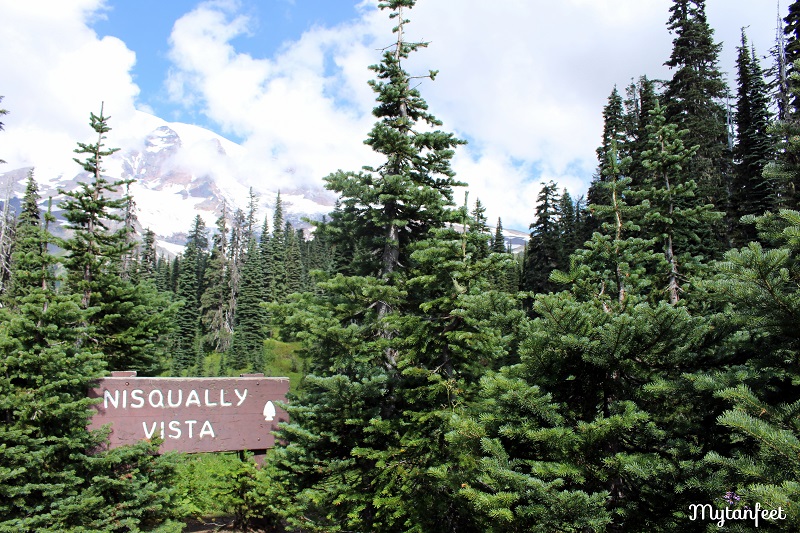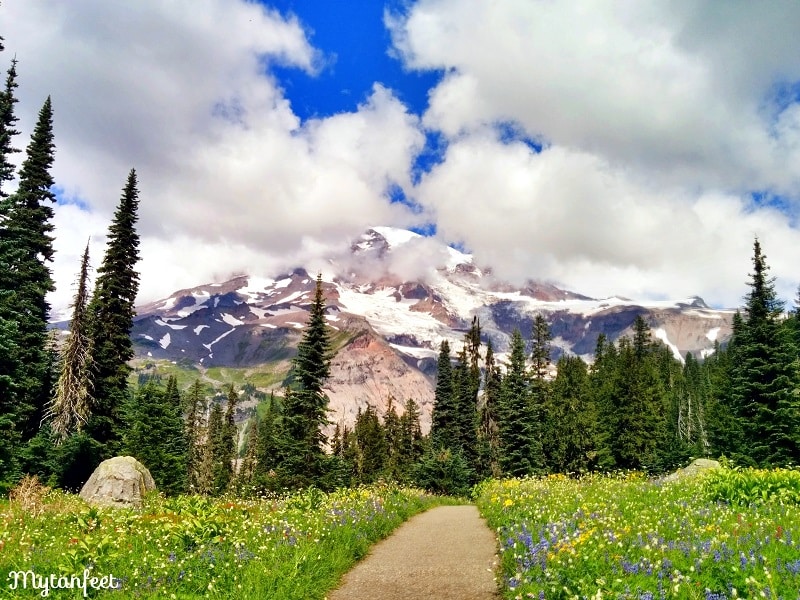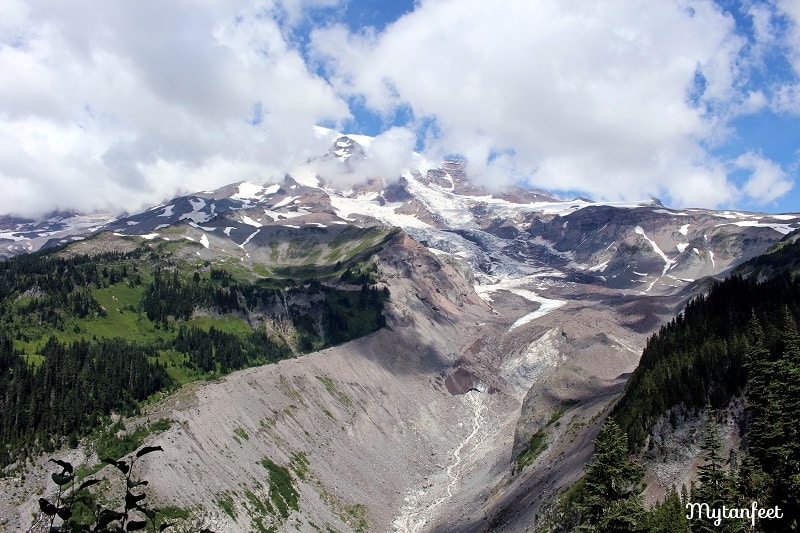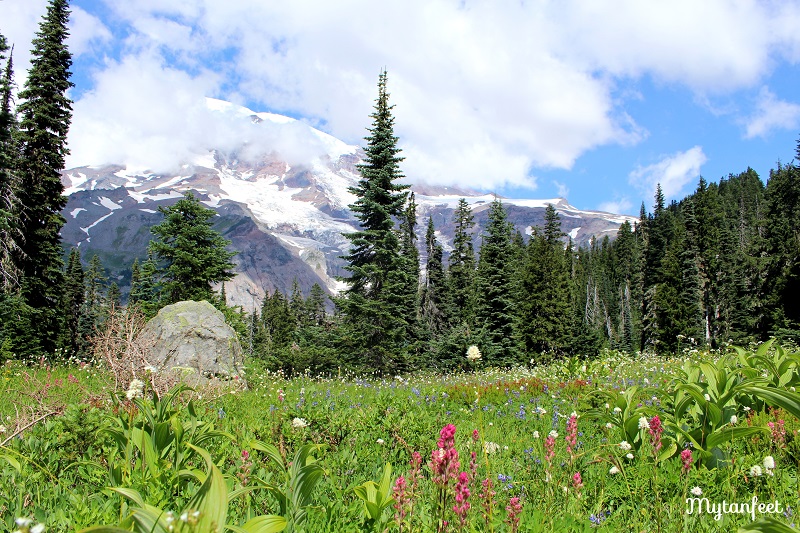 Box Canyon Trail
After our group met up back at Paradise, we headed up north around Mount Rainier and stopped at the Box Canyon Trail to take a short walk around. As you walk across the bridge, you look down into a canyon that is 180 feet deep! There's a river running through the bottom but that is one place you definitely do not want to fall into it.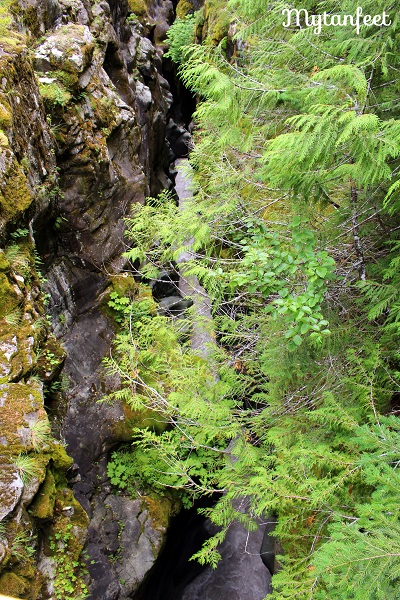 On the way back to Seattle
As we drove north and up around the national park, we stopped at only a couple more viewpoints to see Mount Rainier for the last time. Then our final stop before we hit Seattle was at a small souvenir and cafe shop to get some huckleberry ice cream which was delicious.
We had a great day at Mount Rainier National Park visiting the various sights. As you can see, we got some stunning photos of the volcano!
For anyone's first time in Seattle, taking a tour like this one to see Mount Rainier is a fantastic option especially if you don't have a car or more time to spend in the park. It's an excellent way to spend one day in the national park.
Watch our video to see what our day was like!
Tips for this One Day Mount Rainier National Park Tour

We visited in August which is peak season so it was crowded at Paradise. If you go on your own and don't want to be around tons of crowds, visit in the shoulder months or go early if you visit in the summer.
The drive from Seattle to Mount Rainier is about 2 hours.
This is a good itinerary if you have a car and visiting for one day on your own as well. You get to see several different attractions in the national park and it is a beautiful drive.
If you're visiting in the summer, bring a camera, comfortable clothes, a day pack (I brought my Osprey Daylite pack since we had a bus to leave things in), sunglasses, water and comfortable walking shoes. It got a little chilly in the afternoon with the wind so I recommend bringing a light jacket but the temperature was really nice. It was about 80. You aren't walking a lot on this tour so you don't need hiking shoes.
For this one day tour, we recommend bringing lunch as food is more expensive at Paradise.
This tour picks up at hotels in downtown Seattle. We got picked up at the Grand Hyatt Seattle at 7:10 AM and got back around 7 PM so it is a full day tour.
If you go on your own to Mount Rainier National Park and looking for a great day hike, check out the Comet Falls and Van Trump Hike. Gorgeous waterfall and views!
Make sure to check the Mount Rainier National Park Facebook page if you're visiting in winter or off season for road conditions as they announce road closures and weather updates.
More awesome places in the Pacific Northwest
We were guests of Tours Northwest and all thoughts and opinions remain our own. There are also affiliate links in this post.