If you're reading this post, that means you've already made up your mind about one thing for your trip to Iceland: you want to rent a camper van. You're now at the stage of deciding which camper van rental company to go with because there are a handful in Iceland all with great reviews and fairly competitive prices.
So in this post, I'm going to give you our review of Kuku Campers, the biggest camper van company in Iceland.
Kuku Campers Review
For our 1 week trip at the end of September, we rented a Category AA automatic new camper van that fits 3 passengers with a heater.
Our itinerary was to drive the South of Iceland and our camper van, which we nicknamed JJ was great, especially for our first time in Iceland. He got us to where we wanted to go and was our home for a week. You can check our South Iceland 1 week itinerary for ideas.
Our Experience

I selected airport pick up since their office is not a the airport, it's about 30 minutes away. Though we landed at 8:15 AM, they were not coming until 9 AM so that they could pick up other passengers. After we arrived to their office, they explained to us very clearly all the instructions for the car, helped us with adding extras to our reservations and went with us to do the car check.
Our car wasn't ready right away so we only to wait an extra 15 or 20 minutes for it to be finished. We completed the paperwork, grabbed a couple items from the free stuff section and went on our way.
Tip: Make sure to mark everything on the sheet when checking the car and I mean everything. Ours had a couple of dings and small scratches on it and we made sure they were all marked (or else we would've been penalized for it).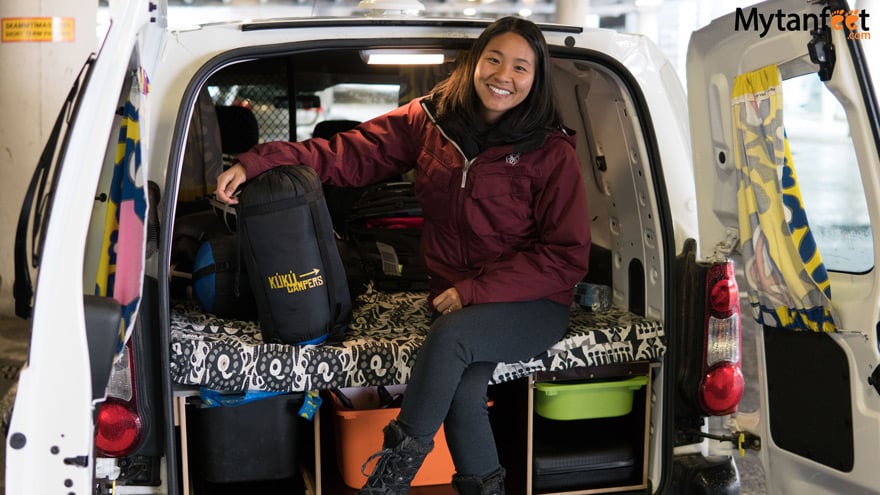 Our camper
The camper came equipped with a portable stove and utensils, cleaning supplies and pots/pans. There is a pull down wooden table and you can also lift up the mattresses to use the wooden table underneath as well. However we didn't use either of those as we always cooked in the campsite dining hall. For us, the camper van was not too comfortable for cooking and we only did it once.
We got a little freaked out the first night from the heater which made an unusually loud clunk noise every two seconds. It even smoked and smelled a bit when we first turned it on! Turns out that this was normal – I really wish they had told us this was normal because we got scared and turned it off our first night! So when you check the car, ask them to check the heater and know that the "clunk clunk" sound is normal. It's pretty annoying at first but you get used to it.
If anything happens to the camper and you need to get something checked out or fixed, the company does have a network of garages around the country that you can take the car to. But for things like flat tires or small things, you need to figure it out yourself.
What we thought
We had a blast in our camper, our JJ. The freedom of going wherever we wanted to, drive as far as we wanted to that day and not be tied to hotel reservations was awesome. The camper was perfect for the ring road and for all our stops. We also made it to places like Bruarfoss Waterfall and up the hill of Dyrhólaey.
Though wild camping isn't allowed in Iceland anymore, you can find some pretty sweet camp sites that still allow you to get that jealousy inducing Instagram camping photo you've been wanting to get.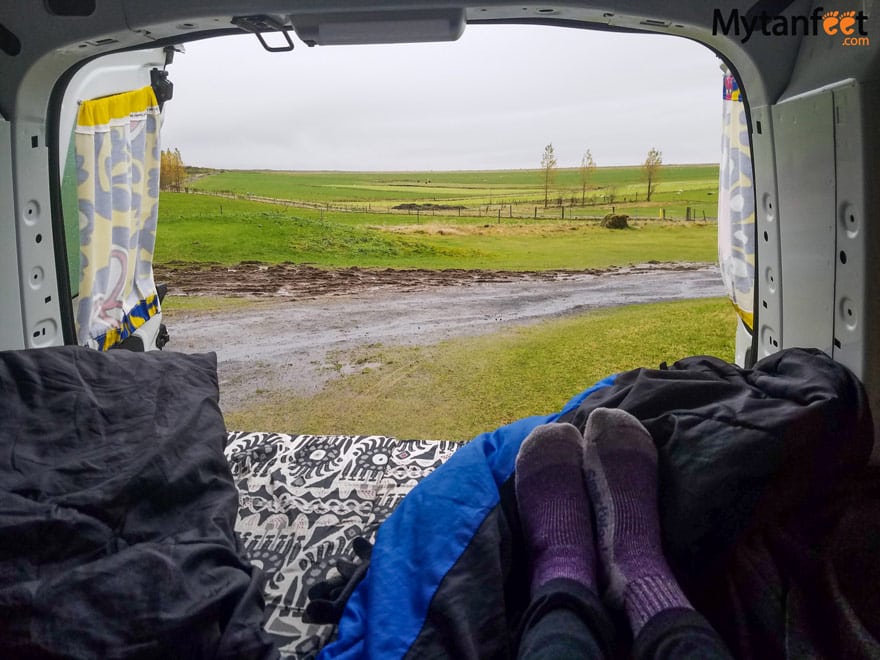 Surprisingly it was pretty comfortable in the camper van for sleeping. Yeison is around 190 cm (6'2/3) and he fit comfortably next to me. I'm so glad we got a sleeping bag!
I will say that if you were bringing big pieces of luggage, it'll be a lot more uncomfortable. At night, we threw our backpacks and carry ons in the front seat but if you had big check ins, it may not really fit well in the front. So keep that in mind because even though it'll fit in the back, the front is not as big in the type of van we had.
Here are some of the places we went to with JJ.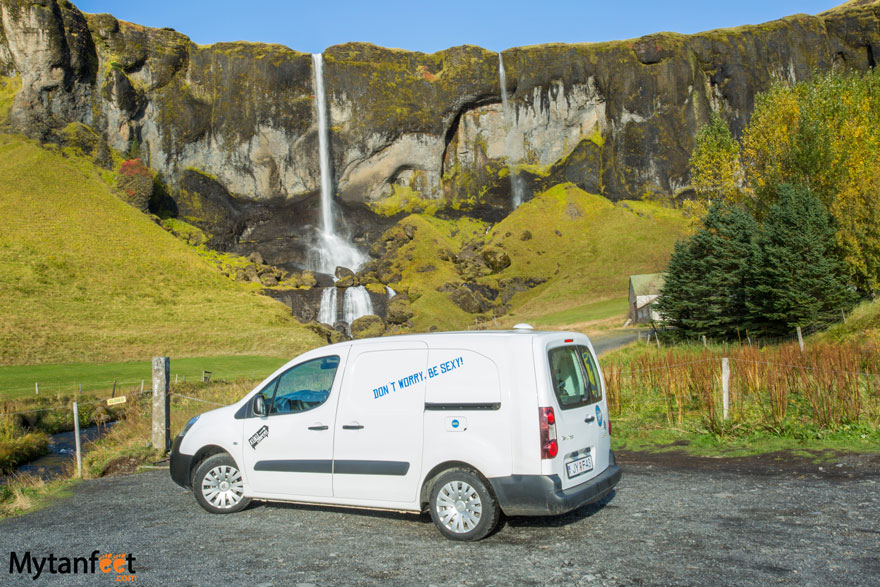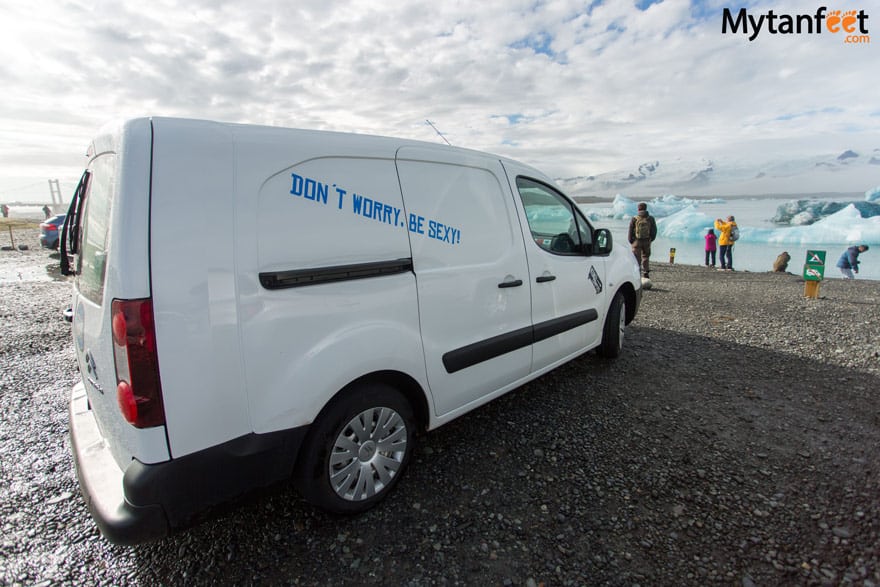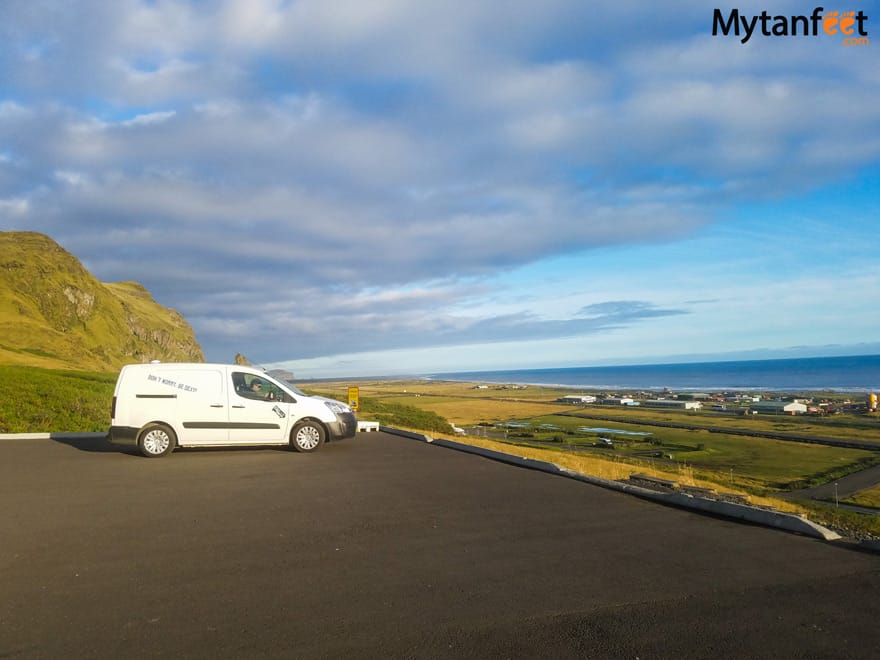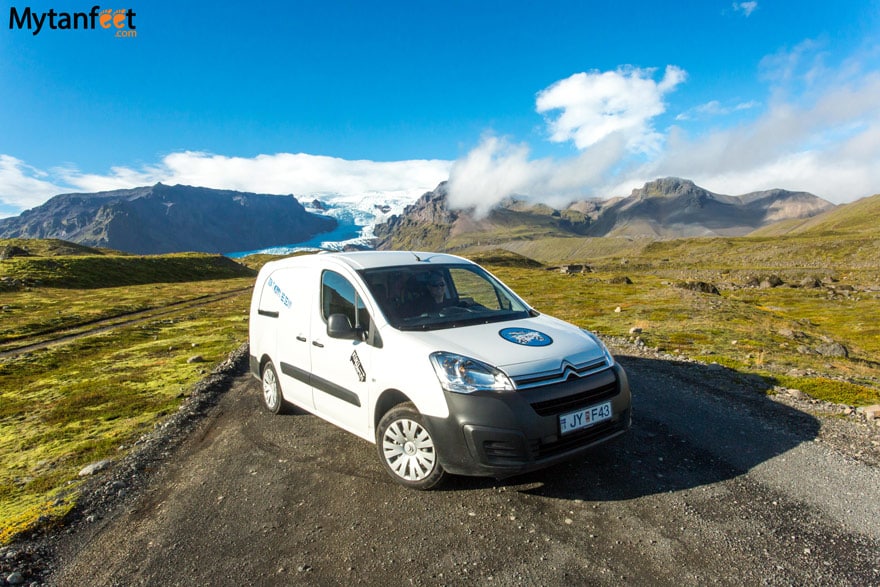 Overall, we had a great time and we would rent with them again. We actually are planning to go back summer 2019 and we know we'll go with Kuku Campers again!
FAQ
I know you have the same questions I had when I first did my research so here are the answers.
Why did you rent with Kuku Campers?
We decided to go with them because first, I already had a friend who rented from them last year and she had a great experience so I was set on them before any other company.
Second, they have the largest fleet in Iceland and a bigger variety of cars. Initially we wanted to rent a 4×4 or the Suzuki Jimny with a tent but we decided against doing any off roading since we only had a week. Third, their customer service is great. They answered my emails quickly and were so nice.
Also have you seen their marketing videos? They are hilarious and that style is totally up our alley.
How much did it cost?
For our automatic camper van with a heater, it was 129 euros per day for a 7 day rental for the end of September. Then we opted to get extras like 2 sleeping bags, 2 blankets, 2 pillows and 2 large gas canisters. We also requested airport pick up, airport drop off and the full insurance package. Total, we paid around 1200 euros and for full disclosure, we got 25% off the rental cost in exchange for this post.
It's not cheap to rent a camper van or car in Iceland and they have some hefty charges such as the airport pick up (60 euro!) and airport drop off (100 euro!) when other rental agencies had free airport pick up. They do have more extras and doesn't charge for extra drivers and the full insurance package was a bit cheaper though.
They also run some competitions on their Facebook and if you win, you can win a refund. Recently they ran a video contest and the winner got a 300 euro refund which is cool.
You can read how much it cost to travel in Iceland for one week in this post.
Why did you book that particular camper van (and not a 4×4)?

We were in Iceland September 24 – October 1st so a heater was necessary since the temperatures got very cold at night. Even though it was end of summer/beginning of fall, I was expecting rain and wind so I wanted to make sure we were warm enough.
Automatic cars are more expensive in Iceland and even though Yeison drives a manual very well, there were none available for our dates unfortunately. I booked it end of June so I did it only 3 months out. Plus the manual didn't come with a heater.
Since we only had a week, we decided not to go on any F roads and stick to the ring road. That meant we didn't need a 4×4.
What extras should I get?
If you're visiting the same time as us in fall, I highly recommend a car with a heater, small gas canisters (we didn't even use up one full one and we cooked all our dinners) and a sleeping bag. If you can bring them in your luggage, I recommend bringing your own pillows (the ones they provided were tiny and not very comfortable). With the heater, I actually felt the blanket wasn't necessary, the sleeping bag was warm enough.
I also recommend getting the full insurance or combining their insurance with your own if your credit card offers it. They seriously aren't joking about how strong the winds are and I could tell that the passenger door of our car already had an accident. No insurance covers a ripped off car door but you can be protected from gravel, sand and ash among other things.
If you can fit it in your budget and don't plan to get an Icelandic pre-paid sim card, get the Wi-Fi hot spot. Signal in Iceland is surprisingly very good and many campsites have their own Wi-Fi but only in the office. Being connected will be super nice so you can have access to email and GPS. If you rent a Wi-Fi hot spot, I don't really think you need a separate GPS because then you can use Waze or Google Maps. Read about what are the best apps for Iceland in this post.
We saw some people rent a cooler which is useful if you want to bring food like vegetables and meat. Then you can have a more well rounded meal when you cook rather than buying just non-perishables. I wish I had got this one!
And then bring other essential items like a microfiber towel (they charge for those at campsites and hot springs), flashlights and a car charger. Those are useful anyways so better (and cheaper) to buy them instead of rent.
You can read our Iceland fall packing list for more recommendations.
For more information on Kuku Campers, check out their website!
We were given a media discount in exchange for this review. All thoughts and opinions are our own.