When I was planning our Europe trip and I saw cheap tickets to Iceland from Manchester, I knew it was our opportunity to discover the Land of Fire and Ice. Airplane tickets to Iceland are extremely cheap ($300 round trip from US cities!) but the country itself is not cheap so don't be fooled by the initial price tag. You need to be careful with your budget because things cost considerably more.
We spent one week in Iceland and decided to do it by camper van instead of renting a car and staying in hotels. We chose to do this because hotels are very expensive and we wanted the freedom of a camper van so we could experience the Icelandic wilderness. If you're planning a similar trip to us, check out our Iceland travel expenses breakdown to give you an idea of how much you'll spend.
*1 USD is about 106 Islandic Krona.* Prices are quoted in USD.

How Much it Costs to Travel in Iceland for One Week
We visited at the end of September, the shoulder season. Prices are a tad bit cheaper during this time and in winter so if you're visiting during summer, expect to pay much more since that is their high season.
Our Itinerary
We were only able to drive to Jökulsárlón. Unfortunately the road to Hofn (east coast) closed due to flooding and we had to turn around. So we spent 5 days in the Golden Circle and South and 2 days in Reykjavik. This is our itinerary and our costs to travel in Iceland for one week by camper van.
Day 1: Fly in, Golden Circle Airbnb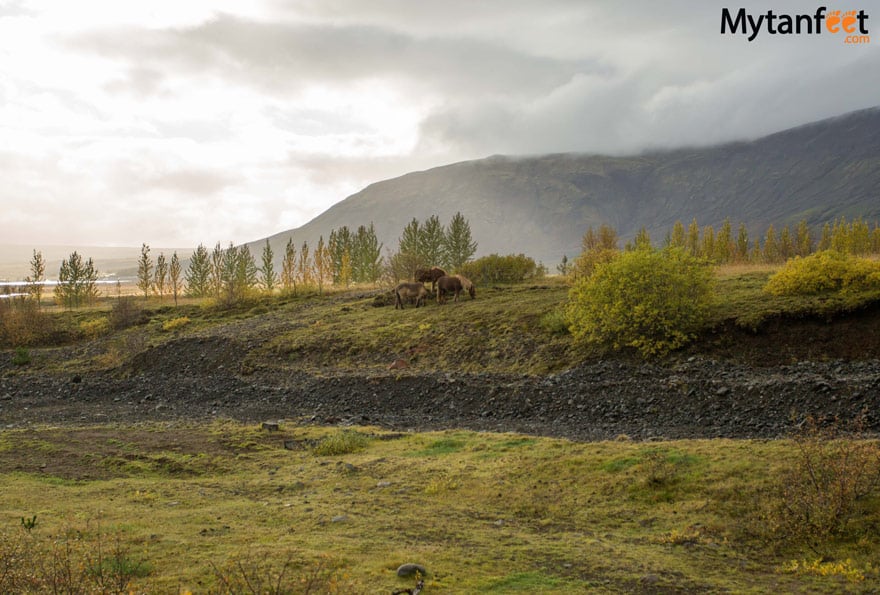 Airfare
We flew in from Manchester to REF Airport on EasyJet for $140.63 for two people. This ticket includes one check in for each of us. This was a pretty short flight, only a couple hours long.
Camper Van
I booked an automatic 2 person camper van + heater from Kuku Camper Van rental which was 129 euros per day (we got 25% off for a media visit for full disclosure). Then we got a bunch of extras like pillows, blankets, full insurance, gas canisters and sleeping bags. The total cost came out to be 1192.25 euros ($1385.33)
Airbnb
Even though we had a camper van, I decided to book a last minute Airbnb (get $40 credit here) for our first night. I picked an Airbnb near the Thingvellir National Park so we could get an early start the next day on the Golden Circle and freshen up for our trip.
The Airbnb cost $200.71.
Grocery shopping
We went to Bonus the discount supermarket before we left Reykjavik to stock up on supplies. I read that supermarkets get more expensive the further out you go and that is correct so we bought a ton of pasta, tuna, bread, peanut butter, crackers, chips, soups and rice. We spent around $70 total.
Sim Card
Yeison bought a 10 gb pre-paid sim card for $30.
Day 2: Golden Circle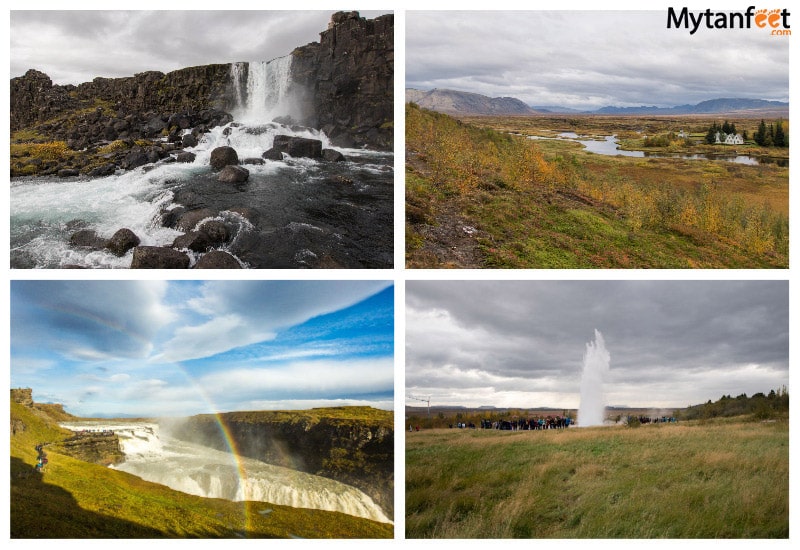 Thingvellir National Park
There is no entrance fee to the national park but parking costs 500 ISK ($4.85) per car and bathrooms were 200 ISK ($1.88) each.
Strokkur (Geysir)
There is no entrance or parking fee but we spent $10 on coffee and ice cream at the cafe.
Hella
We spent the night at ARHUS campsite in Hella. It cost 1500 ISK ($14) each person for a camper van.
Day 3: Vik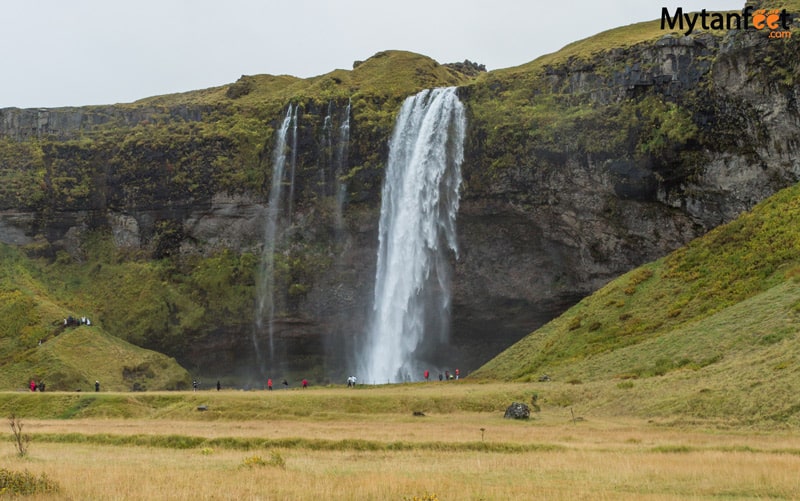 Seljalandsfoss
The waterfall has a 700 ISK ($6.49) parking fee.
Vik Campsite
The Vik campsite was 1500 ISK ($14) per person and 200 krona ($1.88) per person for a shower.
Day 4: Svinafell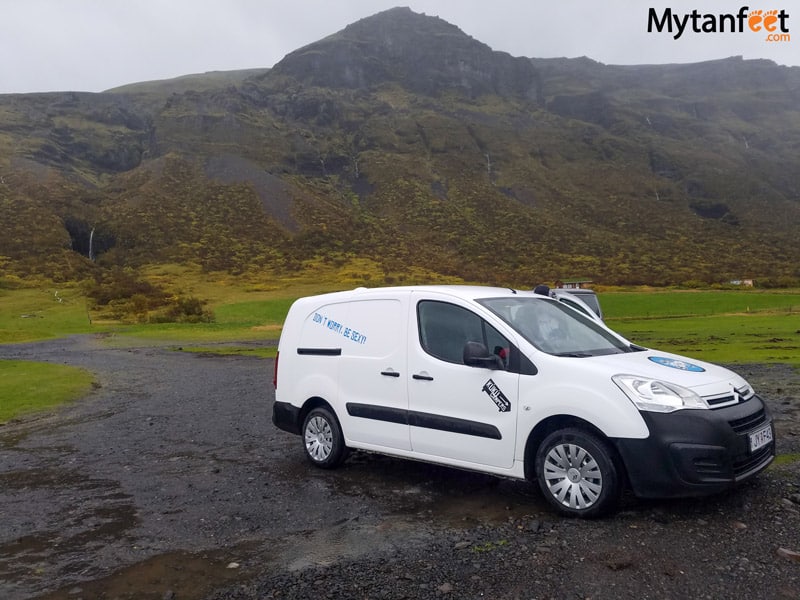 Svinafell campsite
1500 ISK ($14) per person for the campsite.
We didn't visit any attractions with entrance fees that day.
Day 5: Jökulsárlón – Reykjavik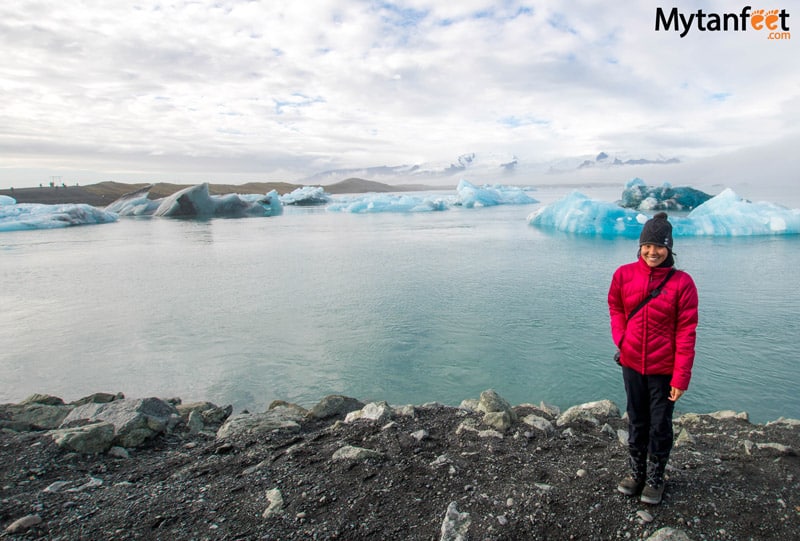 Skaftafell National Park
There is a 600 ISK ($5.49) parking fee at this national park.
Reykjavik campsite
It was 2200 ISK ($20.68) per person for 1-2 nights and we did laundry. Wash and dry were 700 ISK ($6.58) each.
Day 6: Reykjavik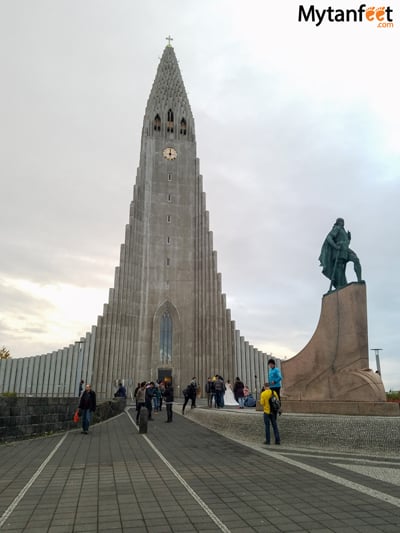 Airbnb
We stayed at an Airbnb for our last night. It was a hostel style guest house and cost $102.01.
Blue Lagoon
We went to Blue Lagoon and paid 16000 ISK ($150) for two people, standard experience. We also bought some sandwiches and snacks for $15 and I bought a face wash for $49. It was an expensive last day in Iceland!
Food
We wanted to try Icelandic hot dogs so we got a few. They're pretty cheap around 300 KS per hot dog ($2.50). We also ate at Subway once which was shockingly expensive. It was $30 for 2 sandwiches!
Day 7: Fly out
Gas
We drove around 1000 kilometers in Iceland and spent around $200. Even though we used our heater every night, our camper van was diesel which helped immensely because gas is expensive in Iceland. It was around $1.77 per liter for diesel when we visited.
Airfare
We flew to Dublin, Ireland on WOW air for $379.96.WOW Air no longer is in operation.

Overall Costs
Total, we spent right at $3,000 for one week, two people including airfare, food, campervan rental and everything else. We didn't actually do too bad but for us, it was not the cheapest vacation. It was worth every penny though! We managed to cut costs on food and tours since we didn't eat out and didn't do any tours but we did splurge on Blue Lagoon and the Airbnbs.
There were definitely some things we didn't need to spend money on like our splurges and the occasional sandwich, cookie or coffee. Those add up really quickly, even if it's just or two every other day because it was $5 there, $10 here. We didn't buy any souvenirs, not because of the price but because we didn't have any rooms in our carry ons.
Tips for Saving Money for Iceland
These are some of our personal observations and experiences when it came to spending and saving money in Iceland.
Don't eat out. We checked prices of some restaurants in Vik and Reykjavik and it would have cost us at least $15 per person each meal, way more for a fancy place. Shopping at Bonus the supermarket and cooking our own food saved us SO much money.
Bring a water bottle. Icelandic water is seriously the freshest and cleanest in the world so why buy bottled water and waste plastic? Bring a water bottle and fill up for free instead. We brought several folding water bags. You can read our full Iceland fall packing list here.
Bring a blanket, pillow and towel if you're camping. Camper van companies and campsites charge for these items. Bring your own (and they'll be a lot nicer than the ones they provide)
Skip the alcohol. Alcohol is insanely expensive in Iceland and if you want to drink, buy it at the duty free where it's normal price. We visited a liquor store in Reykjavik and a bottle of Smirnoff Vodka was around $70!
Visit during winter or shoulder season. Prices for cars and hotels are considerably cheaper.
Wild camping is no longer allowed in Iceland. I totally understand why and when you stay at a campsite, you are using their showers, bathrooms and facilities.
When it comes down to it, Iceland is an expensive country to visit no matter how you spin it. There's no way to get around some of the necessities unless you hitchhiked, ate nothing but granola bars and wild camped the entire time. We've learned through our many travels that it's OK to splurge on that hotel, restaurant or tour because realistically, you will probably not go back to that country. So why not make the most out of it and experience as much as you can, even if it costs a bit more. Life is all about making memories right? And boy, did we make some incredible memories in Iceland.
You can read our entire experience of South Iceland in one week by camper van.