For our Iceland trip, I researched and downloaded a bunch of apps to help guide us when we were there. Apps have contributed much to the way we travel nowadays and you can find loads of information from them without ever having to buy a heavy guide book. Since we were doing Iceland in a camper van and it was our first time there, I wanted to make sure we saw as much as possible and had a safe and stress free time.
I must have downloaded nearly every app out there for Iceland and here are the best Iceland apps I found.
Best Iceland Apps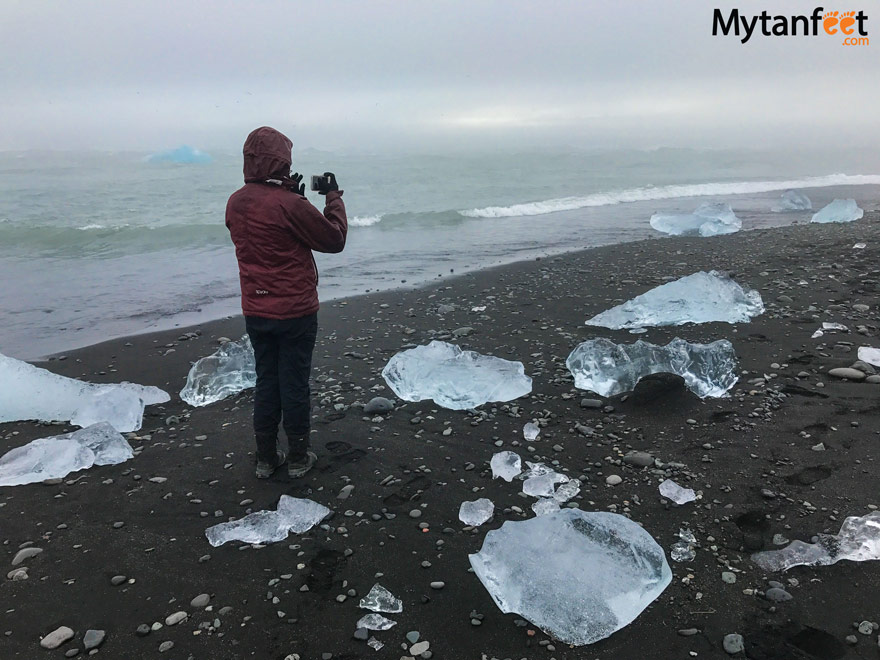 112 Iceland
112 Iceland is strictly for emergencies. It sends a text to 112 (Iceland emergency) with GPS location before making the call. You can also check in which sends your location to the emergency authorities.
Restaurant Guide
Iceland Restaurant Guide is a super easy to use app that lists the restaurants, bars and cafes in mostly Reykjavik and Iceland. Each listing has a description, location and contact number and connects to Google Maps to give directions. One of the best apps for traveling in Iceland in my opinion because it can be hard to find information on good restaurants in Iceland and what to eat. You can even create a user or login with Facebook to see what restaurants other people like.
Waze
Between Google Maps and Waze, Waze was the clear winner. Google Maps couldn't even get us to the Reykjavik campsite!
Waze has user generated content so it was extremely accurate for all the places we wanted to go to, people even titled them "Brúarfoss parking lot" and we could also easily find camp sites and gas stations.
We stuck to the Golden Circle and South of Iceland so I can't imagine it's as accurate if you want to go off-roading but for main attractions on the Golden Circle, Reykjavik and Ring Road, it was perfect. Best GPS app for Iceland!
Instagram
I love Instagram but I also use it for more than just wasting time. I actually used it a lot for checking weather conditions of where we were going next. I also used it for chasing the Northern Lights since you can see what people are posting in real time and they usually put the location.
That is how I found out that a lot of people were seeing the Northern Lights around Reykjavik, it was super cloudy at Diamond Beach and that it was raining a lot by Hofn. What I did was check the location for Iceland or whatever town/natural attraction I wanted to see, watch the stories and browse through the photos. The Instagram stories were super helpful!
Aurora Forecast
If you want to see the Northern Lights on your own, download this Iceland Aurora app. It gives you the percent chance of seeing them at your location and where the best places in Iceland are to see them at the moment. I used this app exclusively to chase the Northern Lights.
We parked by Skogafoss, waited until around 9 PM and checked the app. The app said we had a 60% to see them if we went east so we started driving east back towards Seljalandsfoss and saw them on the way. It was an incredible experience that we would never have been able to have if it wasn't for this app!
Iceland Weather Guide
This app was way more accurate than Accuweather or weather.com, Accuweather just gave me rain every day. The Iceland Weather Guide app has high and low temperatures, humidity, wind speed, sunrise and sunset and cloud cover. Knowing the sunrise and sunset was really helpful as it helped us plan our day accordingly, especially since we were there in September and days were getting shorter every day. Of all the weather apps I've used, this was the best weather app for Iceland I found.
Map of Iceland Offline
Service in Iceland is surprisingly very good. My TMobile crapped out on my when we left Reykjavik but Yeison bought a Siminn sim card and the data was very fast and we had service pretty much everywhere on the Ring Road and Golden Circle. However, I still downloaded maps of Iceland offline just in case we ran into somewhere we didn't have service.
This one was one of the best Iceland offline map apps but honestly, I highly recommend getting a physical map. We ended up using the physical map way more, especially to save battery on our cell phones.
Activity Guide
If you're looking for activities near you, the Iceland Activity guide is the best. It's made by the same company that created the restaurant guide app so it has the same easy to use interface. They also have a museum and design guide but for the activities app, this is the best one I used. It lists all the activities near you with a description, contact information and map.
Check out our other posts about Iceland here!
1 week Iceland travel expenses