It'll be my one year anniversary since moving to Costa Rica next month and looking back, I feel like a whole new person. Life is always different in a new country, even the littlest things you never noticed before and it does take some time to get used to.
It's not just about culture shock, it's just about normal daily living. So as a fun way to look back at my first year in Costa Rica, here are some things I had to get used to living in Costa Rica.
Things I had to get used to living in Costa Rica
1. Showering with cold water
In the states, I lived in a very cold part of the country so hot water was a must unless you wanted to lose some toes. Here at the beach, it's so hot that we shut off the hot power breaker completely and we race to take a cold shower to cool us off.
2. Hearing creatures at all hours of the day
The only thing I ever heard at night before was cats and my dog barely barked. But in Costa Rica, it's incredibly common to hear geckos chirping, roosters crowing morning, afternoon and night, and monkeys. We have a troop of howlers living in the tree outside our apartment and the male is loud (they are the loudest land animal).
When it rains, he howls. When the dog barks, he howls. When he wants to, he howls. Not to mention the birds, birds chirping at 3 AM, birds chirping all afternoon. Yup, Costa Rica is a jungle. Talk about being as close to the wildlife as you can get!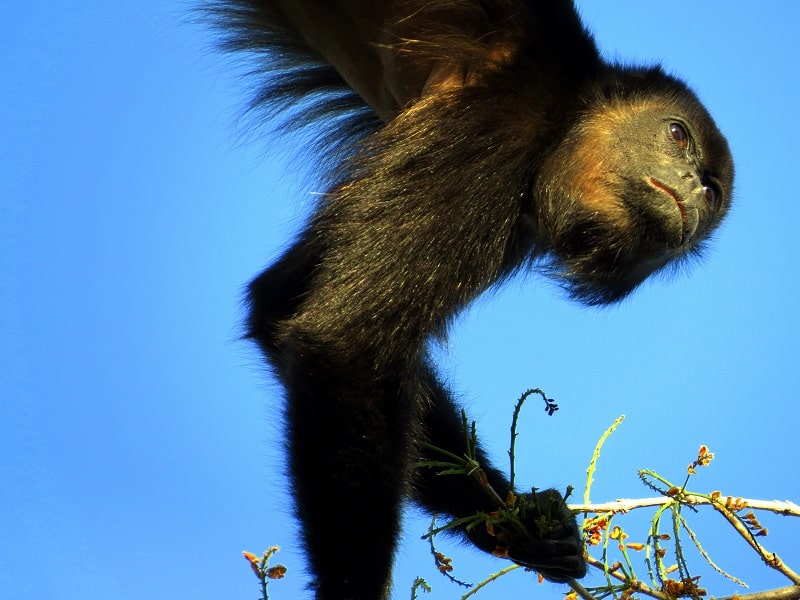 3. Having creatures in my house
I never was really scared of spiders or insects but I'm not a huge fan of them in my house. Here, I'm used to seeing all sorts of creepy crawleys chilling in my living room and instead of killing them, I just throw them outside.
I've had plenty of sugar ants, geckos, spiders of all kinds, moths, those giant beetles that always flip on their back and die, centipedes, ladybugs, and the worst, scorpions. It's too tiring to always scream "Oh my god!" every time I see a bug because I'd be screaming all day so now I'm just like "Eh, I'll take you outside later."
One insect I'm not that nice to? Cockroaches. If you're a cockroach in my house, sorry you're not in luck!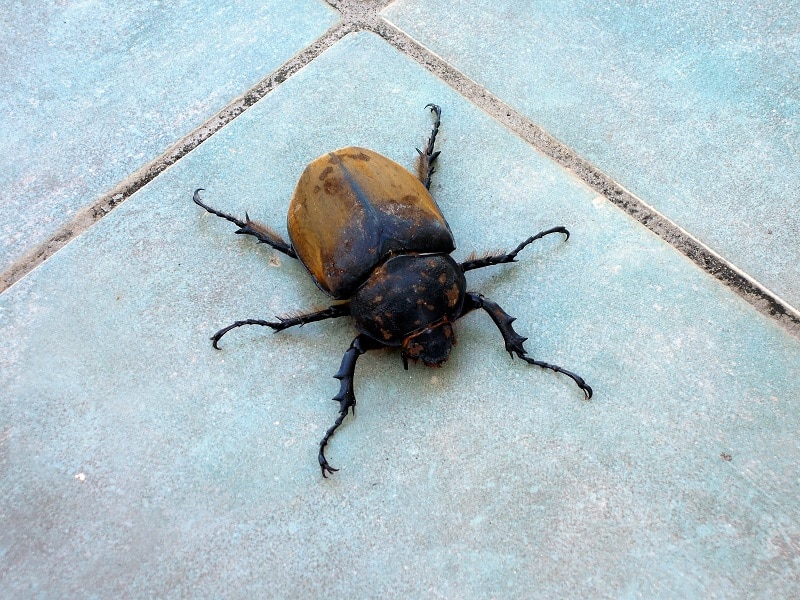 4. The driving
Actually, the driving here isn't as bad as some other countries I've been to but for someone from the states who is used to driving inside the lines, using blinkers and yielding, it can be a real shocker. Ticos love to drive fast and they'll pass you at any chance they get.
Yeison does pretty much all the driving since he grew up driving in San Jose (he is a very safe driver) but even at a small beach town, it takes some practice to swerve between bulls, chickens, bikes, dogs and people who like to meander in the middle of the road.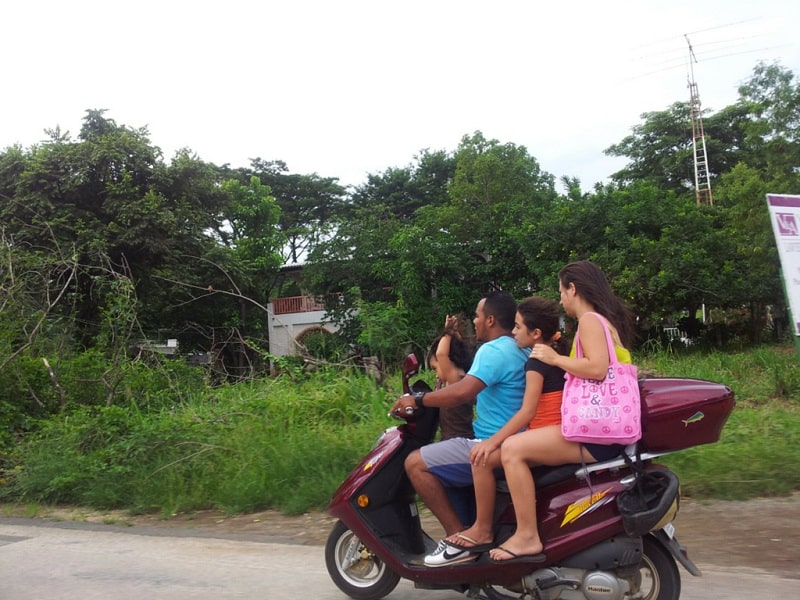 5. Not always sure if there is water/power
Even this morning as I write my post, we are low on water and the power has been flickering. It's become normal to wake up in the morning, check the faucets and notice that the power turned off in the middle of the night. We always have plenty of flashlights and an extra bottle of water just in case.
When it rains really hard, we always expect the electricity to go out. Hey, it's Costa Rica and in Coco it rains like 3 months of the year. It happens and if you live here, you just gotta learn how to deal with it.
6. 8 digit phone numbers
This one isn't that big of a deal but it did throw me off the first time I was here. The first few times people gave me their numbers I ended up losing it because I thought I made a mistake and added an extra number.
Oh how ignorant I was. So if someone from Central America gives you a 8 digit number, it's correct. They also don't have zip codes, just country codes.
7. Going from surrounded by Asians, to being the only one
Growing up in Washington and attending UW meant that I was one of many – 30% of the undergrad population was Asian. In truth, I have more Asian friends and I barely grew up white-washed so to come to Coco where I am one of two Asians (the other is my Filipino friend) was a big change for me.
All the locals recognize me super easily, call me "chinita" and stare. But hey, I'm used to it now. Technically I'm one of two and a half – Yeison is half Korean after all.
8. Never sleeping in
I love to sleep. My friends used to tease me all the time about sleeping in so late but here, I'm up by 7AM, even on the weekends. The sun is bright and rises early so it's kind of impossible to sleep with all that light shining in your face. We used to get up around 530 to walk so waking up at 8AM is like majorly sleeping in for us.
I also had to get used to the same sunrise and sunset every single day. Growing up in a place where we had four very distinct seasons, I was used to changes every few months. It was an adjustment getting used to it being dark by 6 pm every day!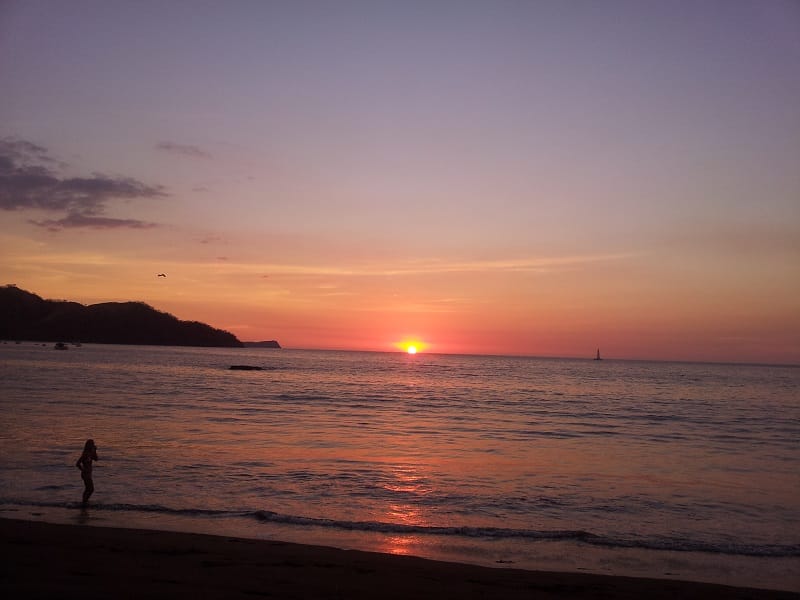 9. Laundry
In the States, I used a washer and dryer and only hung a few of my clothes inside. In Costa Rica, using a dryer is fairly expensive and so everybody hangs their clothes. We hang our clothes outside since we don't have a designated laundry room in our apartment and it's just more eco-friendly to do so.
During rainy season, I try to gauge whether it'll stay sunny enough to dry and if I hear thunder, I'm running outside to bring in our clothes.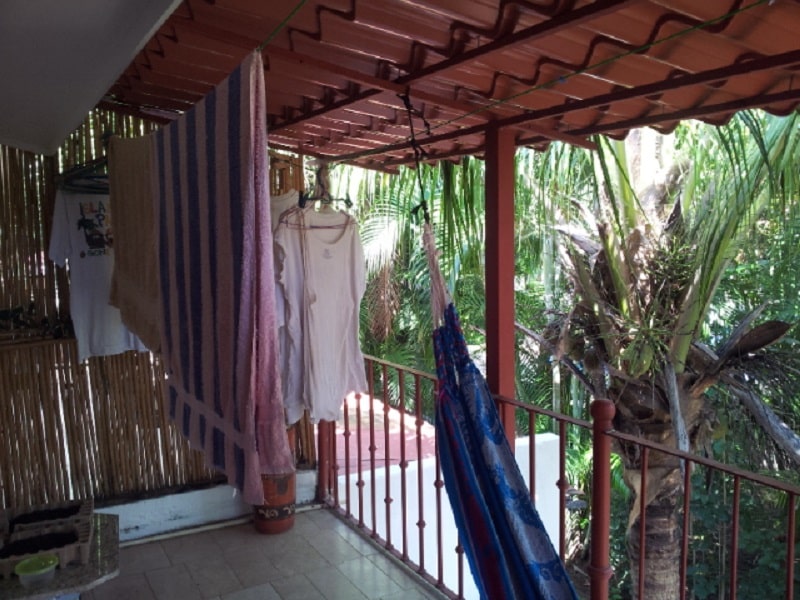 10. Leaving doors and windows open
Our apartment gets pretty hot and humid so we have all the windows and doors open during the day. Also the landlord never installed screens on the door so we had to construct our own to keep the bugs out.
Although it's not as safe anymore, we used to sleep with the window open as well but now we just use fans. Back in the States, it was too cold to open the windows and only did for the few times it was very hot during the summer.
11. Addresses
Back in the States we have this lovely address system where each house has a house number, each street has a street name, and names for neighborhoods.
For example, the address for the new Facebook corporate office is 1601 Willow Road, Menlo Park, CA 94205.
In Costa Rica, they haven't quite developed this system yet so if you're looking for the bus station, the address will be something like this. 50 km east of the old green church, 20 km west of the yellow supermarket, on the corner between Treehouse Apartments and the gas station. Not exactly what I was used to before!
I've had a lot of fun adapting to a new culture, meeting all different kinds of people and learning a different way of living. I think living in Costa Rica has taught me a lot, given me a new perspective on life and made me incredibly appreciative of what I have.
Enjoy some more of my expat stories here!
What are some things you had to adapt to for a new life in Costa Rica or anywhere else? Share them in the comments below!