I'm sure you've heard that Costa Rica is an expensive country to travel and live and you heard correctly. In fact it is ranked as the most expensive country in Central America and one of the 6th most expensive in North America and the Caribbean (edged out by the US only by a bit) according to the World Economic Forum.
Despite righteously earning this lovely title, I don't want people to think it's impossible to travel or live in Costa Rica on a budget. Just because there are certain items significantly more expensive doesn't mean that you'll be maxing out your credit card each time you go out, it just means that you have to be more aware.
So I'm going to go over some things cheaper in Costa Rica than the US. This will be helpful to those who are planning to move or live here for a period of time, so they can get a good idea of how much their monthly budget will be and how their money will be distributed. Also helpful to travelers just to get an idea of what prices are like.
If you're curious to see what's more expensive, here's my post on 6 things more expensive in Costa Rica.
All prices are written in USD to make it easier.
9 Things Cheaper in Costa Rica Than the US
Coffee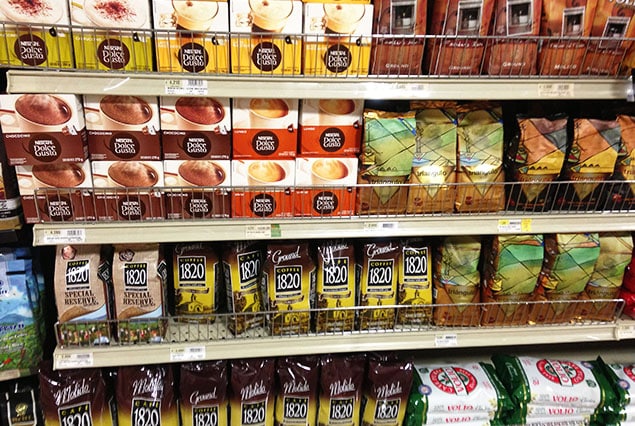 It helps that Costa Rica produces only high quality Arabica coffee so the price of a 12 ounce bag isn't very expensive. Our favorite, 1820 is less than $3 per 12 ounce bag and even the most expensive brand, Cafe Britt and other specialty brands run on average $8-$10 a bag.
Beer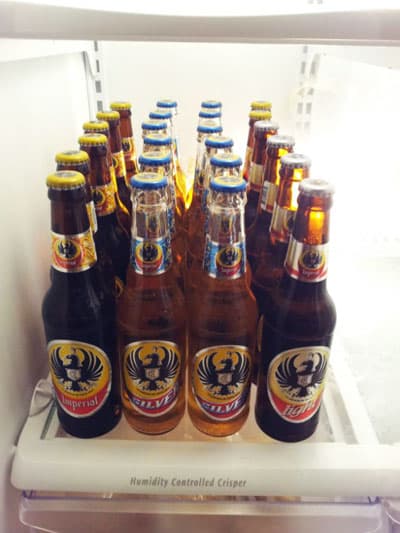 We went out with some friends in Seattle once and Yeison nearly stopped drinking for the rest of our time in Washington when he saw how much his beer cost. He had never paid $10 (or even $5) for one beer before so it was quite the shocker for him.
This is one of the things my friends and family love about visiting me in Costa Rica – how cheap the beer is compared to the US. In the US, we're used to paying an arm and a leg for beer and drinks, especially at a bar or fancy restaurant. But in Costa Rica, Yeison would be astounded if a local beer cost more than $3-4 at a bar. It was hilarious to see my friends go crazy over how cheap it was, we'd go to the market and they'd be stocking up on 6 packs with no shame.
Happy hour in Coco is all day long from 11 AM to 7 PM and when we first moved there, beers were less than 1000 colones each (less than $2). Prices have risen slightly the past few years and they are now around 1100 colones during happy hour (~$2). So beer lovers, you have one more thing to look forward to in Costa Rica: cheap beer!
Public transportation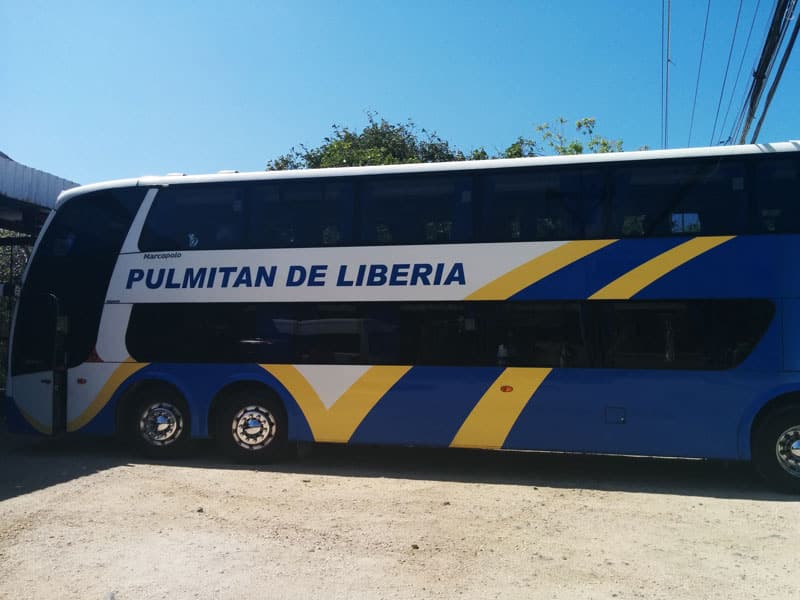 Costa Rica's public transportation may not be the most efficient or have the most coverage, but it sure is cheap. A 297 kilometer (184 miles), 5-6 hour bus ride from San Jose to Playas del Coco costs roughly $9 one way per person.
A 41 mile, 1.5 hour bus ride from Seattle to Lakewood costs $3.50.
I recently visited New Jersey and took the NJ Transit to go to New York City. That 20 mile bus ride cost me $7.50 one way.
Phone plans
An individual plan at AT&T (US carrier) with 2 GB Internet, a new iPhone 6, unlimited talk and text and insurance costs about $110. Yeison pays $60 for a new iPhone 6+, unlimited 4g data, insurance and 1000 minutes with Kolbi.
This is way cheaper and a better value since the US doesn't even allow unlimited data anymore. And we all know data is what really matters – does anyone actually talk on their phone anymore? Everything is Whatsapp or Facebook Messenger!
For me, I unlocked my phone so that I could get a pre-paid sim card and pay my data, talk and text as I go. I spend roughly $25 a month (mostly on data) and the sim card cost me $2. In the US, you can buy a sim card online or from services like H20 Wireless or At&T.
Real Estate
Real estate can go either way since it really depends on where in Costa Rica you are looking. The beach and touristic areas will always be very expensive and if you check out real estate prices, you may be shocked. However, those are gringo prices and it's always the asking price. But on the whole, prices for rent are generally cheaper than the US.
I have seen listings for 2 bedroom, 2 bathroom houses with a beautiful mountain view in Grecia for just $600 a month plus utilities but at the same time, I've seen $1500 a month for a studio in Tamarindo downtown. I've also seen two story houses with 4 bedrooms, a pool and ocean view for $1500 a month in Playa Hermosa.
Beauty Services
I'm used to paying at least $35 for a haircut in the US and around $60 for highlights. In Costa Rica, I paid $35 for a haircut and deep conditioning treatment with keratin. It's cheap for guys too, Yeison gets his hair cut for $6 and they do an excellent job.
As for other beauty services like massages or manicures, I paid $6 for a beautiful manicure in San Jose which for me is pretty cheap. In Coco however (or any touristic destination specifically at the beach), you'll pay a lot more if you go to places that cater towards tourists, like the salon near the Coco beach entrance. I went there with a friend once and paid around $15 for a not so great manicure.
My tip is if you're looking to get any type of beauty service done, ask the locals where they go. Keep in mind that most local places don't speak English so if you don't speak Spanish, you may feel more comfortable going somewhere that's English speaking but it will be more expensive.
Health Care
This is a big reason why you will see so many North American retirees in Costa Rica: the healthcare. The US is too expensive and Canada takes too long so they go to Costa Rica where they can apply for a retired residency card, pay $40 a month and take advantage of the government health care which gives medications and appointments for free.
Private health care is also cheaper than in the US but also keep in mind that there are gringo and local prices. Gringo prices are still cheaper than the US but if you go to a local doctor in non-touristic areas, it's a lot cheaper. You will need to know how to speak Spanish however as English speaking doctors charge more since they cater to tourists and foreigners.
Dental work is also considerably cheaper so you will see that medical tourism is very popular in Costa Rica.
Cigarettes
We don't smoke but you can get a pack of smokes for about $3 at the supermarket in Costa Rica.
Pet services
Getting your dog's teeth cleaned is really expensive in the US – it's at least a few hundred dollars! In Costa Rica, you can get it for much less (around $100 or so) and pet meds cost a lot less too.
Read more posts about living in Costa Rica below.
How Yeison and I live in Costa Rica for under $2000 a month.