In the States, meeting the president is no easy task. You can't just walk up to him at a convention, he's always surrounded by bodyguards, there is always security everywhere to pull you back if you get too close.
It's a damn big deal if you get a picture with him and get to shake his hand.
I grew up in the States so I've always had this mindset that the president is strictly off limits. You'd have to win a special award or something to get a chance to meet him or be one of the few lucky ones taking a tour of the White House during Christmas and he decides to surprise his guests.
It's just not normal.
I've lived in Costa Rica for over a year and the mindset of the people here is completely different when it comes to politics, lifestyle, and family perspectives. When you hear that Costa Ricans are very pura vida, it's so true.
Ticos are probably one of the friendliest people on the planet.
They don't ever want to offend anyone, never want to be on anyone's bad side and even though they can talk a lot of BS, they'll never lash out and they're incredibly forgiving.
Like Yeison says, they talk a lot of blah blah blah but never go any further than that. Their culture is so warm, sweet and loving that you can't help but want to hug and kiss everyone you meet, it rubs off!
So imagine my reaction when we heard on the news that President Laura Chinchilla was coming to Playas del Coco for the inauguration of the new community center.
"That's awesome, is she going to have a ceremony and make a speech?" I asked Yeison.
"No I think she's just here to visit Coco and hang out for a bit," he replied.
"Want to meet her?" He said that so casually as if it was like meeting his cousin.
"How? How will you know where she is or are they going to set up some sort of meet and greet?"
Now Yeison looked at me like I was crazy. "Meet and greet? Uh no, we can just go catch up with her at La Corrida." (La Corrida is their rodeos here)
As we watched the little kids' parade in downtown Coco, I was still thinking that he couldn't be completely right.
I could just walk up to her? This is something unheard of and unspoken of in the States. No way in hell would you just be able to walk up to the President as he's strolling down the street, say what's up and snap a photo. Not without going through a hundred security detectors and guards first, watching your every move.
Plus he probably wouldn't be allowed to just walk down the street by himself in any city!
I remember one time when President Obama was in Seattle. I was downtown with one of my friends and we kept hearing rumors that he was in one particular building eating lunch where we were. Intrigued, we ended up staying there for almost 2 hours, hoping to catch a glimpse. Instead, all we saw were big guys in black uniforms pointing guns everywhere and speculated that they did that just to throw us off so nobody could find out where he actually was.
Meeting the President of Costa Rica
As we walked to the rodeo towards Playa Ocotal, Yeison went up to the police officers standing around and asked when the president was coming. Around 6 they told us and that she'd be here just for an hour or so, coming with a couple friends so watch out for a line of a few SUVs.
As Yeison reported this information back to me, my disbelief just grew. The police officers just casually told him where, when, how long, what kind of car and who she was coming with as if it was no big deal.
A SUV? Not a bullet proof, radio wave proof limousine with three other getaway cars? They must be joking. There wasn't even any security around. Granted, Costa Rica doesn't have an army but I could count the number of police officers on two hands, there were no blockades or barricades, no metal detectors.
The couple of officers standing at the entrance of the road were just drinking some Coca Cola, nodding their head saying pura vida to everyone who came by. Nobody checked my purse, nobody was patted down and we kept our water bottles.
The sun went down and night time started falling upon us. Soon after we saw a couple of blue flashing lights and one officer told us to move from the middle of the road. I counted two officers on motorcycles, five SUVs and two police cars trailing at the end.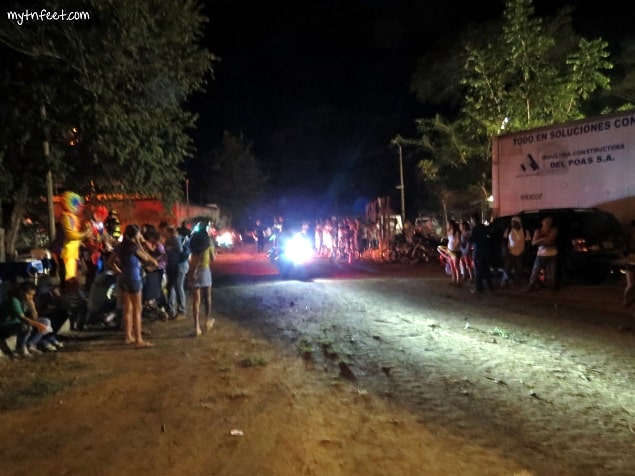 I started getting excited. I never thought I'd meet any sort of president and although I'm not Costa Rican, she is still the president and I couldn't wait to see if I could actually meet her.
I'm pretty sure I was more excited than many of the Ticos there! (She didn't have a very good approval rating during her presidency.)
Thinking of possible ways to approach her, I looked at Yeison to ask him but he was already on the move. Taking my hand, we walked up to the car she was getting out of, greeted her (of course with a pura vida) and asked if it was OK if she could take a picture with me. She looks at me and with a big smile says Si claro!
Standing a couple inches away from her I just smiled back and posed for the photo. "Gracias pura vida!" President Chinchilla said to both of us and shook our hands. Then she went on her way to greet the children performing and the various people who were standing around.
I just met the president of Costa Rica and all I had to do was say pura vida.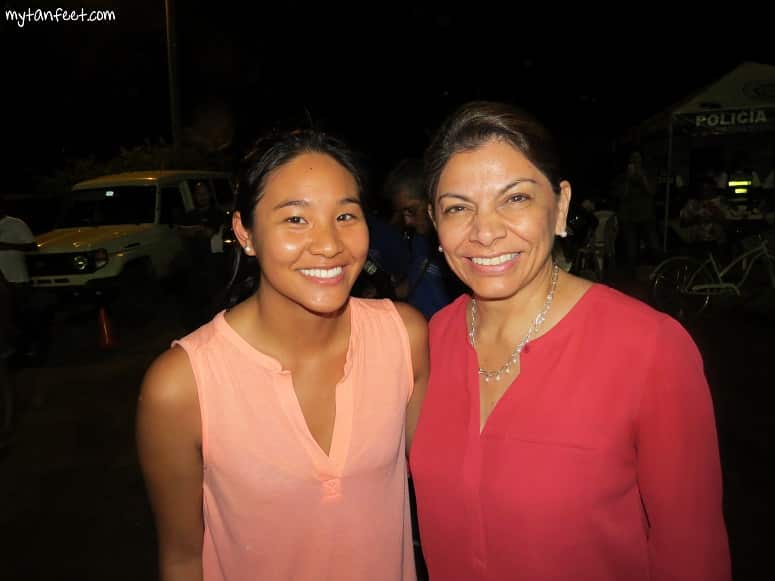 I was dumbstruck. I watched as she shook hands, gave kisses and greeted everybody. Although she hasn't had the biggest approval rating during her term (9%), people still respected her. They're not putting on a show just because she's the president but because Ticos will always respect and show love.
After a few minutes, we wandered into the stadium and took a seat with our friends. I was so proud of myself and couldn't wait to tell my parents.
As they introduced President Chinchilla to the stadium, I was prepared for a speech.
Instead, she just gave a wave and sat down. "No speech?" my Italian friend asked me. "That would never happen in Italy!"
She was just as amazed as I was. Italy was like the States, the president came with huge bodyguards and ton of security and always had to make a big show. Completely and totally opposite of Costa Rica.
One slightly inebriated man who was walking around on the field shouted something and started climbing the stadium towards the president! When he got to the top, he got out his cell phone and asked for her to come take a picture with him which she gladly did.
"What? Nobody is going to arrest him?" my Italian friend exclaimed again. Doesn't look like it. This is exactly what I would expect if somebody climbed the building to reach the president in the States. He'd either get tased or tackled and then arrested.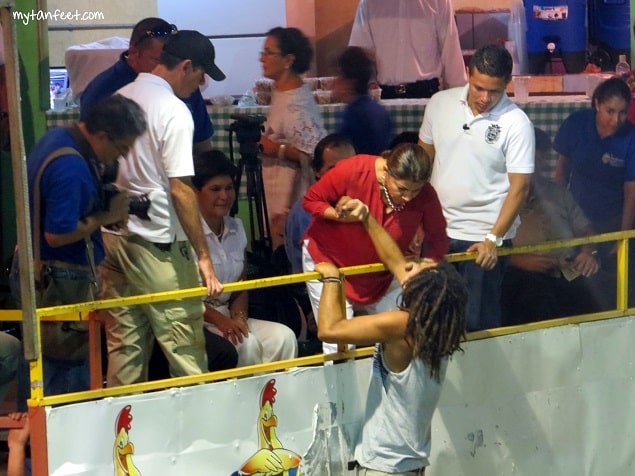 But in Costa Rica, they have no reason to see citizens as a threat. Instead, they help them climb to the top, smile and take a picture with them and let them go on their way. How amazing is that?
The president said a few words after the performance thanking Coco and praising Guanacaste. As the bull riding started, I expected her to leave (but my expectations were all wrong tonight).
Instead, she stayed for the first 7 bulls taking photos and videos, clapping and cheering along with the rest of us. Check out her Twitter account, you'll see all the photos she tweeted from that night!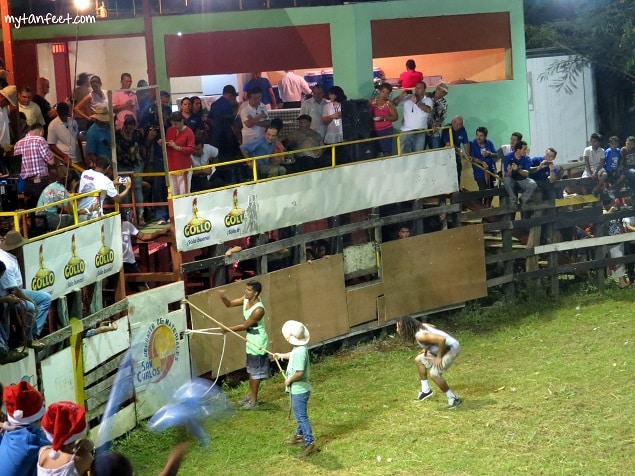 What a surreal experience. Everything I was used to, everything I've seen on TV or heard about on the news when it comes to the president visiting was nothing like what I saw that night. It opened up my eyes to so many differences and a new way of thinking.
They don't see the president as some sort of god or celebrity. She's a person, just like the rest of them and that's their normal way to see it like that.
To be honest, I find it very sad that the main reason why the president of many countries has so much security, body guards, even body doubles is because well, it's dangerous for them to be by themselves. There are people out there who would take that chance to hurt them.
President Laura Chinchilla had no body guards, she just walked up to people, we walked up to her with no problem at all. Nobody stunned us, nobody arrested us. For Yeison, this was so normal for him. Security checks and metal detectors? Unheard of. No attempted assassinations, not even a shoe thrown. Ever.
That's when it hit me. Peace. This is what a peaceful country looks like.
Sure Costa Rica still has their own problems. No country is perfect but how many times have you heard about other countries hating Costa Rica or any terrorist group planning to attack them? Not too many.
How many times have you heard that Costa Rica is one of the happiest places in the world or that Ticos are some of the nicest people ever? Nearly always. Everybody loves Costa Rica! Why else do you think so many expats from all over the world move here to live the pura vida lifestyle?
This was probably one of the most eye opening experiences I've ever had in my life and I think one of the most important.
I'm so incredibly grateful to live in a country where they put important figureheads AND animals on their currency, who hasn't had an army in over 50 years and whose humble people truly know how to be happy and how to love. And where you can just walk up to the president with no problem!
Costa Rica has taught me so much in a short period of time about what the true meaning of happiness is and how to simplify your life. Costa Ricans understand the value of spending quality time, enjoying life and putting stress behind them because in the end, life is short and you'll miss out on so much if you don't learn to appreciate what you already have.
Thanks President Laura Chinchilla for being a cool lady and snapping a photo with me, a young Asian American still finding her way in this world. In the one minute that it took, I learned something so valuable and important that will stick with me for the rest of my life. And thank you to all the Costa Ricans who know how to live life the best they can, you're a tremendous example to all the rest of us who don't have that mindset…yet.