When it comes to alternative lodging options, Costa Rica's list is greatly expanding. Treehouses, hammock hotels and eco-lodges are popping up throughout the country but there is one other alternative lodging accommodation that is getting a lot of attention: glamping.
Glamorous camping, AKA glamping is staying in a tent outfitted with all the amenities one would find in a standard hotel. It's become hugely popular for those who want the adventure and solitude of camping without sacrificing comfort (or getting bugs in your hair). It's camping made easy.
Glamping in Costa Rica allows you to get close to all the wonderful nature and wildlife but leaving out the components of camping: mosquitoes, doing your business in the woods, starting a fire, etc. Not all of us were Boy or Girl Scouts growing up so for those of you who want the experience of camping and not have to learn how to pitch a tent, you will love glamping.
Curious about this luxury camping phenomenon, we went glamping in Costa Rica and it's safe to say that we've been spoiled. Read about our experience!
Glamping in Costa Rica – Our Experience
Our glamping adventure was at Uvita, a small town in the South Pacific of Costa Rica. We found a gorgeous resort up in the mountains called Manoas that has four glamping tents and 3 villas next to a river.
We of course chose the luxury safari tents which were all furnished with a king size bed, coffee table, sofa and a big bathroom. Each one has a connected patio looking into the jungle.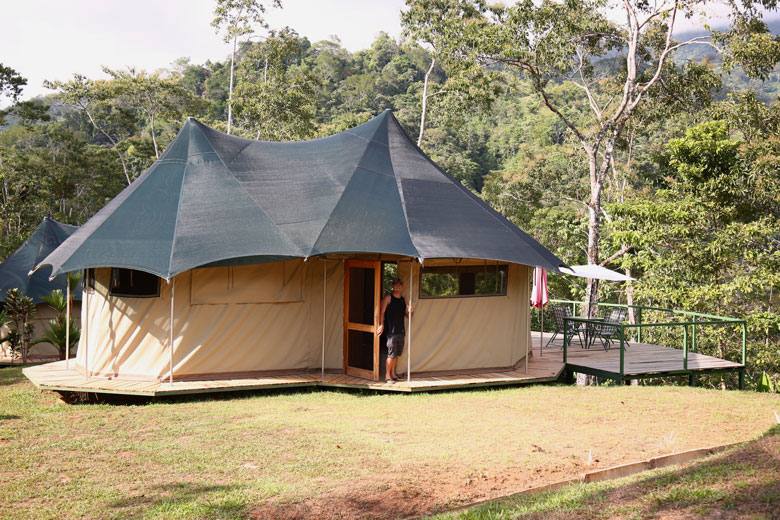 I was pleasantly surprised by how well constructed and how cozy the tents were! I barely felt like I was "camping" which is obviously the whole purpose of glamping. We had electricity, a mini-fridge, drinkable water, hot water and plenty of space.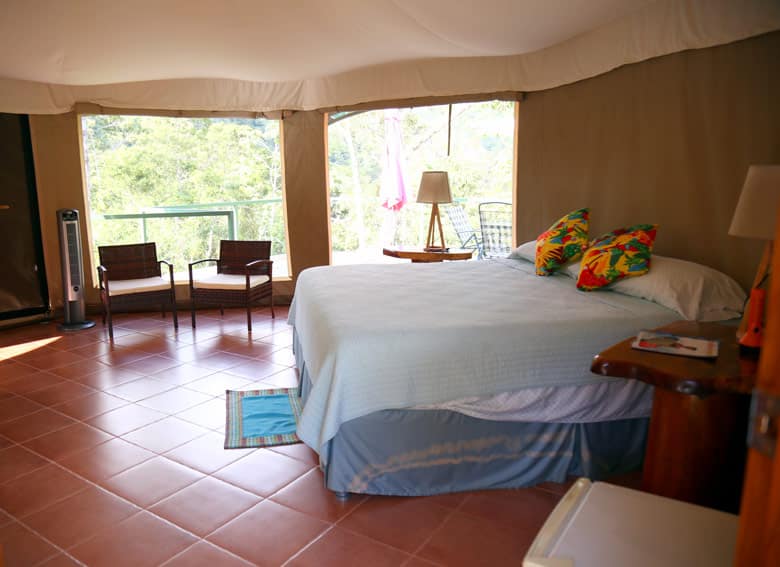 In fact, this luxury tent was more comfortable than many hotels we had stayed in! At night we turned off all the lights, listened to the gentle sway of the trees in the wind and fell asleep to the best music of all: nature.
The tents didn't come with air conditioning which we loved. Instead of dry cold air, we felt the cool breeze flow through our tent as we snuggled in our comfy bed. In the mornings I opened the door and walked ten steps to the patio to watch a myriad of colorful birds fly about our tent.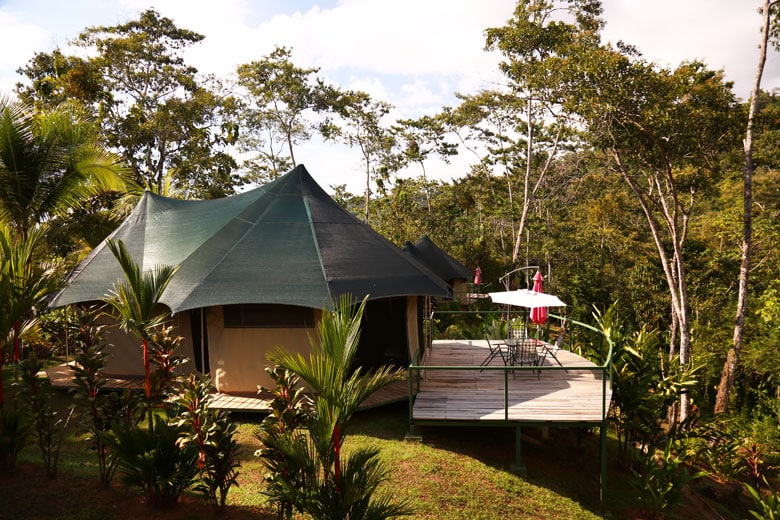 At night we would see the bugs buzzing around the windows but we didn't have to worry about them biting us. Our tent was on its own little hill, but we didn't have to walk around with flashlights at night. Our view was jungle as far as the eye could see, but we felt safe and sound observing it from our deck.
We stayed three nights in our luxury tent and it was 3 of the most peaceful nights we've spent. It was so quiet when the sun went down and we could see so many stars. We truly had it all: luxury, comfort and nature.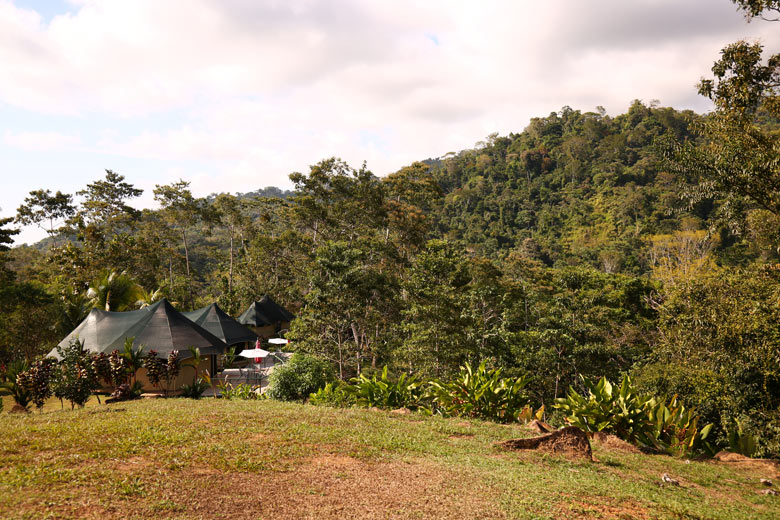 The best part was that we weren't even that far from town- in fact we were just 2 kilometers! (1.2 miles). This was the perfect place for us to experience Uvita. We would go down into town and visit the beaches and national park for a fun day and escape into the mountains to relax and sleep.
Our first time glamping in Costa Rica couldn't have been better – the tent was superb, the view was beautiful and having all the amenities and services was awesome. I truly felt so close to nature as if we were camping but without all the factors of actually camping.
Is glamping for you?
Maybe you're a camping aficionado but are tired of tinkling in the bushes and eating freeze dried spaghetti. Maybe you love the idea of camping but dislike the idea of roughing it with bugs, wild animals and no running water. Hey, no judgement here! Everybody has their own style of travel and there's nothing wrong with knowing what you like and what you don't.
If you're someone who loves the idea of camping but is turned off by the "in the wild" aspect or want to try a new kind of luxury accommodation that isn't an all-inclusive, glamping is definitely for you. Every glamping experience is different and every tent is equipped with different furnishings but the basic idea is the same – you still have all of the services like a bed instead of a sleeping bag, running water instead of water bottles and a shower instead of a bucket.
Nature and wildlife are what Costa Rica is well known for so when you glamp, you can welcome and embrace nature without letting it through your front door.
Where else can you go glamping in Costa Rica
There aren't a whole lot of glamping sites in Costa Rica but the ones that are there are high quality and first-class.
Manoas: You can read our entire experience and our thoughts about Manoas in this article. We also partnered with Manoas so that every Mytanfeet reader gets 10% off their reservation.
Flor Y Bambu: This glamping hotel is in Playa Grande, a surfing beach in Guanacaste. Choose from 2 person or 4 person tents with queen sized bed, hot water, Wi-Fi, a terrace and fridge.
Rafiki Beach Camp: Part of the Rafiki Safari Camp located on the Savegre River 30 kilometers south of Manuel Antonio. They strive to be an adventurous, sustainable wilderness lodge and luxury tent resort and have ten tents of different sizes imported from S. Africa.
Rio Tico Safari Lodge: Located near Ojochal in the South Pacific, they have 9 luxury tents equipped with hot water, private bathrooms, a queen or king size bed and have a private terrace.
A new glamping resort is currently being build in Arenal called the Nayara Tented Resort and it'll be the biggest one with 24 tents. Opening 2017.
Read about other accommodation options in Costa Rica here.
Best hotels in Arenal/La Fortuna