Costa Rica is a fairly young country with less than 200 years, so it isn't exactly the first choice for visitors who are big history buffs, especially as the nature captures most of the spotlight. However, the Central Valley cities hold a great deal of cultural importance as they are where most of the 4.8 million Costa Ricans live and work. Not only that, but those cities were the first ones officially established in the country, therefore this is where one can find colonial architecture and the oldest churches.
Though Costa Rica lacks great city sophistication and distinct infrastructure, their human culture makes up for it. Their many traditions, festivals and celebrations greatly reflect their pura vida approach to life, even still in the city where like other metropolises in the world, are becoming overrun with cars and technology.
For those interested in learning about Tico culture, a tour around Heredia, one of the seven provinces, is an excellent choice. We took a tour through Yeison's hometown to visit the colonial towns of Barva and Heredia, learn about the architecture and experience the daily local life of city Ticos.
Though Costa Rica's culture and history is overshadowed by its fuzzy sloths and beautiful beaches, it is absolutely worth learning about since it plays a crucial part to how Costa Rica became the beloved country it is today.
Heredia Cultural Tour
This tour is offered by Finca Rosa Blanca but you can find other San Jose city tours. On this particular tour, we visited several points of interests in the Heredia province: Barva, Heredia market and Museum of Folk Art and Culture.
Mask Makers of Barva
Barva is a colonial town first founded by the Spaniards in 1561 and it's roots are deeply embedded in its traditions, one of which are masks. Every August 24th, there is a celebration dedicated to the patron saint Saint Bartholomew where the locals wear masks and hit each other with cow bladders (yep you read that correctly).
Mask making is still a big deal in Barva and we visited one maker who has been doing it his whole life. They make masks of celebrities, TV and movie characters and historical figures.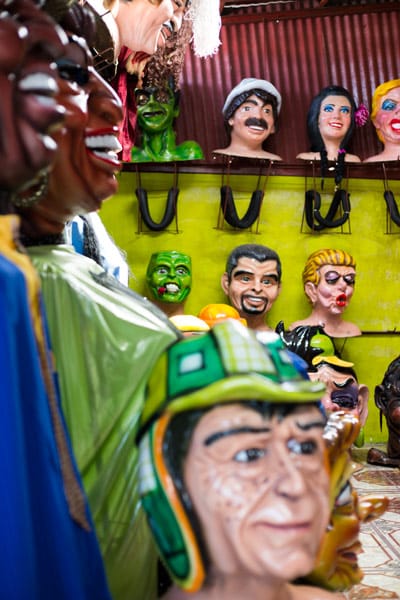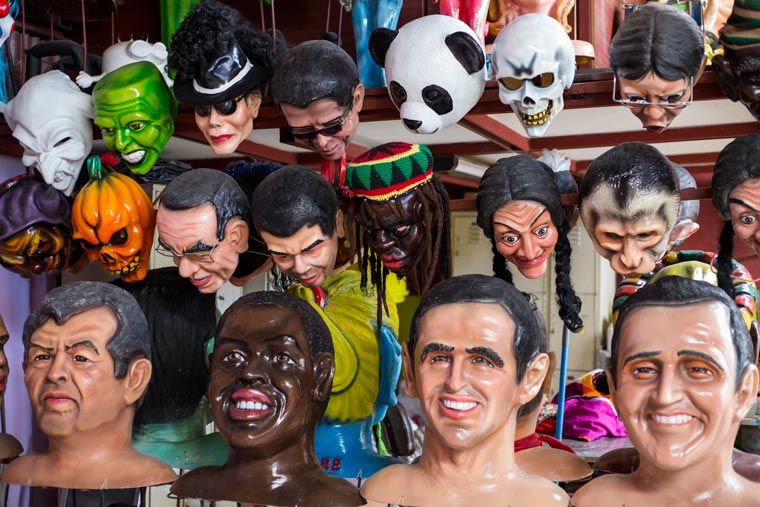 The masks used to be made of paper mache but that would take up to a month. Now they are made with carbon fiber which takes considerably last time and each one is hand painted. A mask starts at $250 and is carefully crafted specifically to the customer's needs.
Of course I couldn't pass up the opportunity to enjoy one of the masks myself!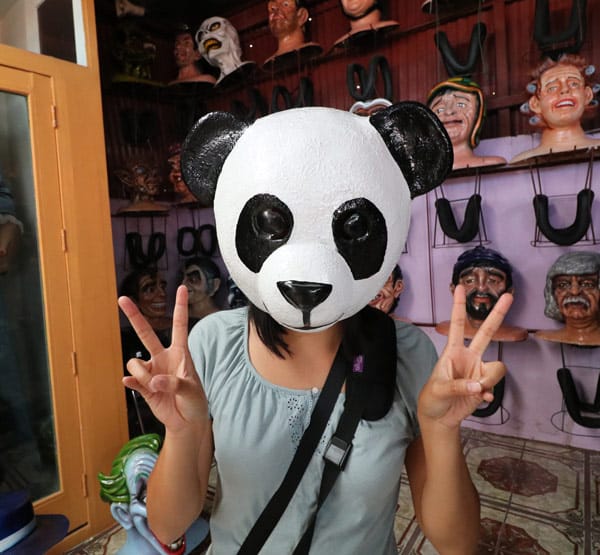 Barva and the Museo de Cultura Popular
Next, we headed to the park in Barva. Parks are a staple in every town and is usually where the main church is. Locals congregate around the park with kids hanging out after school, local vendors and young couples expressing their love. It's the best place to observe local life.
Then we headed to the Museo de Cultura Popular (Museum of Folk Art and Culture) which was the former house of ex-president Alfredo Gonzalez Flores. Here is where they teach the traditions to local kids such as coffee and tortilla making. Additionally, there is a garden full of medicinal plants and the original house for coffee workers to explore.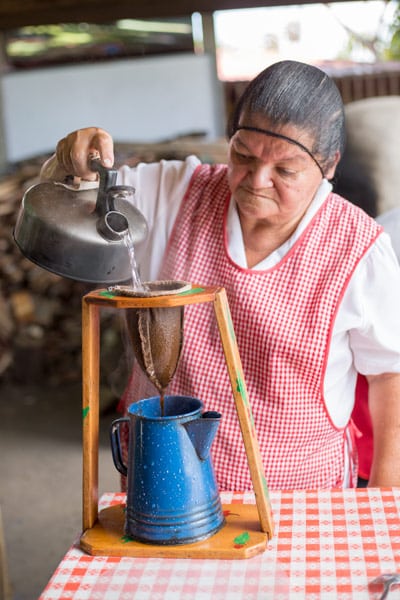 Heredia: Park, Museum and Market
Afterwards, we headed to the city of Heredia, walked around the town square and went into the church. Churches in Costa Rica are fairly old with beautiful architecture, stained glass windows and huge chandeliers. Back then, churches were the center point of every town and decorated to the highest degree. Our guide also pointed out important landmarks such as El Fortin (fortress) and we briefly went inside the Casa de la Cultura.
Next we went to Heredia Market where many locals buy their produce and you can find an array of spices, meat, fruit, vegetables and souvenirs.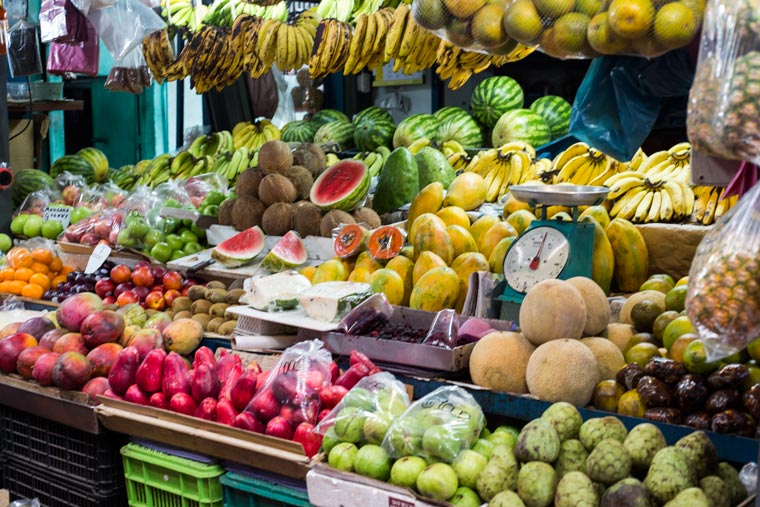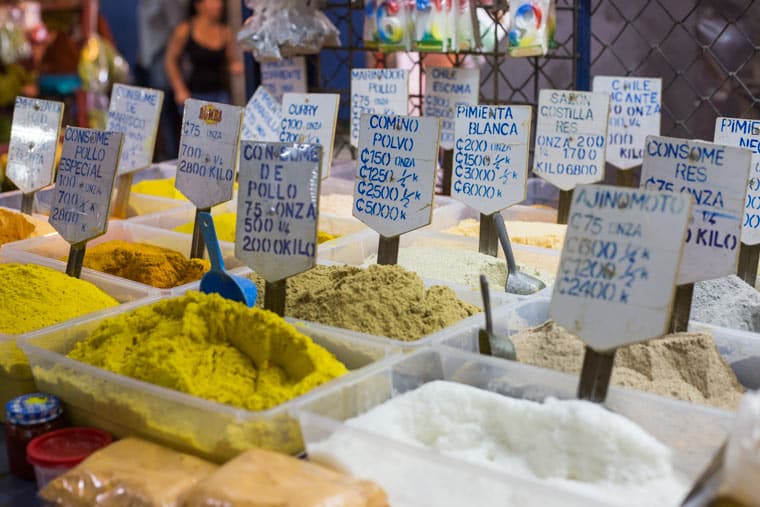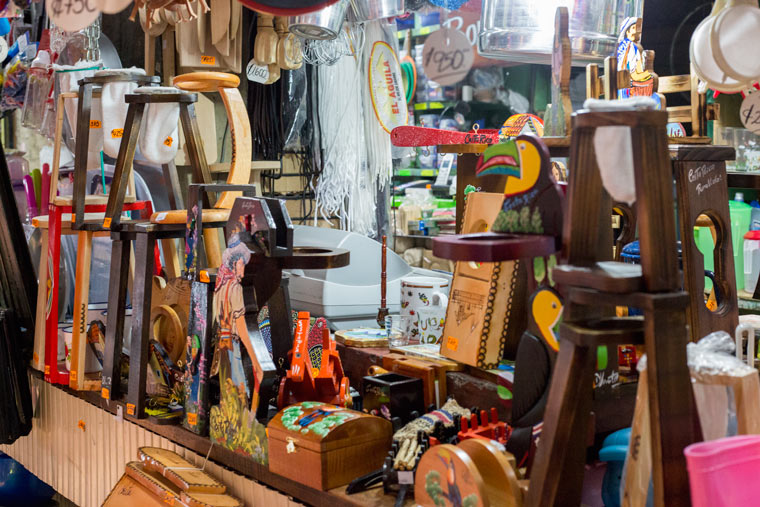 If you want to buy souvenirs, the local market is the best place. Here you'll find original trinkets and knick knacks and you can bargain.
The tour ends with lunch at a local restaurant specializing in roasted chicken. By that time, rain started to come down and we headed back to the Finca. The whole tour lasted around 4 hours, starting at 9 AM and ending around 2 PM, since we relaxed at the restaurant for awhile.
Interested in the tour? See what it's like in our video!
The Heredia cultural tour gives visitors an educational and interesting look into the important historical sites of the province and the daily life of a city Tico. Observe Costa Rican traditions first hand, sample local food and wander through the old landmarks.
Check out what other things there are to do in the Central Valley!
Irazu Volcano National Theater
Huge thanks to Finca Rosa Blanca for the tour!