If you are visiting La Fortuna and want to see a sloth, then you must take a guided walk at the Bogarin Trail. The Bogarin Trail is a wonderful La Fortuna sloth tour and one of the best places to see sloths in Costa Rica.
If you want to see a sloth in La Fortuna, read about our experience below!
Location
The Bogarin Trail is in La Fortuna, 1 kilometer (.62 miles) west of the La Fortuna park and church.
La Fortuna Sloth Tour Trail History
This trail has a very interesting history. This unique property used to be 100% cattle farm a couple decades ago. No trees, no rainforest, no wildlife.
In 2000, a local Costa Rican, Giovanni, started restoring the forest. Now in 2018, it is impossible to tell the trail used to be a farm, it looks like a rainforest oasis filled with tropical birds, colorful frogs and sloths!
La Fortuna Sloth Tour
This is also one of the best, if not the best place to see sloths in La Fortuna. The lush forest is home to around 25 sloths which is astonishing because when Giovanni first started restoring the forest, he said there was only one!
On average, people see about 5-6 sloths in one hour which is incredible, especially knowing that just 18 years ago, this was a barren swamp! It truly is a sloth paradise.
Bogarin Trail
This relatively flat and even 2 kilometer (1.2 miles) trail is very close to downtown La Fortuna, making it an excellent option for those who have an open morning or afternoon.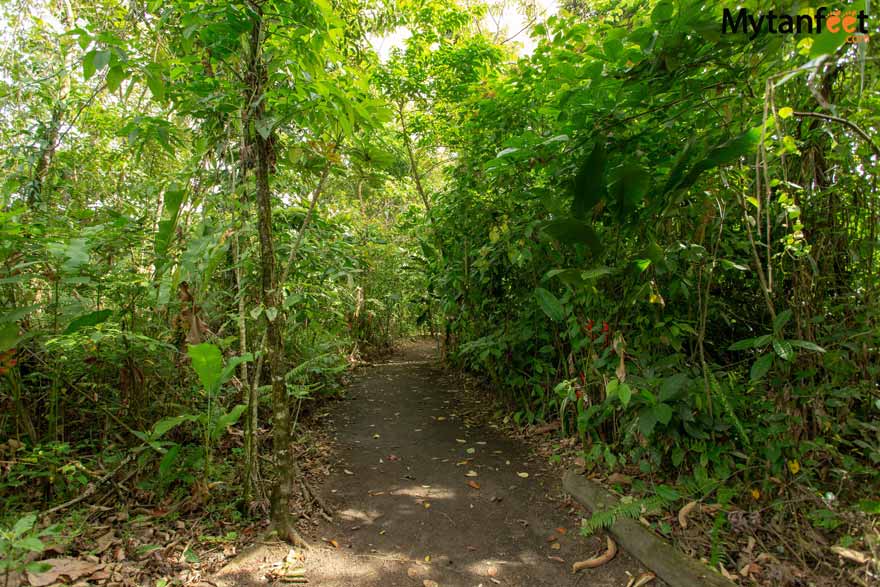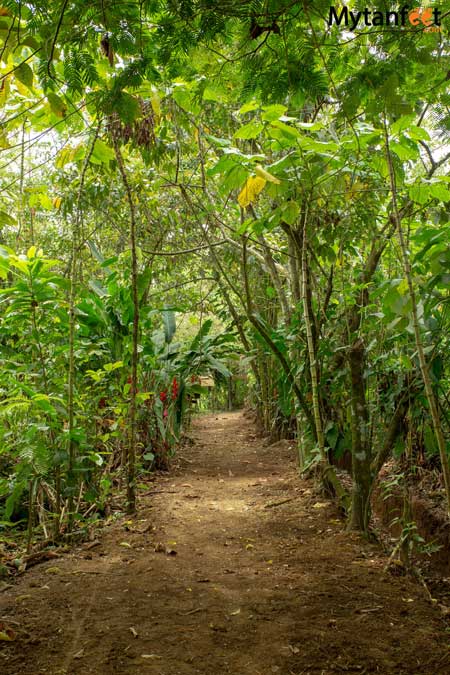 As you're walking through the trail, you'll hear the sounds of cars and people outside but you'll feel like you're in a remote rainforest wonderland!
Animals We Saw on the Sloth Trail La Fortuna
Here are photos of the wildlife we saw on our guided hike of the Bogarin Trail. We saw 5 sloths including one with a baby, Black mandibled toucans, hummingbirds, Jacamars, Red-Eyed Tree Frogs, poison dart frogs, basilisks and lizards!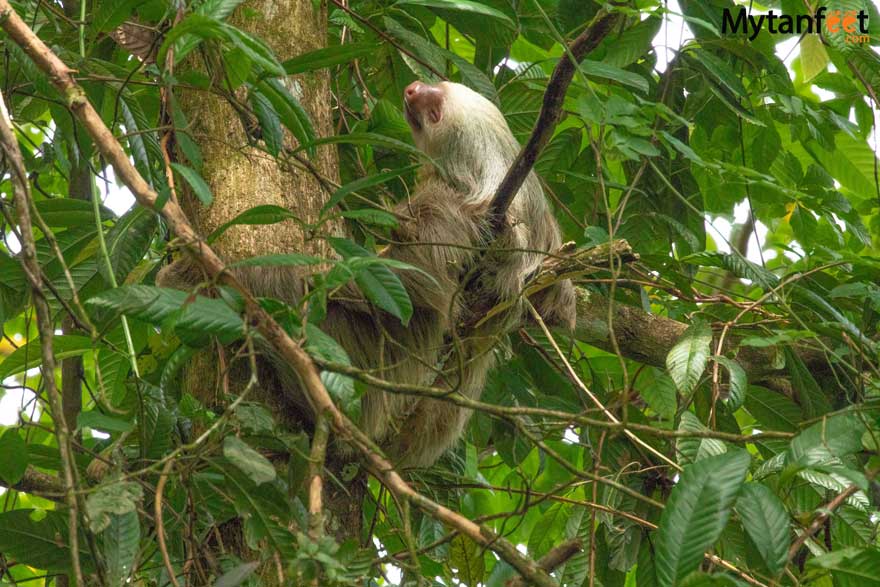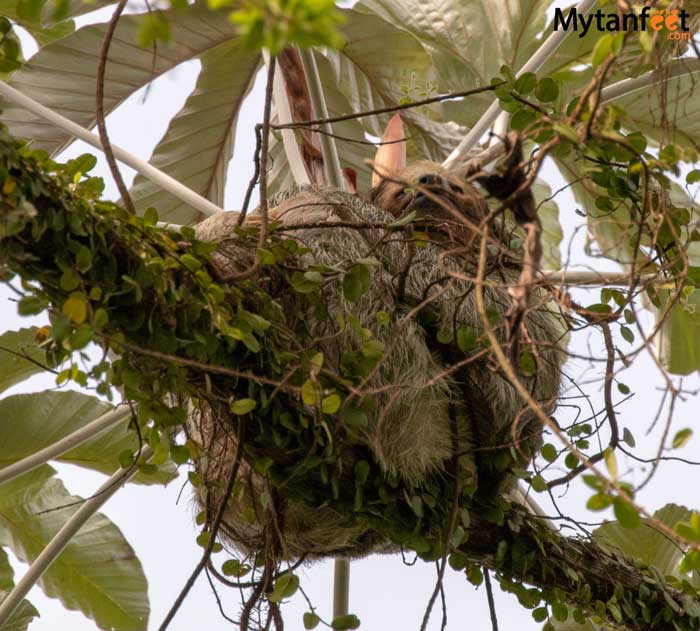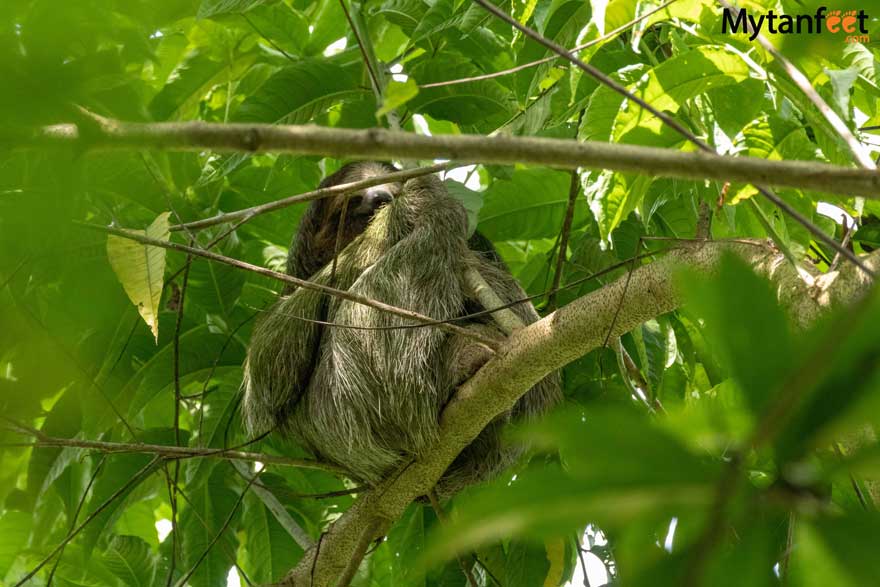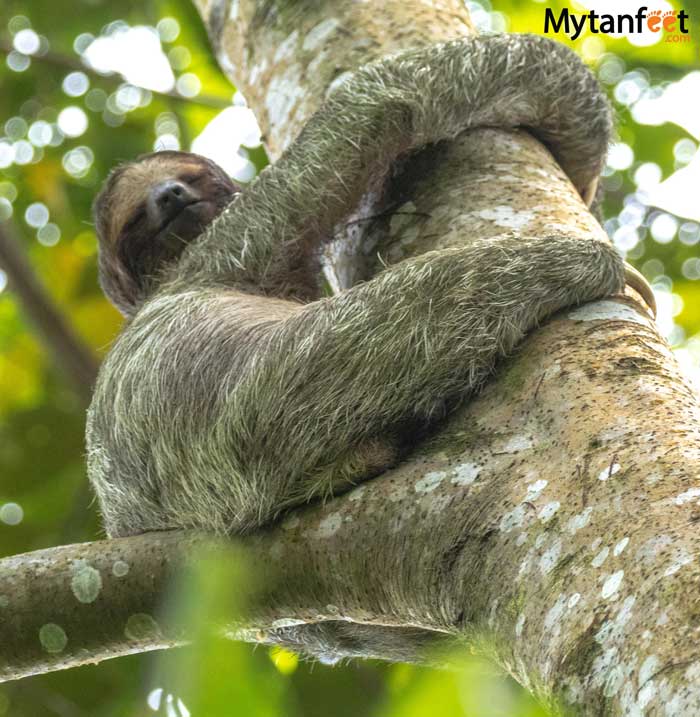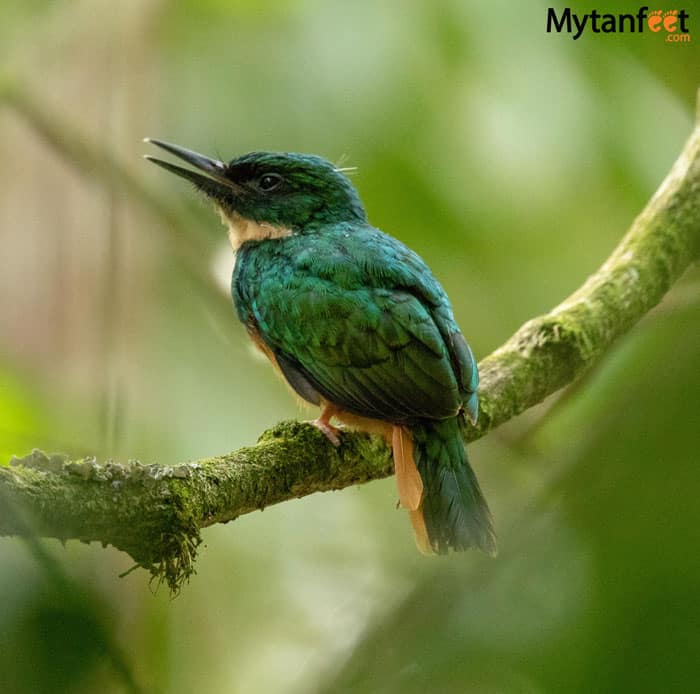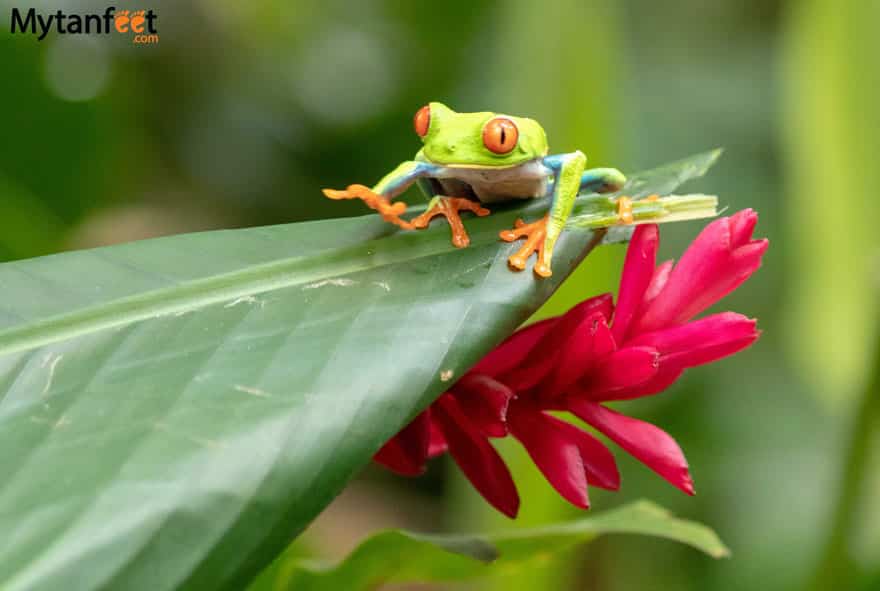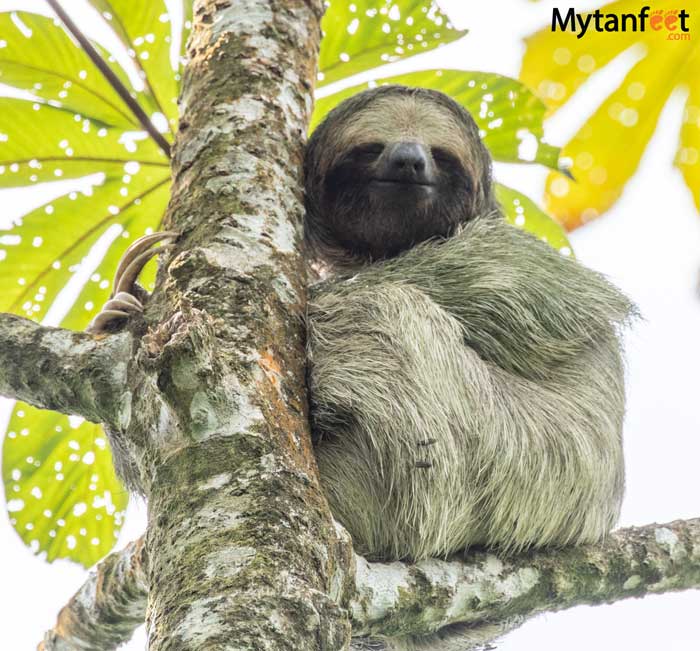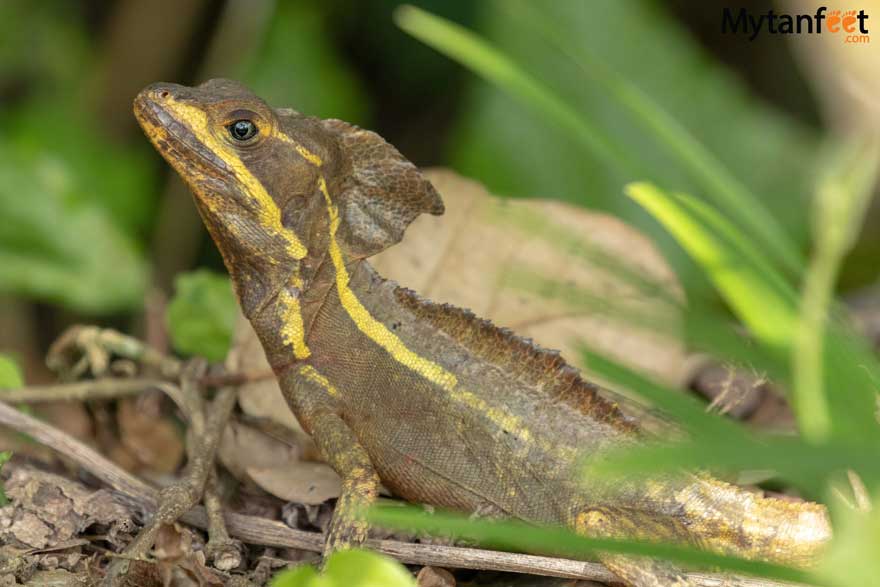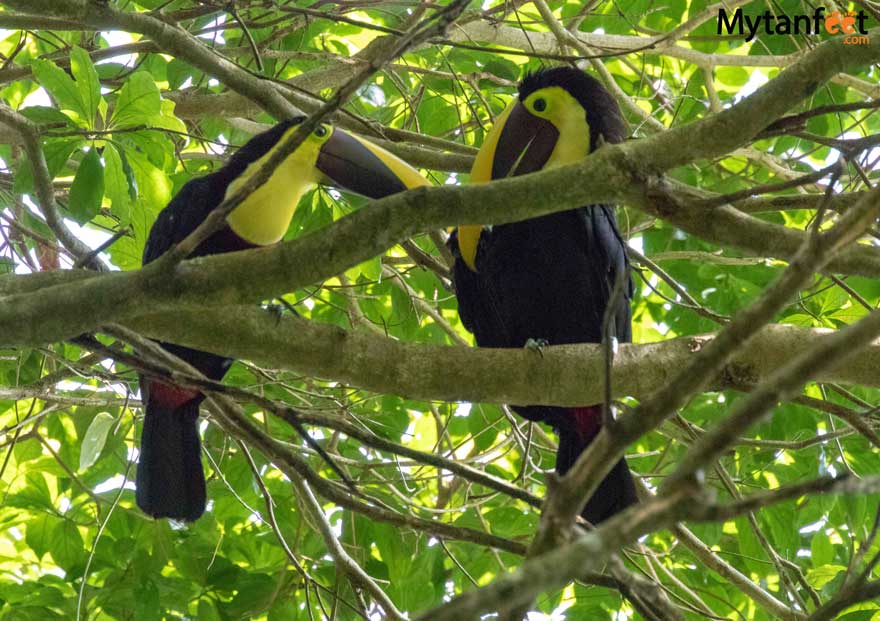 Additionally, there is also a pond with caimans (there used to be a caiman farm on the property) with babies. Giovanni also has a frog pond where you can see the red eyed tree frogs and poison dart frogs.
Video
Here is a short video of our time at the Bogarin Trail.
Guided vs Self Guided Walks
You must take a guided walk to get the best experience at this trail. We passed a couple who was leaving the trail when we got in. They did a self guided hike and said they saw just one sloth. We saw 6!
As you can see from the pictures, some of these sloths were far back in the trees and well camouflaged. Additionally, we also would have never seen the basilisk, frogs or jacamar birds. They were so deep in the trees hiding in the branches!
Another advantage is that our guide had a telescope so we were able to get photos with our phone. Not everyone has binoculars, telescopes or a zoom lens so it's super nice that the guides have telescopes you can take pictures with.
To book a tour, you can contact them via their website or visit the trail to schedule your guided walk. They have limited guides so make reservations for guided walks. If you don't want a guide, you can just pay for the entrance, without a reservation.
Check out these other fun things to do in La Fortuna and Arenal below!
La Fortuna Canyoning: Rappel down 4 waterfalls deep in the rainforest. So much fun!
La Fortuna horseback riding: Ride through valleys and forests for beautiful views of La Fortuna and Arenal Volcano.
Penas Blanas safari float: Float down the Penas Blancas river on a raft, great for seeing wildlife and nature.
La Fortuna night walk: See the creatures of the dark on a guided night walk