Cuanto tiempo has vivido en Costa Rica?
… Me thinking …
Cuatro anos en Agosto!
… Damn it's been 4 years already! …
Every time someone asks me how long I've been living in Costa Rica, I have to think about it. I was so used to saying 6 months, 1 year, 2 years but somehow, time flew and I recently passed my 4 year anniversary of living in Costa Rica. 4 years! I still feel like I just moved here yesterday!
4 years seems like a hell of a long time but in reality, it isn't. I've met people who have lived here for 30+ years! They were here before Costa Rica became a tourism hot spot and experienced the entire transition. As for me, I feel like I have a "BCR" and "ACR" stage of my life: before Costa Rica and after Costa Rica because I feel like a new person with all the things I've learned about myself and life during that time.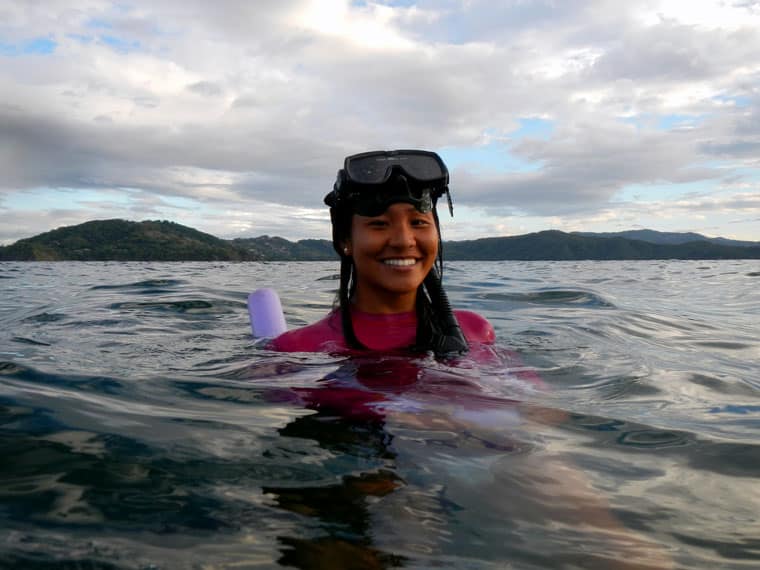 I've immersed myself in a new culture, tried new foods, learned a new language, traveled extensively in Costa Rica and to a handful of other countries and met people from all over the world. I feel lucky for all my experiences and adventures and even more so that I really get to live the Costa Rican culture because of Yeison. Many expats in Costa Rica go years without really experiencing Tico culture because it's easy to seek out their own people and stick to what they know. I don't blame them since every one has a different reason why they live in Costa Rica, but there's no better way to truly experience the country without getting to know its people.
That being said, I've picked up quite a few Tico-isms from Yeison and his friends. Now they're normal for me, like second nature! So whenever I talk to other expats, I can always tell when they've been living in Costa Rica for awhile when they too pick up these Costa Rican mannerisms and use it into their daily lives.
I've written serious posts commemorating my one year Costa Rica anniversary (things I had to get used to) and two year Costa Rica anniversary (what I learned about 2 years) so this one is going to be less serious. For funsies, I'm going to list out the main ways you know someone has been living in Costa Rica for awhile. Fellow Costa Rica expats, see how many you can relate to! 🙂
You Start Incorporating Slang Into Your Daily Jargon When Talking to Ticos
Instead of San Jose, you call it chepe. Mae, voy a chepe. Chepe is the nickname of the capital city and it's super common to hear Ticos use that instead of San Jose (I almost never hear Yeison say San Jose unless it's a formal situation).
Instead of saying colones, you use the slang terms such as rojo and teja. Saying colones is a thing of the past.
When you don't remember the name of the thing you're talking about, you just call it chunche and Ticos automatically get what you're saying.
Whenever you listen to Ticos talk with each other, half of what they say is slang! I had to learn what it meant just to keep up or else I would be scratching my head in confusion every time they said something about how the rice falls or why they laughed at me when I said I wanted a pipa. I can only imagine what other funny things I've said that got taken the wrong way!
So when you hear a foreigner use slang terms, you know they've been in Costa Rica for awhile and had a good Spanish teacher!
You can learn more Costa Rican Spanish slang here!
When Something Breaks or Doesn't Work, You Automatically Think About How to Fix It (Usually With Duct Tape)
When I lived in the US and something broke, I did one of two things: buy a new one or call customer service. I never took the time to figure out what broke and how to fix it. It was just easier to buy a new one! That's the mindset most USA people have because we rather have someone else do it. We don't want to think and we want to get stuff done fast.
But here in Costa Rica, that's not how it is. We don't have the luxury of Amazon Prime and some items are very expensive here, not to mention almost impossible to find. So I had to resort to a different solution: figure out what was wrong and see if I could fix it. And if I couldn't fix it with what I had, Macgyver something up to make it work!
Laundry machine stopped working? Take it apart and find out the cause. Passenger seat car window doesn't go down? Pop out the switch with a pocketknife and fix the contact. Laptop charger stopped charging? Pull apart the power brick and look for the broken wire.
People think living in Costa Rica is easy going paradise but when you gotta get stuff done and nothing works, it's not exactly paradise. Living here really makes you think outside the box and throw away your "gringo instincts."
You Always Ask Which Monday
If the maintenance guy tells you he'll be at your apartment on Monday to check the air conditioner, you always ask which Monday he is referring to. Costa Rica is not known for stellar and prompt service, instead their reputation as laid back, easy going people is very true, particularly at the beach. Why do it today when do it tomorrow?
So you know when someone's been in Costa Rica awhile when they know never to expect exactly what the book says, they take it with a grain of salt. Instead, they ask to make sure which Monday and then call Monday morning to check if they remember.
Getting things done in Costa Rica can be a verrrryyyyy slow process… but hey, pura vida right?
You Brake For a Lizard on the Road
Living in such a nature loving country means you become a nature loving person. Since Costa Rica is known as a eco-friendly and wildlife loving country, you see it everywhere: signs that warn you of animal crossings, signs to tell you to slow down and brake for wildlife, billboards of sloths and toucans everywhere. You start feeling a love for every animal big, small, hairy.
So when you're driving, you brake for every lizard, frog, toad and critter on the road. You even feel bad for the butterflies that fly into your window!
Living in Costa Rica turns you into a tree hugging, animal crazy wannabe hippie. Especially if you move to the South Pacific 😛
It's Normal to See Goats/Chickens/Cows/Pigs/Sloths/Monkeys Crossing the Road
And speaking of animals on the road, it's now normal for you to see all sorts of creatures crossing the road. I've seen my fair share of dogs, cats, goats, lambs, horses, cows, pigs, monkeys, iguanas and anteaters crossing the road.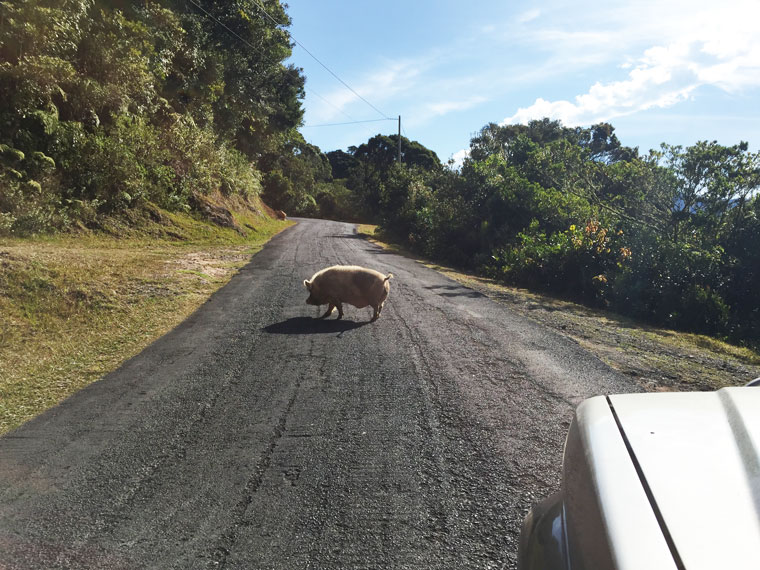 It used to delight and surprise me when it happened but now it's normal. You just let the animal do its thing and then move on. Although I still have yet to see a sloth crossing the road so I know I'll go crazy when I do!
When Someone Asks for Directions, You Automatically Think How Many Meters from Pops You Are
Yeison and I have driven to pretty much every corner of Costa Rica and we noticed one thing in common no matter where we were in the country. When we asked for directions, nearly every time it had to do in relation to a Pops (ice cream shop). There is a Pops in almost every town and city, we've even found Pops in the middle of nowhere driving in the countryside! It's an excellent reference point since Costa Rica doesn't quite have the hang of "normal" addresses.
Instead of "100 1st Avenue SE," it's "100 meters east from the church, 300 meters north of the high school, 2nd house on the left with a green door." I was even given directions once to turn "right at the beautiful tree!"
So once you've lived in Costa Rica for awhile and someone asks for directions to your place, you automatically think of reference points nearby: the church, a supermarket, a Pops. It's a bit ridiculous at the beginning but the longer you live here, the more normal it is and you always give directions like that now!
You Set Aside a Whole Day(s) to Go to the Bank
Going to the bank in Costa Rica is like fishing. You do everything correctly: the yummiest bait, go at the right time of day when fish are biting, find a good spot. And then you wait. And wait. And wait longer. Then when your pole finally gets a tug, you pull up with such precision but the fish gets loose. A moment of excitement arises and then disappointment comes. You do it all over again but it's just a wave of emotions the rest of the day. You go again tomorrow, but no bites.
Similar scenario at Costa Rica banks. You need to be prepared for a very long wait and slow service. But not that just, you can have all the documents perfectly in order, you can go early to beat the line and go to the right register and nothing. You can even go with a Costa Rican lawyer to help you translate and nothing. Despite all your preparation you're still missing a document even though it's the one they told you to bring last time. Or if you fortuitously get what you need done, you find out a week later that the bank never processed the paperwork.
So you know someone's had experience with the bank in Costa Rica when they tell you they're taking the whole day off to go to the bank. Or it's their 3rd time to the bank to get one thing done. Or if they have their own incredible bank story to tell.
Coffee From a Coffee Machine Just Doesn't Taste Right
I credit this one to all the Guanacaste and Central Valley fincas and coffee estates I've been to. I wasn't a big coffee drinker but after I tried it made with a chorreador, I couldn't get enough. Yeison taught me how to use a chorreador and ever since then, we don't make it another way. It just doesn't taste the same and we even got rid of the Keurig that came with one of the apartments we rented!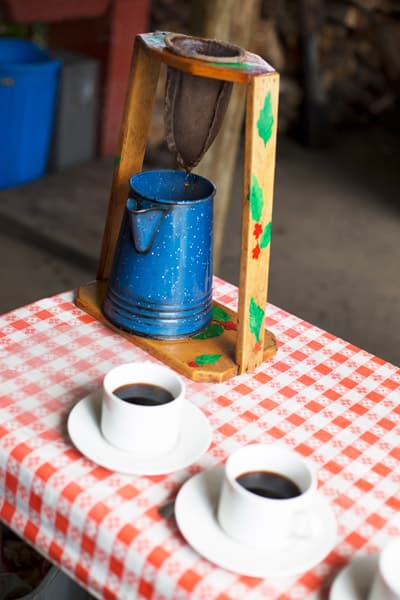 If you've been living in Costa Rica and tried coffee made the traditional way, you know what I'm talking about. The chorreador gives a different flavor than the machine and it's oh so good. Or if you don't use a chorreador, 1820 is your go to coffee and don't like paying more than $6 for a bag now.
You Honk and Say Hi to Everyone When You Drive
In the US, it's kind of rude to honk at people. You only honk when someone's about to cut you off or if someone's not moving at a light. But in Costa Rica, honking is normal and it can mean hi, thanks, watch out, bye, I'm behind you, go, etc.
So you know you've been living in Costa Rica for a while when you honk at people you know on the street even if they're super far away, you honk to say hi and you honk goodbye when you drop someone off. And of course you start honking like mad in happiness when you finally reach a paved road without pot holes!
It's even normal to stop in the middle of the road to chat with your friends or say hi to the guy walking on the street next to your car.
You Know Where the Local Ferias and Markets Are
Forget the supermarkets, you head to the ferias every weekend to get your produce. Ferias are weekend markets where local farmers sell their fruits and veggies and it is usually cheaper than the supermarket. You can get produce not normally sold in supermarkets either, like some exotic tropical fruit.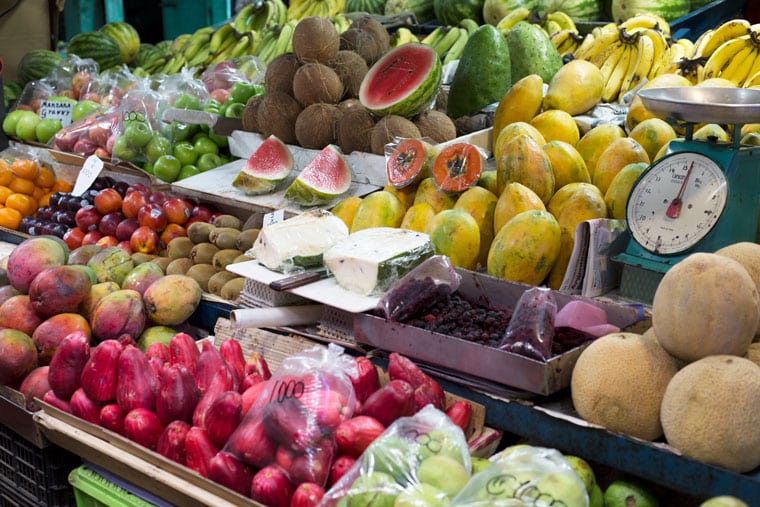 You also buy your seafood fresh at the fish market or off the seafood truck instead of the supermarkets. Or your local fishermen buddy who hooks you up when he's had a good day. You know where to get the good stuff!
You Stock Up When You Go Back Home
For anyone who's been living in Costa Rica awhile, you know that things here are expensive (read about 6 things more expensive in CR than US). You never buy electronics, clothes, kitchen and house stuff unless you have to and when you go back home to the US, Canada or wherever, you use your Amazon Prime account like it's never been used before.
You stock up on clothes, your favorite food you can't get in CR (or it's too expensive), beauty products, electronics and almost everything else possible. You fly with 2 check ins just so you can have enough room to bring back stuff.
I hope you enjoyed this post and can relate to some of the things I talked about if you're a fellow expat. Let me know if you agree! I'd love to hear about other people's experiences since everyone's experience is different and there are so many more things I could have added to the post.
Read more of my expat stories here!
Living in Costa Rica for $2000 a month