Even though Spanish is the official language in 20 countries, it's all different. Costa Rican Spanish is different from Mexican Spanish, Castellano Spanish and so on.
Every country has their own jargon and slang which is always fun to learn. There are plenty of Costa Rican phrases that only make sense if you grew up in the country and some of them are used only in Costa Rica!
Here are some Costa Rican phrases and slang that you might hear in conversations among Ticos. Also, if you want to learn Spanish, check out our Costa Rica Spanish guide to get started.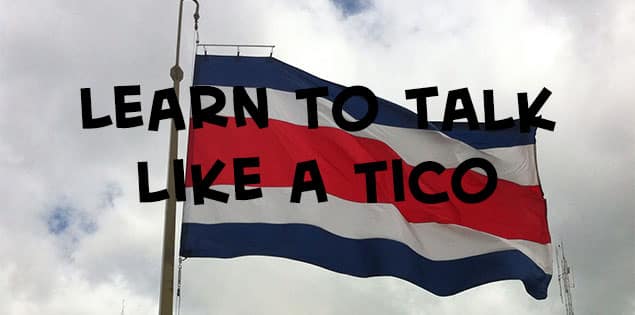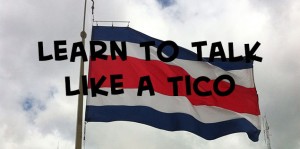 My Favorite Costa Rican Phrases or "Tiquismos"
Pura Vida
Literal translation: pure life. Pura vida is the most famous Costa Rican phrase. You can use pura vida for a greeting, thank somebody or with anything related to good.
For instance: Hola Puravida! Como estas? Pura vida. Como estuvo tu día? Pura vida gracias! Este muchacho es pura vida. You can use pura vida even when you talk to the president. It is very normal for us to say it as a greeting or as a goodbye on the phone.
Mae
This word comes from the word maje, we use mae to call somebody between friends. It's kind of similar to dude or bro, it has that same feeling. For instance: Que mae pura vida! (what's up dude) or mae vamos (dude let's go).
Tuanis
This means cool, nice, awesome. We use it to describe something as super tuanis and we also use it when we hang up the phone after we make plans. For example, Mae te veo al bar a las 6 esta bien? OK tuanis.
You can also say que chiva or chuzo which is like "that's so cool."
A Cachete
Cachete is literally a cheek, but locals use the phrase "a cachete" to define that something is good or doing good. For example, if you ask your friend how things are doing on his business, the response can be "Mae, a cachete" meaning that everything is going great.
A cachete comes from "a cachete lleno" which means "full mouth", which is also considered something good. This is one of the most fun Costa Rican phrases!
Detras del Palo
Literal translation: behind the tree. They say this when you or someone doesn't know anything about the topic. Example: Mae estoy detras del palo que es eso (dude I am behind the tree I don't know what are you taking about). Mae usted esta detras del palo mejor cierre el pico (Dude you are behind the tree keep the beak close).
Miando fuera del tarro (taking a pee out of the can) means about the same thing. You can choose which one to use.
Hasta aquí me la presto Dios
Until now God borrow me. It is a expression used when you are telling a story and you thought that you were going to die. Example: pense que hasta aquí me la presto Dios! (I thought I was going to die).
Buena nota
Literal translation: good grade. We use that phrase most of the time to say thanks or to refer to somebody that did something nice or that person is a good person. Example: Buena nota mae gracias por traerme las chanclas (thank you for bringing me the flip flops). Ese mae si es buena nota (that guy is nice).
We use this Costa Rican phrase a lot when we're talking about people.
Que pega
What a stick. When someone or something is very annoying. Example: Ese mae es una pega (that guy is so annoying). Que pega ir al banco (sucks going to the bank).
Que torta
What a patty. When you make an important mistake, break something, screw up, lost something. Also is use for unwanted pregnancy. Example, Mae me jale torta con la wila (My girlfriend is pregnant). Que torta se me olvido traer los pasaportes (I forgot to bring the passports).
Lava huevos
Literal translation: wash the eggs. This means the act of sucking up to somebody. Example: Ese mae es un lava huevos con el jefe (that guy is sucking up to the boss).
Esta mamando
Literal translation: you are sucking. When you don't know how to do something or somebody else is doing or saying something complete wrong. Example: Alvaro Saborio esta mamando en la sele (Alvaro Saborio sucks on the national soccer team).
Tengala adentro
Literal translation: keep it inside. It means take your time, think about it, don't do it now. Example: Mae tengala adentro espere por el resultado (Don't do it, wait for the result).
Que pelada
Literal translation: what a peeled. This is when you do something really wrong or embarrassing, most of the time in public. For example: Que pelada se pego la sele (The national team played so bad).
Que lechero
Literal translation: what a milkman. This is used when somebody is very lucky. Example: Ese mae si es un lechero gano la lotería 2 veces (That guy is so lucky he won the lottery twice).
Que tigra
Literal translation: what a female tiger. Synonym of bored, laziness of doing something. Example: Que tigra me tengo (I am so bored). Que tigra ir a bretiar hoy (I feel lazy to go to work).
Deme un toque
Literal translation: give me a touch. This means "give me a second." Example: Mae deme un toque ya lo llamo (I'll call you right back). This is one of the Costa Rican phrases you shouldn't use around elders like your friend's grandparents.
Perro amarrado
Literal translation: tied dog. It means to owe money. Example: tengo un perro amarrado en la pulpe (I owe money to the grocery store).
Que camote
Literal translation: what a yam. This is what we use it for everything related to craziness. Example: Ese mae esta camote (That guy is crazy). This Costa Rican phrase comes from back in the day when they would give people with mental illnesses yam to eat as it was thought something in yams would help them.
Paracaidas
Literal translation: parachute. Person that shows up without invitation. Pretty much used to call party crashers.
Perico
Literal translation: parrot. They also use it as a term for cocaine. When you sniff cocaine it gives you a sharp pain in your nose like a parrot biting your nose. Perio is one of those Costa Rican phrases that you need to be careful when using because it is also slang for cocaine!
Al chile
This is how we say "really?" or "are you serious?" Has more emphasis than "de verdad?" which also is used to mean "really?"
Viejo Verde
Literal translation means green old man. What we mean by this is it's a name we call perverted old men.
Suave
Literal translation: soft. We say it during a heated conversation or argument to the other person. It's like saying hey calm down. Suave mae! Take it easy man!
Harina
Literal translation: flour. It is used as Costa Rican slang for money. Pretty much the equivalent to the English word "dough" as a slang way to call money.
Pura Paja
Literal translation: pure straw but it means bullshit. Paja also has some other degrading meanings related to a man's genitals. There are actually quite a few Costa Rican slang words for that part of the body.
Goma
Literal translation: glue. Slang for hangover. If your friend wakes up in the morning after a night of partying and says tengo goma mae it means he has a terrible hangover.
Rojos and Tejas
Literal translation: reds and roof tile. These are used in regards to Costa Rican currency. One rojo means one red in English but they actually mean 1000 colones ($2) because it is a red bill. A teja is a tile but if someone is says "dos tejas" it means two hundred. A teja is a hundred.
Using "rojos" and "tejas" are super common slang when Ticos are talking amongst each other, you won't hear those Costa Rican phrases for money used at the bank.
Choza or chante
If somebody asks you to go to their choza or chante, they mean their house.
Brete
Slang for work. If someone says they have to go to brete instead of hanging out, they're not blowing you off, they have to go to work.
Chunche
English translation "thingy" or "thingamabob" So if someone asks to give them the chunche, they're asking you for that thingy over there. It's also the nickname for a Costa Rica icon futbol player Mauricio Montero "El chunche"
More Costa Rican Slang
Wacala
Spanish word for gross or eww or yuck! If somebody says your house is wacala, that is a bad thing. Like really bad. You can also say que asco.
Aletazo
Aletazo comes from the word aleta which means fin in English. If somebody tells you que aleta, it means that your armpit smells bad.
Aplayado
This means girly or something cutesy like a pink bike with sparkles and tassels.
Brocha
Literal translation: brush but is slang for cocksucker. If somebody says you are very brocha with your boss, it's not that you're brushing your boss, you're being a suck up!
Cabra
Literal translation: goat. It's the slang way for how ticos call their girlfriends in a not nice way … Hey mae como esta su cabra?
Codo
Literal translation: elbow but if someone calls you codo they mean you are cheap. Not just normal cheap but super cheap.
Estuche
Literal translation: case but for Ticos, that is what they call their stadium. This is very important to them since futbol is a huge part of their culture. Mae vamos al estuche el Domingo
Jumas
If you are jumas, you are drunk! One of the more slang Costa Rican phrases.
Bombeta
If someone calls you a bombeta, you're someone who likes to make a ruckus or is kind of crazy and just goes for it.
Costa Rican Swear Words
Just for fun, here are some common Costa Rican swear words and insults. Usually these are the first words and phrases one learns in a different language. Just a warning, there are some not so nice words below!
Mierda
Sh*t.
Picha or Carapicha
Dick or dick face.
Hijo de puta
Son of a b*tch.
Se despicho tere
You say this when something goes wrong or if somebody fails or hits himself very bad. It's kind of like in English when you say "He totally ate it" but in Costa Rican Spanish it means more like "he f*cked it up."
Bejuco
Slang for penis.
Cerote
A not nice way to call an annoying or obnoxious person.
Dolor de huveos
Pain in the a*s.
Hecho mierda
To be in really bad shape.
Puta
Prostitute.
Perra
B*tch.
Learn more about Costa Rica in these posts below!
Common misconceptions about Costa Rica