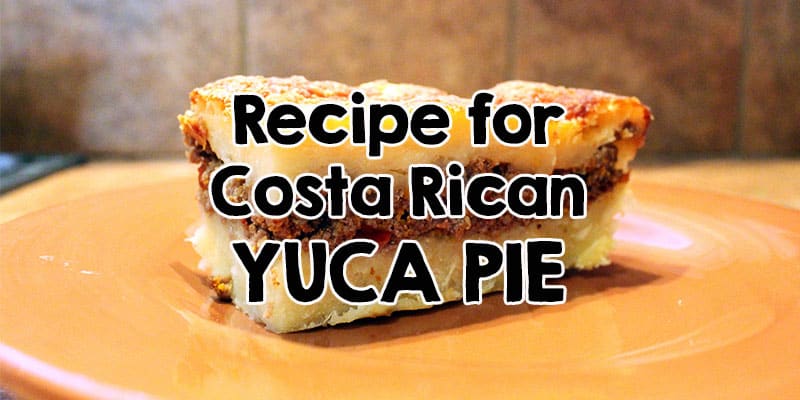 Yuca (cassava) is a shrub known for its edible starchy tuber root and one that I had never heard of until I got to Costa Rica. When you see it, it doesn't look very impressive nor does it look like it'd taste very good but yuca has become one of my favorite foods in Costa Rica. You can make so much from it!
Fry it, mash it, make it into chips… just so many delicious and yummy dishes like this one!
There are Amazon affiliate links in this post.
Pastel de yuca recipe
Pastel de yuca or yuca pie is basically like a shepherd's pie except substituting the mashed potato for mashed yuca. Yuca is a hearty root, thick and full of carbohydrates so if you're on Atkins, you might want to rethink your diet 😉
Here is Yeison's pastel de yuca recipe. This is one of my favorite dishes he cooks very well and wanted to share with others who love yuca. There are several variations but this is the basic one so you can add your own favorite ingredients if you like. It's not a super hard recipe but it does take time and a bit of patience.
Thanks to Master Chef Yeison for letting me photograph him while he cooked! 😀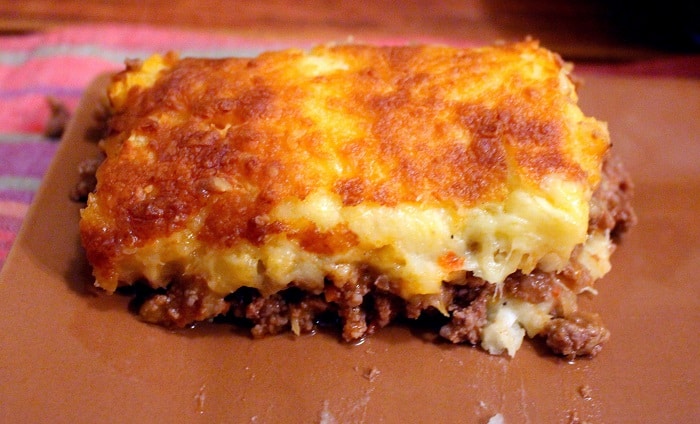 First you need to cut and peel the yuca. This is the hardest part of the recipe and it may get frustrating if this is your first time. Cut yuca into sections, each piece being about 2- 3 inches long. *Make sure to sharpen your knives well, yuca is VERY hard to cut!*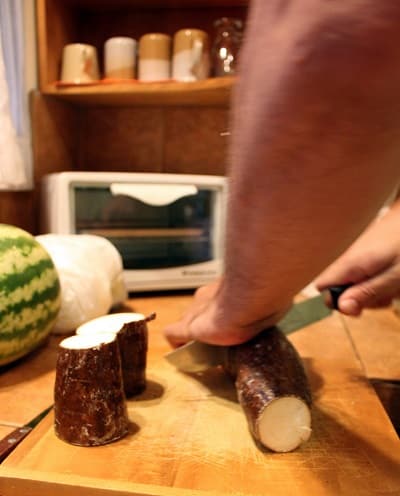 Cut off the ends of the yuca and throw them away. Also make sure all the pieces are white. If you notice any grey bits, throw those parts away. If you feel any of the yuca pieces to be very soft or mushy, throw that away too.
Once all the yuca has been cut into pieces, it's time to peel the brown rind. This is part is tough so you need to be careful or else you might have some *extra flavor* in your yuca. The outside is very hard and you can't use a normal peeler.
The best way to take off the outside is to make one cut in the rind and wedge the edge of your knife underneath. Using the motions of your hands, wiggle the edge as you peel the rind. You shouldn't be cutting the outside, the motion of your hand should be lifting the rind off the white flesh.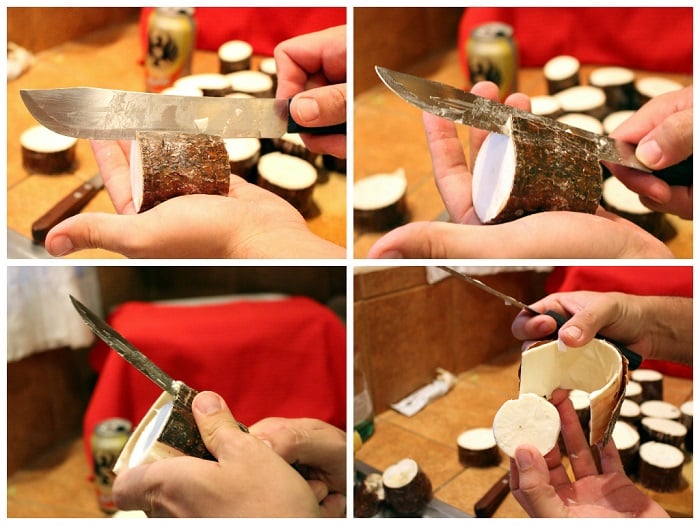 It's a bit hard to describe so here's a video of Yeison doing it. Watch how he holds the knife and where he places his fingers.
While you're peeling the yuca, boil a big pot of water. Add the yuca in the pot with a little salt and boil it for about 25 minutes. Some pieces may be harder or softer than others so make sure you check it at around 25 minutes. Yuca is ready when it is soft enough to be poked all the way through with a fork. 
Keep a close eye because if you boil yuca over by even a couple minutes it turns into a giant gluey mushy mess and can't be used.
While that's boiling, chop the veggies and garlic. In a separate pan, saute garlic until soft and add vegetables. Cook until soft and add ground beef. When beef is fully cooked, add diced tomatoes, tomato sauce and Salsa Lizano. Simmer.
When the yuca is ready, pour it through a strainer and get your fork to pick out the hearts of the root. There's no quick and easy way to do this so start pulling out the strings.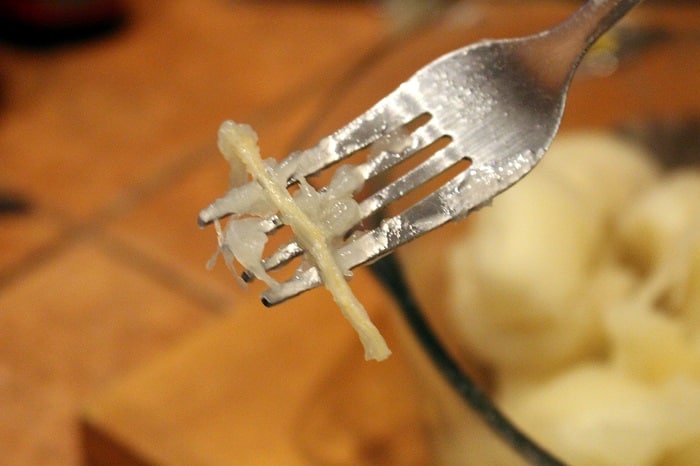 After you pick them out, start mashing. Add natilla (sour cream), butter and chicken consume.
In a baking dish, spread yuca on the bottom as the first layer. Add meat and alter layers. Top it off with mozzarella cheese.
Set oven to 190 Celsius or ~370 Fahrenheit and bake for 30 minutes or until cheese is bubbly and brown.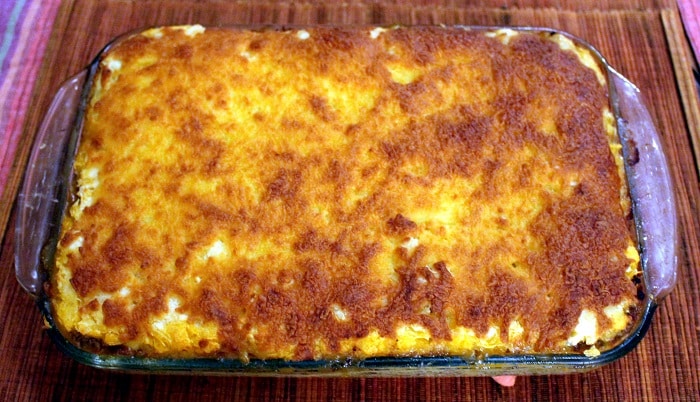 Let cool and serve!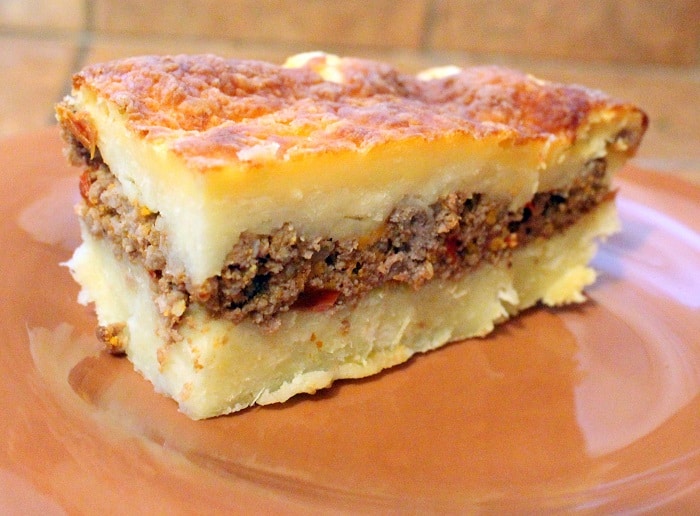 Ingredients
This makes 10 servings
3 yuca tuber roots
1 kilo ground beef
Mozzarella cheese
2 tsp butter
Salsa Lizano
One Tomato
One white onion
One bell pepper
Chicken Consume (bouillon)
Red Pepper flakes
Natilla (sour cream)
Garlic
Tomato Sauce
Vegetable Oil
You can also add corn, other veggies, peppers, or other seasonings if you don't have Salsa Lizano.
Instructions
Cut yuca into sections and peel. Boil in water for about 25 minutes.
Chop and saute garlic and vegetables. Add ground beef until well browned. Add diced tomatoes, tomato sauce and Salsa Lizano to taste. You can add some red pepper flakes or jalapenos if you like it hot. Simmer.
Drain water from yuca and take out the hearts. Add natilla, chicken consume and butter. Mash yuca until soft and creamy.
Spread yuca on the bottom of a 9 X 13 baking dish and then spread the meat sauce over it. Alternate layers and top it off with mozzarella cheese (you can add other cheese too if you like).
Bake for 30 minutes at 375 Fahrenheit. Cool 10 minutes before serving.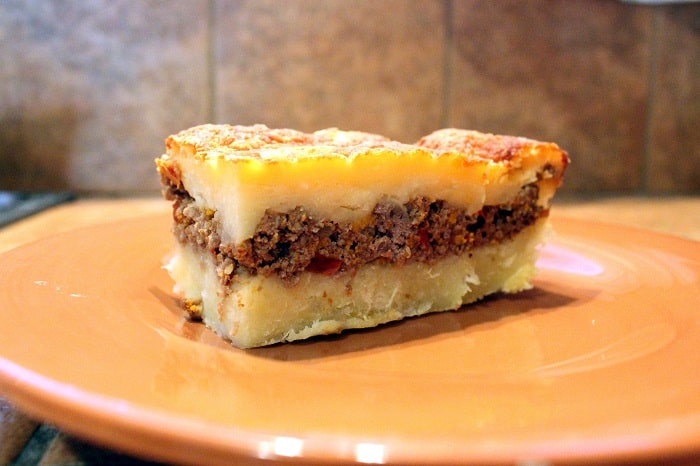 It tastes quite a bit of work to make this dish but it's worth it! Yuca is very filling so this could easily feed a whole family with leftovers for the next day. It tastes even better the day after when the flavors have set in nicely.
Yuca may not be sold in your everyday grocery stores in the United States so check the Asian or Mexican markets. In Washington state we always find yuca in the Asian markets.
I hope you like this yuca recipe! Buen provecho!
Want more Costa Rican recipes? Enjoy!