If you're looking for a unique, once in a lifetime experience in Costa Rica, consider taking a scenic helicopter tour. Helicopter tours are becoming more popular as travelers are looking for a way to see the country from a perspective not many other people get to.
**Unfortunately Fly Adventure Air has closed permanently in 2021**
Scenic Costa Rica Helicopter Tours
Adventure Air offers 5 different scenic tours departing from Guanacaste. They go mostly around the coast, national parks, volcanoes and river. We did the sunset coastal helicopter tour from Tamarindo since that is where we live so we drove to their operation center in Liberia.
Coastal Tour
Their coastal tour goes around the Guanacaste coastline so you can see exactly where the province's nickname of "Gold Coast" came from. You'll fly around Bahia Culebra to Danta Beach and see Playas del Coco beach, Hermosa, Ocotal, the Gulf of Papagayo, Monkey Head and Tortuga Islands, Playa Matapalo (Riu Hotel) and all the hidden white sand beaches.
This tour is about 30 minutes.
Sunset Tour
The sunset tour is the same as the coastal tour but during sunset. You get stunning views of the coast during "golden hour" and return to base under the sunset. This is a 30 minute tour.
We did the sunset tour in February and it was an awesome experience. I had never been in a helicopter before so I was a bit nervous but the pilot was very comforting and reassuring. Even though it was windy out, he piloted us as smooth as possible and I felt very safe.
Here are some photos from our flight. We saw some beaches we'd never seen before!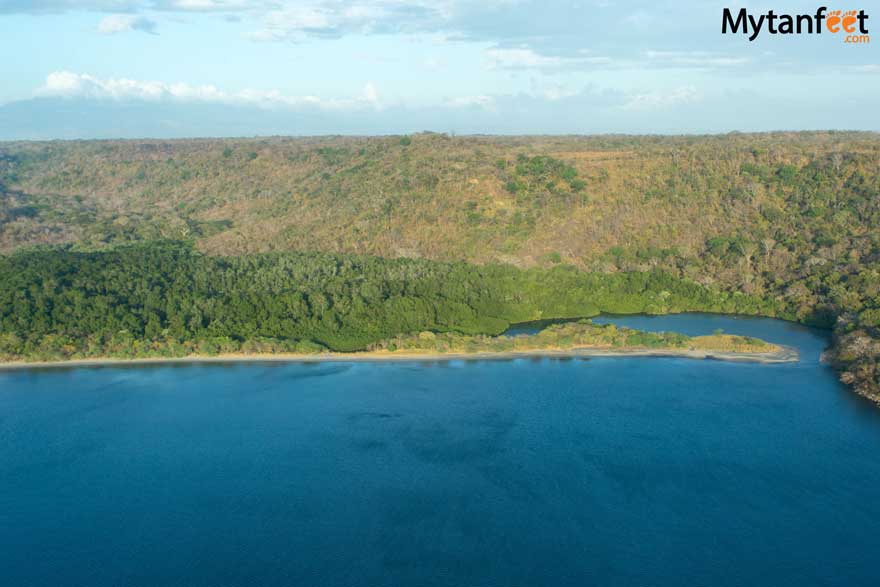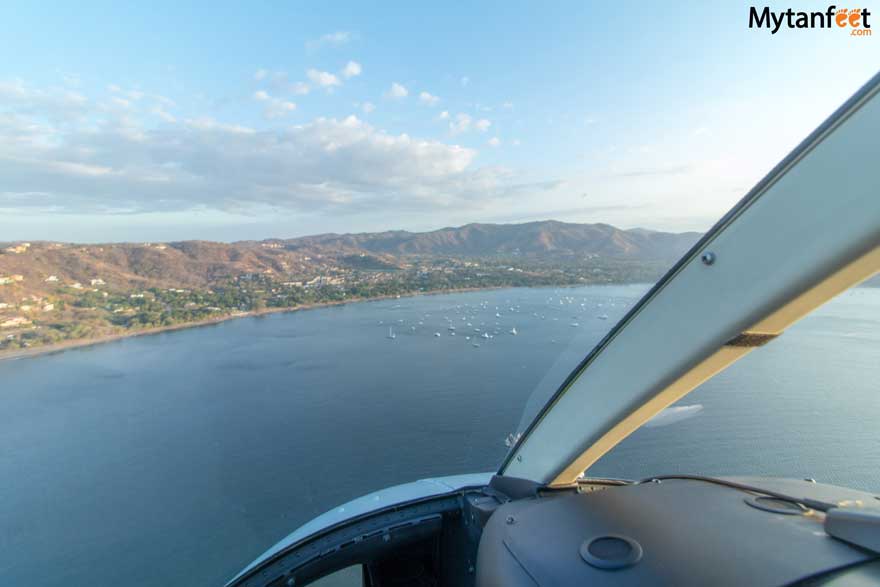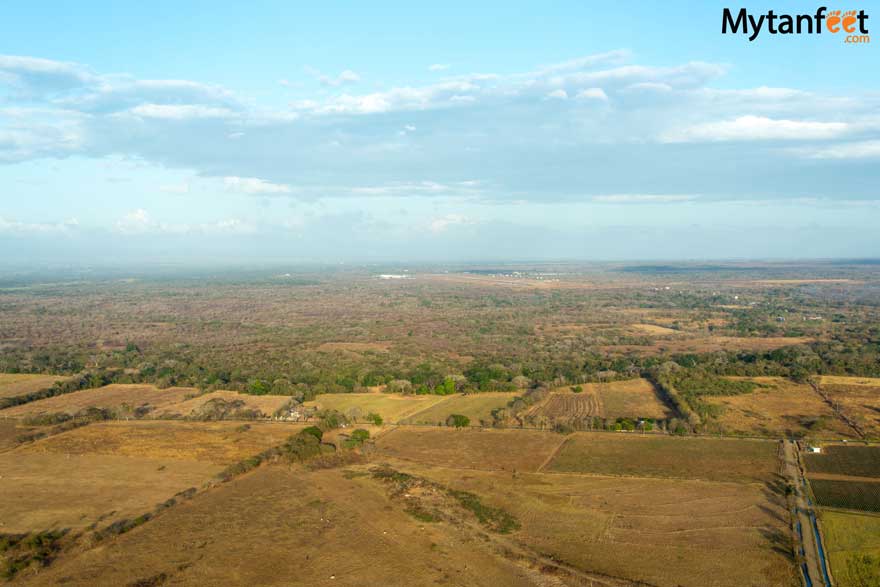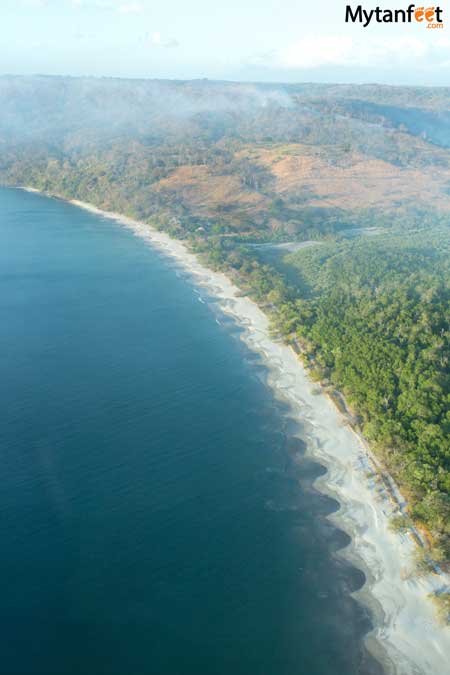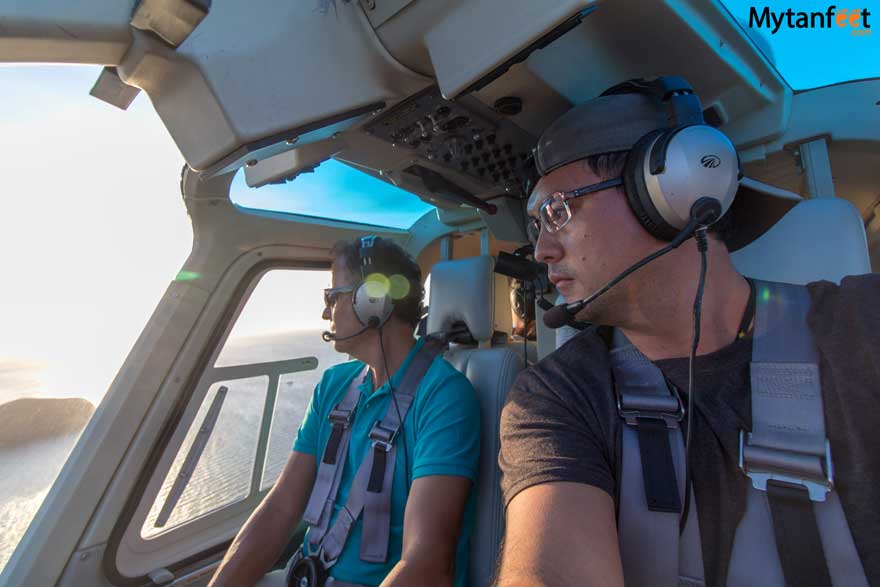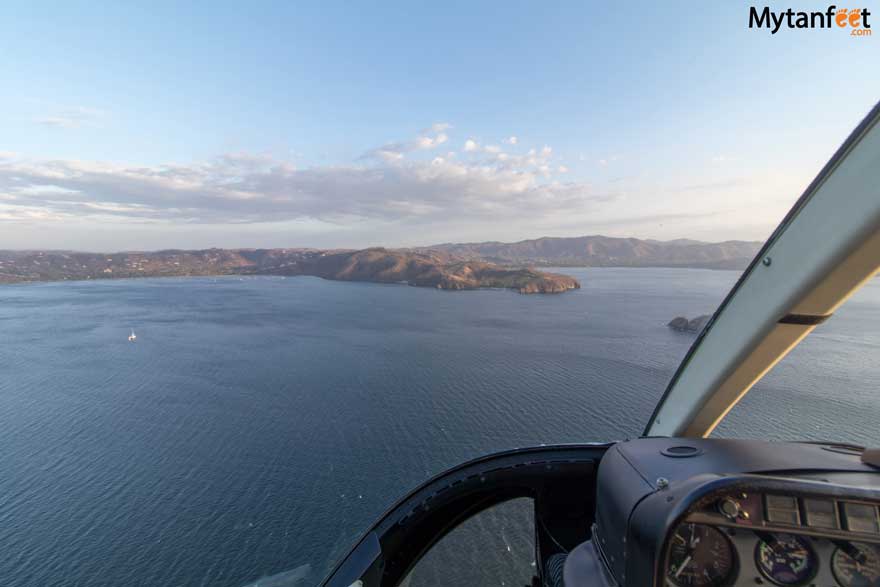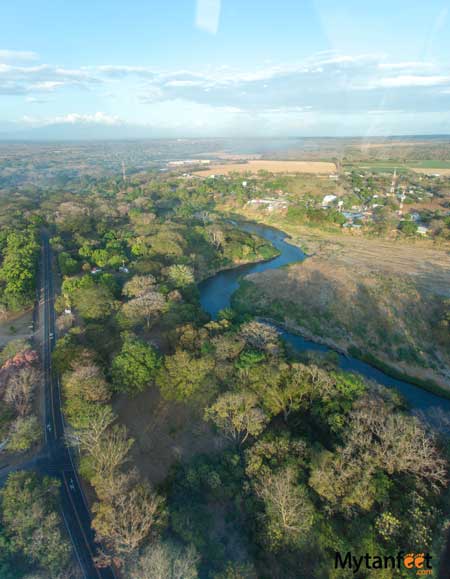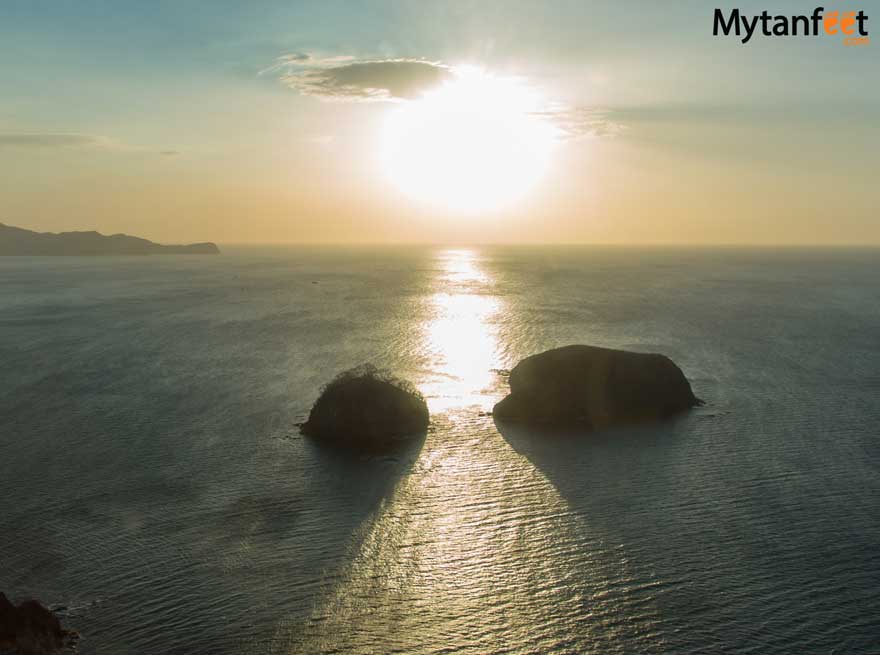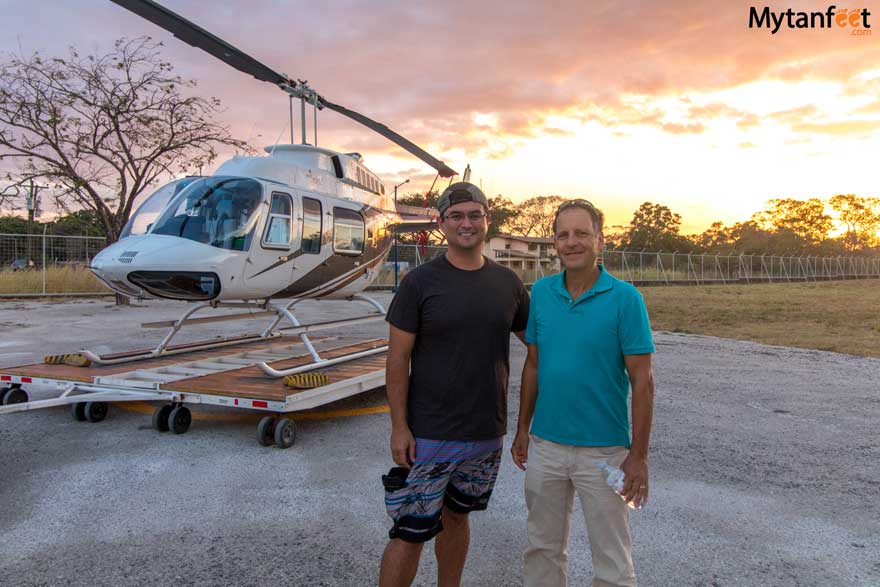 You can also watch our video of the tour below!
Volcano and Beach Tour
Their volcano helicopter tour goes to the Rincon de la Vieja and Miravalles Volcanoes up in the Guanacaste corridor. Sometimes it can be a bit cloudy so the tour also goes to the Guanacaste beaches so you can see both. This is about a 40 minute tour.
Paradise Tour
Their paradise tour goes more up north to Santa Rosa National Park, Murcielago Bay, Isla Pelada and Isla San Jose. These places are places that barely any visitors go to. This is about a 40 minute tour.
River Tour
Their river tour goes over the Tempisque River in Guanacaste, one of the most important ecological sites for birds, crocodiles, caimans, monkeys and other wildlife. This is about a 35 minute tour.
Costa Rica Helicopter Charters and Transfers
Adventure Air can also do helicopter charters and transfers to pretty much anywhere in Costa Rica. If you want to do a transfer from Guanacaste to Arenal, they offer that. Want to go from Liberia to Santa Teresa? They can do that too. If you want to charter a helicopter, they can provide that as well.
Adventure Air Costa Rica Helicopter Trips
They also offer one day helicopter trips in Costa Rica to Borinquen and Rio Perdido, two adventure parks in Guanacaste. So instead of driving for 2 hours, take a helicopter flight instead! Rio Perdido and Borinquen offer ziplining, horseback riding, hot springs, canyoning and other activities. One day tours include the helicopter transfer and the activities.
Adventure Air Costa Rica Helicopter Tour Cost
The cost will depend if you need transportation. They can pick you up in a car in Coco/Riu/Hermosa/Panama(Zone 1)  and in Tamarindo/Conchal/JW Marriott/Flamingo (Zone 2) and drive you to their base.
Sunset tour
The sunset tour without a pick up is $219 per person. Pick up from Zone 1 is $245 and pick up from Zone 2 is $291. They run this tour at 4:50 PM.
Coastal tour
The coastal tour is the same price as the sunset tour. They run this tour at 10 AM and 2:15 PM.
River tour
The river tour is $279 with pick up from Zone 1 and $328 from Zone 2. No pick up is $256.  They run this tour at 11 AM.
Paradise tour

The paradise tour is $292 with no pick up, $319 from Zone 1 and $384 from Zone 2. They run this tour at 9 AM and 1:15 PM.
Volcano and beach tour
The volcano and beach tour is $292 with no pick up, $319 with pick up from Zone 1 and $384 with pick up from Zone 2. They run this tour at 8 AM and 12:15 PM.
Costa Rica Helicopter Tours Discount
We're so excited to announce that we have a partnership with Adventure Air to give 10% off their scenic helicopter tours! If you are interested in booking a tour with the discount, please click here to get your Costa Rica helicopter tours discount!
Read about other tours in Costa Rica that we have discounts for below!
Rio Pacuare white water rafting