Rice with chicken is one of the most classic and traditional Costa Rican dishes. You can find this dish at any traditional Costa Rican restaurant (called sodas in Costa Rica) and it is normally accompanied with fries and salad.
If you feel like cooking up a bit of Costa Rica for dinner, here is our Costa Rican rice with chicken recipe. This dish is not too difficult but it does require a few key Costa Rican ingredients which you may be able to find at your local Hispanic or international food market or you can buy online.
I got learn how to make this arroz con pollo from our Costa Rican neighbor who kindly gave me her Costa Rican rice with chicken recipe. This is Yeison's favorite dish so I put a lot of love into it! There are Amazon affiliate links in this post.
Ingredients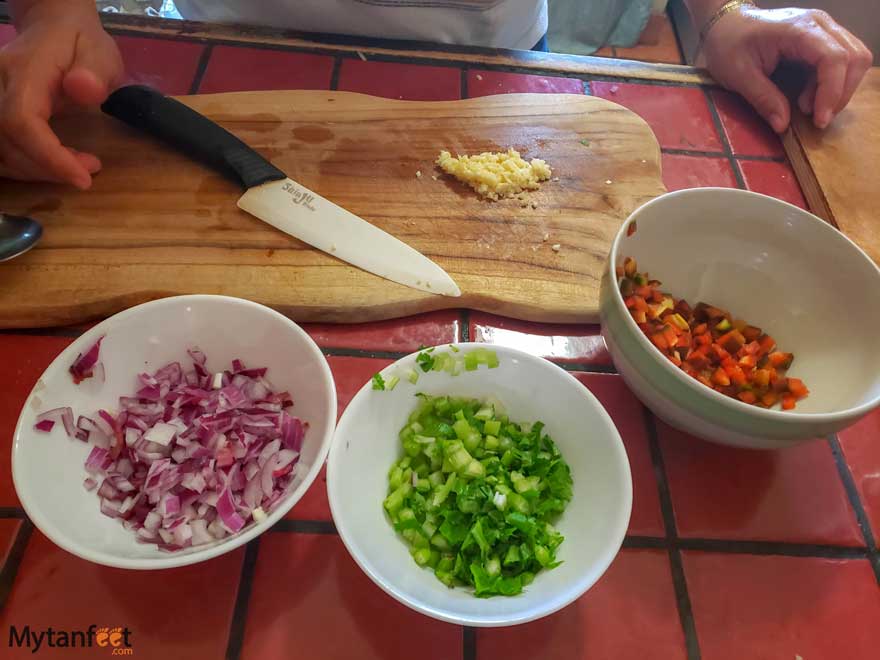 2 cups of cooked white rice. You can substitute for brown to make it healthier.
1 medium red onion (or white), chopped.
2-3 stalks of celery, diced.
1 sweet pepper, diced.
2-3 cloves of garlic, minced or chopped.
2 carrots, peeled and shredded.
1 packet of chicken consomme (a little over half a tablespoon).
1 chicken breast, cooked and shredded.
Salsa Lizano. Sauce of Costa Rica. You can buy it on Amazon.
1 bunch of cilantro.
1 tablespoon of Achiote paste (you can purchase this in most Hispanic markets or you can buy it online on Amazon. This paste is mostly just for color). Achiote paste is normally made of up annatto, oregano, cumin, clove, cinnamon, black pepper, garlic, and salt and then dyed red.
If you are in Costa Rica, you can find achiote paste at any supermarket. This is the one I use.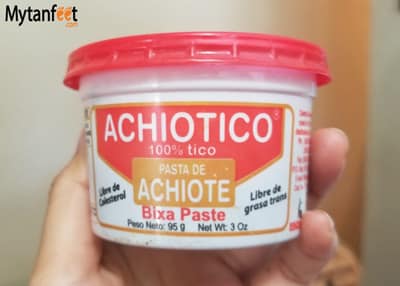 Instructions
You will need to first cook the rice and chicken breast. When I'm short on time, I actually buy a whole roasted chicken (like from Costco) but you can cook the chicken breast if you like yourself. The best way is to steam or slow cook to make it tender and juicy since it needs to be shredded.
While you're cooking the rice and chicken breast, you can cut the veggies.
Steps for Costa Rican Rice with Chicken Recipe
This recipe is enough for 3-4 people.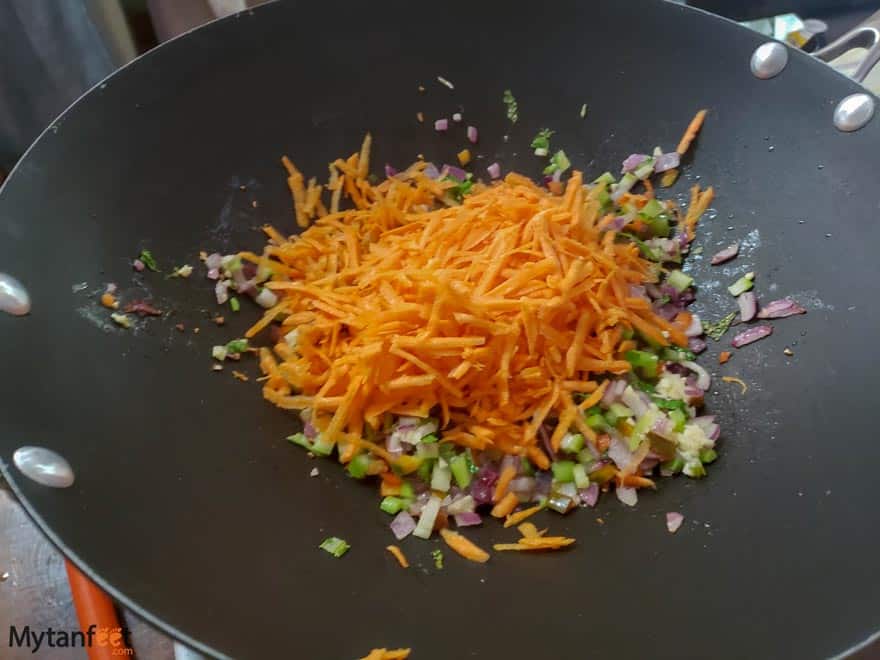 Cut onion, celery and pepper into small square pieces. Also cut garlic cloves. Set aside.
Shred carrots and cut cilantro into small pieces. Set aside
In a wok or a deep frying pan, put some vegetable oil and add garlic. Let that saute a minute and then add celery, pepper and onion.
Saute until onion is clear and celery is soft.
Add carrots and saute a few minutes
Add shredded chicken. Mix and stir fry about a minute
Add cilantro and sautee and mix for a minute.
Add rice, one packet of chicken consomme (optional), two tablespoons of Salsa Lizano (or more to taste) and one tablespoon of Achiote. Mix well. If you don't want to put consomme, you can use a seasoning mix with garlic powder, salt, onion powder and basil but traditionally, Costa Ricans use chicken consomme.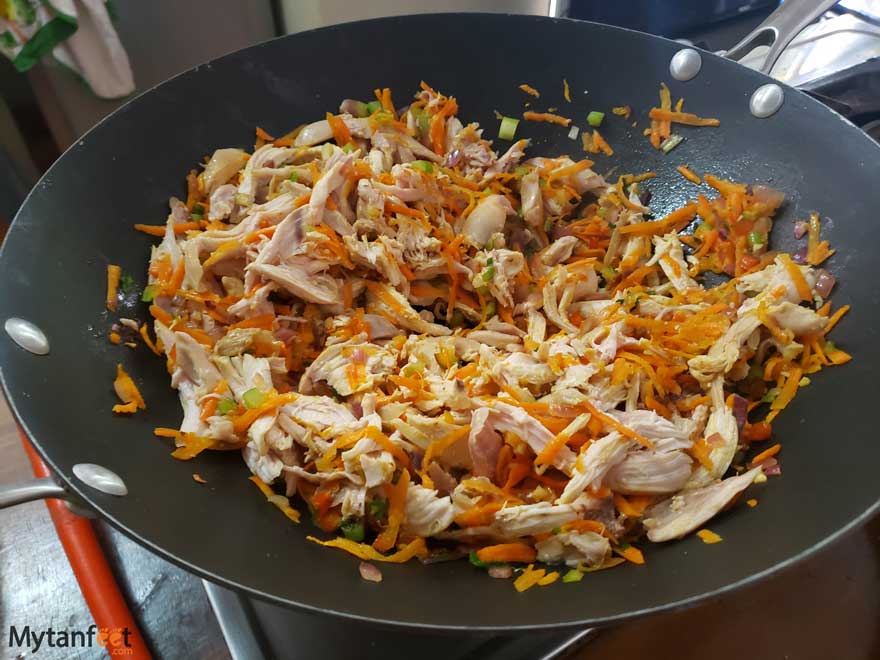 After all the vegetables, chicken and rice have mixed, you're done! That is your Costa Rican rice with chicken! It should have a nice orangeish/reddish color from the achiote.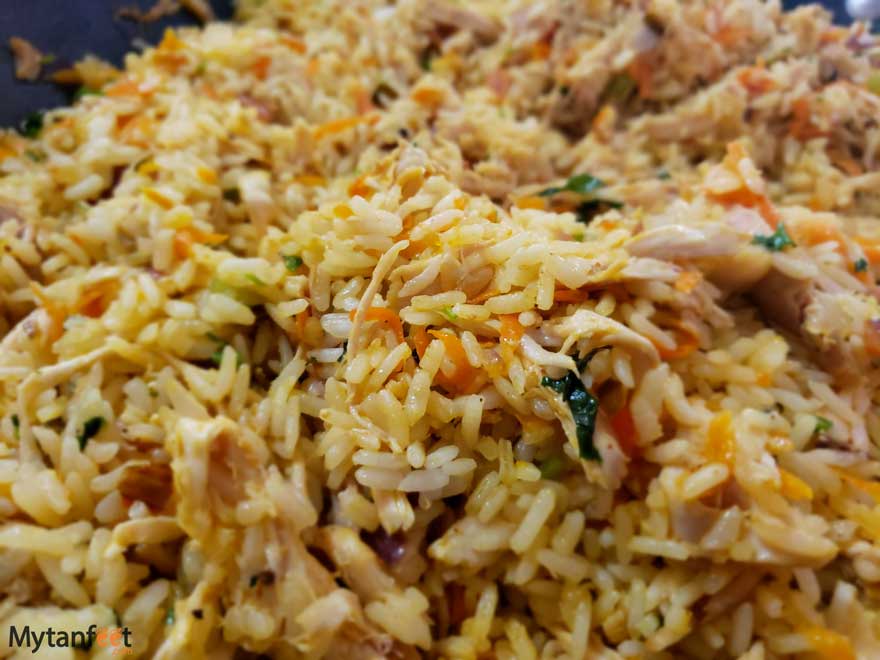 Serve with salad, fries, or eat alone. We personally love to eat it with salad and mashed beans. Yum!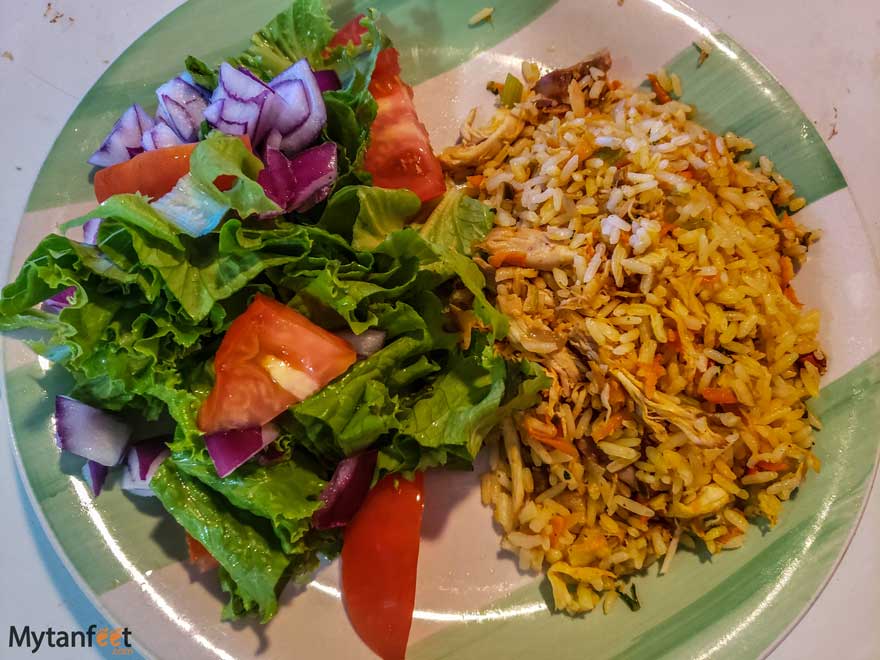 And that's it! As you can see, it's not too difficult but it sure is delicious and hearty!
Notes
You can add different vegetables if you like. Some rice with chicken recipes use peas and carrots instead of pepper, celery and onion. You can add any vegetables you like, but traditionally it comes with cilantro, pepper, onion and shredded carrots.
Costa Rican Recipes
This post has affiliate links.