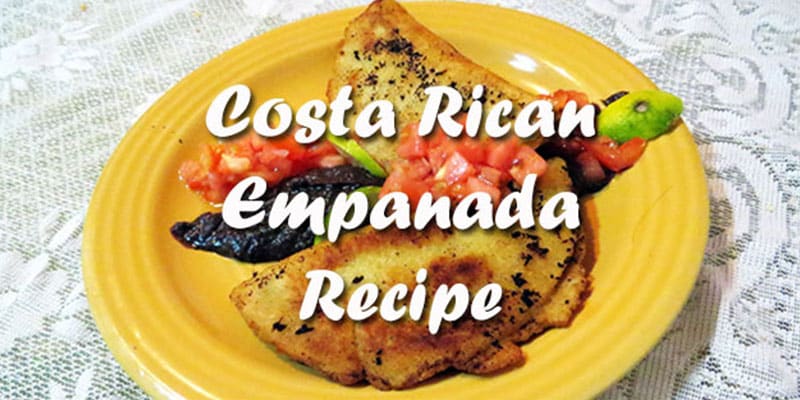 Costa Rica empanadas are found throughout the country and are cheap, delicious and filling. They are actually one of the must eat things in Costa Rica!
They aren't too hard to make so I'm going to share our Costa Rican empanadas recipe with you. It's fairly easy and you can make it vegetarian/vegan as well. So here is our Costa Rican empanadas recipe so you can add a little bit of pura vida in your kitchen.
Costa Rican Empanadas Recipe
Empanadas are a common dish in Latin America, Spain, some countries in Europe and even some countries in Asia. It's a simple dish but each country has their own yummy twist to making them.
The name "empanada" comes from the Spanish verb Empanar which means to bread. Costa Rican empanadas are usually made of a corn dough that can be filled with anything: chicken, beef, beans, pork, potatoes. You can find sweet versions as well as savory ones. My personal favorite are the ones with beans.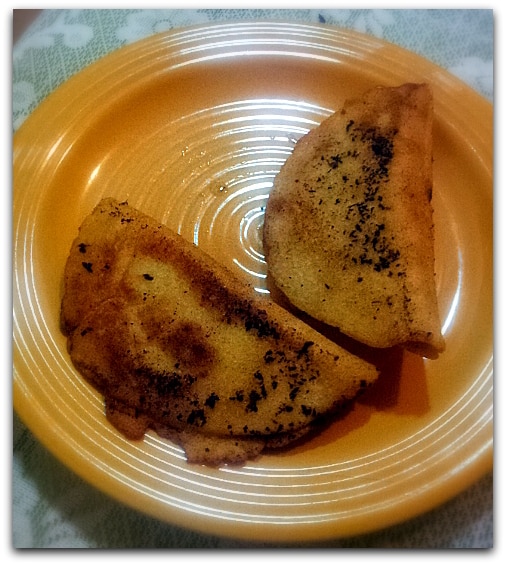 Yeison's brother is a fabulous cook and he makes some of the best traditional Costa Rican dishes I've ever eaten. He came over to show us how to make empanadas and I have to say, it was much easier than I expected.
First, you make the dough. They use cornmeal to make the dough, add a little chicken consome (very common here since it's so cheap) and water. Not too much to it. Mix until nice and smooth.
Next, the filling. You can pretty much put anything you want in there but for this particular recipe, I'm going to do a chicken filling.
Chop chicken breast into small pieces along with some garlic, tomato and onion. Stir fry the garlic and onion first and then the chicken.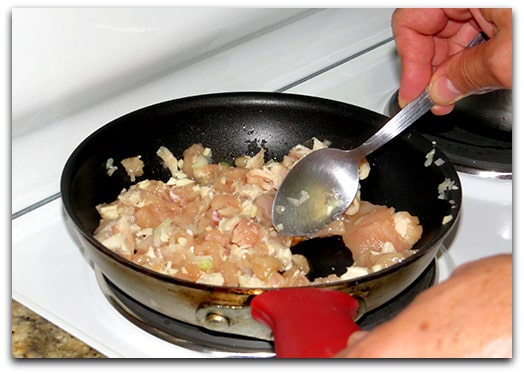 Now, the important part. Add Salsa Lizano. If you don't know what that is, you HAVE to try it. It's what makes Costa Rican food, Costa Rican. It's the flavor of Costa Rica! It's kind of a tangy sour sauce that Ticos put in everything.
Add as much as you like along with a pinch of salt. Add the tomatoes and fry a bit more until the chicken is fully cooked. At this point the kitchen should smell pretty darn good.
Next comes the fun part! Making the tortillas. Take your dough and roll it into balls, about the size of your palm. Now if you don't have a tortilla maker, you can try this handy little trick.
Take a plastic bag and cut it in half in between the folds. Save both pieces.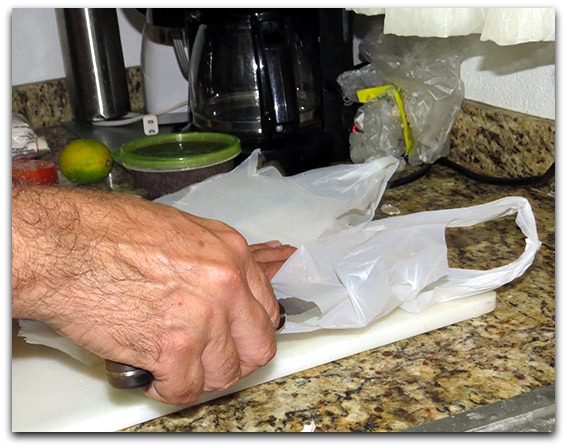 Set one piece down on a plate, the ball of dough, and then the other piece of bag on top. Lay it straight, get another plate and use the bottom side to press down and flatten the dough. Lift up the top piece of bag and set aside.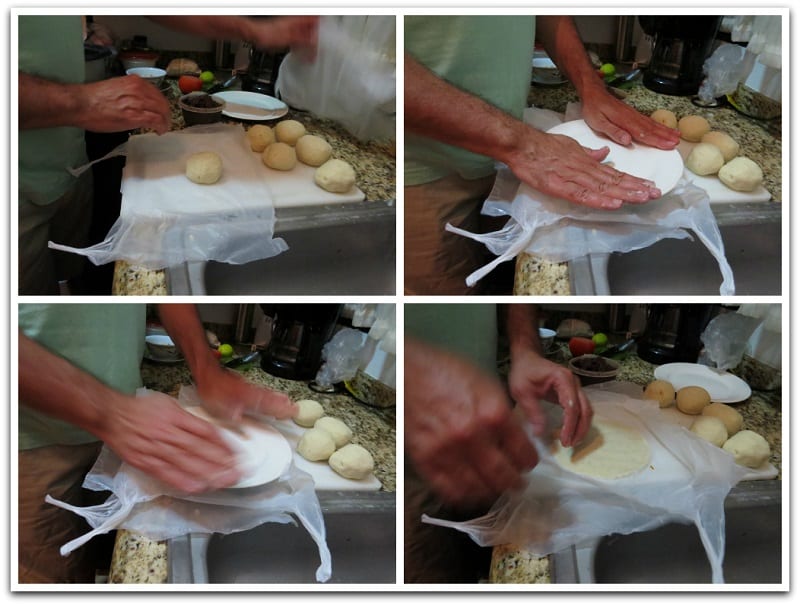 And voila! You now have your beautifully made tortilla. Now who needs a fancy tortilla maker when you have this?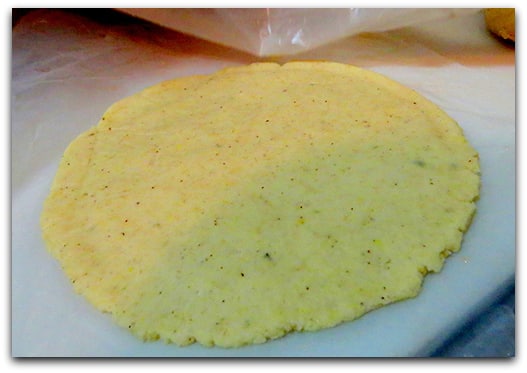 Now put in your filling along the middle of the tortilla. Make sure not to put too much or you'll squish all the contents out. We made both blended beans and a chicken filling. Here we have our bean filling.
After you put in the filling, take one corner of the plastic bag on the bottom and fold in half to close your empanada.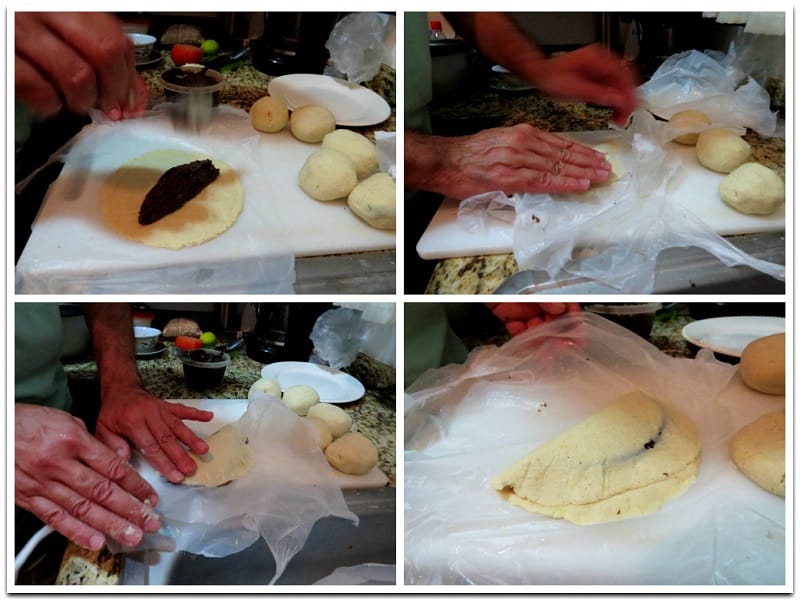 Now all that's left is frying. Put about half an inch of oil in the pan and put in the empanada when the oil is hot. Fry on each side until it's golden brown and crispy. Top with salsa, guacamole, or any toppings of your choice.
Buen provecho! (Bon appetit)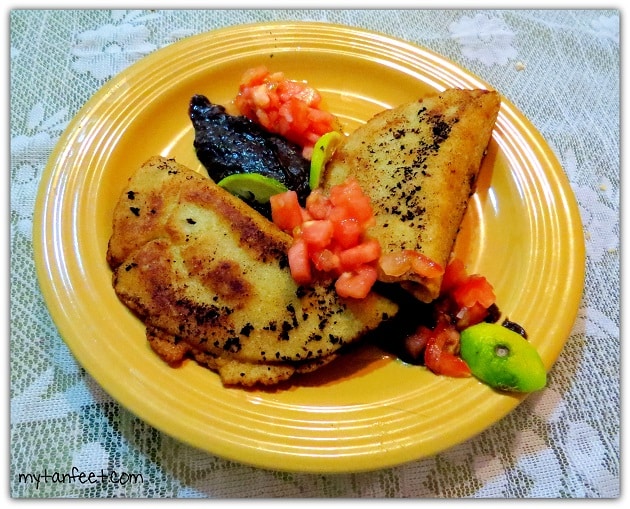 Ingredients
This will make 6 empanadas
For the dough:
2 cups of cornmeal (harina de maíz)
1 packet of chicken consomé (chicken bouillon)
Half a cup of water
For the chicken stuffing:
2 chicken breasts
2 cloves of garlic
1 small yellow onion
1 small beefsteak tomato
Salt
Salsa lizano
Vegetable Oil
Instructions
In a large mixing bowl, mix together cornmeal and the chicken bouillon.
Add the water and mix. If there is excess water, drain and mix until smooth. Set aside.
For the chicken stuffing, cut chicken breast into small bite size pieces.
Dice onion and tomato into small pieces and mince garlic.
Add oil to a frying pan and add garlic and onion.
Cook for a minute or two and then add chicken on high heat.
Add a little salt and stir fry for another couple minutes. Add Salsa Lizano and then tomatoes.
Stir fry until chicken is cooked. Turn off heat and set aside. Heat up another frying pan with a half inch of oil for the empanadas.
To make tortillas, cut a bag in half between the folds. Set one layer down on a plate.
Take a handful of dough and roll into a ball about the size of your palm.
Put the ball on top of the bag and place the other bag on top.
Using the bottom of another plate, press down to flatten the dough. Remove the top layer and set aside.
Add your stuffing length wise in the middle and grabbing the bottom bag, fold in half and press along edges to close the empanada.
Fry the empanada on both sides until golden brown and crunchy.
Serve with your favorite toppings.
Want more Costa Rica flavor in your kitchen? Check these recipes out!