When I was planning our trip to Uvita, I wanted to create a unique experience for Yeison and I. The South of Costa Rica is one of the most untouched places in the country as it is still fairly undeveloped and still a bit under the radar.
The nature and wildlife in the South is a completely different world than the rest of Costa Rica as the jungles are intensely verdant and lush. Majestic mountains landscapes slope down to greet pristine beaches, creating a spectacular vista for all who visit.
Uvita holds a plethora of hidden waterfalls, roaring rivers and immaculate beaches, not to mention a very famous national park. Anyone can easily see from first glance why travelers fall in love with this area.
When planning our Uvita trip, we wanted to experience something a bit different than your standard hotel and we found the perfect one: Manoas.
Manoas Luxury Camping & Villa Rentals
Manoas is a resort 2 kilometers up the mountains from Uvita that offers two main types of lodging options: luxury safari tents and villas. We decided to stay at a luxury tent since we had never gone glamping before and were so curious to see what it's like. This was exactly the type of alternative lodging we were looking for.
We didn't know quite what to expect, but our time in the tents were probably one of the best we ever had in Costa Rica.
Why? you may ask. Why stay in a tent but not go "real" camping?
Well let me share with you why and you'll find yourself itching to try it for yourself!
Luxury Tents
Uvita is not the most developed area in Costa Rica and there are limited options for lodging. If you want to stay somewhere that allows you to be close to nature while being comfortable and cozy, it can get expensive in Uvita. However, the luxury tents are affordable and provide the utmost comfort surrounded by nature.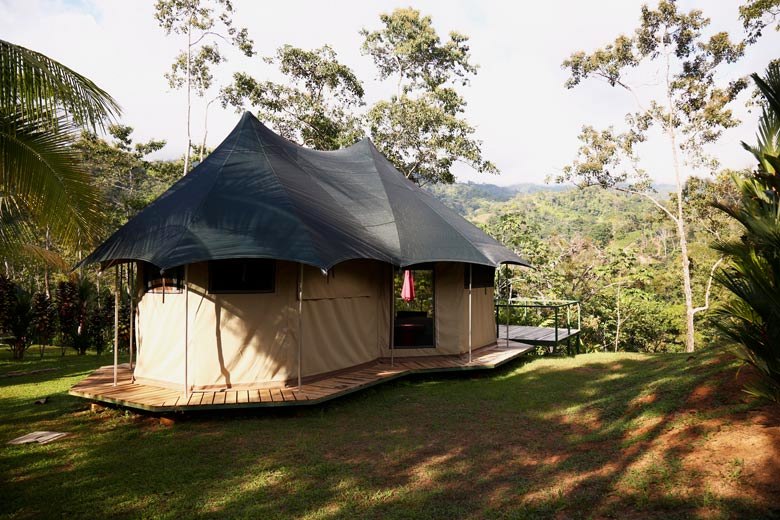 Each luxury tent is equipped with a king size bed, two night time table stands, a coffee table and small couch. Each one has its own big bathroom with a shower and dresser. A large deck with a table and chairs is attached to each tent, over looking the mountain side.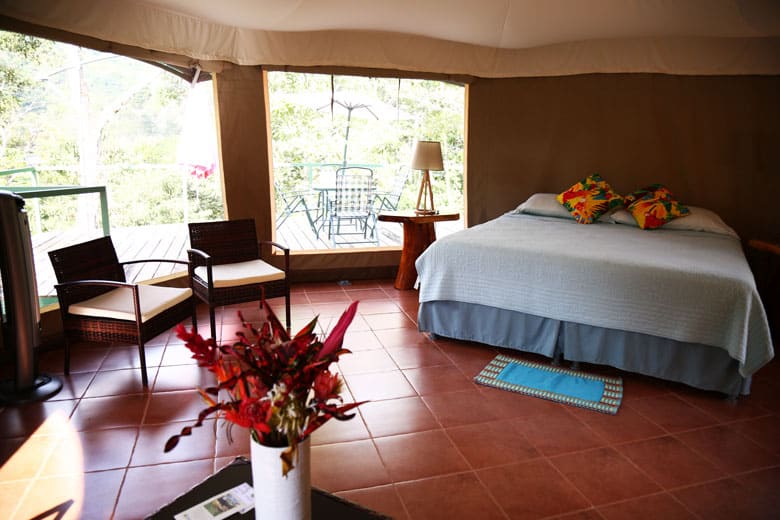 The tents offer comfort, full amenities and are furnished beautifully to "camp" in luxury. As you can see, the tents still allow visitors to get up close and personal with nature.
Wake up in paradise
Just imagine this.
You wake up early in the morning to warm natural sunlight descending on your face as you snuggle in your cozy king size bed. Dozens of birds sing cheerfully to signal the start of the day and in the distance, you hear a cacophony of monkeys howling fiercely. You get out of bed, not yet fully awake but ready to start the day. You open the door, step outside and breathe in the fresh clean air of the jungle.
Then you walk onto the deck, stretch your arms and gaze out into the deep forest stretching for miles in front of you. You locate the source of the loud squawking and see a Red-lored parrot perched on the tree above you. When you feel more awake, you walk a few steps up the hill, feeling the crunch of the dewy grass underneath your bare feet for fantastic views of the encampment.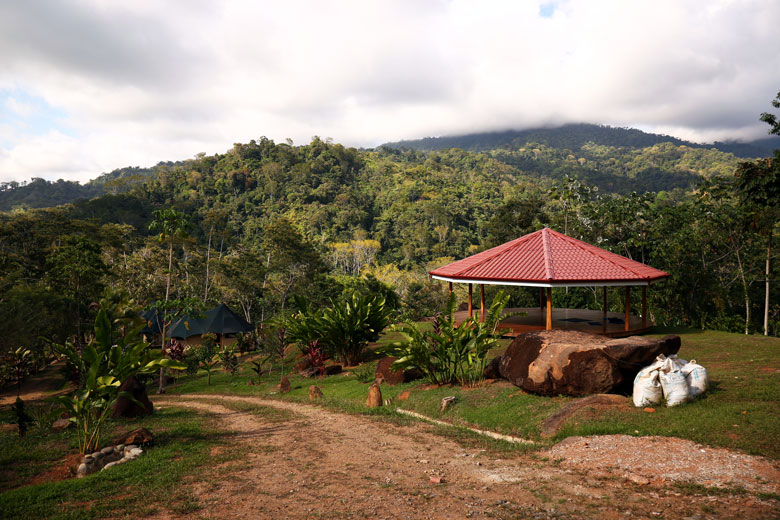 And that's how every day starts at Manoas. Head up to the cafe for complimentary breakfast of your choice such as typical gallo pinto, french toast or banana pancakes. Sip delicious Costa Rican coffee as toucans chirp eagerly nearby and the mountains welcome you good morning. Try a fresh natural juice drink made with succulent pineapple, watermelon or mango.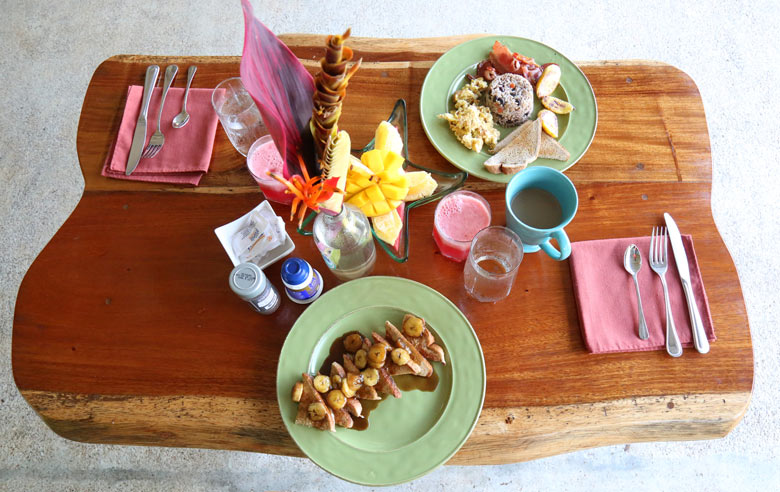 Other Accommodations
As Manoas sits deep into the jungle, your stay is nothing but peaceful. The tents and villas are built so that each one is private and intimate, but not so far apart that it is a hindrance to walk to one another. Below the main house is the other choice of accommodation. For those who don't wish to stay in a tent can sleep in comfort of apartment style villas.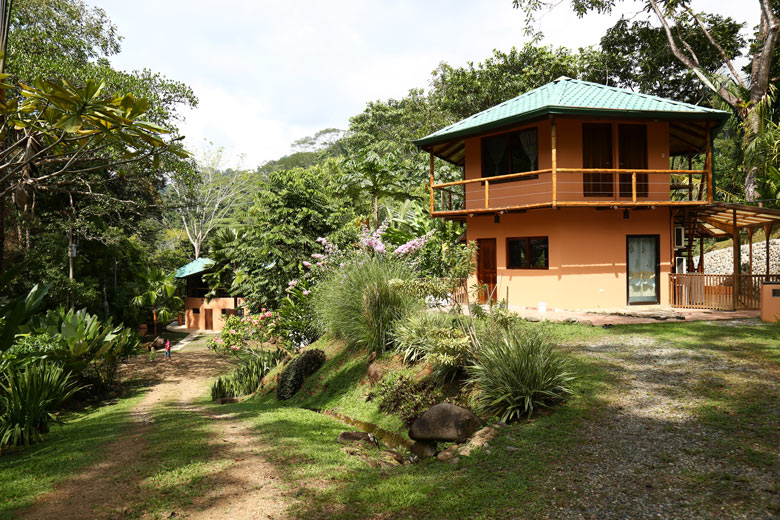 The villas, Casa Rio, Casa Heliconia and Villa Colibri all have air conditioning, a fully furnished kitchen and decks. They're situated lower on the property, closer to the Rio Uvita that runs by Manoas. These are excellent options for families and big groups as the biggest one, Casa Rio has 4 bedrooms and Casa Heliconia has 2. Villa Colibri is ideal for couples looking for the most privacy and intimacy.
The River and Pool
After a fun day of exploring Uvita, head to the Rio Uvita to cool off. This and another river run along the property and unite to form one big river.
It's a short walk from the pool to a comfortable spot in the river to bathe in. Head to where the two rivers meet and feel the rush of the cool water as you lay down in a snug spot in the rocks.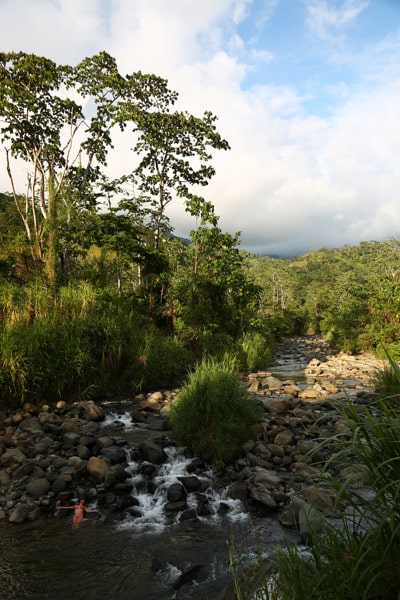 Or head to the pool, which also has a beautiful view of the river. Lay in one of the chairs, float in the pool and rest your body.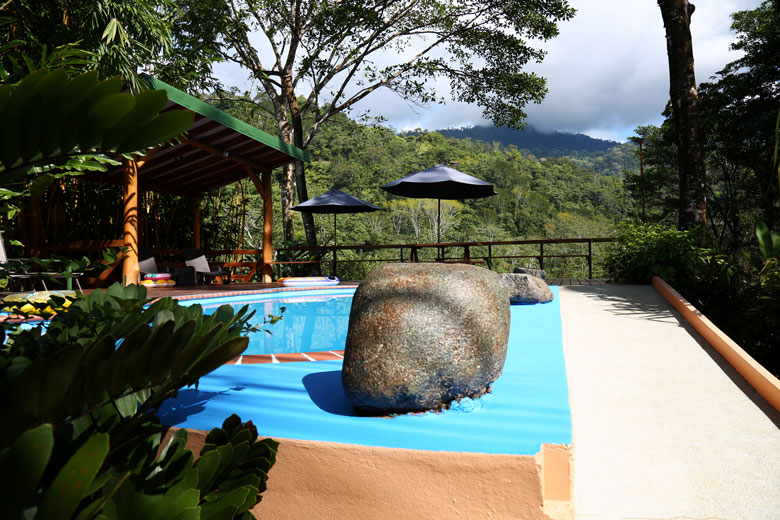 Why Stay at Manoas in Uvita
If you're still not convinced (hard to believe), here are some more reasons to pick Manoas as your home base in Uvita.
The owner, Steve is an excellent host and can help you with anything you need. He's a really fun guy to talk to and strives for every guest to have a wonderful time at Manoas.
The nature. As the hotel is obviously in the jungle, you're surrounded by nature.
Speaking of birds, this is an excellent area for bird watching.
You can choose between the tents and villas which I really like. The tents, despite being luxury tents may not be for everyone but you can still enjoy everything Manoas has to offer in the villas.
Even though you're tucked away in the mountains, you're only 2 kilometers from Uvita. You're incredibly close to the town, Marino Ballena National Park, Ojochal and Playa Dominical.
So when you come to Uvita, stay at Manoas. You won't regret it as you practice yoga on the deck with a gorgeous sun setting over the mountains in front of you, or when you're splashing around in the river with your little ones with colorful tropical birds flying around you.
Click here to check latest rates at Manoas!
Looking for fun things to do in Uvita? Check out our top 10 activities in Uvita and Dominical!