Who doesn't love snacks? Yeison and I do and we loooove trying the local snacks whenever we travel abroad. It's a ton of fun to browse the supermarkets seeing what interesting snacks the locals eat. In Costa Rica, there are a lot of snacks in the chips, crackers and cookies variety.
In this post, I list our favorite snacks. Yeison who is Costa Rican shares some of his favorites when he was a kid and as an adult and I share my favorites as someone who isn't originally from Costa Rica. So here are some of our favorite Costa Rican snacks that we hope you try too! You can find these snacks in nearly all supermarkets and convenience stores.
Also make sure to read our post about Costa Rican supermarkets so you know what to expect when you go grocery shopping.
Chirulitos
These chips are always a huge hit with my friends. One of my friends liked them so much, she brought some bags home and I gave her some for a Christmas present! They're super crunchy and have a salsa and cheese flavor. I personally don't like them as I don't like cheese but all my friends love these chips.
You can find Chirulitos in every supermarket and convenience store.
Soldanza Chips
This brand of chips is produced in Puerto Viejo de Sarapiqui and is one of our favorite Costa Rican chips. Yeison's favorite is the platanos con límon and my favorite is the camote (yam). They also have lightly salted plantain, ripe plantain, cassava sour cream and onion, yuquita (yuca), taro, a party mix and banana chips. The plantains with lime are perfect to snack at the beach and those ones are one of Yeison's favorite Costa Rican snacks.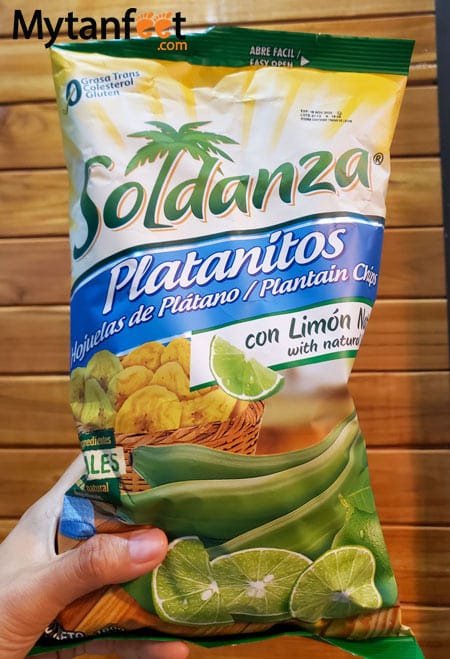 You can find them in pretty much all supermarkets and cost around 1000 CRC ($1.75 USD).
Find out how much it costs to travel in Costa Rica and how to travel on a budget!
Tapita
These are yummy chocolate treats that get especially popular at Christmas time when they put out their Tapita Navideño chocolates. They also have Tapita Rompope (Costa Rican spiked egg nog). The Navideño chocolates are soo good!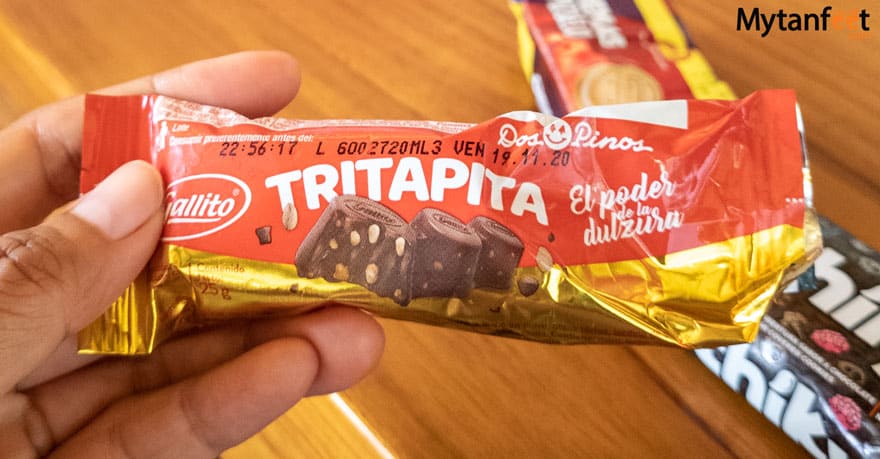 I remember Tapitas fondly because my first visit to Costa Rica was during Christmastime and Yeison bought me a a lot of Christmas tapitas since he knew I love chocolate.
Crema Pozuelo
Pozuelo is a 100 year Costa Rican cookie company that is now a subsidiary of one of the biggest consortium in the Latin American food industry. They started with their classic Pozuelo cookies, some of which are favorites are Cremas Pozuelo and Canasta but they have many more. I love the Canasta cookies and they're one of my favorite Costa Rican snacks.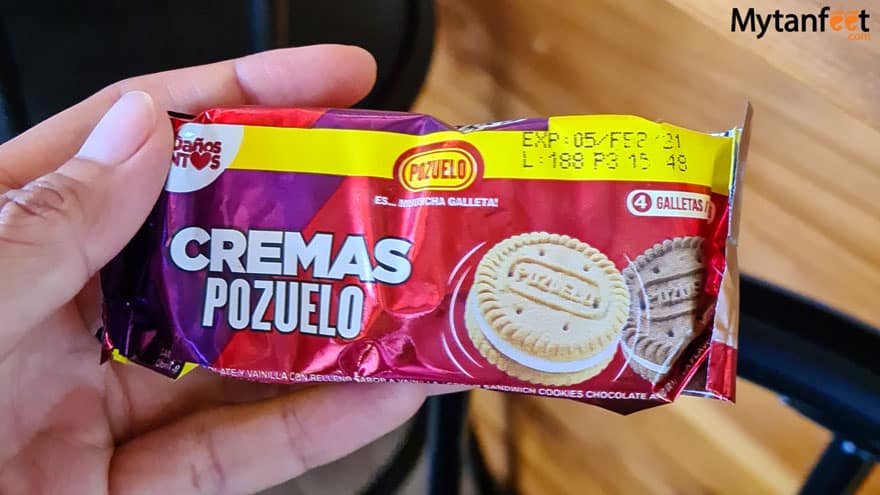 The Cremas are a classic so if you want to try one of the Pozuelo cookies, get the cremas!
Tosh
Toish is our go to when we need a "healthy" Costa Rican snack. They have cookies and crackers like oatmeal chocolate, yogurt and berries, honey and coconut lime. Yum!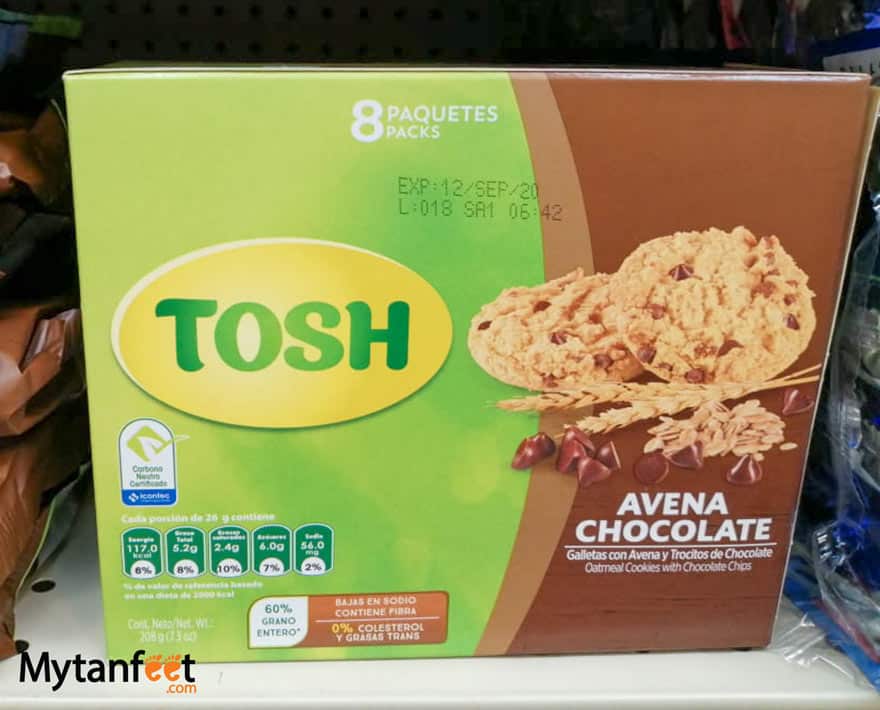 I love all their crackers and I even use their honey graham crackers to make key lime pie crust. Yeison loves the coconut one. Whenever we travel, I always have a few of these cookies in my purse.
Chiky
Chiky is another classic Costa Rican cookie which you'll find everywhere. It's thick and chocolately, perfect for an indulgence. They also have a lime flavor which is delicious but the chocolate is one of the classic Costa Rican snacks.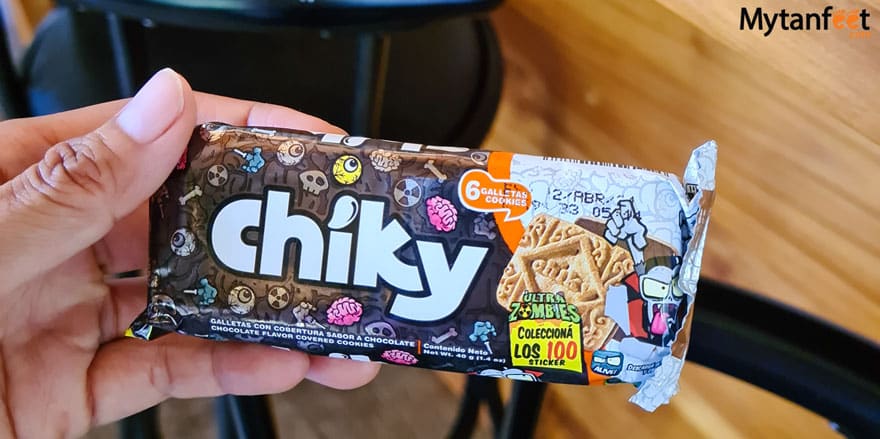 One packet of Chiky cookies comes with 6 cookies and I love putting them in the fridge to get them nice and cold.
Campechanas
These small flaky buttery cookies are another favorite of ours and another classic Costa Rican cookie. It has a sugar coating and I can eat so many cookies in one sitting!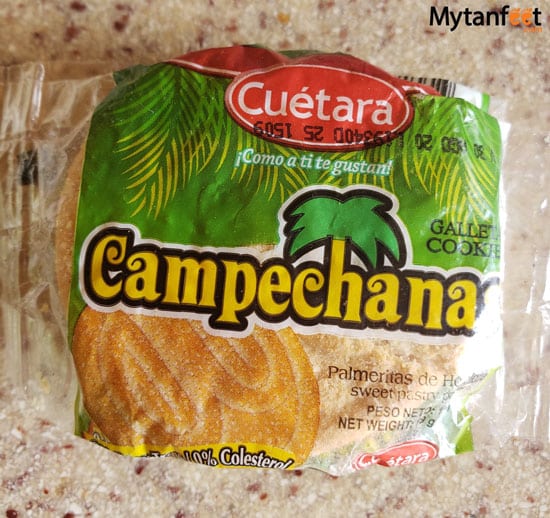 I kind of wish they made a big version of these cookies as they're perfect when I want something sweet that's not chocolate.
Kronchitos
These are personally one of my favorite Costa Rican chips even though Yeison's not a huge fan. They're kind of like Fritos but harder and crunchier with a sweet barbecue flavor. I can't ever buy a big bag to keep at home because I'll eat it in one sitting!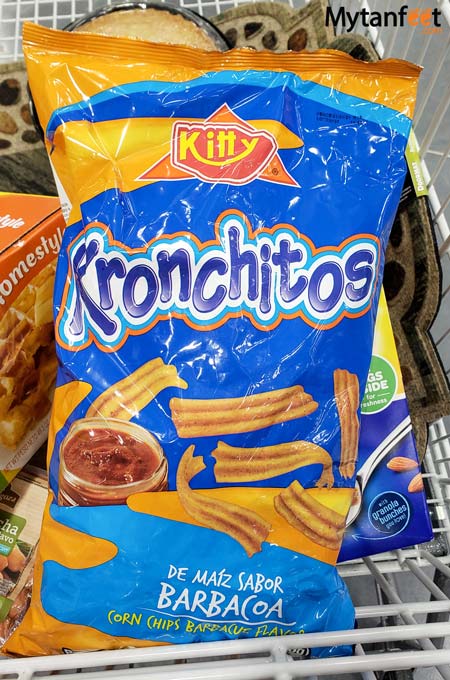 You can find Kronchitos in supermarkets like Maxi Pali.
Tronaditas
These are another classic Costa Rican chip in lime flavor (orange bag). Very crunchy with a nice balance of lime and salt flavor. Yeison and I don't buy these chips that often but we'll get them if we're going to the beach since we like the lime flavor. Many of Yeison's friends love these chips and they always have some in the house.
Other Popular Costa Rican Snacks
Rumba: These are fried round tortilla chips that we love for chips and dips. Usually the chip you can find in our house.
Bolitos de Queso: This is like a Costa Rican cheeto and it's literally what the name is (balls of cheese). Since I don't like cheese I don't like them but it's a popular snack for Costa Ricans kids. Definitely not healthy but it's another classic.
More About Food in Costa Rica
Learn what Costa Rican food is like, best place to get traditional Costa Rican food (local restaurants called sodas) and how to eat veg in Costa Rica. Costa Rican doesn't have the most well known or the best cuisine but it is always fun to try new foods and try the local foods of a country!