I love Monopoly – I grew up playing it with friends and we would spend hours and hours (we didn't exactly read all the rules) until we just got tired. We try to play it every Christmas and now there are so many versions, we actually bought two different monopolies last year!
Monopoly is probably one of the most famous board games of all time with roots dating all the way back to 1903. It's a Christmas tradition, a family tradition, and one of the original games that brought loved ones to the table together. It may seem like a friendly competition that makes for a fun night but it can turn fairly ugly sometimes.
It's a very simple concept: land on properties and buy them. Charge rent when others land on your property.
These are:
22 deeds
4 railroads
2 utility services
All represent real life companies and places in the United States. You can go to jail, build houses and hotels, pay taxes and to win, you must bankrupt everyone else and come out the shining millionaire of the game.
This is what is in the American version of Monopoly. The game centers on capitalism, infrastructure and property management.
Enter Super Banco – the Costa Rican version of Monopoly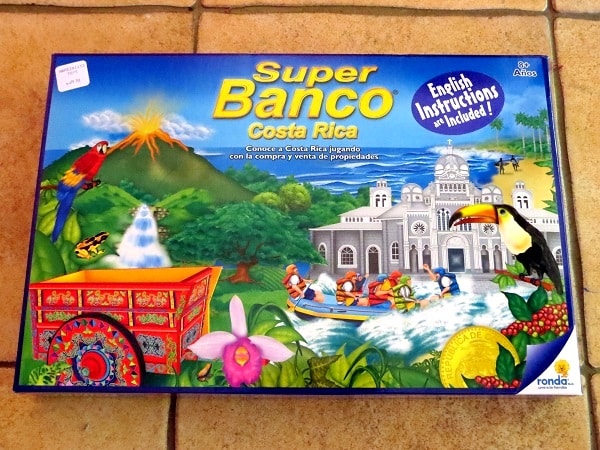 It's the exact same concept. A board game where you buy properties, pay taxes, go to jail and the main objective is to bankrupt everyone else. The game keeps the main principal of capitalism but this one has a fun twist to it.
All the features reflect Costa Rica. From the chance and community cards, the deeds and even the free parking space.
Costa Rica is known as a country full of nature, not a country full of huge cities, big buildings and busy streets. So instead of Pennsylvania Avenue, you have Monteverde. Instead of free parking, you're going to find free canopying!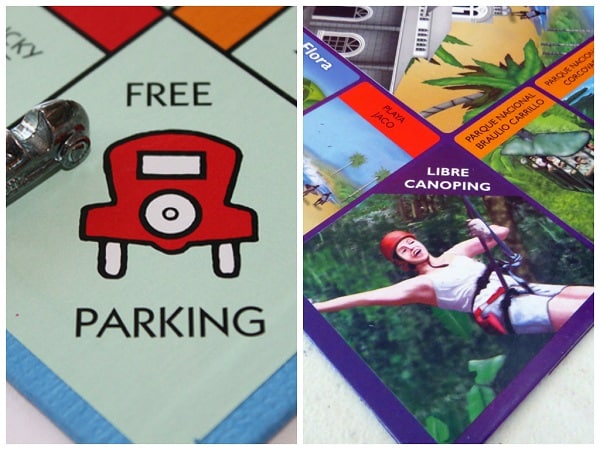 Once you lay out all the pieces of the game, you can see all of Costa Rica in there. In one simple game of Monopoly, you'll learn about colones, natural landmarks, cultural icons, some Spanish (the game is all in Spanish naturally), and there's even a oxcart on the board!
The culture, history and essence of Costa Rica all packed in one box.
The tagline on the box even says Conoce a Costa Rica jugando con la compra y venta de propiedades which pretty much means know Costa Rica by buying and selling properties.
Which is so interesting when you compare it for the American version, I'm not sure I can say the same for that one. Their slogan is Own it all.
The original one that reflects the United States has well known streets and businesses from that time period that still exist today and doesn't show much more about the culture than that.
Of course this game isn't about teaching you history and culture but ask anybody who has been to Costa Rica one of the things they loved most about the country and they'll most likely reply back with "the nature."
It's impossible to bring up Costa Rica without mentioning the gorgeous landscapes, the beautiful and pristine areas and the biodiversity. Even in a Monopoly game you can't hide it!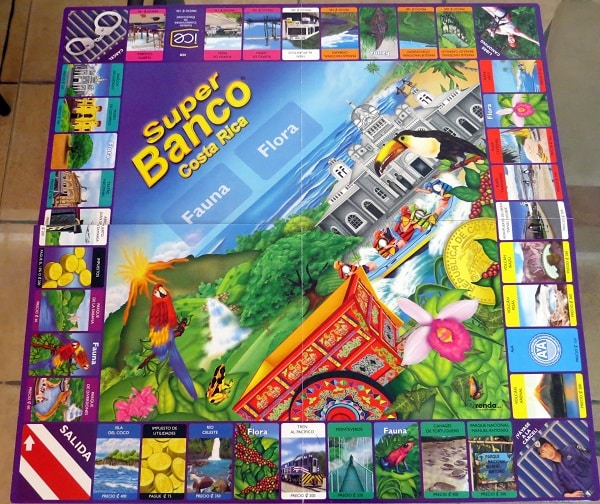 This board is insanely colorful with parrots, frogs, a volcano, waterfalls, flowers, insects, an oxcart, a building, a river, the beach, river rafting, trees, coffee and a toucan all painted onto the face of the board.
On the other hand, the American Monopoly is kind of boring. It's just the Monopoly guy and that's it.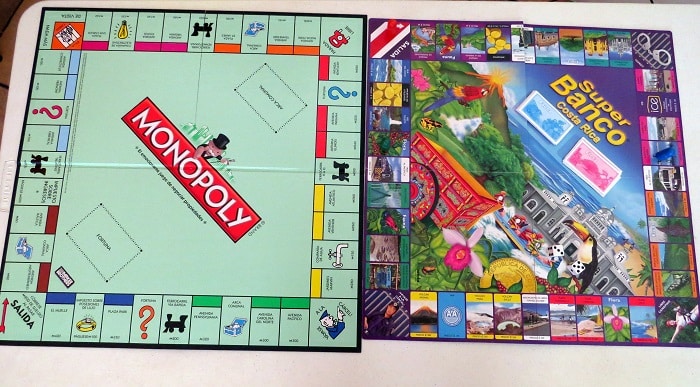 Most of the Super Banco properties are national parks, beaches, rivers, volcanoes, and ports along with the museum for kids, amusement park, the two major airports and a couple others.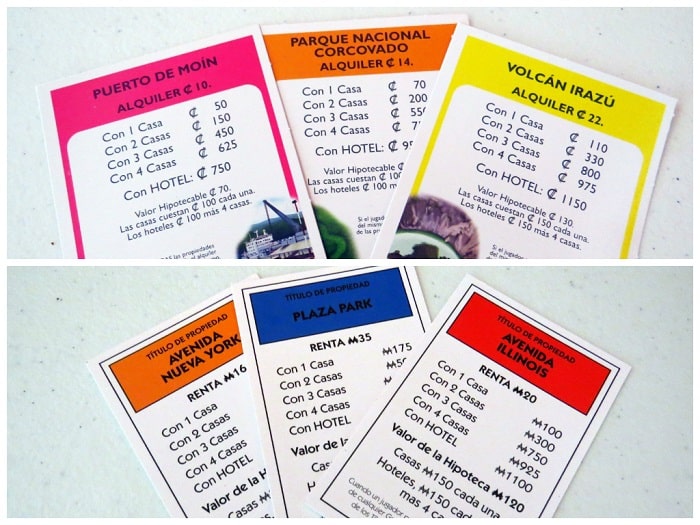 Instead of the big cheese being Boardwalk and Park Place, the best blues are Rio Celeste and Isla del Coco. Pay with colones and instead of landing on Chance or Community Chest, you get to land on Flora and Fauna!
The American industry's best vs the Costa Rican nature's best. A boardwalk in Atlantic City known for casinos vs an island that is an UNESCO site known for world class diving.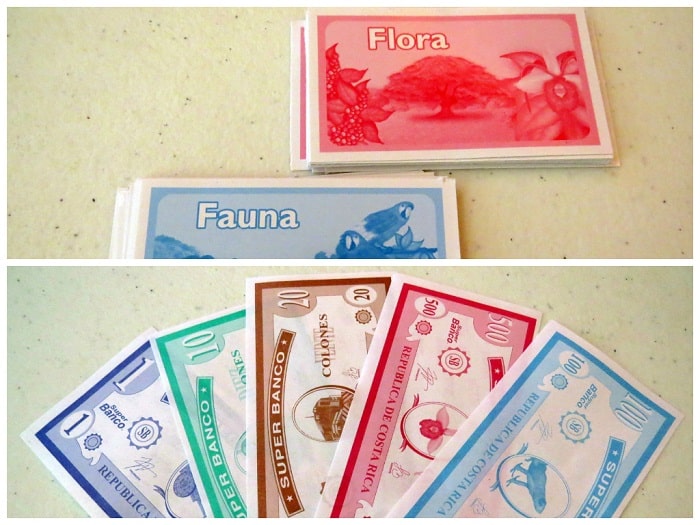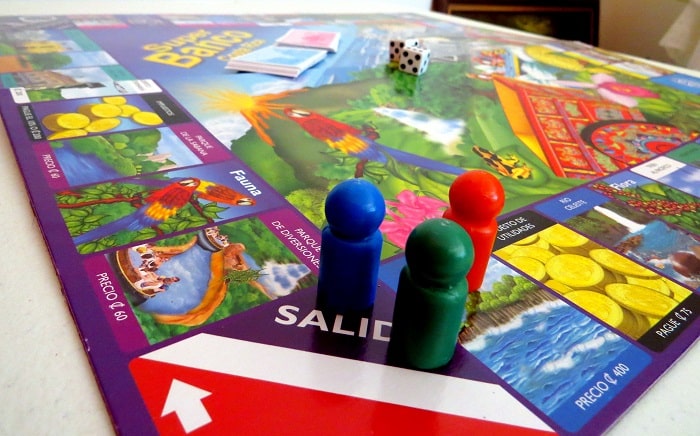 There's something much more charming and appealing to playing Super Banco than Monopoly. I love the fact that instead of buying a street (boring), I get to buy a volcano. Or a river. Or a whole national park!
Even though original Monopoly was created back in the 1930's, I'm sure that if American Monopoly was created with the same concept and principle in mind today, it'd keep the same essence. Properties and deeds will still be streets, maybe some big buildings with some fortune 500 companies thrown in.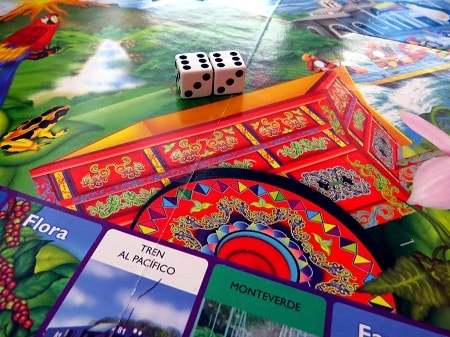 Costa Rica's monopoly will stay the same through and through.
The original was actually called Gran Banco and has been around for quite a few years now.
Natural landmarks will always be the main attraction and rule over the man made buildings.
Even in a simple game of Monopoly, the true mindset and the simple lifestyle of Costa Rica is heavily reflected.
There's no need to create skyscraper buildings in a huge city when you have some of the world's most precious biodiversity and natural hotspots. At the end of it all, that is what we humans need to work hard to protect.
How is it that a country so small implements this simple concept day to day, either by passing new laws to protect wildlife, teaching their children from a young age to save natural resources or even in a simple board game that emphasizes nature, not industrialism.
People who move here realize that Costa Rica is not a country teaching their citizens that to be wealthy, you must buy the most fashionable clothes or fanciest and most expensive gadgets and toys.
Their citizens put a high emphasis on their quality of life by spending time with the ones they love and appreciating everything they are given.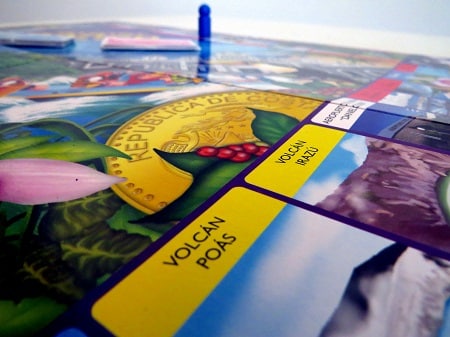 Sure Costa Rica may not have the tallest buildings, the best roads or huge skyscrapers, but they do have gorgeous waterfalls, some of the most colorful birds in this hemisphere and the highest density of biodiversity in the world.
Now THAT is something to brag about and put on a game board!
I'll always love this game though: original, special editions and international versions.
Heck we even bought the brand name Monopoly (it's not as fun though) and I also have the anniversary edition. Every time we take it out, we always have a fun night.
Honestly, I wasn't too surprised that Costa Rica monopoly was all about nature and wildlife. It is the very essence of their country and are one of the things they are most proud about. And especially one of the reasons why visitors keep coming back for more.
It's just too bad their tokens aren't monkeys, sloths, dolphins and butterflies! That would make it a bit more interesting 😀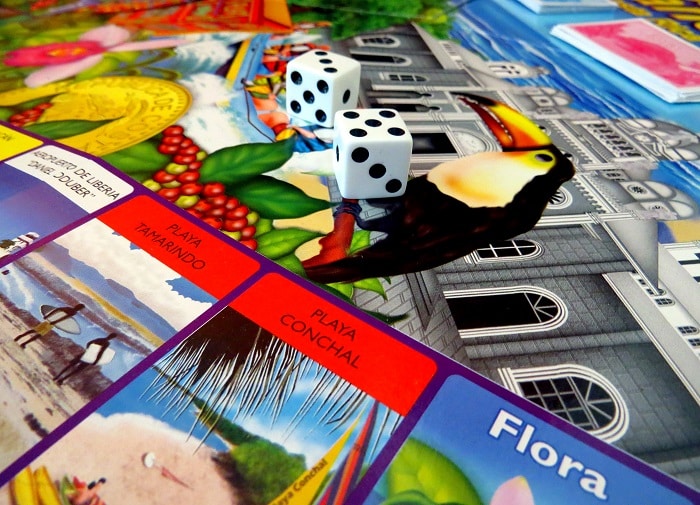 If you love Monopoly, Super Banco is a great version to experience something different. Learn all about Costa Rica from a few pieces and some colorful pictures.
It's also a challenging and useful way to practice your Spanish! Yo quiero comprar Volcan Arenal para doscientos ochenta colones. Me debes un mil cuatrocientos colones mua ja ja! Vayase a la carcel directamente! jejeje
Read about some of the landmarks included in the game