Costa Rica got their independence from Spain on September 15th, 1821 and September is a dedicated month to celebrate our independence. If you are here during that time, you might see the Costa Rica flag everywhere. People decorate their house with the colors and national emblems and many of the government offices do the same.
Costa Rica Independence Day History
Every September 14th at night, we have one of our most beautiful traditions, the lantern parade (desfile de faroles). This is a representation of what Dolores Bedoya did in Guatemala that night on September 14, 1821.
With a lantern in her hand, Dolores looked for people to bring with her to the politician's office in order to put pressure on the leaders to sign the independence declaration. She was able to bring the whole town and they all went, carrying her lanterns to light the way.
On September 15th, it is a country wide tradition to have a huge parade and it is a perfect holiday to learn about the Costa Rica independence day.
Colors of the Costa Rica Flag
The flag was created on September 29th, 1848 by Pacifica Fernandez Oreamuno (wife of the current state chief back then, Jose María Castro Madríz). She used the French national flag as her inspiration.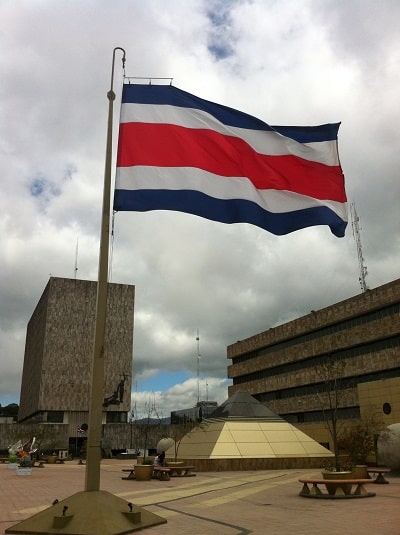 The flag has 5 stripes the one in the middle with the red stripe twice as big as the blue and white. Here are the meaning of the Costa Rica flag colors.
Blue stands for the Costa Rican sky that works like a shield.
White symbolizes peace.
Red shows the heroism and energy for the Costa Ricans when it comes to defend their principles (like democracy).
The Meaning of the Costa Rica Emblem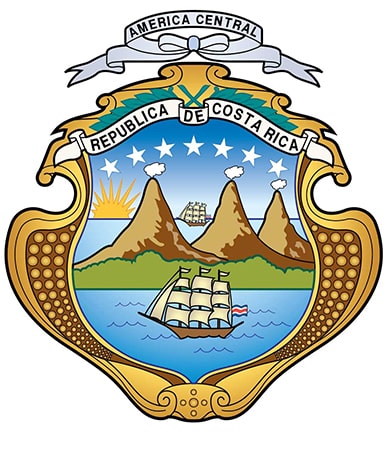 In the blazon you can see some gold beans which are the Costa Rica coffee beans.
Inside the emblem you will see three volcanoes that are steaming. This represents the 3 mountain ridges that cross the country.
A green valley with two oceans on each side is the symbol for the central valley, the Atlantic and the Pacific ocean.
There are 2 merchant boats on each ocean which signifies our commercial ports. The sun rising at the left side means hope and progress.
The 7 stars on the top represent each one of our 7 provinces.
Learn more about Costa Rica in these posts below!