Fishing in Playas del Coco is very popular since it used to be a small rural fishing village and fishing was the backbone of the community. Nowadays, it's a booming beach town where visitors from all over the world come to scuba dive, beach hop, snorkel and fish. Deep sea fishing and in shore fishing tours are very common from Coco as it still is one of the best places to fish in Costa Rica.
We have gone fishing in Playas del Coco several times and each time has been a lot of fun. You can read in this post all about fishing in Coco beach. Read more about fishing in Costa Rica here first!
This post was updated December 2017.
Inshore Fishing in Playas del Coco
Inshore fishing is the most popular kind of fishing in Playas del Coco because you don't need to boat out too far and it's affordable. Just boat out of Coco for about 20 minutes and you're in the Gulf of Papagayo where you can catch snapper, jacks, tuna, mackerel and fish like those.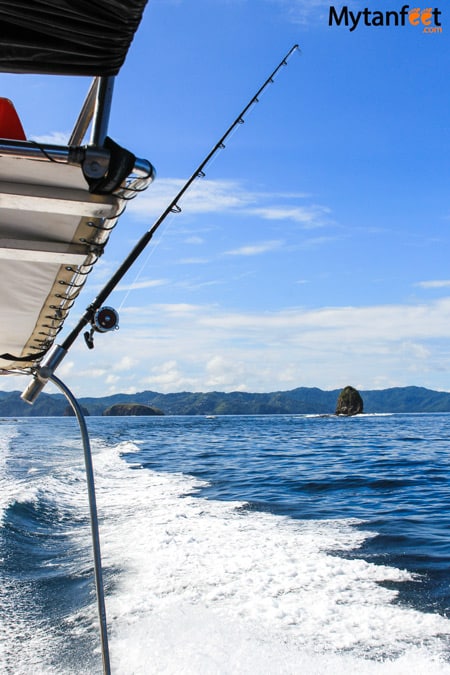 We have caught black tuna and snapper before while trolling during a beach hopping/fishing tour. It was pretty exciting to see the poles start pulling as we boated around! We have gone with my parents a couple of times and our first time trolling, we caught several large black tuna!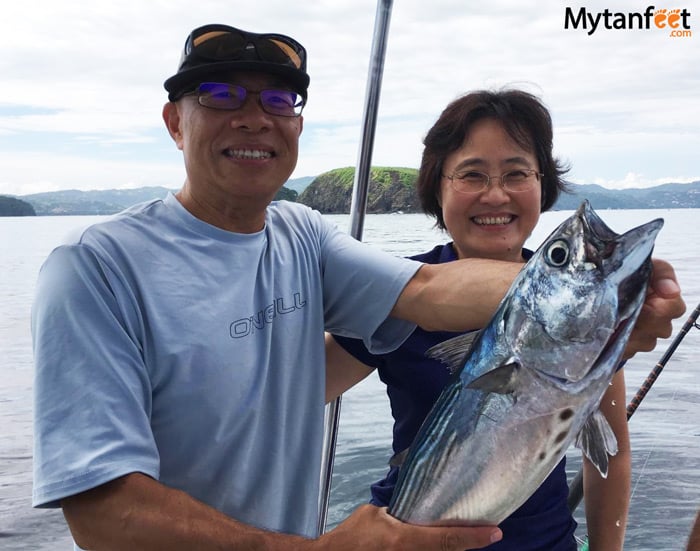 We usually go inshore fishing around the bay and we always catch something. It's a lot of fun! One of the best things about in shore fishing tours in Playas del Coco is that it doesn't take nearly as much time as a deep sea fishing trip which requires boating out at least a couple of hours so you can go fishing and snorkeling all in one tour.
If you would like to go inshore fishing, our friend Marcy operates fishing, snorkeling and beach hopping tours so you can experience the best of the Gulf of Papagayo all in one day. If you'd like a quote for prices, please contact us.
Offshore Fishing Playas del Coco

Offshore fishing in Coco is definitely for more hard core fishermen, it's not for those who aren't keen on boats or being out on the water for long periods of time. You do need to boat at least a couple hours out of Coco Bay to get to the deep sea fishing spots.
There, you can catch bigger fish such as grouper, wahoo, tuna, mahi-mahi and more. We have gone once and we ended up at nearly the Nicarguan border! We must have boated for at least a couple of hours each way, meaning we had to get up at the crack of dawn and we came back at dusk.
But it was worth it as we caught a good amount of mahi-mahi and grouper. We also saw a black marlin which was extremely exciting. Along the way, we saw several big pods of dolphins and a few turtles. But I have to say, it was quite a tiring day especially for someone who gets seasick like me. Thank goodness I took anti-nausea pills before because the waves can get pretty rocky when you get out of the bay.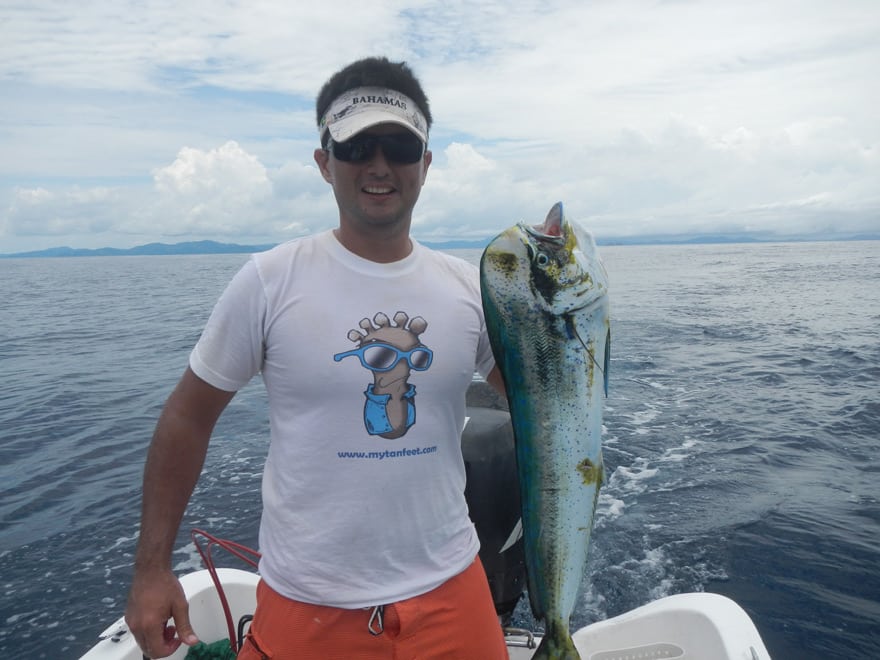 For deep sea fishing, you will need to look for Playas del Coco fishing charter companies like North Pacific Tours, Dream On Sport Fishing and Costa Rica Fishing charters. They will have the correct boat, equipment and local crew to make sure you have an amazing day.
Line Fishing (Costa Rican Style)
We have also gone line fishing, Costa Rican style. We went out in a boat, not far from Coco beach (about 30 minutes), got our line and bait (sardines) and went fishing with just that. We didn't catch anything though. It was our first time and there is definitely a magic touch to it, it's way harder than it looks! However, our friends who are Coco locals were able to catch a pretty big snapper!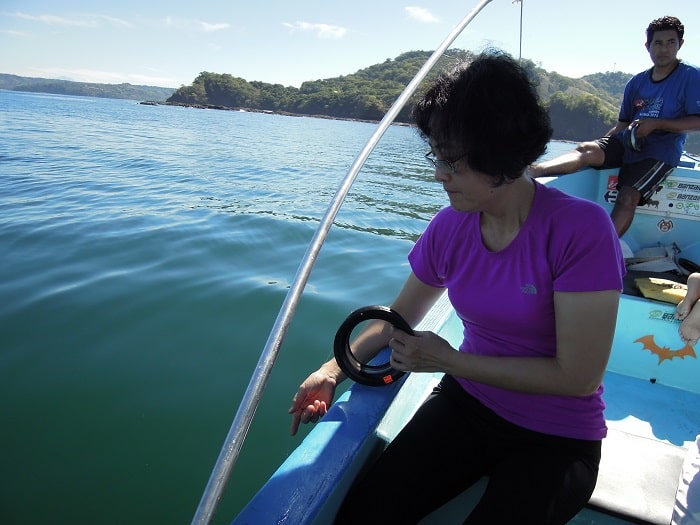 My mom caught a couple of small ones but that was it. We definitely didn't have the magic touch like the locals did!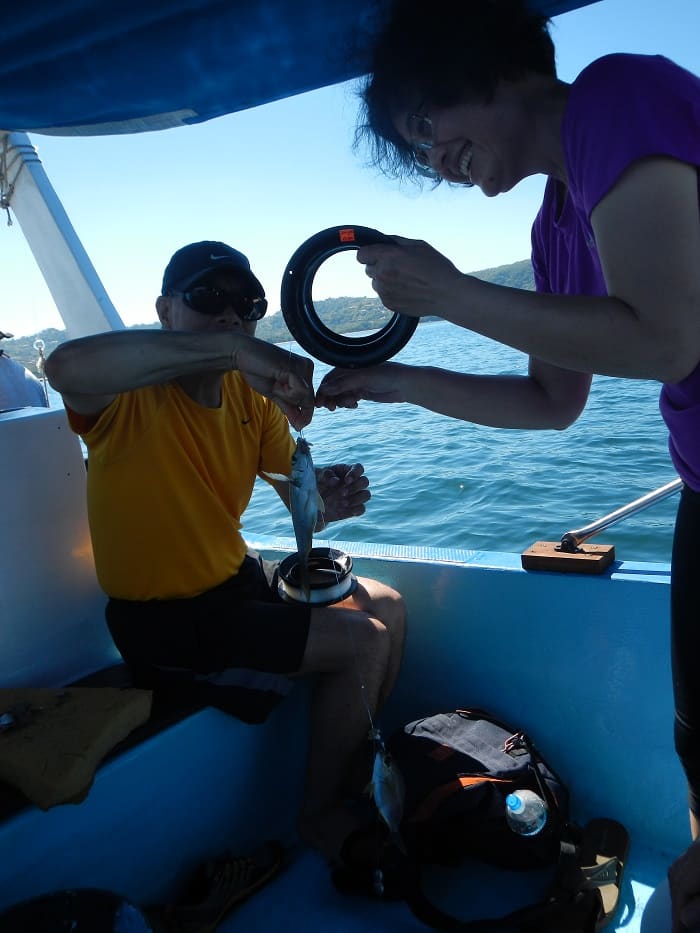 Even though the concept is super simple: just a line, hook and bait, it was very difficult. We did better going inshore fishing but it was a lot of fun going with locals to go line fishing.
You will see a lot of locals line fishing on the shore of Coco beach, particularly during sunset. During certain times of the year, the fishing gets really good and we have seen locals catch large snappers just from shore!
Kayak Fishing
We have also gone kayak fishing which is really fun but it takes a lot more work. You need to get a kayak that is equipped to have fishing poles, buy poles/bait or hire a local to get all the equipment for you and get up super early in the morning. Yeison would go with our friend Diego who grew up fishing in Coco and they always went out to the Tortuga Islands which was his favorite spot. They would catch jacks and wahoo over there.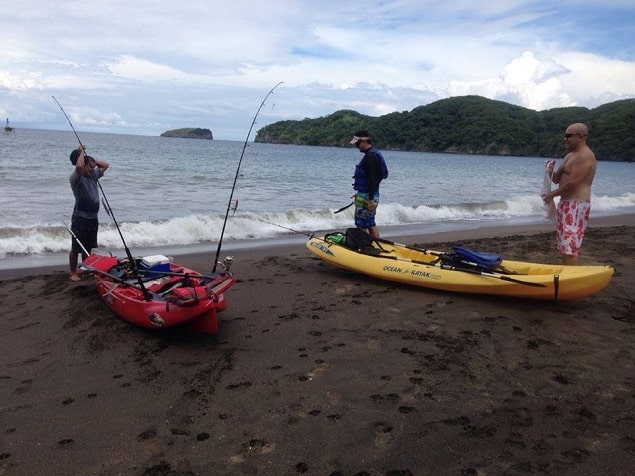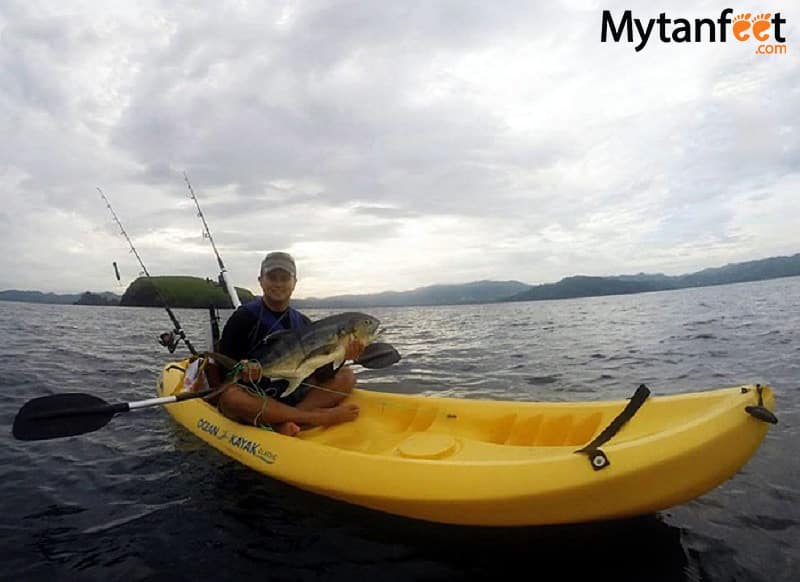 There are a lot of jacks in that area and they are a great fish since they're strong and put up a good fight. It's a nice spot since you don't have to kayak out super far and the water is quite calm since it's still inside Coco Bay.
You can rent kayaks from Cafe de Playa and get fishing equipment in a store called El Jobo, on the road from Coco to Ocotal. However, it will be a lot easier to hire a local to take you kayak fishing than buying and getting all the equipment yourself. There is a large fishing store in the Super Luperon complex called Coco's Fishing Supply that has all your fishing needs. You can ask them about fishing equipment and tours.
Read about other activities to do in Playas del Coco here!